Rowers Gevvie Stone And Kristina Wagner Qualify For Tokyo In Women's Doubles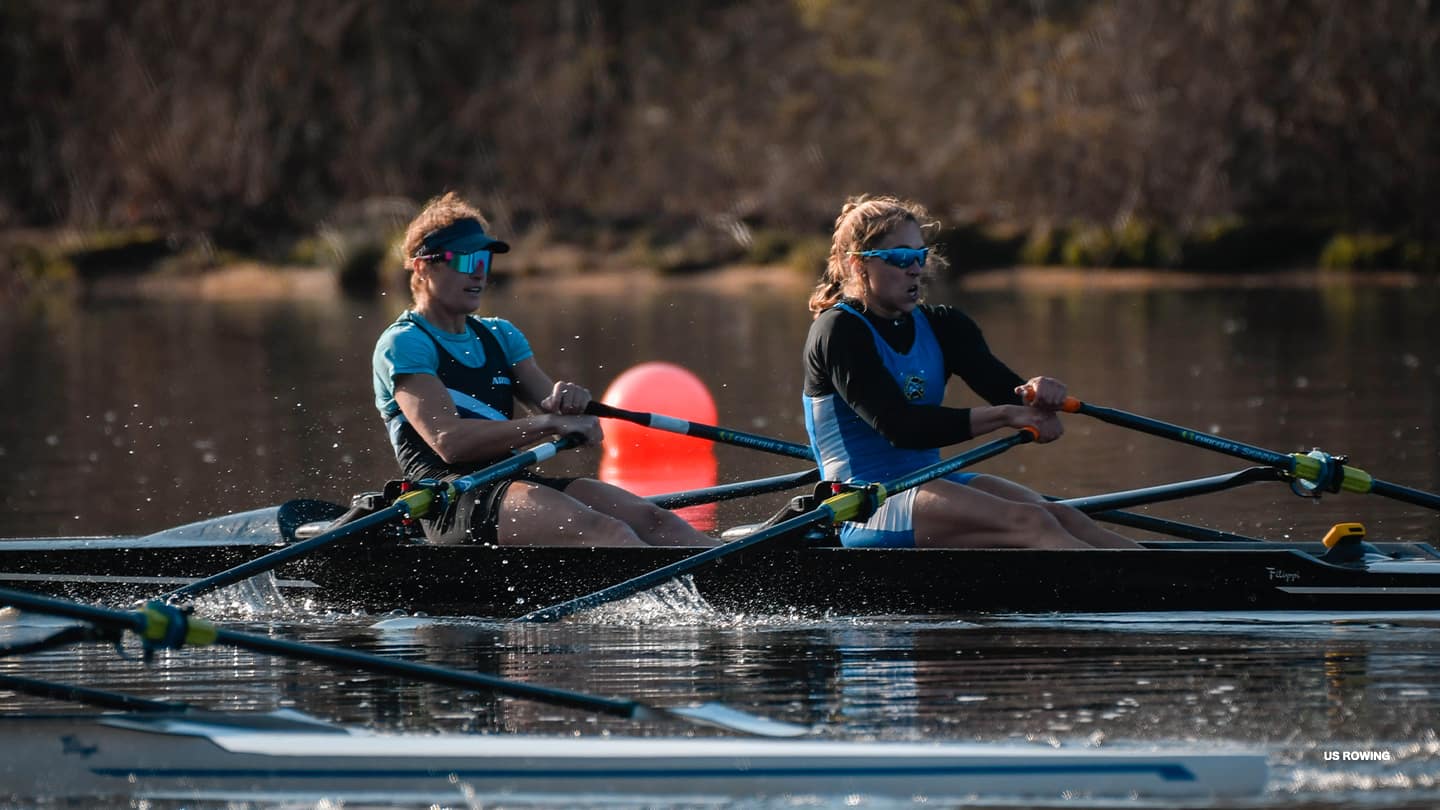 Gevvie Stone and Kristina Wagner compete at Rowing's U.S. Olympic Team Trials on April 14, 2021 in West Windsor, N.J.
WEST WINDSOR, NJ – They might have rowed as rivals in college, but Princeton grad Gevvie Stone and Yale alum, Kristina Wagner were rowing for the same side at the second U.S. Olympic & Paralympic Team Trials – Rowing, officially punching their tickets to Tokyo after the year postponement.
Finishing second and third behind Kara Kohler in the women's single scull event at the first team trials in February, the two athletes teamed up in the double at the second trials to win both their races and advance to the finals on Thursday.
Stone is no stranger to the Olympic Games. Having competed in 2012 she talked of retiring after winning silver at the Olympic Games Rio 2016 in the women's single sculls. But it wasn't long after that she felt the tug to pursue Tokyo. The problem was the med school grad was in the middle of practicing emergency medicine at a hospital in Boston.
Putting her multiyear residency on hold in pursuit of another Olympic medal was not an easy decision. But now that she has secured her spot on the team this summer, she said she was glad she decided to stick it out. But she promised, "This is it!"
She's so sure she already has a start date to return to her multiyear residency at Beth Israel Deaconess Medical Center in Boston.
"I start again August 9, officially — with a week of vacation — and then I'm back in the emergency department, which is really exciting. It's going to be a real shock to the system, but I love that world, too. And I'm really excited for this next chapter of rowing, and then I'm really excited to get back to being a doctor."
Her dad, Gregg Stone, former Olympic rower as well as her coach was in agreement. "My dad was saying as I was coming down here, this is your last trials. This is your last trials!"
Wagner — who finished third in the women's single sculls at the first trials in Sarasota — said that was all the motivation she needed to make her first Olympic team. "I said if this is Gevvie's last trials, we have to win."
With wind projected for late in the week, finals were moved up a day. But that didn't slow the two down.
"We knew we could put together back-to-back races," Stone said, "and we were really excited to have a great race today, open it up down the course and get to show our sprint."
Now that they've got trials behind them, what are they most looking forward to doing in Tokyo? "Racing!" the two responded in unison.
"It's all we'll get to do," Wagner laughed, making reference to the fact that this Olympic Games will be unlike any other due to the coronavirus.
"In addition to the excitement of this double, it's exciting to return," Stone said. "The rowing community worldwide is surprisingly a small community, and it was really good to be back together again at a regatta."
But the pair realizes how fortunate they've had it this past year.
Wagner said the pandemic has taught her not to take things for granted. "Not that you really did before, but if you have a boat, oars and water, that's good enough. You use the opportunities you have and you're grateful for them," she said.
Stone agreed, and said she couldn't have done it alone. This past year has "stressed the importance of having a team. It would have been really hard to train that intensity alone."
Another successful duo was Tom Peszek and Mike DiSanto, who raced uncontested in the men's double — earning a spot to compete at the Final Olympic Qualification Regatta in Switzerland May 15-17, where they will try to qualify for the team headed to Tokyo.
Joining them is the winners from the men's quad finals: Charles Anderson, Eliot Putnam, Justin Keen, and Sorin Koszyk.
Lisa Costantini is a freelance writer based in Orlando. She has covered Olympic and Paralympic sports for various publications, and has contributed to TeamUSA.org since 2011.