The U.S. Comes Up Short In Tokyo To Conclude Eight Days Of Rowing Competition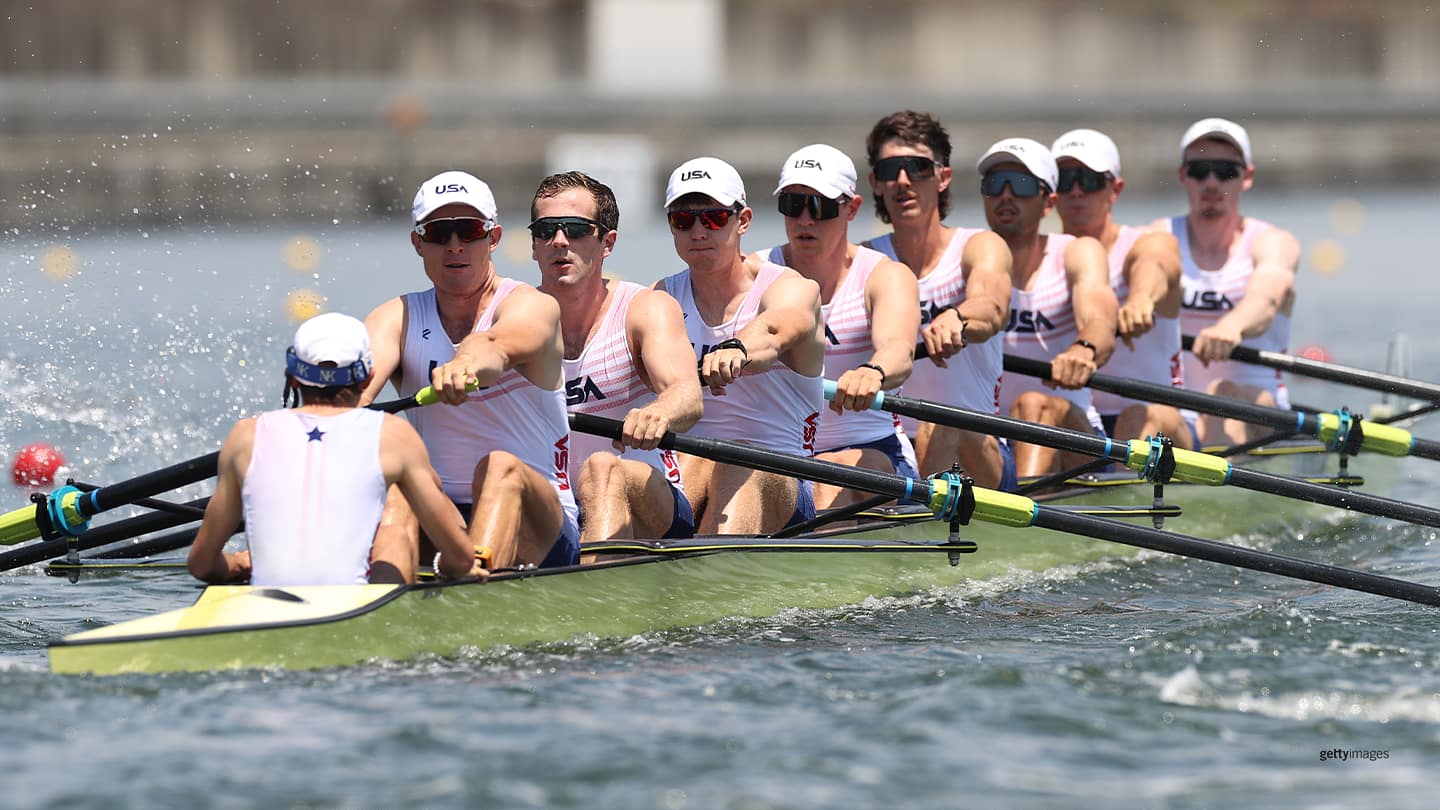 Julian Venonsky, Liam Corrigan, John Harrity, Nicholas Mead, Alexander Richards, Austin Hack, Daniel Miklasevich, Justin Best and Benjamin Davison compete in the men's eight Heat 1 during the Olympic Games Tokyo 2020 on July 24, 2021 in Tokyo.
TOKYO — Going in to the eight days of competition, the 37-member U.S. rowing team had high hopes for medal moments. But the podium reality for all of the athletes would have them leaving the host city with their podium outfits still in the bags — marking the first time since 1908 that the United States has not brought home an Olympic medal in rowing.

While many of Team USA's nine boats made a valiant effort, earning a spot in the finals at Sea Forest Waterway in Tokyo Bay, two-time Olympian Gevvie Stone posted that one of the saddest parts about her double sculls race was carrying her podium outfit back from her race still in the bag. As a competitor in an A final, you have to "bring them to the venue, just in case," wrote the 36-year-old who finished in fifth with first-time Olympian Kristi Wagner.

Now, with the meters in the water behind them and only the miles in the air left to go, U.S. Rowing is leaving Japan still feeling proud.

"It's just good to be reminded of how cool this is and to have a good time at the Olympics in competition," said Madeleine Wanamaker, who raced in the women's four and finished seventh overall. "I'm just proud of us."

Here is a breakdown of the five boats and nine crews that competed in Tokyo.


MEN'S BOATS
Men's Four
In one of the U.S.'s best hopes for a rowing medal, the men's four — which consisted of returning Olympian Anders Weiss along with Clark Dean, Michael Grady and Andrew Reed — were off to a good start, finishing behind Australia in their heat, advancing to the finals. A podium finish would have been the first time the U.S. medaled in the event since their bronze medal in 2012. But when Australia outpaced them once again in the finals, so did three other teams, leaving the U.S. to finish in fifth — more than six seconds behind the Aussies.

"I think that we worked really hard," Reed said. "We train hard; we work well together. I think we've made big, big strides coming together as a unit. … I'm really proud of the racing we did to get to this point."
Men's Eight
After eight days of rowing, the curtain dropped with the men's eight medal final. The team is comprised of mostly first-time Olympians, with Austin Hack as the only returning rower from Rio where the team ended up in fourth. Like the women, the men have a long history of dominating in this event, which has been on pause since 2004 when they won their last gold.

The team in Tokyo consisted of coxswain Julian Venonsky, Liam Corrigan, Conor Harrity, Nick Mead, Alexander Richards, Hack, Alex Miklasevich, Justin Best and Ben Davison. Battling the defending world champion in multiple heats, Germany edged them out in the finals coming in second with New Zealand taking gold and Great Britain the bronze. The U.S. men couldn't harness the power over the 2,000 meters, finishing just off the podium in fourth, seconds off the winning time of 5:24.64. "We just try to stay internal and row our race," Venonsky said before the medal match. "And like Justin said, we're just really excited to be in an Olympic final, to be fighting for medals."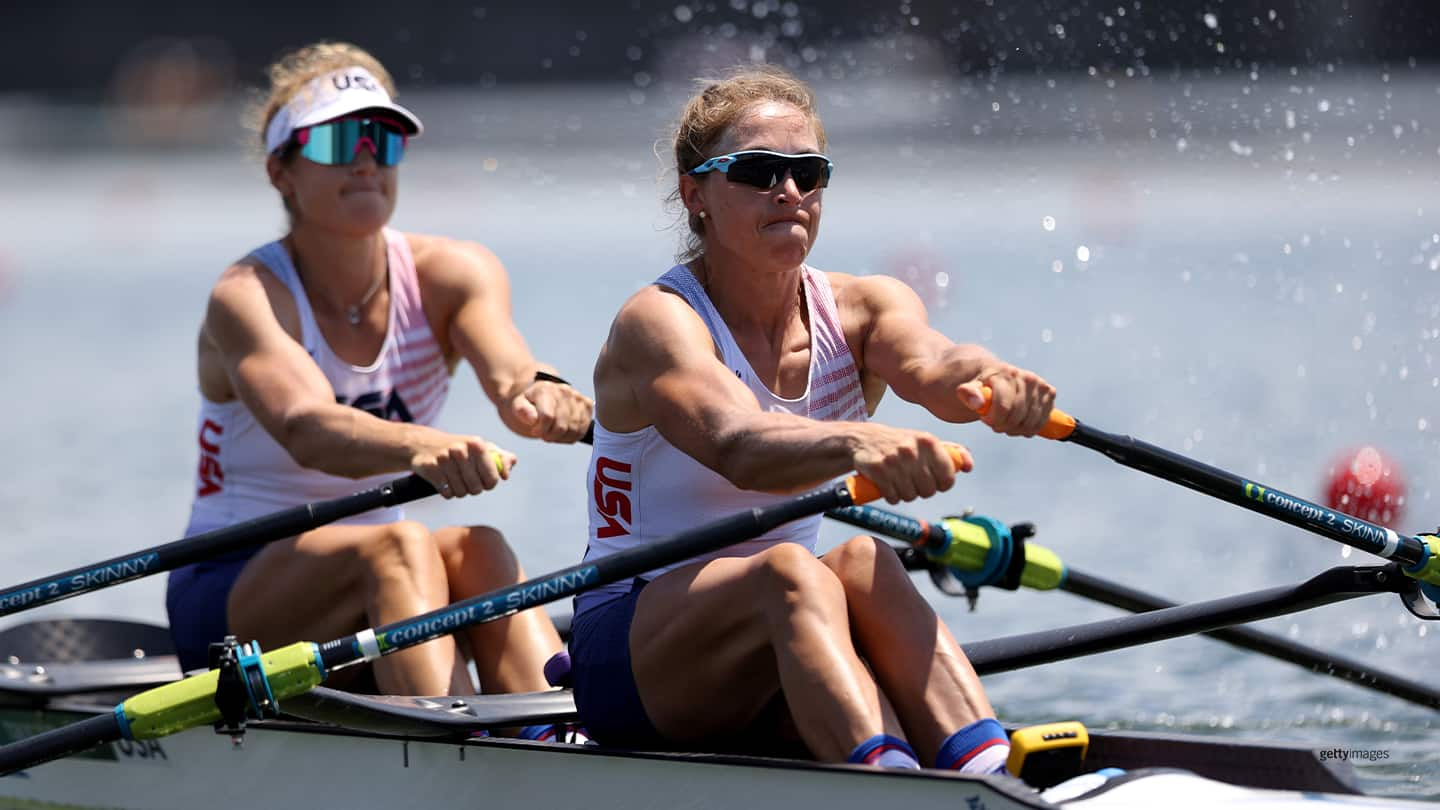 Kristina Wagner and Gevvie Stone compete in the women's double sculls during the Olympic Games Tokyo 2020 on July 23, 2021 in Tokyo.
WOMEN'S BOATS
Women's Single Sculls
Two-time Olympian Kara Kohler (and 2012 bronze medalist in the quad) was poised to make the podium in Tokyo, or at least the A finals in the single sculls. But after falling short by a half-second in the second semifinal, finishing fourth, she landed in the B final, ending ninth overall. "The women's single sculls is an incredibly deep field, and it's anyone's game," she said before her last race. "Coming in, it was anyone's guess who could be in that A final contending for the medals. It's a tough field, and I'm proud I could be a part of it and be right there."

Her teammate, Stone, took silver in the same event in Rio and Kohler was on the road to top that after a bronze at world championships in 2019 and silver at the 2021 World Rowing Cup II in Lucerne, Switzerland.


Women's Double Sculls
From their first race in Tokyo, three-time Olympian Stone and first timer Kristi Wagner were placing in the top three in the women's double sculls. But they were unable to make it last. The finals saw a strong start from the Romanians with New Zealand, the defending world champions, following them down the course. Even with a high stroke rate off the start, the U.S. were unable to catch The Netherlands and Lithuania, and finished in fifth.

"We raced hard," Stone said. "It was the Olympic final, and we worked hard in the semi to put ourselves there. The goal was to go out and have a great race in the hopes that that would put us on the podium."


Women's Lightweight Double Sculls
After failing to qualify for Tokyo at trials, lightweight women's double sculls duo, Michelle Sechser and Molly Reckford went on to win at the Final Olympic Qualification Regatta. So coming from behind was something they were good at. Landing in the repechage after missing a spot in the semis by less than a second, they were still confident they could get the job done. "We knew that [it was] not ideal to be in the rep," Sechser said. "Getting a second run down the track for Molly and I is still a really good thing. This still is a new crew." But they were unable to make much ground after coming off the line in sixth and finished fifth, besting the U.S.'s 10th place finish in Rio.


Women's Quadruple Sculls
The women's quadruple sculls consisted of Meghan O'Leary, 36 and Ellen Tomek, 37, who competed together in Rio in double sculls, finishing sixth. (Tomek also competed in Beijing and took fifth.)

With the help of Cicely Madden and Alie Rusher, the quad were hoping to land women's quadruple sculls on top of the podium, which would have been the first for the sport — having won bronze in 2012 and silver in 1984. Unfortunately, the new team didn't have enough experience together or enough speed and continued to fall in last place, race after race — ending in 10th place overall. O'Leary said she learned a lot of lessons. "That is what I hope that Ellen and I can take away. We didn't accomplish a goal, but maybe we can take the learnings from this and help others ahead of us be able to accomplish their goals."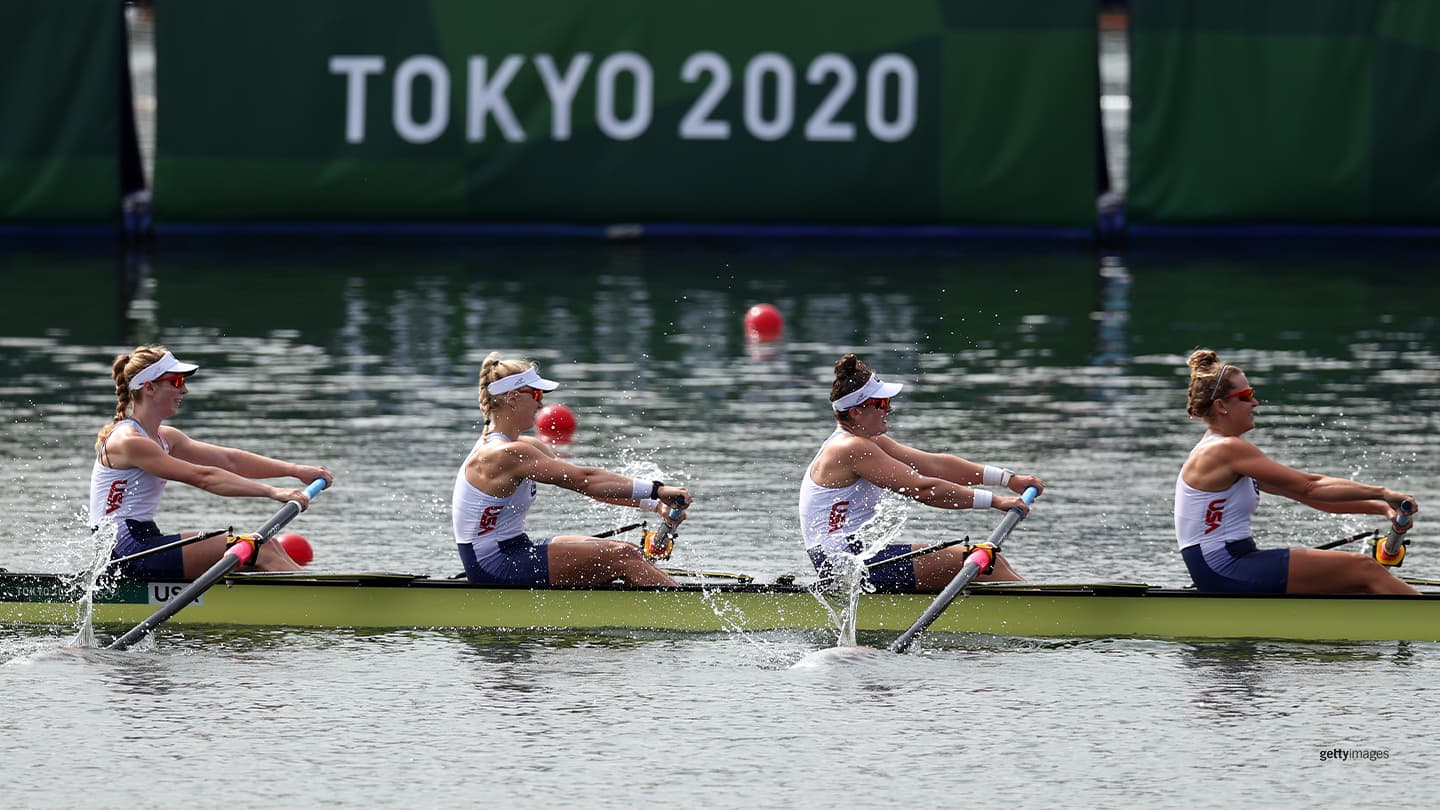 Madeleine Wanamaker, Claire Collins, Kendall Chase and Grace Luczak compete in the women's four at the Olympic Games Tokyo 2020 on July 28, 2021 in Tokyo.
Women's Pairs
Pairs team Megan Kalmoe, a four-time Olympian and Tracy Eisser, a two-time Olympian had plenty of experience. But it was speed they were lacking in Tokyo. Unable to continue advancing with the leaders, they were placed in the B final where their bow ball crossed the line fourth. Their 10th place overall was short of fourth, where the U.S. finished in the event in both Rio and London — last winning a medal in Sydney in 2000.

"I think we said six weeks ago, we know this is going to be hard, and that there is no guarantee of success," Eisser said. "And, we were right. It was very hard. But I think all of the ways in which I've been challenged and had to grow and adapt and learn — I wouldn't trade it."


Women's Four
The women's four, led by 2016 Olympain Grace Luczak, returned to the Olympic program for the first time since 1992. Along with Kendall Chase, Claire Collins and Madeleine Wanamaker, the women's first run down the course saw a fourth place finish — landing them in the B final. They made the best of it by ending their Olympic run with a victory, finishing that final in first and landing in seventh-place overall.
"Obviously, we came into this regatta hoping for a medal and that didn't happen, but with that being said, we learned from each race and we got better each race and improved as a group and as individuals," Chase said. "I'm super proud of these women. … We did what we could and came away with a win and ended on a high note."


Women's Eight
The big boats were the last to race in Tokyo and the U.S. women's eight were hoping to add to their previous three gold medals. After winning gold in Rio, they became the most successful women's eight in history. Meghan Musnicki and Katelin Guregian were the only returning members, with the rest of the octet all first-time Olympians: Charlotte Buck, Olivia Coffey, Gia Doonan, Brooke Mooney, Kristine O'Brien, Regina Salmons and Jessica Thoennes. But alas, it was not meant to be. Despite blasting to the front of their opening heat and straight into the finals, the team sat in fifth for most of that race, only moving up one spot to finish in fourth. Before the race, Musnicki had some advice for her younger teammates: "It's just being in the present moment. We have never lined up in any lineup in two years to race someone side-by-side, and it's a really exciting opportunity," she said. "For me, I tell them what I tell myself — be present for every moment, every stroke. It's an incredible opportunity, and we're just grateful to be here, because a year ago, we didn't think this was going to happen."
Want to follow Team USA athletes during the Olympic Games Tokyo 2020? Visit TeamUSA.org/Tokyo2020 to view the medal table, results and competition schedule.
Lisa Costantini is a freelance writer based in Orlando. She has covered Olympic and Paralympic sports for various publications, and has contributed to TeamUSA.org since 2011.