Five Boats And 30 Athletes Selected To U.S. Olympic Rowing Team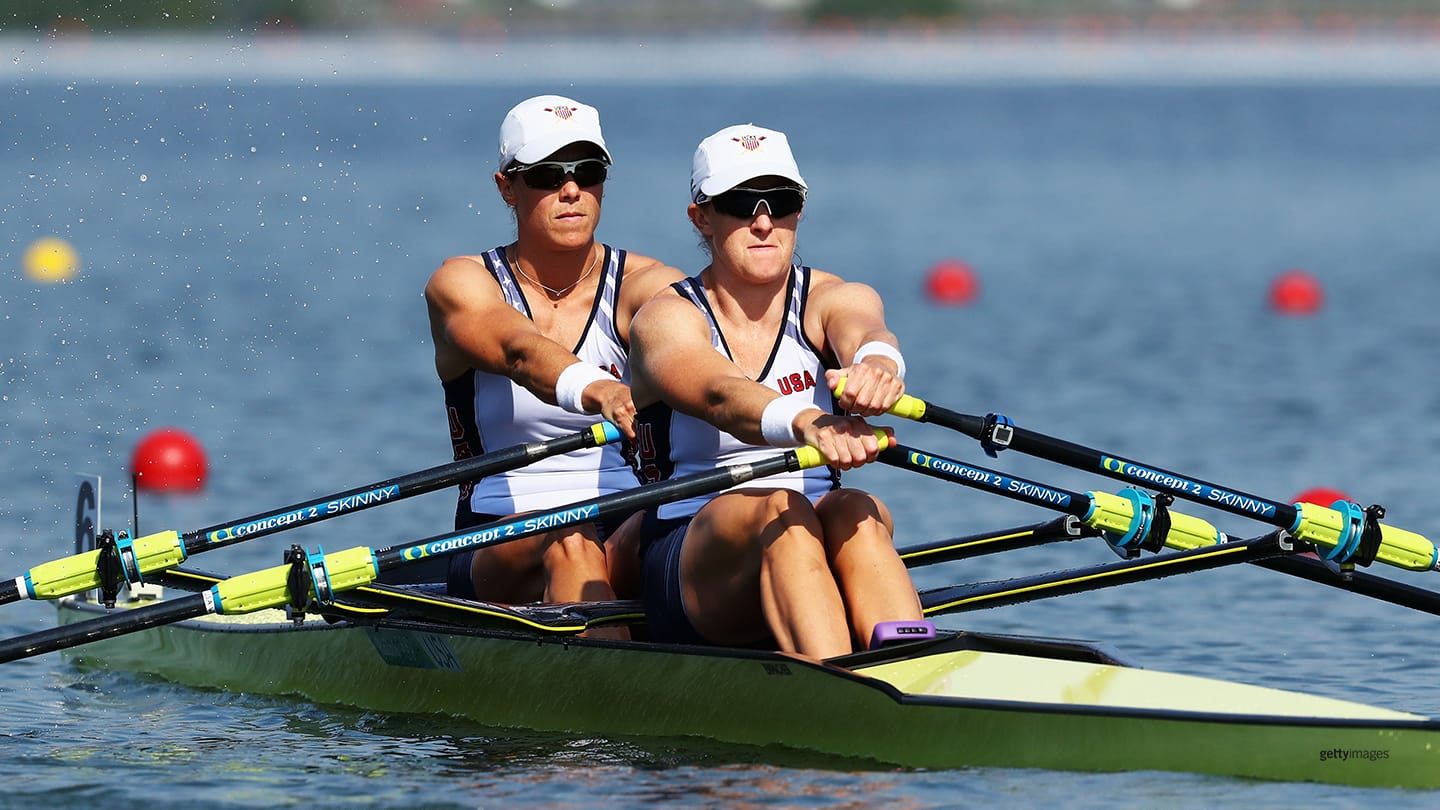 Meghan O'Leary and Ellen Tomek compete in the Women's Double Sculls Semi Finals on Day 4 of the Olympic Games Rio 2016 at the Lagoa Stadium on Aug. 9, 2016 in Rio de Janeiro, Brazil.
The U.S. Olympic Rowing Team for this summer's Olympic Games Tokyo 2020 is nearing completion with the selection of 30 more athletes in five boats announced Friday by USRowing.


Athletes in women's quadruple sculls, men's four, women's four, men's eight and women's eight were all chosen for the camp-selected boats, representing a mixture of Olympic medalists, Olympic veterans, and first-time Olympians. Seven of the 30 athletes are Olympians who have competed at a combined nine Olympic Games with a total of three gold medals.


The women's quadruple sculls consists of two Olympians in Meghan O'Leary and Ellen Tomek. Both competed together in double sculls in Rio, and Tomek also competed at the 2008 Games. Cicely Madden and Alie Rusher will join them in Tokyo. They will try to win the first U.S. gold medal in women's quadruple sculls, having won bronze in 2012 and silver in 1984.


In men's four, Olympian Anders Weiss, who competed in men's pair in Rio, will be joined by Clark Dean, Michael Grady and Andrew Reed. The U.S. men's four won the B final to finish 7th in Rio, and hasn't won a gold medal since 1960. The most recent U.S. medal in the event was a bronze in 2012.


Women's four is headed by Olympian Grace Luczak, who was fourth in women's pair in Rio. She'll be joined by Kendall Chase, Claire Collins and Madeleine Wanamaker. Women's four is back on the Olympic program for the first time since 1992, the only time it has been contested before at the Games. The U.S. boat took the silver medal that time around.


Austin Hack returns to the Games in men's eight, the only returning member of the team that finished just off the podium in fourth in Rio. The other eight members of the team are all first-time Olympians, with three of them competing on the senior national team for the first time: Justin Best, Liam Corrigan, Ben Davison, Conor Harrity, Nick Mead, Alex Miklasevich, Alexander Richards and Julian Venonsky. The U.S. has won 12 gold medals in men's eight dating back to 1900, but none since 2004 and hasn't medaled since 2008.


Finally in women's eight, Katelin Guregian and Meghan Musnicki return to the team that has won three gold medals in a row. Guregian was there for 2016 while Musnicki has two gold medals to her name from 2012 and 2016. The rest of the team is all first-time Olympians: Charlotte Buck, Olivia Coffey, Gia Doonan, Brooke Mooney, Kristine O'Brien, Regina Salmons and Jessica Thoennes.


Women's single sculls, women's double sculls and lightweight women's double sculls were already selected earlier this year at the U.S. Olympic Team Trials for Rowing. The final stage of Trials, taking place this weekend in West Windsor, New Jersey, will select the women's pair, the ninth and final boat Team USA will be sending to Tokyo. A full roster with alternates and coaching staff will be announced on June 8.
Todd Kortemeier is a sportswriter, editor and children's book author from Minneapolis. He is a contributor to TeamUSA.org on behalf of Red Line Editorial, Inc.