Dr. Gevvie Stone Talks About Her Row To Tokyo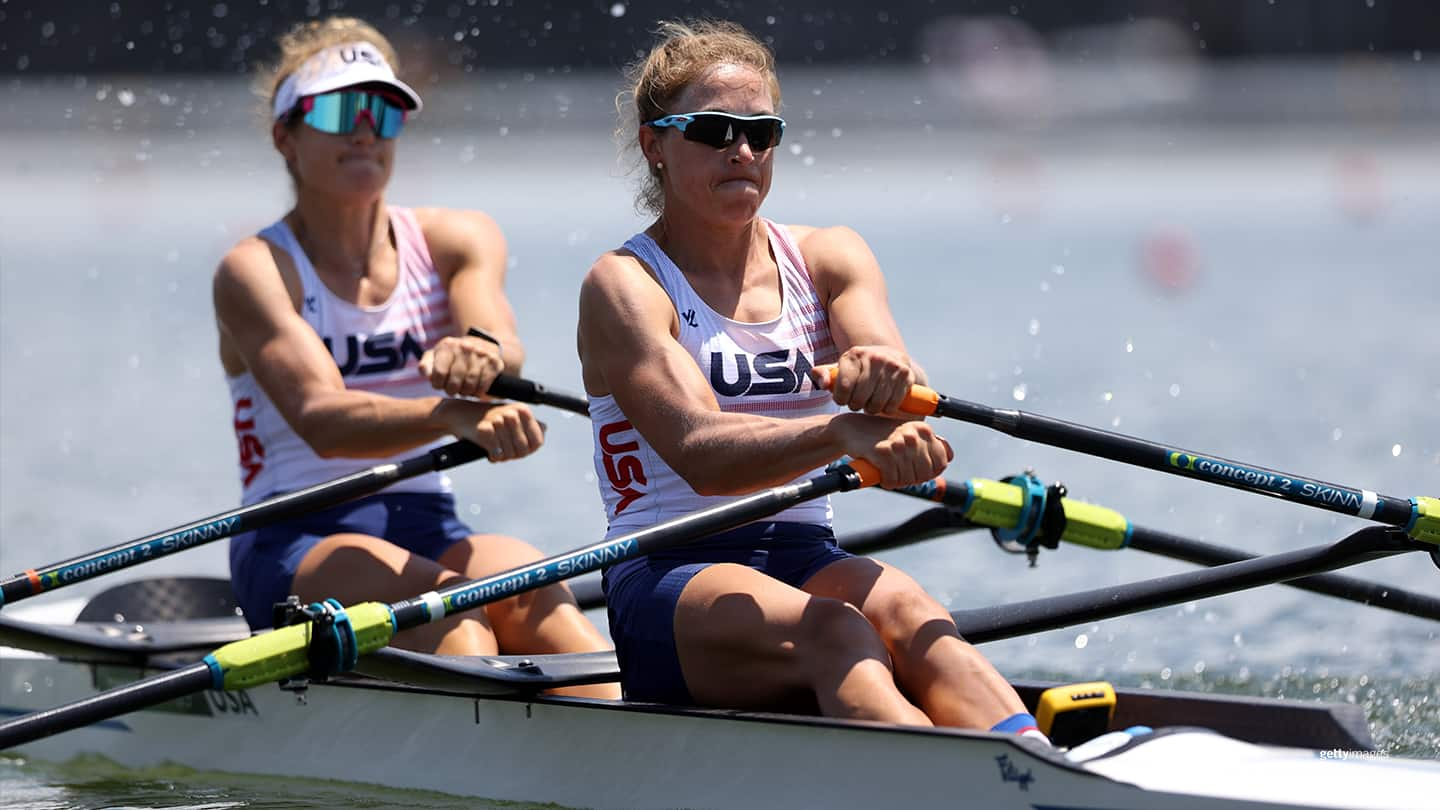 Kristina Wagner and Gevvie Stone compete during the Women's Double Sculls at the Olympic Games Tokyo 2020 on July 23, 2021 in Tokyo, Japan.
TOKYO — After Gevvie Stone won an Olympic silver medal in single sculls at the Olympic Games Rio 2016, many people thought she would retire. She had reached the Olympic podium. Why not go out on a high note?

She was about to start her residency in emergency medicine, too. And if she tried for a third Olympic Games in Tokyo, there was no guarantee she would make it. Injury always looms for athletes, and up-and-comers can derail dreams.

"There was no guarantee I'd make it to this team, never mind that Olympic final," said Stone.

But the 36-year-old doctor was not ready to stop competitive rowing. So when she was giving a talk at an elementary school, and the kids asked her why she had retired if, a) she was getting faster, and b) she still loved it, she decided to try for one more Games.

That decision changed her career path as a physician. And it landed her back on her third Olympic team, this time in the double sculls with Kristi Wagner.

The duo rowed to fifth in the double sculls at the Olympic Games Tokyo 2020 today.

"Our goal was to go out and have a great race in the hopes that that would put us on the podium," said Stone, doing post-race interviews while wearing an ice vest on another hot, humid day in Tokyo. "We were attacking from the first stroke, we didn't give them a head start today [like we did in the semifinal]. I really think we fought every stroke."

Battling for bronze behind Romania and New Zealand, Stone and Wagner were not able to stay with Lithuania and the Netherlands when those two sculls took off with 500 meters to go. Romania held on for gold, New Zealand Silver, and the Dutch took the bronze.

So why did Stone risk a return to the Olympic Games?

It started in 2017 when she was volunteer coaching and helping a U-23 single sculler with her practices.

"I was making time around a busy residency schedule to fit in rowing because I still loved the practice," she said in an interview before her the double sculls final. "And those two things, the fact that I was still getting faster and I still loved it, were the reason I continued after London to compete in Rio. And so, if I still loved it and I'm still getting faster, there was a reason to keep going."

The decision would influence her medical career. Orthopedic surgery was her original goal. But Stone had an a-ha moment on the plane home from Rio. She wanted rowing to remain part of her life. And life as an orthopedic surgeon would preclude it.

"Orthopedics really takes 100 percent of a person in terms of hours and passion and commitment," Stone said. "And emergency medicine is a little bit more flexible. It's shift work. Many people in the specialty pursue other interests, whether it's programming or international work, or sports."

She soon found that the specialty suited her. Stone still had hands-on patient care that she likes but adrenaline too.

"The more I did it," she said, "the more I realized it really is the specialty for me."

Stone has done her residency in the ER at Beth Israel Deaconess Medical Center in Boston, taking three years off to prep for the Olympic Games Tokyo 2020.

But the waters to Tokyo were not as smooth as they were to London and Rio. For one, the pandemic postponed the Games by a year. And then in the selection races in March, Stone finished second to Kara Kohler in the single, with Wagner crossing the line third. Only one single sculler per country makes it to the Games.

U.S. Rowing invited the six single scullers who did not qualify for Tokyo to a training camp. Racing in three more trials in doubles, Stone and Wagner were the best combination.

Wagner is 28 years old and rowed at Yale, graduating in 2015. Initially, she had no plans to continue rowing after college. But after graduation, she spent part of the summer training at the Craftsbury Outdoor Center in northern Vermont. Back in Boston for her job, she realized that she could work and train on the side.

In May, Stone and Wagner finished third in a world cup, a good sign for a new boat.

Coming to the Olympic Games with a teammate is a new experience for Stone, who's best known for her single sculling. The last time she was on a crew was in college in the mid-2000s. In 2006 (her junior year), she helped the Princeton Tigers win a national collegiate championship in the women's eight.

"Being in a team boat again really emphasizes that teamwork," said Stone, who added that she still loves the single too. "And Kristi's enthusiasm and the fact that everything is new has made this more exciting for me."

But don't look for Stone to return for Paris 2024.

After rowing concludes in Tokyo, she is flying home, then down to NBC Universal in Florida for a vacation and an Olympic party with her boyfriend and other teammates, including Wagner.

"We don't get to go to the Closing Ceremony, we get to go on rollercoasters," Stone quipped.

Then Stone dons her scrubs again and returns to the ER on August 9 to begin the last two years of her residency.

But this is not the end of Stone's influence on U.S. rowing. Wagner credited Stone with building a sculling culture in Boston, with some of America's top scullers now training on the Charles River.

"It's like [the program] Shalane Flanagan built in running," said Wagner. "Gevvie brings people with her. She doesn't just build them up."
While Stone is retiring, Wagner plans to keep rowing.

"There are a lot of really incredible athletes in our country, and you can't take anything for granted," said Wagner. "But I think you get a little taste of this, and it's hard to stop. I see why Gevvie came back. It's addictive. It's fun, it's really, really fun."

"And," Wagner added, "I've got to go to one where you don't have to wear a mask!"
Want to follow Team USA athletes during the Olympic Games Tokyo 2020? Visit TeamUSA.org/Tokyo2020 to view the medal table, results and competition schedule.
An award-winning freelance writer based in Vermont, Peggy Shinn has covered six Olympic Games. She has contributed to TeamUSA.org since its inception in 2008.