Team USA Rowers Share Some Of Their Favorite Memories From College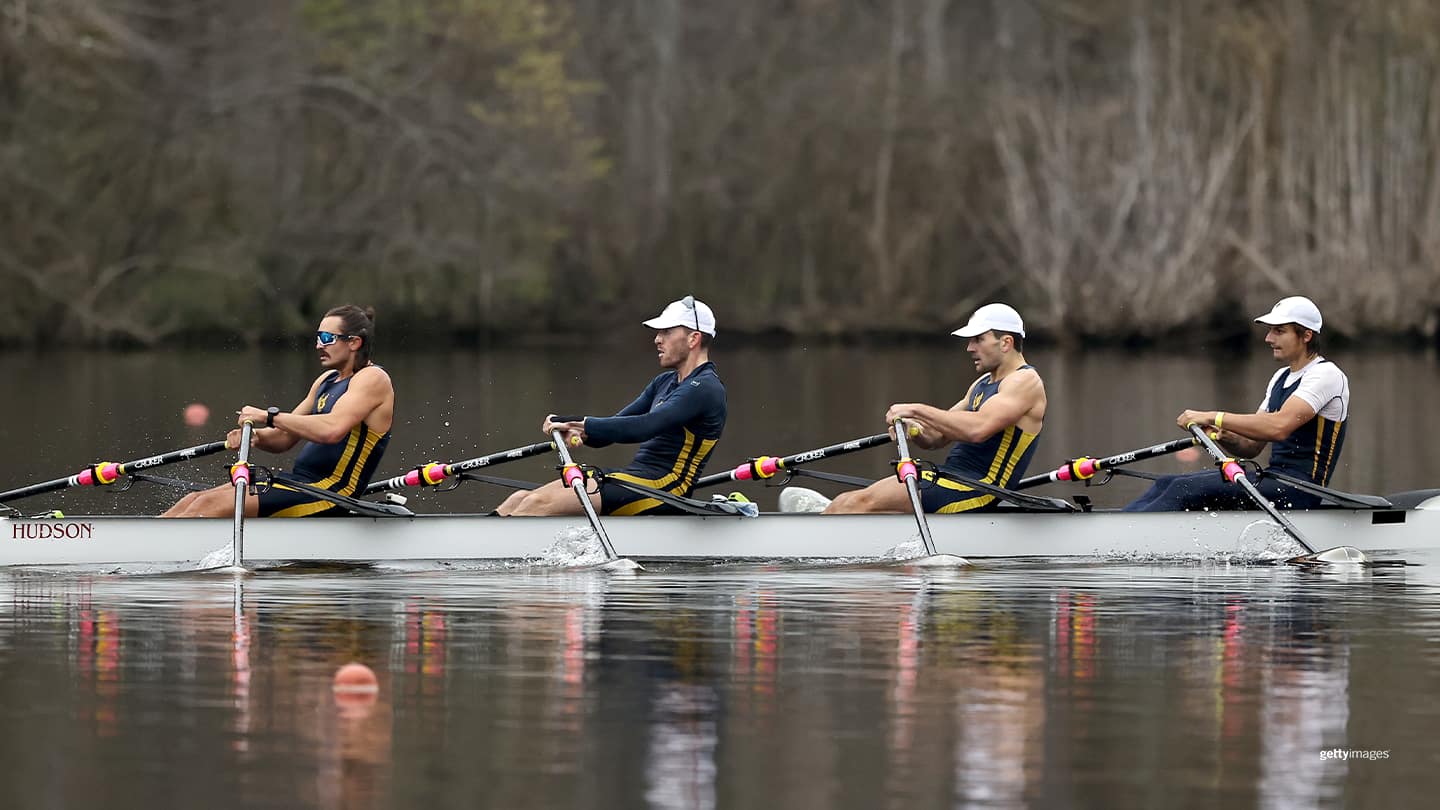 Charles Anderson, Justin Keen, Eliot Putnam and Sorin Koszyk place first in the Men's Quadruple Sculls at Rowing's U.S. Olympic Team Trials on April 15, 2021 in West Windsor, N.J.

In 1852 Yale challenged Harvard to a rowing race. It was on that day — 169 years ago — that intercollegiate sports were born.
Today rivalries like that continue, and have resulted in some of Team USA's athlete's favorite memories from their college rowing days.

Eliot Putnam, who went to college at Cornell University and is now rowing in a quad scull, said Princeton was their biggest rival. "Every year lining up at our duel race was almost more stressful than the national championships," he said.

But the rivalries weren't always so nerve-wracking. Tom Peszek, who competed in the men's pair at the 2020 Olympic Trials thought back on his favorite race at Michigan. "My senior year our championship race got canceled due to wind. So we grabbed two of our biggest rivals and had a three-way duel. We came out on top, and that was probably the highlight of my career," he said.

For 2016 Olympic silver medalist, Gevvie Stone, one of her favorite memories from her time at Princeton involved a rival on her own team — the guys. "On Wednesdays the whole boathouse did the same workout," she remembered. It was during one of those practices that the girl's team was allowed to train against the guys. "We won," she laughed. "And we were never allowed back again. The guys made all sorts of excuses about how we were in the favored lane, but that is probably the fastest that boat ever went. It was really fun to do!"

The memories made in college, and the bond is something Peszek said lasts a lifetime. "I still talk with all the guys from the class I rowed with in Michigan. And if you publish this interview, they'll probably rib me in our group email a bit for it. But that's how it is," he joked.

The team aspect was something sculler Michelle Sechser (who attended the University of Tulsa) enjoyed just as much as the rowing. "The racing was great, but I think being able to train day-in and day-out surrounded by 40 strong women who were inspiring and motivating each other — that's what really shapes your perspective of what female athletes can achieve."
It was during those formative college years when her coach taught her she could achieve more than she could believe. "My college coach was actually the one who encouraged me to try out for the national team for the first time," she remembered. "He encouraged me to go to an indoor rowing championship and it got me an invite to an U23 team, which I declined because I was scared, and didn't think I was good enough. But he pushed me again to go a second year and here I am."
In the end it helped Sechser believe in herself more. "I think that's something that as female athletes we need to hear more often."

Kristina Wagner (who secured her seat to Tokyo with Stone in the double) said she wished that someone had told her at Yale "that sometimes things seem like a big deal, but in hindsight they're probably not. In college things happen and you think, oh my god, the rest of my life is going to be affected by this — and that's not the case."

"It's easy to try and rush through college," rower Justin Keen said about his time at Penn State University. "You're excited to grow up and have responsibilities, but the next thing you know you're 30. Enjoy it while it lasts!"

Peszek's pairs partner, Mike DiSanto (who rowed undergrad at Harvard and then post-grad at Oxford) agreed. "Occasionally you forget how lucky we are to be doing this. I would just say enjoy every moment."

Even if you don't realize it in the moment, he said the lessons you're learning are not just in the classroom, but in the boathouse, too. "I learned a lot — some incredible lessons that didn't just apply to rowing, but applied more broadly to life," he mused.

National team rower, Allie Reilly was a walk on athlete at the University of Rhode Island said everything she learned about her sport, she learned in college. Not only that, but "I think my college program prepared me with the mental and physical toughness required to reach the international stage, as well as the teamwork necessary to join a new team or lineup."
Teamwork is something Brooke Mooney learned long before joining the national team. Looking back at her time at the University of Washington she wished she had used the resources available to her more. "There is no shame in asking for help! There are so many student and student-athlete resources on a campus — that are meant to be used — no matter how good a student or athlete you are," she said.

There are even resources to help educate about food and nutrition. Molly Reckford (who attended Dartmouth College) said she learned that lesson the hard way. "Chicken nuggets are not a recovery food. Eating a lot is not the same as eating well. I was just letting myself be slow. Oh, and do the extra workouts — even if it's optional. It's optional, but so is winning!"
Lisa Costantini is a freelance writer based in Orlando. She has covered Olympic and Paralympic sports for various publications, and has contributed to TeamUSA.org since 2011.