Rower Kara Kohler Qualifies For Tokyo At The First U.S. Olympic Team Trials Of 2021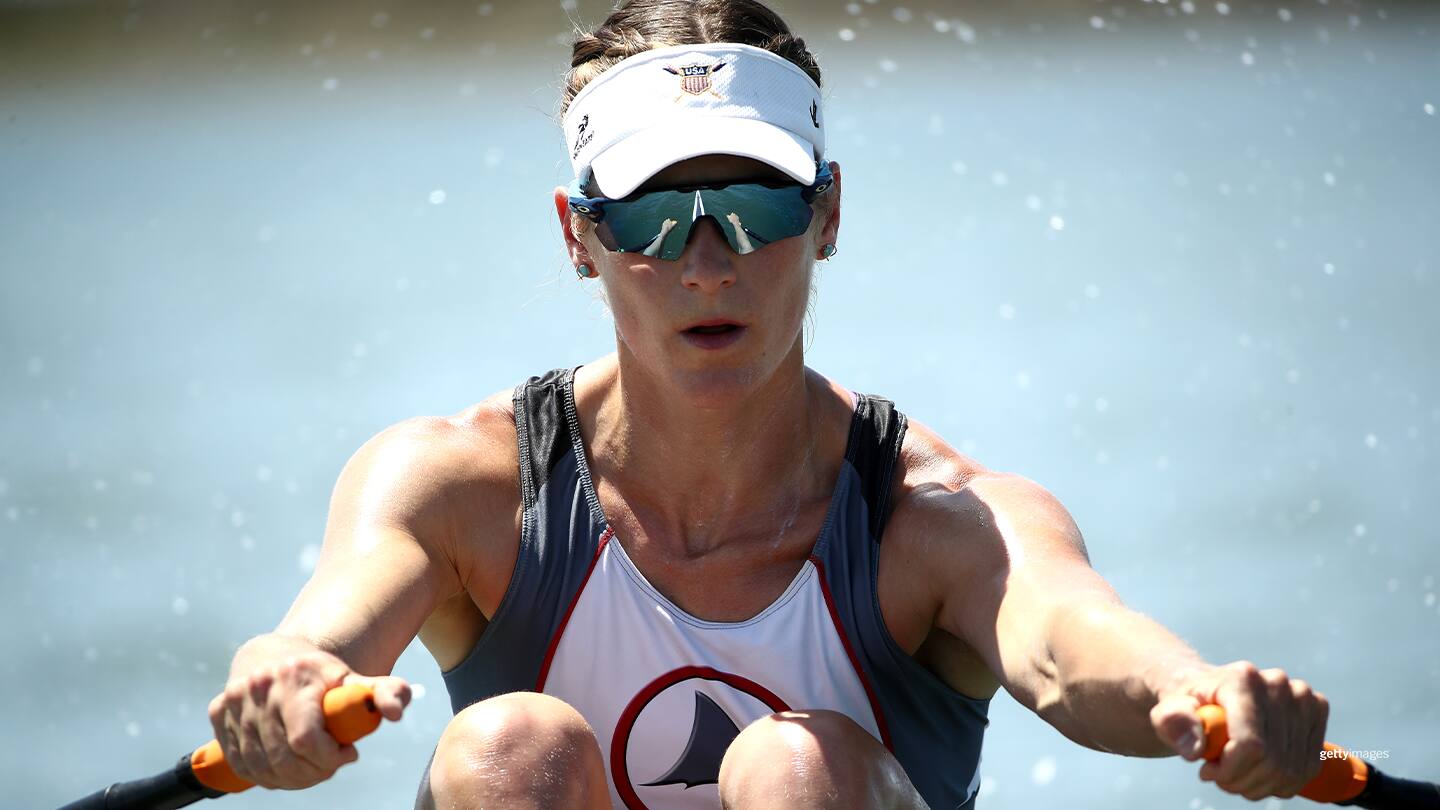 Kara Kohler rows a single scull during a training session on June 29, 2020 in Oakland, Calif.
Sarasota, Fla. - U.S. Rowing concluded the first Olympic Team Trials today ahead of the 2020 Tokyo Games taking place this summer. Almost one year after the global pandemic shut down the world — and put a halt to all sporting events and competitions — the first in-person competition for rowing is now in the books.
Winning the women's single sculls — and punching her ticket to Tokyo — was 2012 bronze medalist Kara Kohler who secured the only automatic qualification spot up for grabs today. Not far behind was top singles sculler (and two-time Olympian and silver medalist at the 2016 Games) Genevra "Gevvie" Stone in 2nd place.
Stone will have another chance to qualify for Tokyo as the second team trials will be held April 12-14 in West Windsor, NJ and will feature three Olympic boat classes: the women's double sculls, men's pair and men's quadruple sculls, as well as three Paralympic boat classes: the PR1 men's single sculls, PR1 women's single sculls, and PR2 mixed double sculls.
Kohler is excited to make her debut in the single in Tokyo after competing in the quad (and winning bronze) in 2012.
"I've had a lot of fun racing the single and I'm glad I get to keep doing it," she said after coming off her win at Nathan Benderson Park in Sarasota, Fla. "It is a huge relief to make the Olympic team after four plus years working on this boat class."
As this was the first sport to hold a U.S. Olympic Team Trial after the coronavirus touched down in the U.S almost one year ago, the athletes were excited and nervous for the chance to compete again.
"I feel slightly ill, just from all the nerves and excitement leading up to this," Kohler revealed after punching her ticket. "But I just tried to keep my focus on each day and am very happy to be here."
Kohler wasn't the only one feeling the nerves. Newcomer Kevin Cardno — who was competing at his first Team Trials, and in his first-ever final — accidentally hit a buoy with his oar, losing his grip in the final meters of the men's double sculls. Despite the small snafu, his boat finished first along with his teammate Jonathan Kirkegaard.
Cardno admitted, "I did not intend for that to happen, but it feels good that we executed what we wanted to and it worked today," he said.
Kirkegaard blamed himself for the issue. "We were coming into the last meters and I noticed we had drifted into the buoys," he said. "I was thinking, Oh no! Oh no! So I gave it a little too much and Kevin caught a buoy and lost his oar. The crazy bit is he grabbed it right away, but then he looked over and I was like, GO! We crossed the line first, but my goodness. Exciting for you guys, but I don't need that kind of excitement."
Kirkegaard and Cardno's win secured them a chance to qualify for a spot in Tokyo — along with today's winners of the three other boat classes — at the next round of qualifiers in Switzerland later this spring.
Men's single sculls winner John Graves said trials are the toughest emotional hurdle, but "it gives me the chance now to really focus on qualification in Switzerland without having to beat all the domestic competition," he said. "I'm proud of the way I handled the week and I'm excited for training over the next coming weeks."
Placing first in the lightweight women's double sculls was Michelle Sechser and Molly Reckford. Winners of the lightweight men's double sculls was Zachary Heese and Jasper Liu.
The Final Olympic Qualification Regatta is scheduled for May 15-17 in Lucerne, Switzerland.
Lisa Costantini is a freelance writer based in Orlando. She has covered Olympic and Paralympic sports for various publications, and has contributed to TeamUSA.org since 2011.