"Out of the Dark:" Raven Saunders Shares Mental Health Journey In Mini-Doc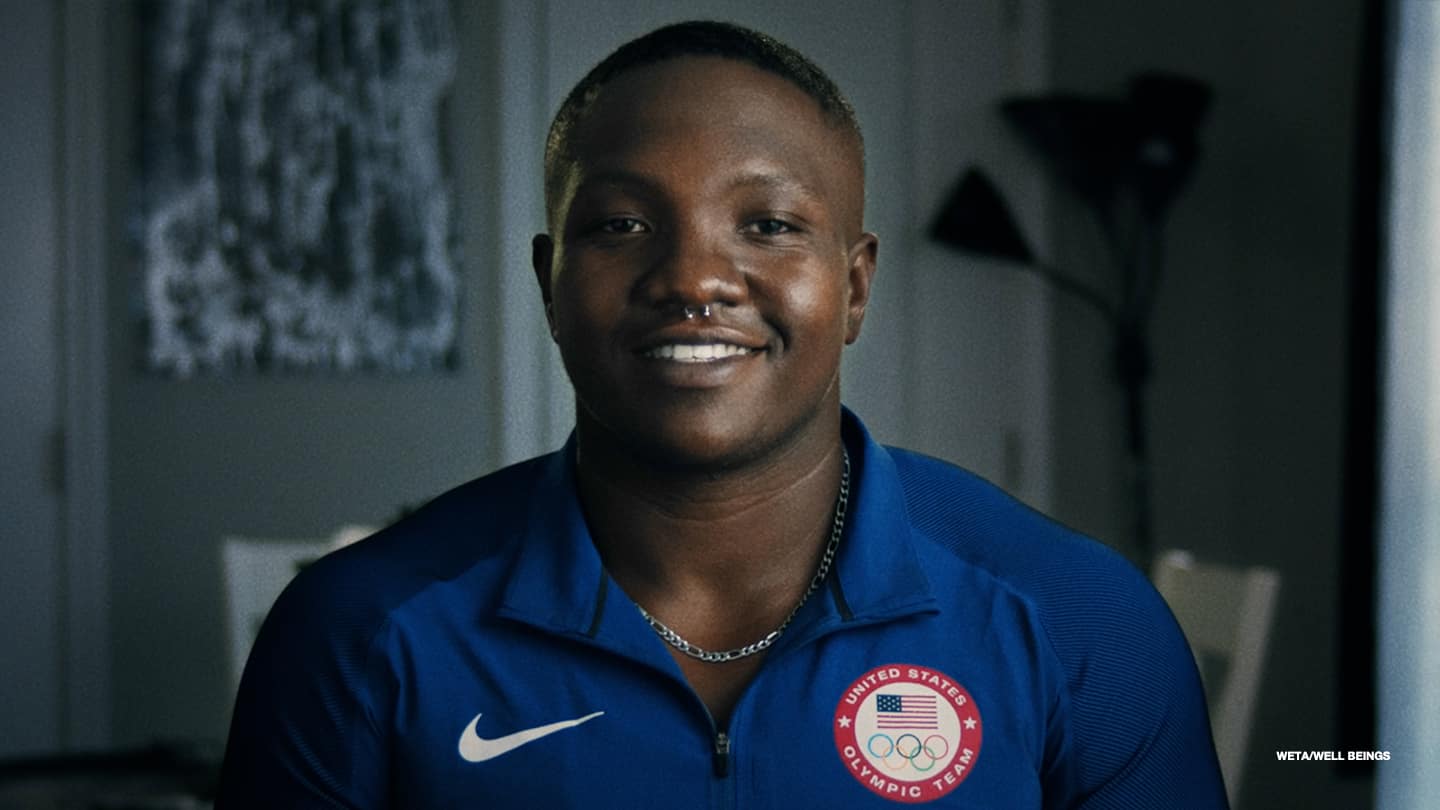 Raven Saunders poses for a photo while filming her new mini-documentary, "An Olympic Athlete Takes on Depression."

Raven Saunders was nicknamed "The Hulk" in high school because she was affable outside the shot put ring and ferocious when it came time to throw.
Yet both sides of her personality were hiding a secret. In January 2018, Saunders was so tormented by depression and anxiety that she thought about ending her life. There was a huge drop-off along a Mississippi highway and in that hour of darkness Saunders was tempted to drive over the edge.

A text to an old therapist pulled her back and now Raven "The Hulk" Saunders is truly a superhero: She is helping others as an advocate for mental health awareness.

Saunders, who was fifth in the women's shot put at the Olympic Games Rio 2016, is featured in a nine-minute documentary called "An Olympic Athlete Takes on Depression." Released last week, it is the first installment in the Well Beings "Out of the Dark" web series and is available on WellBeings.org and as part of the PBS Short Docs collection on PBS Voices.

"A lot of people are moved by it," said Saunders, who will turn 25 on May 15. "One of the craziest comments that I've seen is a guy was telling me about his bad days and today he knows he can go forward after watching it.

"People are starting to see mental health differently. It's not something to be stigmatized. It's not something to be afraid of or put down or looked down upon. All of us go through things and nothing can change it so it's something that we can have open and honest conversations about."

Saunders hopes the documentary will get a lot more views "because if it doesn't help you, it can possibly help someone around you," she said. "What may seem like the end isn't really the end - it's just the obstacle that you can always overcome."

On Twitter, Saunders said, "Go watch now especially if you are having a tough time right now with depression. You are not alone."

Saunders grew up in Charleston, South Carolina, where she endured childhood traumas and struggled with confidence. She was so strong that someone suggested she try the shot put.

Saunders became a junior world championships silver medalist. In college, she was an indoor and outdoor NCAA champion, competing first for Southern Illinois and then for Ole Miss. As a sophomore, Saunders made the 2016 Olympic team as one of only a handful of collegiate track and field athletes.

The Highs and the Lows
Saunders was happy with her Olympic performance and came home from Rio riding a high. There was a parade in her hometown on "Raven Saunders Day."
But no one had warned her about the post-Olympic letdown. "Right after, it's like a crash," Saunders said, "because there's so much buildup and there's a time to come down."

While she was back in school, her new friends were professional athletes. Saunders' 2017 collegiate season had some setbacks and after winning her first U.S. national title, she placed a disappointing 10th at the world championships.

In the documentary, Saunders said she had the "weight of the world resting on my chest." She didn't realize she was suffering from depression and hid her feelings. She didn't want to feel like a bother to the people she loved or be a burden.

On that day in early 2018, Saunders didn't see a way out - except maybe that cliff.

At Ole Miss, she had been diagnosed with attention deficit disorder and worked with a therapist. They kept in touch after the therapist was promoted, but hadn't been in contact for about a year.

Saunders made a decision: "She's the person I'm going to text and if she doesn't text back then whatever happens happens."

The therapist texted back. She told Saunders to hold tight as she contacted Ole Miss officials who helped her check into a mental health facility.

"All of the things weighing on me for 22 years, I was finally able to process it," said Saunders, who was diagnosed with depression, anxiety and post-traumatic stress syndrome.

She left school within the month, saying she needed to "take some time and focus on myself."

People wondered what was going on with the promising shot putter. On Jan. 17, 2020, Saunders filled in the blanks. She tweeted a photo of her arm wearing wrist bands from the mental health facility and shared her story about that fateful day.

"Every day I live is a gift because that day could've been my last," she tweeted.

Saunders said she was moved to go public by the story of Bryce Gowdy, a 17-year-old football player who had signed with Georgia Tech. His family was homeless and one night Gowdy walked onto some train tracks and was killed.

"He had so much that he couldn't deal with it," Saunders said. "I remembered how I was in a deep place, and a lot of people didn't know exactly what to say or think. I felt like if I shared my story, I could motivate some other kid to keep fighting the same way I did."

A Sympathetic Ear
She said the response to her revelation was "overwhelmingly love. A lot of people were thanking me for being brave enough to share my story, and people shared with me loved ones they had lost, loved ones they almost lost or how they'd almost lost themselves.

"And it was a lot in the beginning, because I was still very vulnerable - and I still am a little bit to a degree about it. But just being able to hear how I'm helping people or talking to people who say, 'Hey, this helped me push through today,' just feels great. It really helps me to keep pushing."

Saunders said that she tells people to check in on their teammates, their families and their coaches.

"We always talk about check on your strong friends," said Saunders, whose tweeted last month, "It's crazy how some of the most beautiful things/people are also broken."

The pandemic brought on more mental health challenges.

"It was a tough time that we all as athletes were going though, not being able to train and things like that," Saunders said. "So if somebody posts something that may seem like they're struggling a little bit, I'm texting them, 'Hey, keep pushing.'"

Spoken like a shot putter.

And while Saunders is always willing to listen, she encourages people who are going through a difficult time to seek a therapist.

She tells them to "try shopping around, because finding a good therapist is like dating: you have to find the person and the right fit for you. Don't just rule it out if the first one doesn't go right."

As for her own state of mind, Saunders said, "I'm doing a lot better. I'm not going to make it seem like it's all peaches and cream, because that's not the truth when it comes to mental health. You still have your struggles, you're still going to have your battles. I don't want people to look at me and be like, 'Oh, she's got it all figured out.'

"But I've come to terms with it, and I know coping mechanisms. I know things to do."

Breathe, Breathe, Breathe
Saunders said when she feels anxious or depressed, she focuses on her breathing and may even meditate or do yoga.

"I definitely need to take deep breaths and I focus on the most positive things that I possibly can in that situation," she said, "and just try and not get myself to go into a hole."

Saunders, who trains in Alabama, is also a part-time coach and if her athletes seem anxious, she tells them, "Hey, please make sure you breathe before you go into the ring."

Once the youngest shot putter for Team USA on the international scene, she now finds herself a role model for potential Olympians.

"I've had a number of them come up to me, even some young African Americans who are part of the LGBTQ community, to tell me how influential I am," Saunders said. "And it's crazy, because when I was growing up looking at who I had to look up to, those athletes ended up pushing me, and now I get to be in that same position. That's the reason why I challenge myself every day to keep fighting."

She also tells them, "Find love in doing what it is that you love and spend your time doing that. And it'll pay you back."

And Saunders loves the shot put. She will compete in June at the Olympic Team Trials – Track and Field in Eugene, Oregon, against a loaded field. "Top three goes (to Tokyo)," she said, "and I know for a fact, that I'm going."

The extra year due to the postponement gave Saunders more time to recover from hip surgery. Earlier this year, she set an indoor personal best of 19.57 meters.

And she said she feels like The Hulk more than ever.

"Remember, The Hulk can be the good Hulk that's saving everything or The Hulk can be the person that's destroying everything," Saunders said.

"And for me, the depression side would be like the negative side of The Hulk. It was the side that was trying to drag me down, things that could destroy me, but also it could help me if I used it in the positive way of track and field.

"I've learned how to control him."

If you or someone you know is experiencing a mental health issue and are looking to connect with a mental health provider please reach out to the Team USA Mental Health Support Line (24/7) at +1 (719) 866-CALL. In the process of helping yourself, you may be inspiring courage in others to seek help as well.


For more information about mental health resources please visit TeamUSA.org/MentalHealth.
Karen Rosen has covered every Summer and Winter Olympic Games since 1992 for newspapers, magazines and websites. Based in Atlanta, she has contributed to
TeamUSA.org
since 2009.