Raven "Hulk" Saunders Wins Silver Medal In Women's Shot Put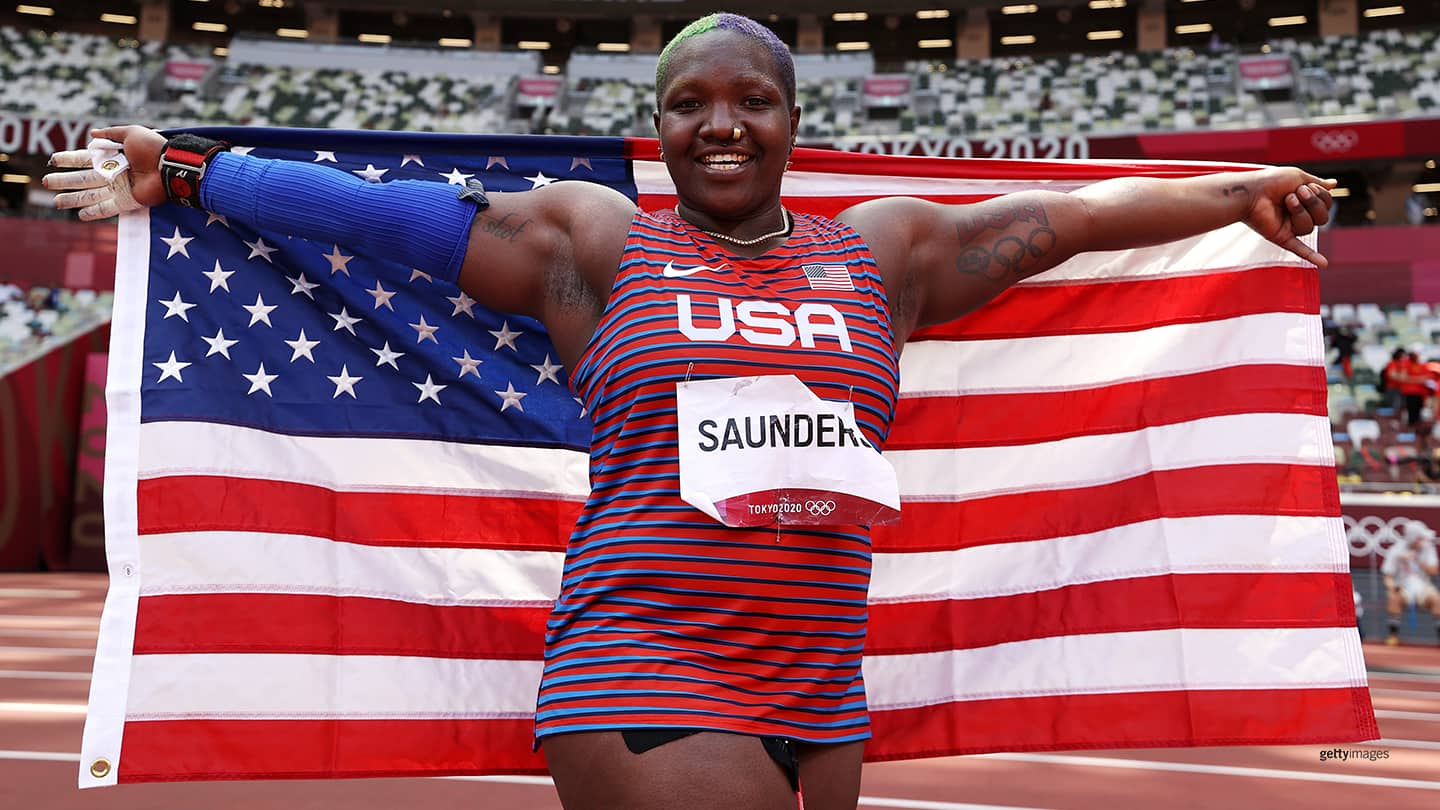 Raven Saunders reacts after winning the silver medal in the Women's Shot Put at the Olympic Games Tokyo 2020 on Aug. 1, 2021 in Tokyo, Japan.
TOKYO – Raven Saunders has made it no secret that her alter ego is "The Hulk."

So it was perfectly natural for her to ask people back home in the United States to wear green to show their support for her in the Olympic women's shot put.

Saunders tweeted that the green could be "hair, nails, pants, shirts, makeup, etc, and post pics of it August 1 for the finals," adding that "the best dressed in Green gets an autographed Team USA Singlet."

"They better be green," she said after the competition, adopting a threatening tone, "Don't make me put my mask on."

Wearing her menacing "Hulk" mask, white and green Air Jordan 13s – as well as the red, white and blue Team USA uniform – and sporting close-cropped half green and half purple hair, the incredible Raven won the silver medal at the Olympic Games Tokyo 2020.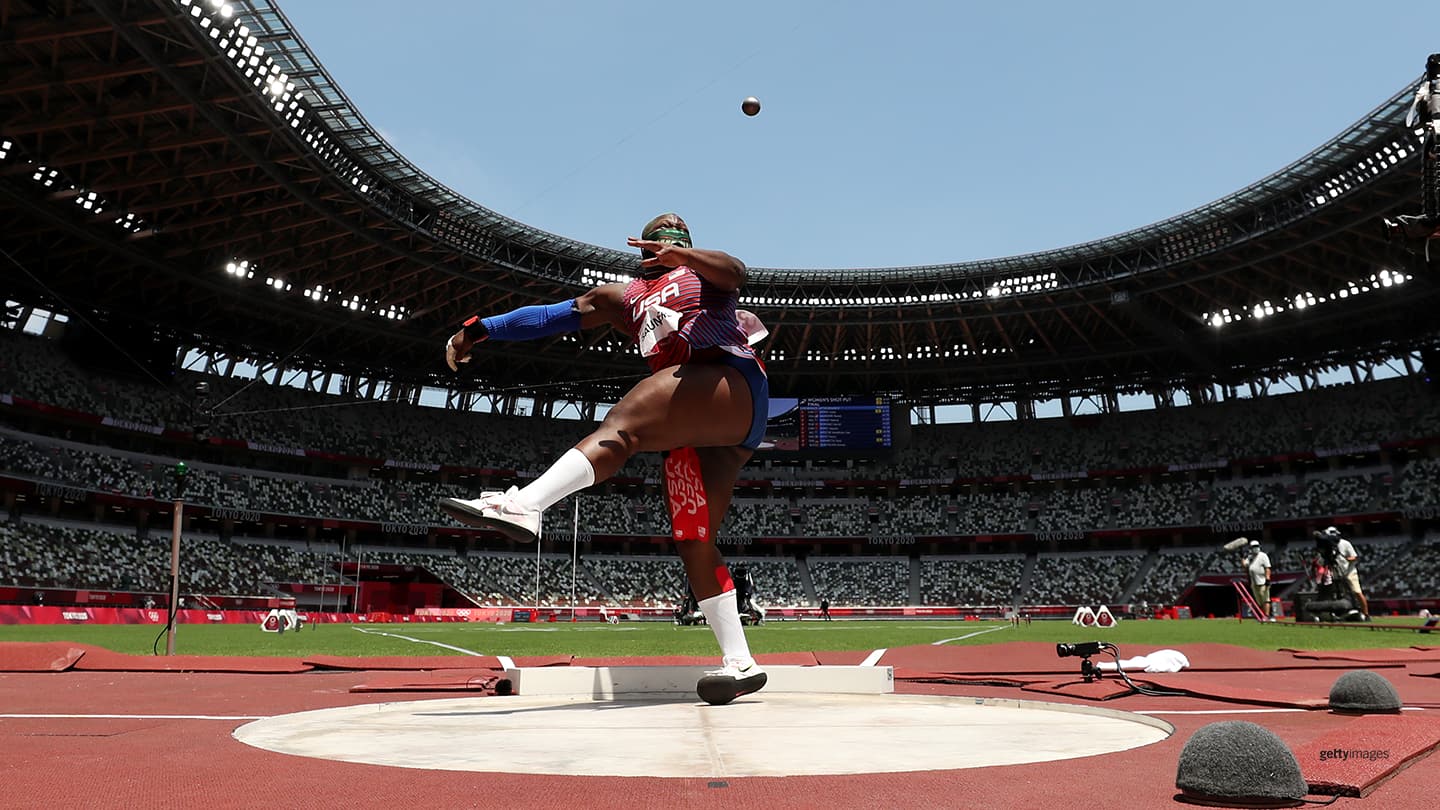 Raven Saunders competes in the Women's Shot Put Final at the Olympic Games Tokyo 2020 on Aug. 1, 2021 in Tokyo, Japan.
Saunders threw 19.79 (64-feet, 11 inches), just off her personal best of 19.96 (65-5 ¾) from the U.S. Olympic Team Trials – Track & Field in June, to place second behind Lijiao Gong of China, who threw a personal best 20.58 meters (67-6). Gong finally reached the Olympic pinnacle after winning the bronze medal in 2008, the silver in 2012 and placing fourth in 2016.

Valerie Adams of New Zealand took the bronze (19.62 meters) for her fourth Olympic medal. She won gold in 2008 and 2012 and silver in 2016 and has since given birth to two children.

"Everything that I've been through mental-health wise, injuries, financial," Saunders said, paid off at Olympic Stadium on Sunday morning as she was able to relay her philosophy of "Keep fighting, keep pushing, find value in yourself."

As another famous character once sang, "It's not easy being green."

Five years ago in Rio, Saunders was fifth while teammate Michelle Carter took the first U.S. gold in the event.

"I remember watching her in that moment," Saunders said, "and being like, 'I'm going to make sure that person is me.'"

If you wanna support me for the Olympics I want you to wear some kind of green, hair, nails, pants shirts, makeup etc, and post pics of it August 1 for the finals #teamusa #nike #olympics

— Raven HULK Saunders (@GiveMe1Shot) July 20, 2021
She was only 21 years old at the time and was caught up in what she called a "whirlwind" when she went back to school at the University of Mississippi. Saunders was tormented by depression and anxiety and contemplated taking her life in 2018. A call to a former therapist brought her back from the brink, and she found help.
Through therapy and support from a strong network of friends and family, Saunders has learned to harness the Hulk within her. She differentiated the fun-loving Raven from the Hulk that "was smashing everything that needed to be smashed."
Yet Saunders' Olympic dreams were almost pulverized by a torn right labrum earlier this season.
She sought support from hammer thrower Gwen Berry when she was going through a depressive episode after finding out about the tear in her hip less than a month before the Olympic Trials.
"It was nice to have somebody like her that I could reach out to," Saunders said. "My right labrum is torn worse than I tore my left one in 2019, and then I tweaked my Achilles in the prelim, but hey whatever. We got a medal."
What could she have done if her hip were healthy? "I'm still 25, so I've got a long career of me," Saunders said. "The year where I do get healthy, hey, watch out! Watch out!"
At the Trials, Saunders was second to Jessica Ramsey, who threw a personal best of 20.12 meters. Unfortunately, Ramsey was dealing with an injury at the Olympics and posted no mark in the 12-woman final after three fouls.
In between throws, Saunders stalked around, giving herself positive reinforcement. She postured at the metal ball, which she placed on the ground by the ring, wagged her finger, and even strode a few feet onto the grass before throwing the towel off her head and getting ready to throw.
"I like to be my biggest supporter," Saunders said of her personal pep talks. "Y'all would have to bleep out most of the things I say. I'm telling myself, 'You got it, you got it, you're a champion, you gotta push, nobody's going to give it to you, you have to work, you gotta grind, you've got to get it.'"
And she did. As Saunders walked up to meet the media in the mixed zone, she was singing, "Celebration" by Kool & The Gang.
Saunders said she invested everything that she had mentally and physically. It was important not only to "be able to walk away with a medal," she said, but also to "be able to go out here and really inspire so many people of the LGBTQ community, so many people who have been dealing with mental health issues, so many people of the African American community, so many people who are black all around the world. I really just hope that I can continue to inspire and motivate."
The 25-year-old from Charleston, South Carolina, was the first thrower in the competition and put out a solid effort of 19.65. Gong answered with 19.95.
Saunders fouled on a prodigious second attempt that looked like a 20-meter throw. She stepped over the top of the ring with one foot, and later scowled when talking about it.
"I just didn't finish working my hips around," Saunders said. "I got excited and I watched it because I knew as soon as it left my hand, 'Aww, that's going to be the one.' I was hoping I would get another one."
But she said she was glad to see Gong, whom she had beaten in a previous competition, throw as far as she did.

"I like to say, " I don't want anything easy.'" Saunders said. "Because I know that in life it's going to be a dogfight.

"I was kind of expecting that and preparing for it, and I was happy when she brought it."

Saunders threw 19.62 on her next attempt, then 19.49 and improved to 19.79 on her fifth throw.

The formidable Adams, who was made a Dame for her accomplishments, was behind her in the rankings, and once Saunders saw her literally over her shoulder. Adams stands almost 6-foot-4, while Saunders is not quite 5-5.

"I was like, 'Man, I'm a midget, I'm really a midget out there,'" Saunders said.

But she can throw far. "Hey," Saunders said, "it's condensed power."

Her final throw was a foul, but she knew she was on the podium. Saunders danced, jogged to the stands to get a U.S. flag, and struck some model poses.
Unlike the other competitors, Saunders' legs were mostly bare. "I blame the buns on Twitter," she said, "because I was joking around and I said, 'I'm going to wear the sprinter panties, add a little razzle-dazzle,' and then 800 and something people liked it, so I was like, 'Dang, now I gotta wear it.'"

They say it's gone be hot in Tokyo so I think imma wear them sprinter panties this time around. Add a lil razzle dazzle

— Raven HULK Saunders (@GiveMe1Shot) June 30, 2021
But that's just so Raven. She attributes her different looks to "my unapologeticness of it all."
"My hair, I wear grills, my biggest thing is just always being me," Saunders said. "People told me not to do tattoos and piercings, but now look at me - I'm popular."
She said it would have meant so much to have seen someone who looked like her when she was growing up. Even now she is inspired and motivated by current athletes.
"I talk about why representation matters," Saunders said. "Being able to see that, it would give me more of a push. I remember looking back and remembering watching Venus and Serena (Williams) playing tennis - young black girls, beads in their hair, unapologetic. That inspired me to be myself."
And her persona has attracted fans as well as sponsorships. "By the time I get back to the states, we ain't broke no more, baby," she sang.

Saunders said she is sending 22 postcards from Tokyo to people who donated to help her.

"I'm so thankful," she said. "I'm going to get to writing tonight to everybody who played a part, donated, to let them know they're definitely appreciated."

Saunders had tweeted about what she said was "perception vs. reality." Someone had said her net worth was between $1 million and $3 million, so she posted a screenshot of her bank account, showing that she was $538 in the red.

She said she never intended for people to donate, but ended up with about $1,200.

"So when I talk about literally investing everything into this medal, into this goal, into this dream, I literally mean everything," she said.

But now that Saunders has that Olympic medal, she will be careful to avoid the pitfalls she encountered in 2016.

She plans to take advantage of therapists and sports psychologists provided by USA Track & Field and the U.S. Olympic & Paralympic Committee.

"I know that once this is done, regardless of however I feel, I know that I'm going to end up seeing a therapist again just to help with that," Saunders said, "Also, for me, I'll learn my value outside of the sport. I know that the medal, it's cool, it's a bonus, but really the thing that I'm most excited about is constantly inspiring and pushing people and really still being an advocate for my community, all of them."

She laughed. "I'm part of of a lot of communities, gosh dang."

But first, there's a more pressing need. " I'm about to relax," Saunders said. "I don't know where, but I am going on vaaaaa-cation, you hear me?"
Want to follow Team USA athletes during the Olympic Games Tokyo 2020? Visit TeamUSA.org/Tokyo2020 to view the medal table, results and competition schedule.
Karen Rosen has covered every Summer and Winter Olympic Games since 1992 for newspapers, magazines and websites. Based in Atlanta, she has contributed to TeamUSA.org since 2009.