Team USA Athletes Brought Mental Health To The Forefront At Tokyo Games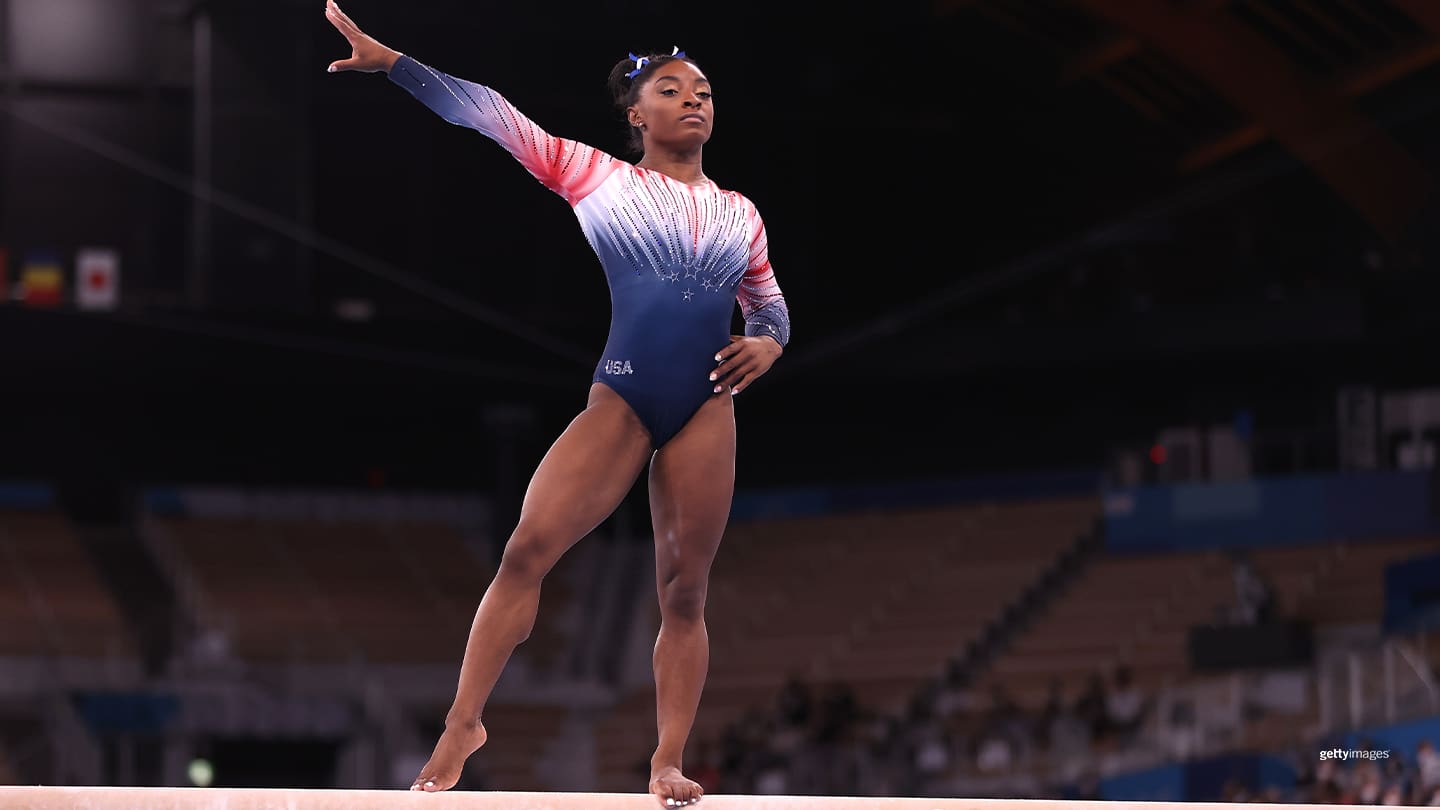 Simone Biles competes on the balance beam at the Olympic Games Tokyo 2020 on Aug. 3, 2021 in Tokyo.
When Simone Biles walked off the floor partway through the gymnastics team final at the Olympic Games Tokyo 2020, one of her first reactions was to feel embarrassed. Her other instinct, though, created a powerful paradigm shift throughout the sports world.

Already the world's greatest gymnast, Biles arrived at her second Olympics eager to put on a show. Instead, with the world watching and a gold medal on the line, the 24-year-old understood she wasn't in the right headspace. Continuing on could have caused her to seriously injure herself — to say nothing of hurting her team's chances for a medal.

So she told her coaches, her team doctor and her teammates: I have to stop.

Mental health has long been a taboo subject across society, and especially within sports; if an injury isn't physically debilitating, athletes have been expected to suck it up and push through the pain. That's begun to change in recent years, led by sports icons such as Michael Phelps and Naomi Osaka, among others, speaking openly about their unique struggles as elite athletes.

Biles' withdrawal, and on the biggest stage of her career, took that conversation to another level.

"I have to do what's right for me and focus on my mental health," she said afterward.

One of the best-known athletes going into these Olympics, Biles was frustrated this episode had to happen when it did. She worried how the other athletes might look at her. What she found, at least in the sports community, was near unanimous support.

Her coaches and team doctor understood; no one tried to coax her into continuing. Teammates Jordan Chiles, Suni Lee and Grace McCallum backed her up too, immediately embracing the 19-time world champion. They then filled her spots in the lineup and went on to win a silver medal.

"She's more than just an athlete," explained Chiles, her good friend and training partner. "She's a person. She's somebody who's a sister, a friend, a mom sometimes."
By the following morning, elite athletes from around the world, across the spectrum of sports, had weighed in to support Biles as well. One of the strongest voices was that of Phelps, the most decorated Olympian with 23 swimming gold medals, speaking on NBC's "Today" show.


"I hope this is an eye-opening experience, I really do," he said. "I hope this is an opportunity for us to jump on board, and to even blow this mental health thing even more wide open. It is so much bigger than we can ever imagine."


Mental health awareness has been bubbling to the surface for years now, and through Biles and many others it burst to the forefront at the Tokyo Games.


Any Olympic or Paralympic Games can be an emotionally and mentally strenuous journey for the athletes, who strive for years — or maybe a lifetime — with a single-minded focus to compete there.


This year's Olympics created additional challenges.


In the spring of 2020, as the world's athletes were preparing for the final stretch of the Olympic quad, a one-year postponement of the Games thrust uncertainty in the world of people who tend to thrive on routine. Where do we train? How does Olympic qualifying work? What about funding? And that's to say nothing of the actual pandemic, with some U.S. athletes contracting Covid-19, while many others saw close friends and family affected.


Then, when the Games finally took place this summer, the event had to be scaled back and held without fans in attendance, which also meant athletes were in Tokyo without their families and other support systems that usually accompany them.


Biles wasn't sure what led to her developing "the twisties," a relatively common condition among gymnasts during which their bodies and minds inexplicably go out of sync. She was feeling good coming into the Olympics, she said, but the morning before the team finals something changed and she just couldn't complete her skills anymore.


What she did know, however, was that the lead up to the Olympics had been strenuous. She wanted to be at her best in Tokyo. Many others expected her to be great too. Her teammates, her sponsors and her fans were all counting on her to put on a special performance. Broadcasters and other media had made her the face of the Games. It's a kind of pressure she's embraced throughout her historic career, and she's almost always thrived in it.


But when she developed the twisties the day before team finals, it became a lot to carry.


"I truly do feel that I have the weight of the world on my shoulders at times," she wrote to Facebook that night.


Biles spoke about how therapy and medicine have helped with managing her mental health, but with the Games finally here she couldn't shake that feeling that she wasn't in control of her own journey.


"This Olympic Games I wanted it to be for myself, but I came in and I felt like I was still doing it for other people," she said, fighting through tears, after the team final, "so that just hurts my heart that doing what I love has been kind of taken away from me to please other people."


Mental health affects athletes in various ways. They might struggle with anxiety and depression, just like people throughout the general population. But there are unique challenges that come with being an Olympic athlete, so focused on being the very best at this one specific moment in time.


A wider theme that emerged throughout the Tokyo Games was one of humanity, with athletes striving to show fans that they're more than their sporting achievements.


"At the end of the day we're not just entertainment, we're humans," Biles said. "I think people forget that."


That's a theme fellow gymnast Sam Mikulak has embraced over the past year as well. The standard bearer for the U.S. men's program for the past two quads, Mikulak very publicly put his emotional wellbeing ahead of his chase for an elusive Olympic medal. When he left his third and final Olympics in Tokyo still without that medal, he said it was his best Olympic experience yet.


"All my previous Olympics I feel like there was just such a fear-based atmosphere, and that was due to my just not being my authentic self and trying to be someone who is trying to be what everyone expects me to be," Mikulak said after the all-around final. "And so for the first time I've been able to come out here and say no, I'm not doing this for anyone else. I'm just doing this for myself, and whatever happens happens."


"I'm still going to love myself, I've got a great support system, I've got a great life, and this doesn't define me."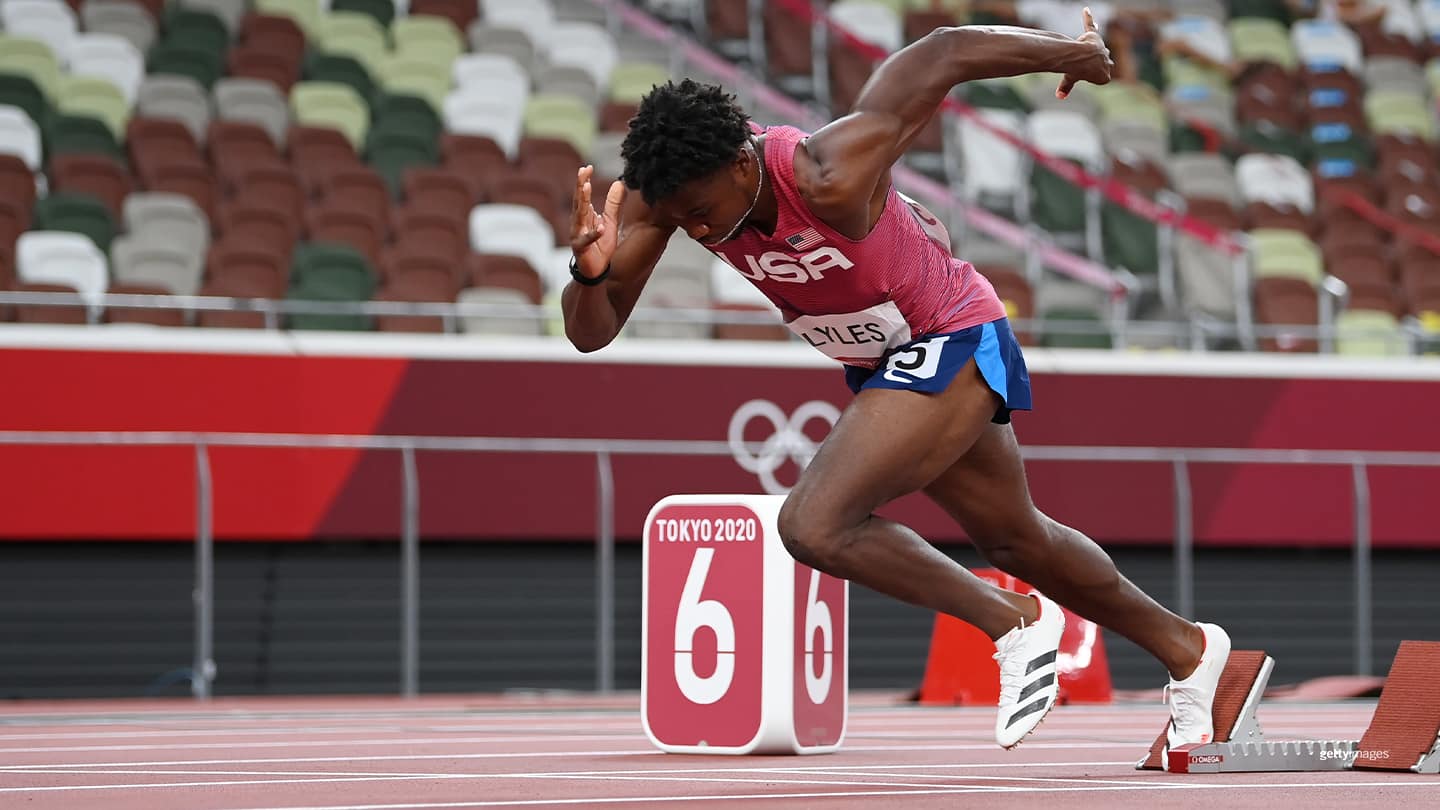 Noah Lyles competes in round one of the Men's 200m heats at the Olympic Games Tokyo 2020 on Aug. 3, 2021 in Tokyo.
Sprinter Noah Lyles, like Biles, came into the Olympics with huge expectations as the defending world champ in the 200-meter. After winning a bronze medal in Tokyo, rather than the gold many expected, he made mental health the focus. In a tear-filled 15-minute interview session, Lyles spoke of his history with depression, how he'd sought help through therapy and how difficult life can be as an elite track star.

Through reporters, he spoke to others "like me" who might be scared to talk about mental health or start to seek treatment.

"I want you to know that it's OK to not feel good," Lyles said. "And you can go out and talk to somebody professionally, or even get on medication, because this is a serious issue and you don't want to wake up one day and just think, you know, 'I don't want to be here anymore.'"
Shot putter Raven Saunders, skateboarder Nyjah Huston, swimmer Allison Schmitt and weightlifter Mattie Rogers were among several other U.S. athletes who spoke of the importance of mental health during the Tokyo Games.

This theme didn't come as a surprise to the governing bodies, which have implemented a host of new resources to support athlete mental health in recent years.

Sarah Hirshland, the United States Olympic & Paralympic Committee CEO, was among the first to speak out in support of Biles, stating she was "proud" of Biles "as a person, teammate and athlete."

"We applaud your decision to prioritize your mental wellness over all else, and offer you the full support and resources of our Team USA community as you navigate the journey ahead," Hirshland wrote.

A new athlete services division launched in February 2019 that focuses on, among other things, mental health. The organization signaled a newfound commitment on that front in September 2020 when it hired Dr. Jessica Bartley as its first director of mental health services. The USOPC also hired four licensed mental health providers who work with Bartley to provide crisis services, assessment and screening, individual and group therapy, and education and training in the mental health space.

"The Olympic and Paralympic Games mark a monumental achievement for these athletes, one they've been working toward for years, but the Games are just one part of their story," Bartley said. "Our goal at the USOPC is to normalize mental health as an integral part of their journey, and to support each individual as a whole person rather than just as an athlete."

Both the USOPC and the International Olympic Committee have developed strategies and resources to support the athletes. Among the resources the USOPC offers on a mental health section of the organization's website (teamusa.org/mentalhealth) is a registry of experienced mental health providers, a mobile app to learn more about mental health and wellness, and a 24-hour helpline.

In the crucial period surrounding the Games, the USOPC created support groups for athletes who failed to qualify for the Olympics and Paralympics. Additional support groups are available for the Olympians and Paralympians after the Games, a time when many have said they experienced serious letdowns. The IOC, meanwhile, provided psychologists and psychiatrists on location at the Olympic Village as well as a 24-hour hotline of its own. It has also taken organizational steps to promote athlete mental health and wellness in general.

"As a society we're coming to understand that mental health is a vital part of people's wellbeing, just as physical health is," Bartley said. "These investments made by the USOPC and IOC are showing a real commitment to that."
As for Biles, she never shied away from her situation. After withdrawing from the team final, she marched around the arena floor cheering on her teammates, then stood confidently in front of the world's press corps to explain what happened. In the coming days, as she withdrew from four of the five individual event finals she qualified for, she still made her way to the Ariake Gymnastics Centre to cheer on her peers.


All the while, between sessions with sports psychologists and medical professionals, Biles found a training home at nearby Juntendo University to work through her twisties. With the deadline looming for the final women's event, the balance beam on Aug. 3, Biles determined she was ready.


Five years ago in Rio, she had won four gold medals but was dismayed to find some people disappointed that her fifth medal, on balance beam, was a bronze. The return in Tokyo was not a quest for redemption, though. Still not totally ready to twist, Biles removed the spins from her complicated dismount in favor of a simple double back flip in the pike position.


Just getting up on the apparatus was a win, she said. That she then ended her Olympics with a bronze medal was perhaps poetic, in a way. But Biles was going home to Texas with something even greater.


"My mental and physical health is above all medals I could ever win," Biles said.
Chrös McDougall has covered the Olympic and Paralympic Movement for TeamUSA.org since 2009 on behalf of Red Line Editorial, Inc. He is based in Minneapolis-St. Paul.