U.S. Women Highlight Team Performances From Tokyo
The USWNT celebrates at the Olympic Games Tokyo 2020 on Aug. 5, 2021 in Kashima, Japan.
U.S. teams provided some of the most thrilling performances of the Olympic Games Tokyo, and in many cases, it was the women of Team USA that brought home the medals. From historic firsts to continuing dominance, here's a look at some of the memorable moments made by U.S. women's teams in Tokyo.


USWNT Bounces Back For
Bronze
The U.S. women's soccer team faced adversity from the get-go in Tokyo, losing to Sweden in its first match and snapping a 44-match unbeaten streak that dated back to January 19, 2019. But the world's No. 1 team wouldn't be down for long, rebounding with a 6-1 rout of New Zealand and earning a draw with Australia to advance to the group stage. Following a thrilling win in penalty kicks over Netherlands, the U.S. run came to an end in the semifinals against Canada. Team USA wouldn't be denied a medal as a pair of legends in Megan Rapinoe and Carli Lloyd, possibly playing in their final Olympic tournament, scored all the goals in a 4-3 win.
The U.S. Women's Water Polo team poses at the Olympic Games Tokyo 2020 on Aug. 7, 2021 in Tokyo.
Water Polo Dominance
Continues
Any questions about whether the U.S. women's water polo team was still as powerful as ever were answered in the first Olympic game with a record-breaking 25-4 rout of Japan. The U.S. wouldn't be quite that dominant in the rest of the tournament, even losing a game for the first time since the 2008 Beijing Games, and needing a comeback to defeat the Russian Olympic Committee in the semifinals, but would not be denied an unprecedented third consecutive Olympic gold medal. Team USA beat Spain 14-5, the largest margin of victory in an Olympic final.
"Today, I think that was just a show of who we are as a team," said U.S. attacker Maggie Steffens. "That no matter the adversity that is thrown our way, we stick together as a team, and we rise up and we thrive in those moments. It was really amazing to see the balance and the full team effort."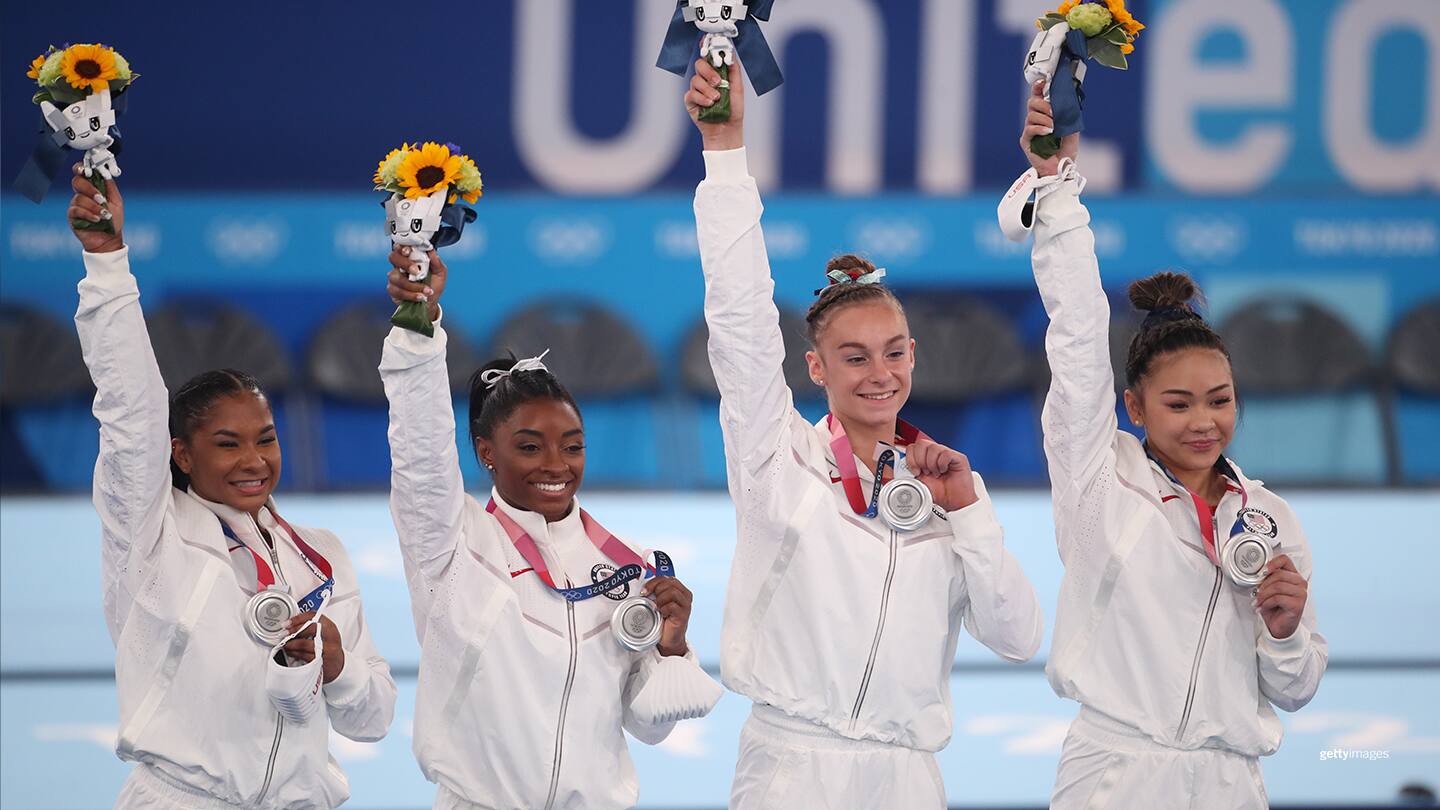 Jordan Chiles, Simone Biles, Grace. McCallum and Sunisa Lee, on the podium at Olympic Games Tokyo 2020 on July 27, 2021 in Tokyo.
Gymnastics Team Rallies For
Silver
Any team that loses its best athlete, let alone one of the greatest ever to play the sport, would find itself in dire straits for the rest of an Olympic Games. That was what faced the U.S. women's gymnastics team after Simone Biles was forced to withdraw with mental health concerns. But Biles' teammates picked her up, with Jordan Chiles stepping in on uneven bars and balance beam and Sunisa Lee filling in on floor exercise. Grace McCallum competed on all four apparatuses and helped the U.S. secure a silver medal, its eighth consecutive medal at the Olympic Games.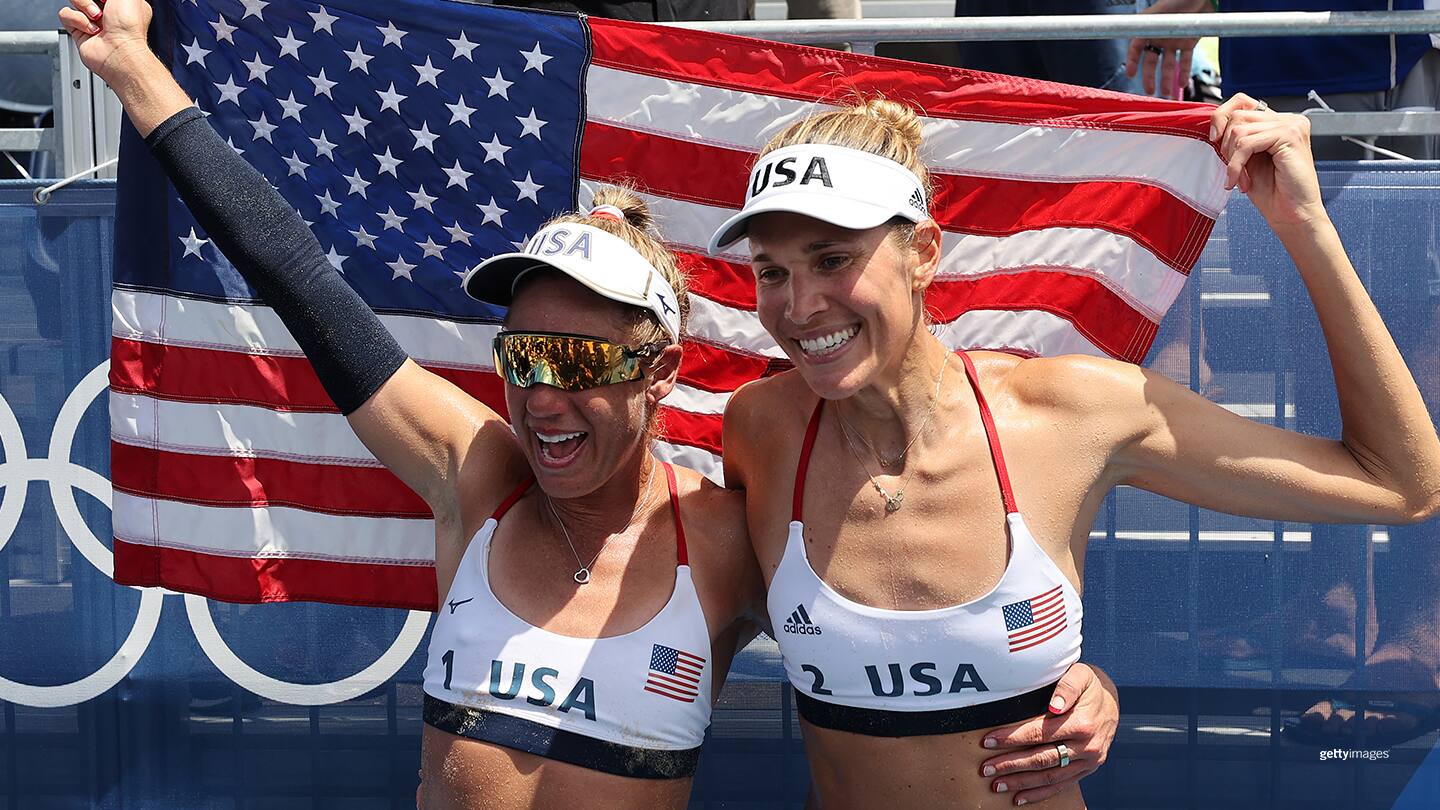 April Ross and Alix Klineman celebrate at the Olympic Games Tokyo 2020 on Aug. 6, 2021 in Tokyo.
There was just one thing missing from the decorated beach volleyball career of April Ross — an Olympic gold medal. Ross had a silver medal from London in 2012 with partner Jennifer Kessy and a bronze from Rio in 2016 with Kerri Walsh Jennings. Ross and Alix Klineman teamed up in 2018 and have since become known as the "A-Team." April and Alix stormed through the Tokyo field, dropping just a single set. Even in the summer Tokyo heat they overwhelmed opponents in the knockout stages, defeating Taliqua Clancy and Mariafe Artacho del Solar of Australia in the final.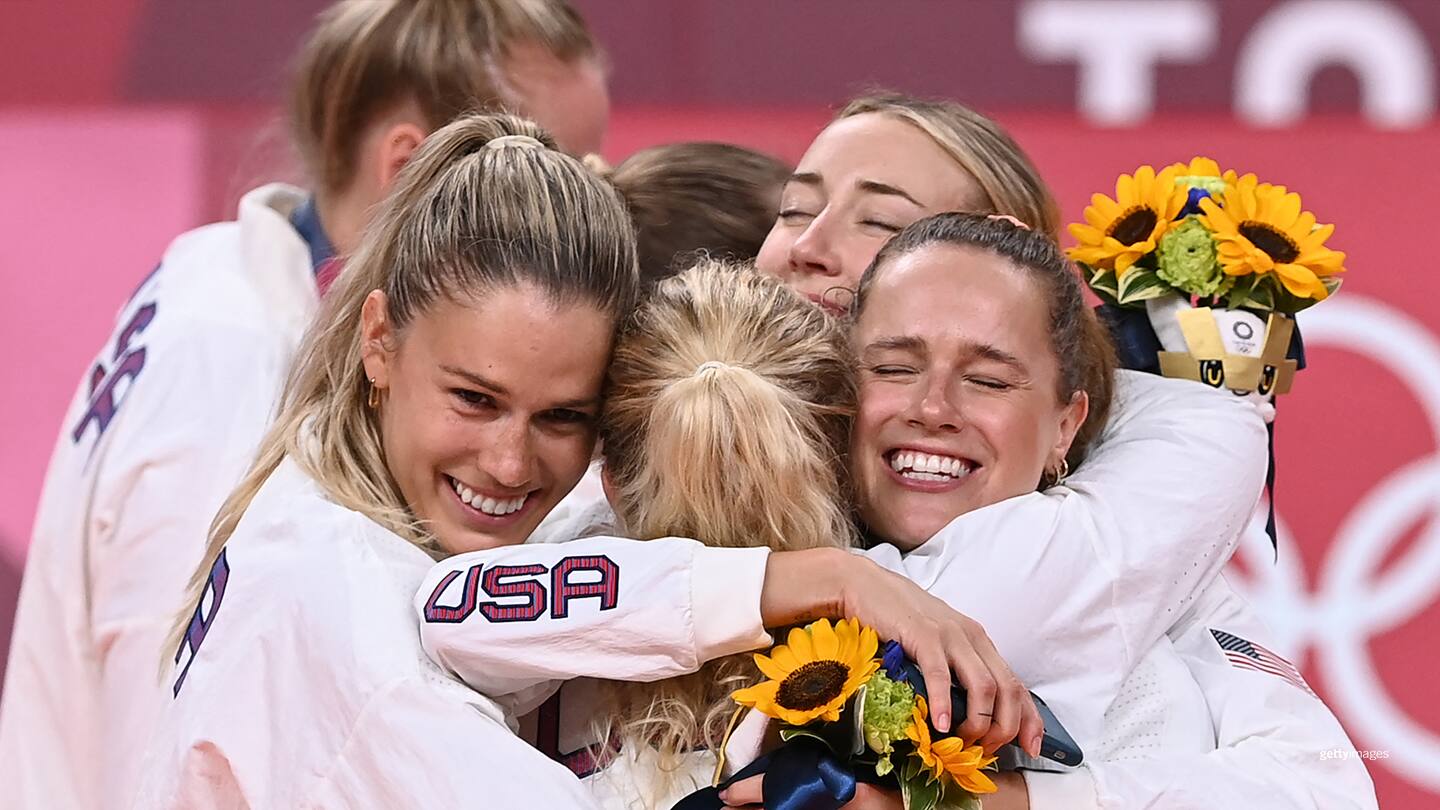 Andrea Drews celebrates with teammates at the Olympic Games Tokyo 2020 on Aug. 8, 2021 in Tokyo.
Indoor Wins First Gold
Medal
The U.S. women's indoor volleyball team got a fourth shot at winning a gold medal in their Olympic history and they left no doubt this time. The team swept Brazil in the final to get the long-awaited gold medal, moving head coach Karch Kiraly, a three-time Olympic gold medalist himself in the sport, to tears.
"Five medals out of the 11 Olympics, but no gold," he said. "It was a very powerful emotion that overcame me to help this program in this 12th Olympics finally become Olympic champion."
The U.S. occupied all but two spots in the tournament awards, with Jordan Larson being named Most Valuable Player.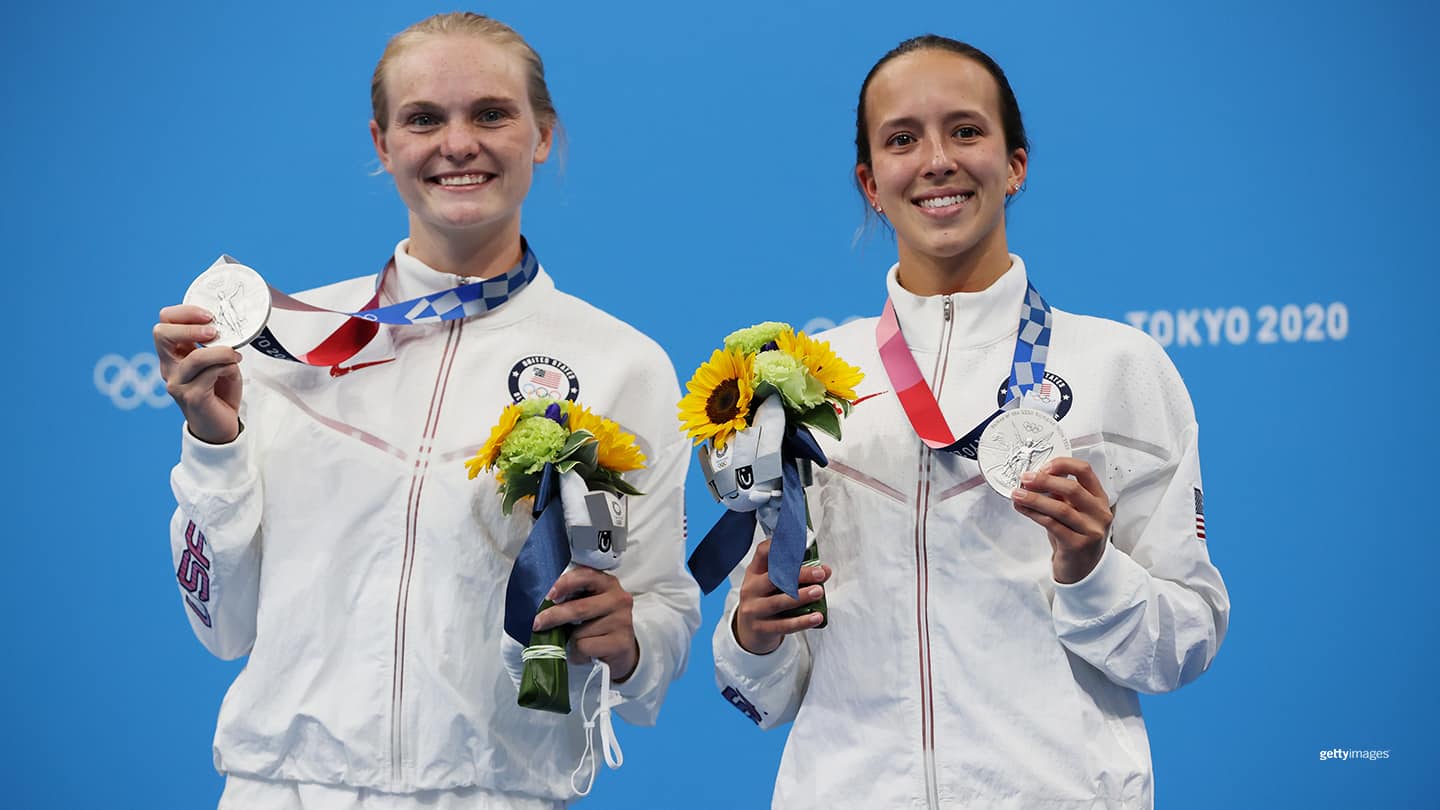 Delaney Schnell and Jessica Parratto pose at the Olympic Games Tokyo 2020 on July 27, 2021 in Tokyo.
A First Medal In 10 Meter
Synchro
The women's synchronized 10-meter platform event was first added to the Olympic diving program in 2000, and ever since Team USA has been shut out of the podium. That changed in Tokyo as first-time Olympian Delaney Schnell and 2016 Olympian Jessica Parratto, who only began diving together just before the U.S. Olympic Team Trials, secured a silver medal. The team steadily improved, going from seventh place after one dive to sixth, then fourth before ending in silver-medal position with their final dives.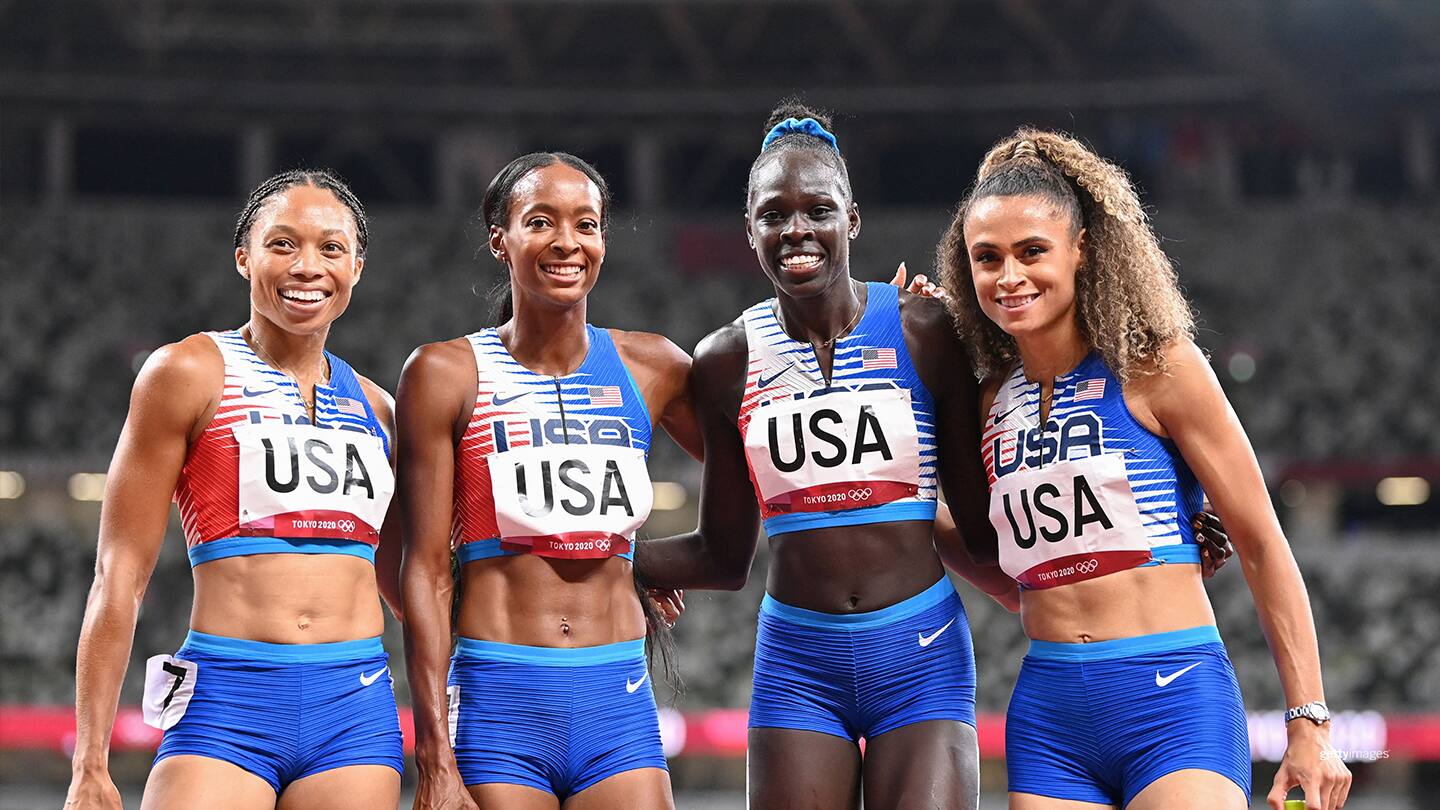 Allyson Felix, Dalilah Muhammad, Athing Mu and Sydney McLaughlin pose at the Olympic Games Tokyo 2020 on Aug. 7, 2021 in Tokyo.
Women's 4x400 Team Runs Away From
Field
The U.S. assembled a 4x400 team consisting entirely of women who had already won individual medals. And they ran like it. The team of gold medalist Sydney McLaughlin, bronze medalist Allyson Felix, silver medalist Dalilah Muhammad and gold medalist Athing Mu posted the third-fastest time in Olympic history, more than three seconds ahead of second-place Poland. It was the largest margin of victory ever at the Games. The win was also historic for Felix as it was the 11th of her Olympic career, passing Carl Lewis for the most in U.S. track and field history.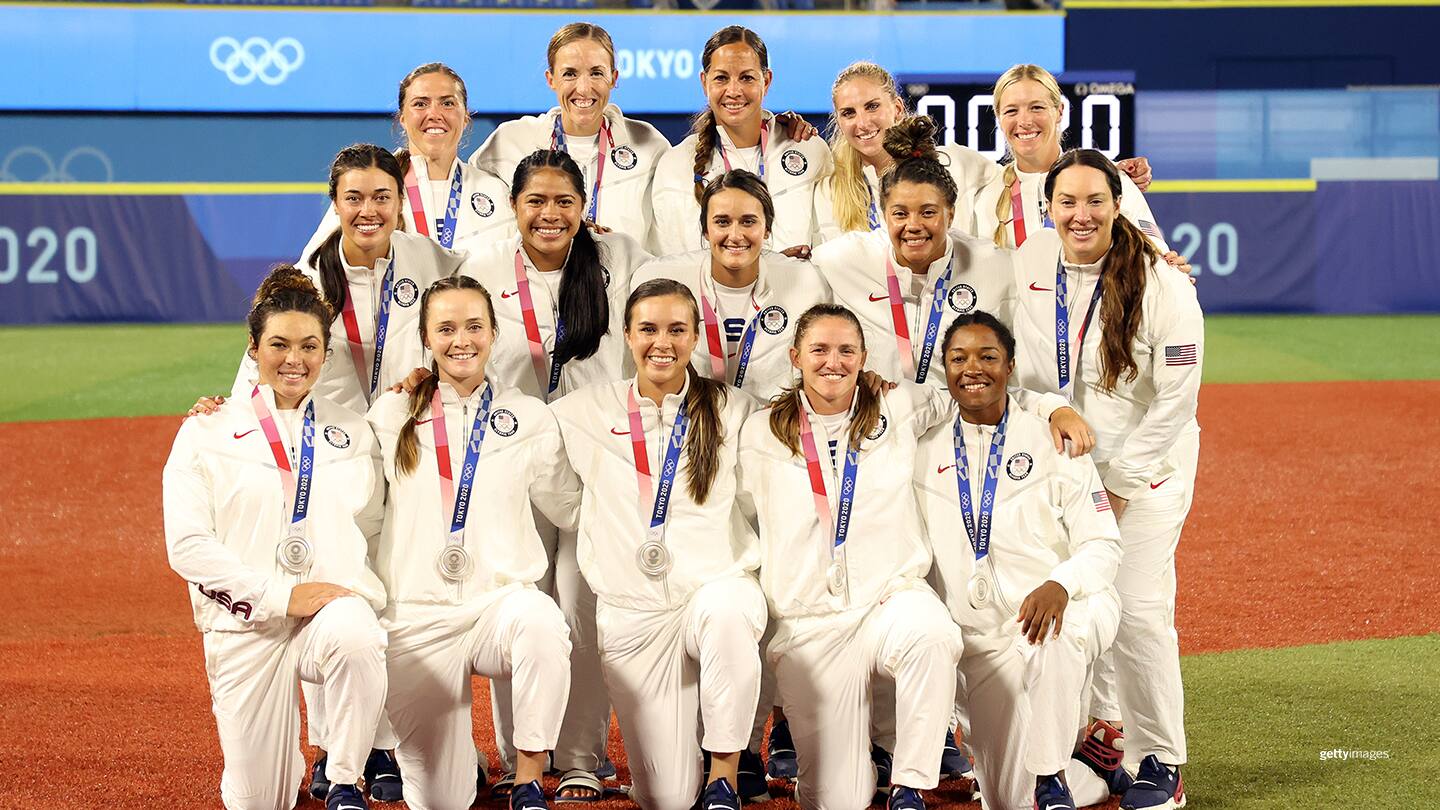 Team USA Softball poses at the Olympic Games Tokyo 2020 on July 27, 2021 in Yokohama, Japan.
Softball Wins Silver In Olympic
Return
Though softball was on the Olympic program for the first time since 2008, in some ways it looked like it never left. The gold-medal game again featured Japan and Team USA. There were even two members of Team USA who returned to the team since that last Olympic game nearly 13 years ago. Monica Abbott and Cat Osterman helped pitch the U.S. back into gold-medal contention, with one of them earning the win in each U.S. victory. U.S. pitchers in all allowed just four runs in the entire tournament, unfortunately scoring none of their own in the final and losing 2-0.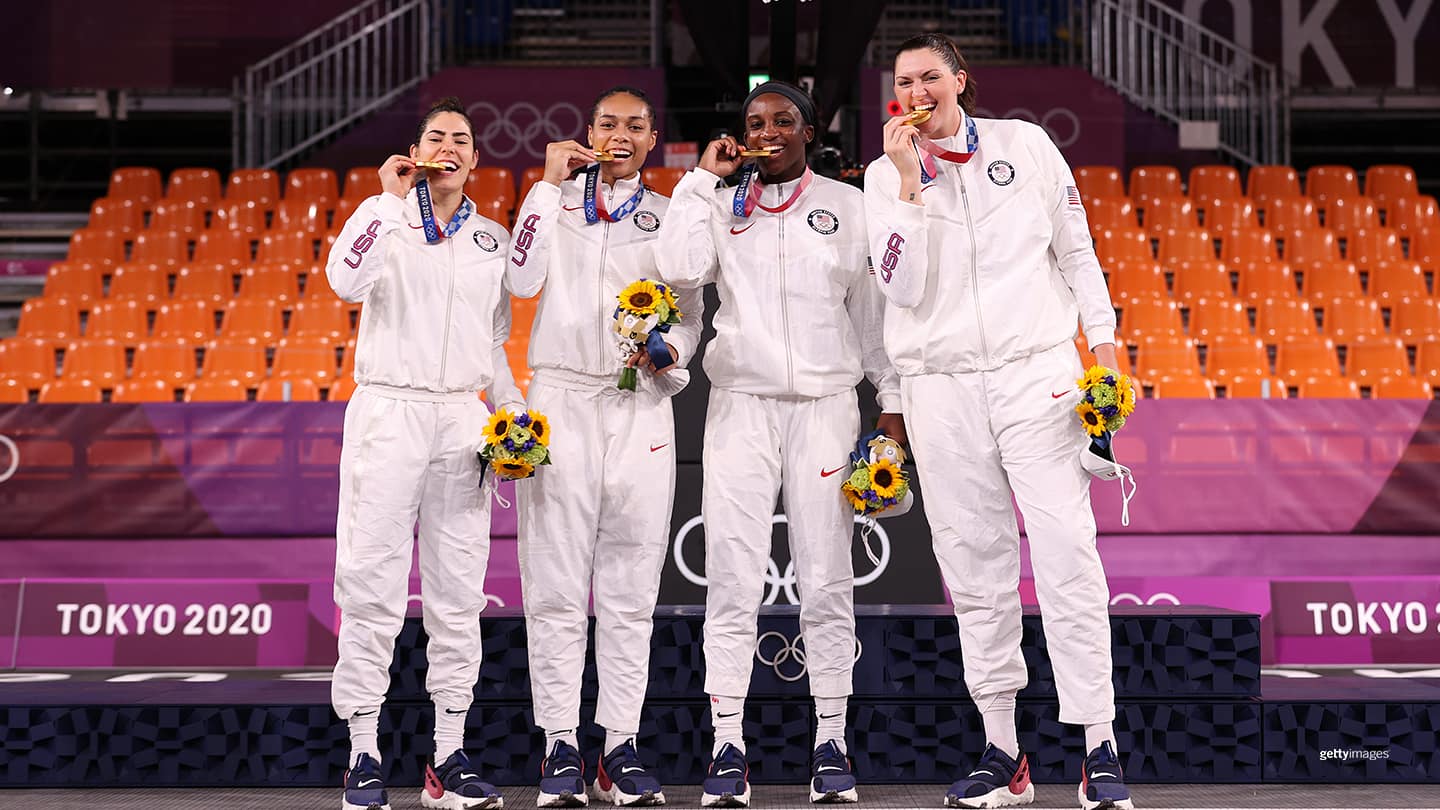 Jackie Young, Stefanie Dolson, Kelsey Plum, and Allisha Gray of Team United States celebrate at the Olympic Games Tokyo 2020 on July 28, 2021 in Tokyo.
With 3x3 basketball making its debut in Tokyo, the U.S. women had the chance to establish the first chapter of what they hoped would be a gold-medal dynasty like the women's 5x5 team. The team of Stefanie Dolson, Allisha Gray, Kelsey Plum and Jackie Young got off to a pretty good start, losing just a single game en route to the first gold medal in 3x3. Plum tied for the tournament scoring lead with 55 points.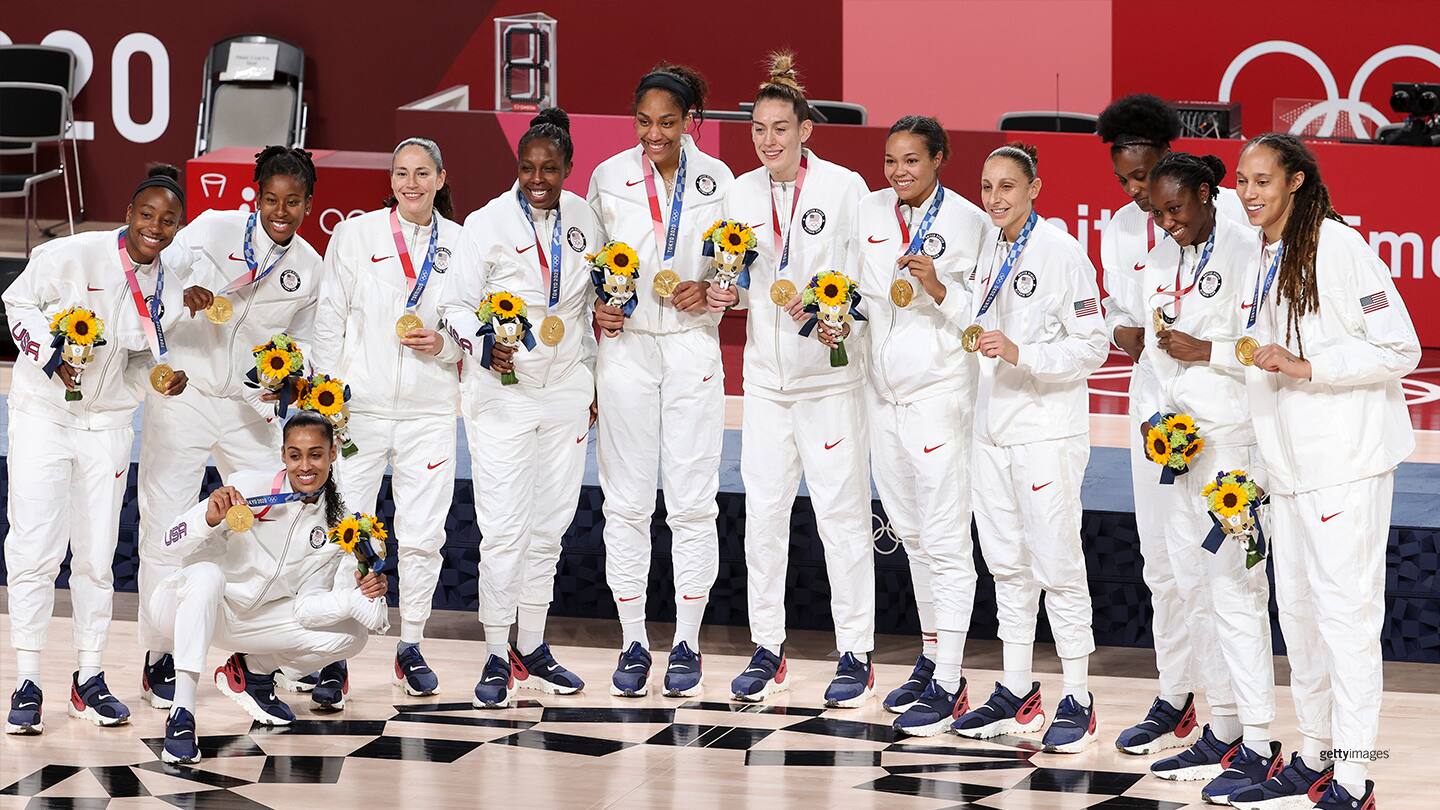 Team USA celebrates at the Olympic Games Tokyo 2020 Aug. 8, 2021 in Saitama, Japan.
Lucky 7th In A Row For Women's
Basketball
The women's 5x5 team did its job as well, rolling through the field to a seventh consecutive gold medal. That streak ties the U.S. men of 1936–68 for the most consecutive gold medals in Olympic basketball history. Present for five of those gold medals were Sue Bird and Diana Taurasi, who were playing together at the Games for the final time. Winning five Olympic gold medals was something Bird never envisioned.
"No, not in my wildest dreams," Bird said after the gold-medal game. "That's what makes it even more special. I never thought it was a possibility."
Todd Kortemeier is a sportswriter, editor and children's book author from Minneapolis. He is a contributor to TeamUSA.org on behalf of
Red Line Editorial, Inc.