In Meet Of Her Life, MyKayla Skinner Puts Herself Right In The Mix For The Olympic Gymnastics Team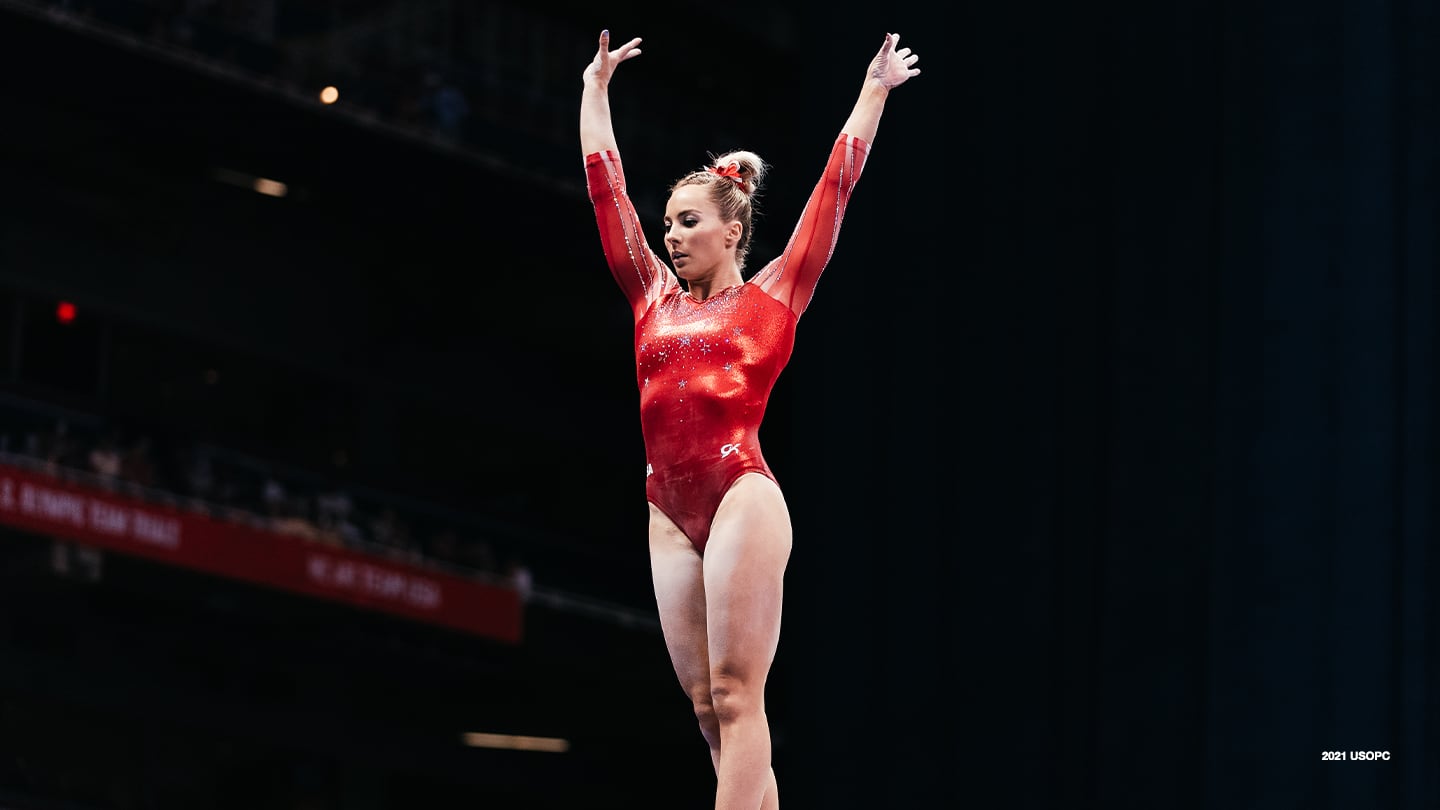 MyKayla Skinner competes at U.S. Olympic Team Trials - Gymnastics on June 25, 2021 in St. Louis.
ST. LOUIS — MyKayla Skinner had it made.

She had done the elite gymnastics thing, getting as far as the Rio Games in 2016 as one of Team USA's alternates, then transitioned seamlessly to the collegiate level at the University of Utah, where in her first three seasons with the Red Rocks she won a pair of NCAA titles and became one of the sport's most popular athletes.

Then, in April 2019, she put her anticipated senior season on hold.

"While I love college gymnastics," she explained in a statement at the time, "I'd like to try and compete for my country."

With the Olympic Games finally beginning next month in Tokyo, the native of Gilbert, Arizona, made her strongest case yet on Friday in the first of two nights of competition at the U.S. Olympic Team Trials for Gymnastics in St. Louis. With a performance of a lifetime, Skinner nailed all four of her routines to score 56.598.

Not only was that her best score since coming back by nearly a point, it also put her in the coveted fourth position in the all-around standings, just behind the the trio presumed by most to be the three "sure things" for the four-person Olympic team: Simone Biles, Suni Lee and Jordan Chiles.

Skinner was 22 when she decided to return to the elite level, an age popular narratives would tell you is too old to compete for a spot at the Olympics in women's gymnastics. Then the Olympics she was coming back for were pursed back a year to 2021 due to COVID-19.

Now 24 years old, Skinner is the second oldest of the 18 women who qualified for trials — only Biles, born nine months earlier, has her beat. If Skinner makes the U.S. team for Tokyo, she'd be the first married member of the U.S. Olympic women's gymnastics team since Annia Hatch in 2004.

She's definitely not too old, though.

This is a position Skinner's embracing, telling media ahead of the Olympic trials that "being older, it's just been awesome."

"I feel like my gymnastics has been better than ever," she said.

After putting a lot of pressure on herself during the first go-round in elite, Skinner has a newfound balance in her life and training over the past two years. In November 2019, she married longtime boyfriend Jonas Harmer. At her gym, Desert Lights Gymnastics, she's cut back on her hours, focusing more on quality than quantity.

The results up until now have been good but perhaps not quite at the Olympic level. At her return to elite nationals in 2018 she finished eighth in the all-around, though stronger on her two key events: third on vault and fifth on floor. Three weeks ago she actually dropped one spot to ninth at this year's national championships in Fort Worth, Texas, though again she maintained her high positioning on the event that matters most, scoring the second-best vault.

On Friday, though, Skinner put it all together.

Starting with the all-important vault, Skinner set the tone with an Amanar, hitting the difficult Yurchenko 2.5-twisting back layout with just a small step to post a monster score of 15.133. Then she went for the even more difficult Cheng, a Yurchenko half on and 1.5-spinning layout off, and stuck the landing. Only Biles and Jade Carey scored higher on the event.

The tone set, Skinner moved to the uneven bars, where she managed her weakest event without any major mistakes. When the crowd at the Dome at America's Center really knew it was on, though, was in the third rotation, as Skinner showed one of her best routines ever on balance beam, complete with a stuck landing on the dismount. Her score of 14.133 was good for fifth on the event, after tying for 10th at nationals.

Showcasing some of the trademark energy seen throughout college gymnastics, Skinner revved up the crowd before heading to floor exercise for her final routine. By the time she was done, she had stolen the show with another strong performance, scoring 13.866, again the fifth best of the night. Although Skinner didn't speak with the media after the event, NBC commentator and 2008 Olympic gold medalist Nastia Liukin spoke for everyone who witnessed the performance in calling Friday "the best meet of her entire life."

The qualification format for next month's Games in Tokyo is different from previous years. Team sizes have shrunk from five to four, while countries gained an opportunity to qualify two individuals whose scores don't count to the team but who can nonetheless win medals for the U.S.

When she came back, Skinner initially saw her pathway to Tokyo as one of the individuals. Those spots are expected to go to gymnasts with medal potential on one or two events, whereas the team is likely to prioritize top all-around gymnasts, lest someone gets injured and a backup is needed.

"When I first came back to elite I kind of wanted to do just the individual just because floor and vault are my events that I specialize in," Skinner said.

Qualifying individually was a complicated process, though, at least for the individual spot that an athlete could earn for themselves, and USA Gymnastics by then had chosen world championships medalist Carey as the athlete-of-choice for that quest. So national team coordinator Tom Forster encouraged Skinner to train for all four events and focus on trying to earn her way to the Olympics as part of the team.

Apprehensive at first, Skinner said her bars and beam came back faster than expected, and after one night at trials she's now possibly four good routines away from earning a spot on the four-person team. And if that doesn't work out, she could also still be in the mix for the second individual spot, which is chosen by committee.

"Now I plan to make the four-man team, that's my goal," she said. "But I know they still have that extra spot they can give to anybody. Either way, I think either spot would be awesome, just to be able to be on the Olympic team especially after being an alternate."

She'll learn her fate at the conclusion of the trials on Sunday night.

And when this season is all said and done, finally, she can go back to college for what's sure to be an even more memorable senior season.
Chrös McDougall has covered the Olympic and Paralympic Movement for TeamUSA.org since 2009 on behalf of
Red Line Editorial, Inc.
He is based in Minneapolis-St. Paul.