On A Night To Remember, Simone Biles And Five Others Officially Earn Their Olympic Spots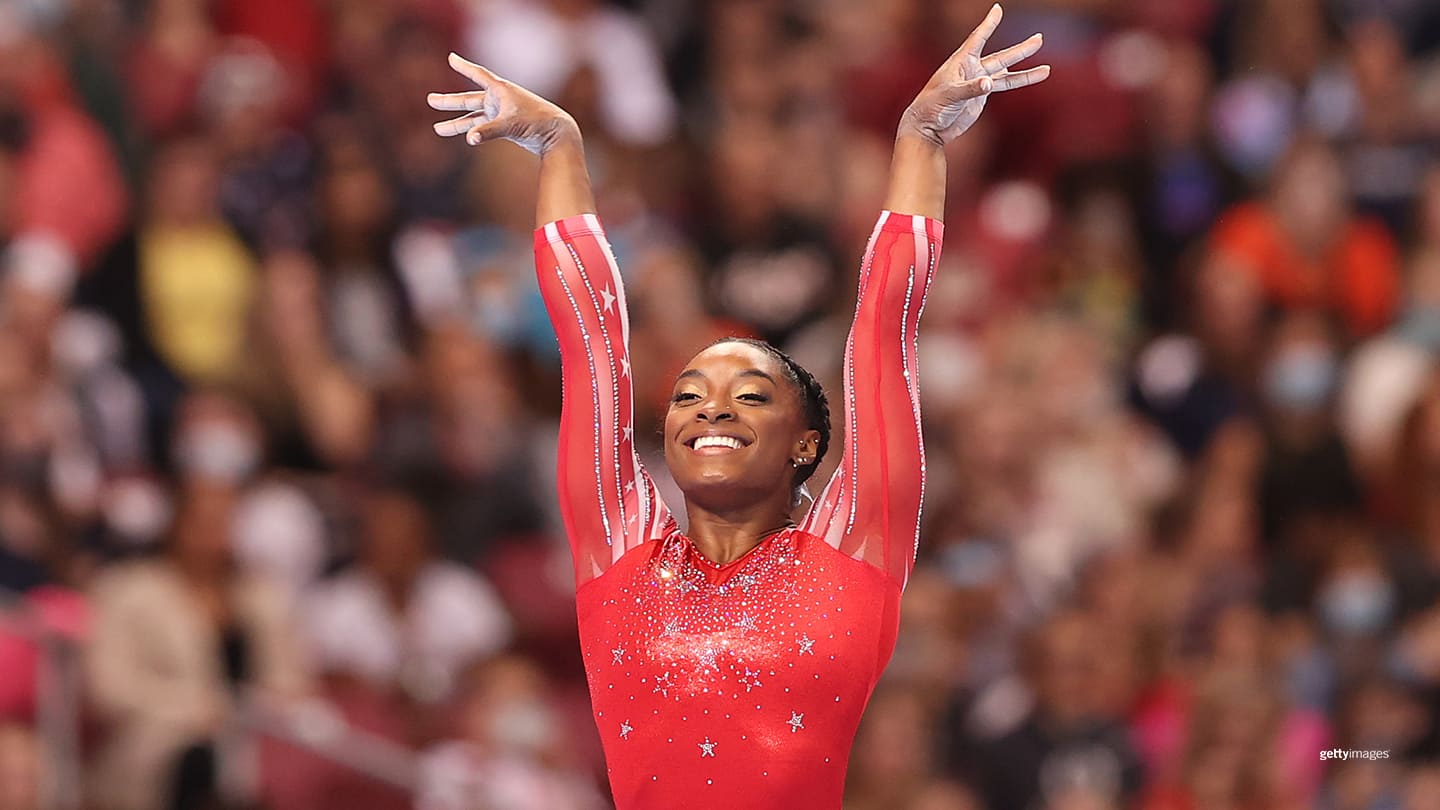 Simone Biles competes at U.S. Olympic Team Trials - Gymnastics on June 27, 2021 in St. Louis.
ST. LOUIS — Simone Biles stepped off the floor exercise podium, possibly for the last time in a competitive meet on U.S. soil, and 20,815 people rose from their seats.

The greatest gymnast ever to suit up for Team USA had just qualified for her second Olympic team on the merits of winning the U.S. Olympic Team Trials all-around title — her 24th consecutive all-around win, a streak dating back to 2013.

But the 24-year-old clearly wasn't at her best.

She had hops on both vaults, her legs split wide on uneven bars and then she fell off the balance beam when landing a side aerial. After that, the electric atmosphere that was supposed to accompany her final routine — floor exercise, the event she's won at every world championships or Olympics she's competed in — was not quite full voltage.

But when Biles stuck her final tumbling pass, saluted and then stepped off the podium, the St. Louis crowd that once cheered on the "Greatest Show on Turf" in this same building once again recognized the greatness in their midst.

Biles, even not at her otherworldly best, still achieved the top two-day score of 118.098 to secure one of the automatic berths on Team USA. After what she described as an "emotional" week, Biles buried herself in her coach's arms as fans at the Dome at America's Center rose to their feet.

Then, in the most emotional moment of the night, the crowd sent the 19-time world champion off to Tokyo with an extended standing ovation.

"To have a standing ovation, it was so sweet," Biles said.

Sunisa Lee locked up the other automatic Olympic team spot with her second-place score of 115.832, while Jordan Chiles was all but automatic in third, scoring 114.631. Ultimately the U.S. selection committee went by rank order in selecting fourth place Grace McCallum (112.564) to round out the team, while fifth-place MyKayla Skinner (112.264) was named to the individual spot.

Skinner and Jade Carey, who had previously qualified for the Games as an individual, can compete on all four events in Tokyo but their scores won't count toward the team.

"Each person on this team brings something for each event," Lee said. "I think we're going to do pretty good overall."

While four-time Olympic champion Biles was no doubt the centerpiece of the weekend, with any number of girls and their moms (or dads!) walking around downtown St. Louis hoping to catch a glimpse of her this weekend, it was Lee who shined brightest on Sunday.

The St. Paul, Minnesota, native, actually posted the top all-around score on Sunday — 58.166 to Biles' 57.533 — even after downgrading the bar routine that she hopes will win an Olympic gold medal in Tokyo.

"I know it probably won't happen again," said Lee, 18, who also finished runner-up to Biles at the previous two U.S. championships.

Even if not, Lee won two individual medals at the 2019 world championships and has planned upgrades to her floor and bars routines. No one is leaving St. Louis with more momentum.

"It does give me a lot of confidence going into the Olympics," she said.

Coming into the trials, those two and Chiles had separated themselves as the clear frontrunners for the four-person team. The 20-year-old Chiles remade herself into Team USA's most consistent performer over the past year, after moving from her home state of Washington to train with Biles near Houston, and maintained that reputation with her sixth no-fall meet of the year.

"I was just having fun," said Chiles, who had top-four results across all four apparatuses. "The crowd was a big help because a lot of us, we're drained, we've been doing this for seven days straight. Having the crowd definitely helped and I was just out there like, this is my last ride, let's see what happens."

The last spot on the team was a mystery until the gymnasts snuck back onto the floor to be introduced in their new red track suits. With four women in legitimate contention, the nod went to McCallum, an 18-year-old, also from Minnesota, who is a two-time world championships veteran and provides stability across all four events for the team finals.

By some models, fifth-place Skinner actually would have given the team the highest scoring potential — even if only by a fraction of a point. U.S. national team coordinator Tom Forster said the selection committee didn't see that as justification enough to break from the recent tradition of selecting teams by rank order.

It helps, of course, that the U.S. would be overwhelming favorites with any of the top contenders for that spot. The U.S. women have won every Olympic or world team title dating back to 2011.

"Between Grace and MyKayla, there were tenths of a point between them at (U.S.) championships, and this weekend over the two-day period Grace ended up in fourth, and so that's how we decided," Forster said. "Even though the computer tells us MyKayla on the team would be a couple of tenths higher, we're so, so fortunate that our athletes are so strong that I don't think it's going to come down to tenths of a point in Tokyo. We didn't feel like it was worth changing the integrity of the process simply for a couple of tenths."

The result for Skinner was still an upgrade on 2016, when she was named the Olympic alternate for Rio. After moving on to the University of Utah, the 24-year-old returned to the elite level to give the Olympics one more shot. As one of the individuals, she's expected to compete for medals on her two strongest events, floor and vault.

Those happen to be the same two events that Carey thrives in. Carey, a three-time individual medalist at the world championships, earned her spot in Tokyo by winning the apparatus world cup series for both — though she only needed to win one to qualify. The Arizona native elected only to compete bars and beam on Sunday in order to rest her ankle.

"I'm feeling really good about my performance here," she said.

Attention turns now to Tokyo, where the U.S. will try to win a third straight team gold medal and build upon the nine medals won in Rio. With the Tokyo Games being held in front of limited crowds, and no foreign fans allowed, the gymnasts expect the energy from St. Louis to carry through them the next several weeks.

"The crowd was very loud, very in tune, very supportive," Biles said. "These are the crowds we love because it helps guide us through each event, keep our spirits high, and keep the motivation going."
Chrös McDougall has covered the Olympic and Paralympic Movement for TeamUSA.org since 2009 on behalf of
Red Line Editorial, Inc.
He is based in Minneapolis-St. Paul.