These Eight Moments Of Sportsmanship And Kindness Defined The Tokyo Games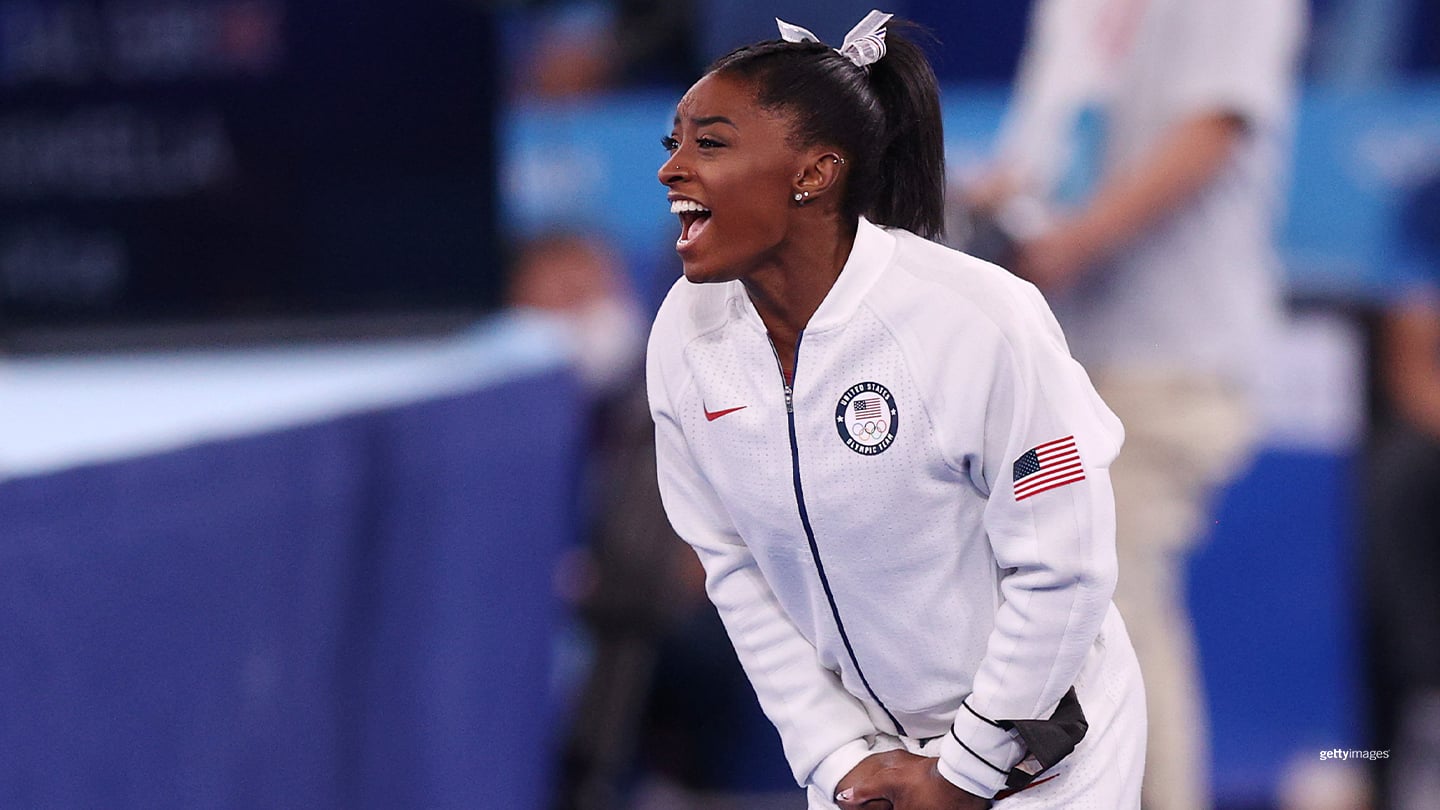 Simone Biles cheers on teammate Jordan Chiles during the women's team final at the Olympic Games Tokyo 2020 on July 27, 2021 in Tokyo.
Simone Biles didn't have the Olympic Games anyone expected, least of all her.

By now there's hardly a person in the world who doesn't know that she pulled out of the team competition and only competed in the last apparatus final the rest of the way, citing mental health concerns.

But what also got people talking was that Biles proved herself to be the ultimate teammate by being there and cheering her fellow gymnasts on — loudly — throughout the Olympic competition.

During the rest of the team competition, she was there. During the all-around, which Biles was widely expected to win, she sat in the stands between teammates Jordan Chiles, MyKayla Skinner and Grace McCallum to cheer for Sunisa Lee and Jade Carey, who replaced Biles in the event.

After Skinner took Biles' spot in the vault final, another presumptive gold for Biles, and won silver, Biles was ecstatic.

She coached, she posted encouraging messages on social media, she yelled, she screamed, she made sure her teammates knew she was there supporting them even as she was unable to be in the competition with them.

Here's a look at some of the other most memorable displays of sportsmanship during the Olympic Games Tokyo 2020.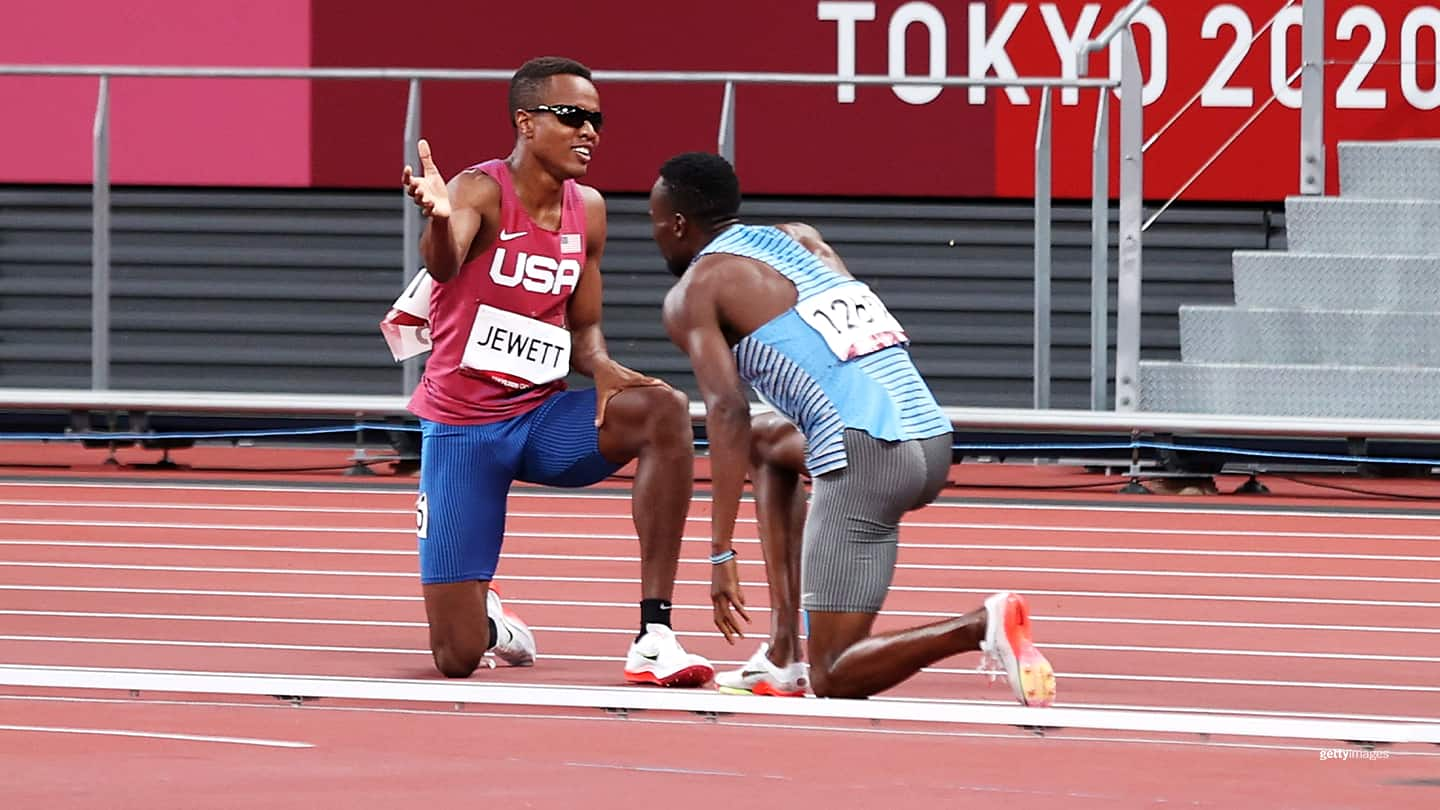 Isaiah Jewet and Nijel Amos of Team Botswana react after falling in the men's 800m semi-final at the Olympic Games Tokyo 2020 on Aug. 1, 2021 in Tokyo.
Jewett And Amos Finish
Together
It's a scenario runners must see in their nightmares: Competing at the Olympic Games only to get tangled up with another runner and fall to the track. That's exactly what happened to Isaiah Jewett and Botswana's Nijel Amos in their semifinal heat of the men's 800-meter.
Jewett, 24, was just ahead of Amos, about to make his final kick, when Amos inadvertently clipped the back of his heel and they both went down. As the rest of the field ran away, both men got to their knees, clasped hands, stood up and embraced. Amos apologized, and Jewett said it was OK. They began walking toward the finish line, Jewett's arm around Amos, and completed the race together, Amos letting Jewett go just ahead of him.
"Regardless of how mad you are, you have to be a hero at the end of the day," Jewett, from Inglewood, California, told reporters. "Because that's what heroes do, they show their humanity through who they are and show they're good people."
It was Jewett's Olympic debut. He finished 23rd.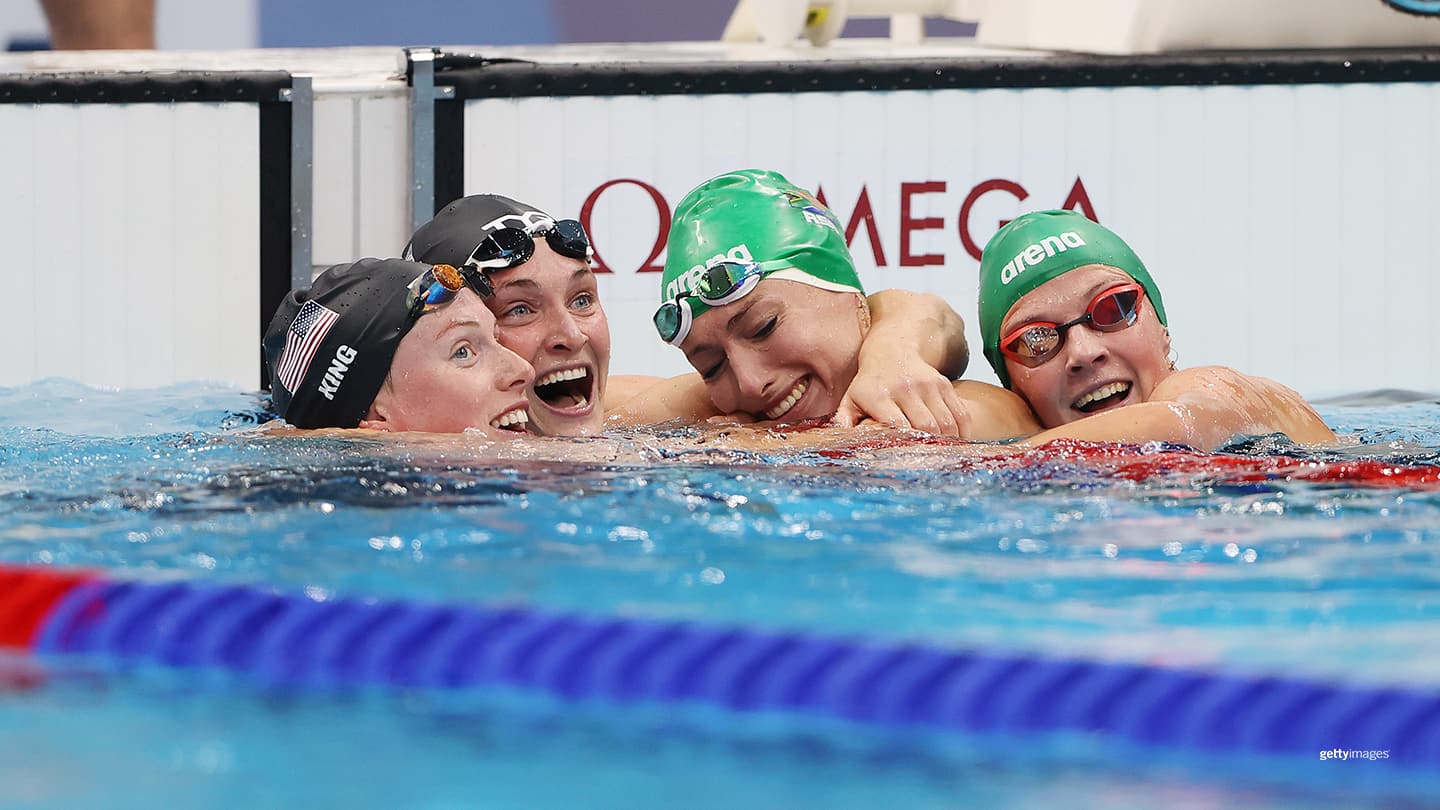 Tatjana Schoenmaker of Team South Africa (C) is congratulated by Lilly King, Annie Lazor and Kaylene Corbett of Team South Africa (R) at the Olympic Games Tokyo 2020 on July 30, 2021 in Tokyo.
Anyone who watched swimming probably saw the story of friends and training partners Lilly King and Annie Lazor. After Lazor's father passed away unexpectedly earlier this year, King promised that she'd do all she could to help her friend qualify for the Olympic Games, and she did.
But it was a race in which neither won gold that really brought tears to people's eyes. South Africa's Tatjana Schoenmaker chased down King to win the women's 200-meter breaststroke and set a world record. As Schoenmaker looked up at her time, yelled and then covered her mouth in disbelief, bronze medalist Lazor came over and was the first one to put her arms around the new Olympic champion. They were quickly joined not only by South Africa's Kaylene Corbett and also King, who won silver. All four embraced and shared in the moment together in celebration, and Lazor could be heard telling Schoenmaker it was "amazing" and "you did it."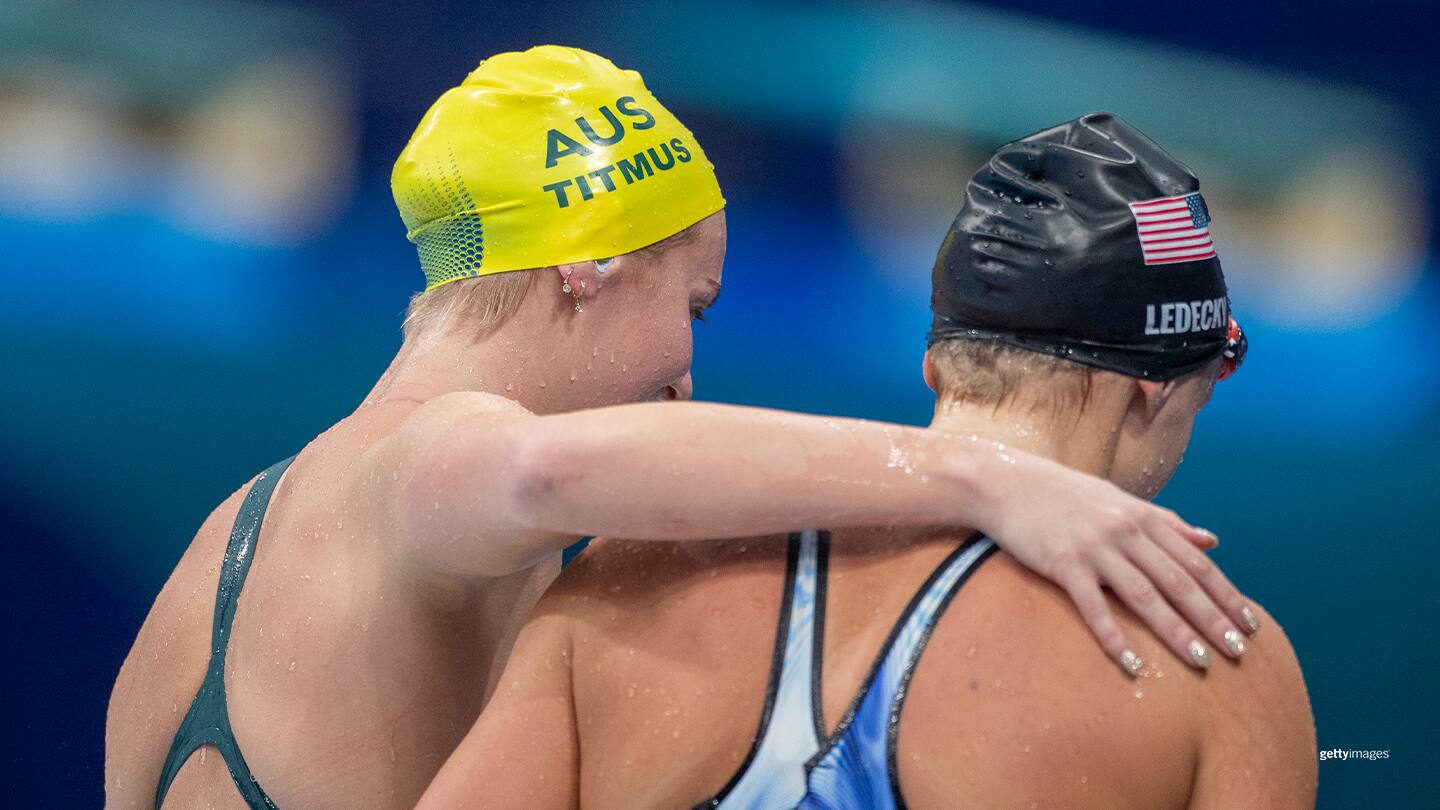 Ariarne Titmus of Australia and Katie Ledecky embrace after the 400m freestyle at the Olympic Games Tokyo 2020 on July 26, 2021 in Tokyo.
Katie Ledecky and Australia's Ariarne Titmus have developed quite the rivalry since Titmus became the first person to beat Ledecky in the 400-meter freestyle in a major international meet back in 2019 at the world championships.
The rematch came in Tokyo, and again the 20-year-old made her move in the final 50 meters to reach the wall first, and dealt Ledecky her first individual loss ever in Olympic competition.
After losing the 400-meter Olympic title, Ledecky gave Titmus a hug and told reporters she didn't feel like she died at the end; Titmus just had a faster 50 or 75 meters and it couldn't get much better than that.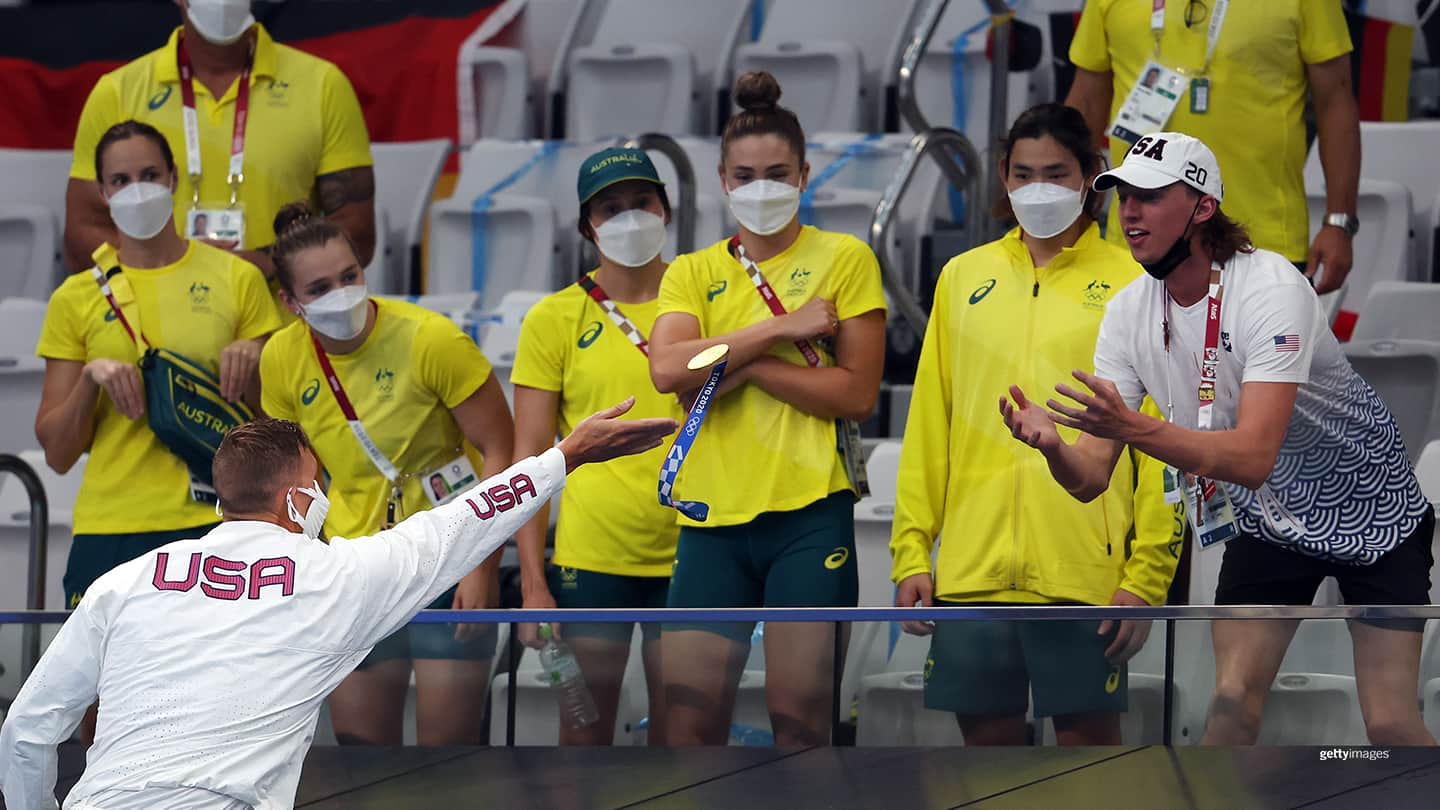 Caeleb Dressel tosses his gold medal to Brooks Curry after winning the men's 4x100m freestyle relay at the Olympic Games Tokyo 2020 on July 26, 2021 in Tokyo.
Dressel Shares The
Wealth
While it's true that all swimmers who participate in a relay receive a medal if the team lands on the podium, even if they didn't race in the final, Caeleb Dressel didn't want 20-year-old Brooks Curry to feel left out.
Curry swam the prelims of the men's 4x100-meter freestyle final, which allowed Dressel to be rested and ready to go for the first leg of the final the next morning. The U.S. team jumped out to a lead and never let go en route to the gold medal.
But the only athletes that get to take part in the medal ceremony are those who swim in the final, which meant that Curry was in the stands watching as his teammates got their hardware. Immediately after, however, Dressel walked toward the stands, called Curry down and tossed up the medal.
"I wanted him to have his moment," he explained. "I wanted him to get his medal a little earlier. I had my fun with it, I had it on the podium, and I thought he deserved to have it for a couple hours."
Curry did later return the medal, and got his own.
Kristie Mewis embraces Sam Kerr of Australia after the bronze medal match at the Olympic Games Tokyo 2020 on Aug. 5, 2021 in Kashima, Japan.
Mewis Comforts Kerr On The
Pitch
After the U.S. women's soccer team beat out Australia to win the bronze medal, Australian star Sam Kerr was distraught. Clearly upset, Kerr didn't have to suffer in solitude for very long.
U.S. midfielder Samantha Mewis joined Kerr on the field and put her arms around her, and Kerr leaned in to rest her weight on the woman whose team just dashed her medal dreams.
The sweet moment sent social media aflutter with speculation — which started even before the Olympic Games — that the two might be a couple.
Misugu Okamoto of Japan is carried by Bryce Wettstein (left) during the women's park skateboarding final at the Olympic Games Tokyo 2020 on Aug. 4, 2021 in Tokyo.
A Hand — And Shoulders —
Up
Women's skateboarding featured some of the youngest Olympians of the Games, with the eight finalists in the park discipline ranging from 12 to 23 years old. But, as skateboarders showed the world as the sport made its Olympic debut, these competitors not only watch and cheer for each other but also help each other up after falls.
Never was that more apparent than when Japanese skater Misugu Okamoto, 15, fell on her last run and U.S. skater Bryce Wettstein, 16, and Australia's Poppy Olsen, 21, lifted her up onto their shoulders and carried her to celebrate her Olympic appearance.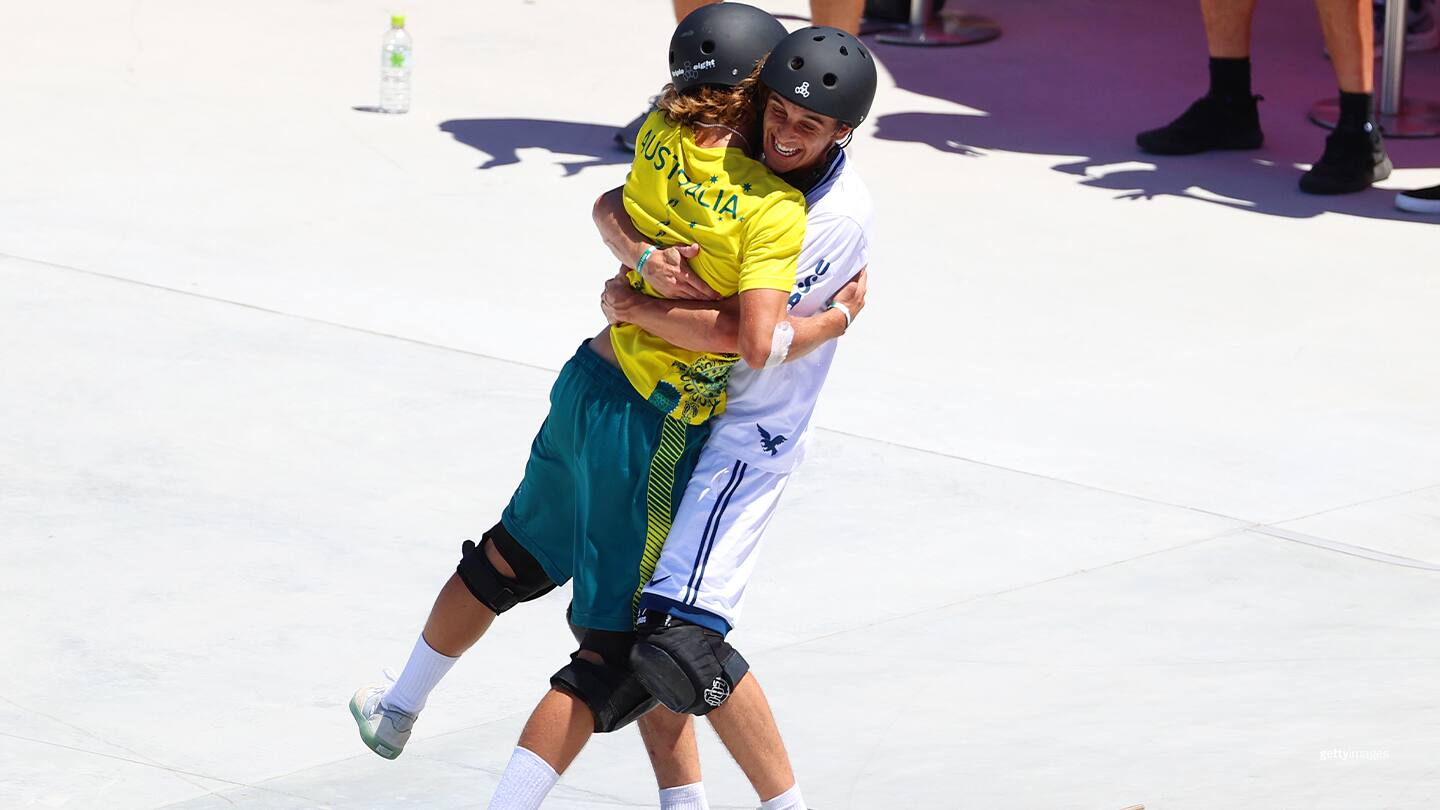 Keegan Palmer of Team Australia celebrates with Cory Juneau after his run during the men's park final at the Olympic Games Tokyo 2020 on Aug. 5, 2021 in Tokyo.
Skateboarders Are Friends, Part
II
Cory Juneau was one of the oldest skateboarders at the Olympic Games at the age of 22, and he was just as excited about his friend Keegan Palmer's gold medal in park as he was about his own bronze. Juneau told reporters they've been skating together since they were little kids and that he was just so proud of Palmer, 18.
Karen Price is a reporter from Pittsburgh who has covered Olympic and Paralympic sports for various publications. She is a freelance contributor to TeamUSA.org on behalf of
Red Line Editorial, Inc.