U.S. Olympic Team Trials — Track & Field: A Beginner's Guide On How To Watch And What to Watch For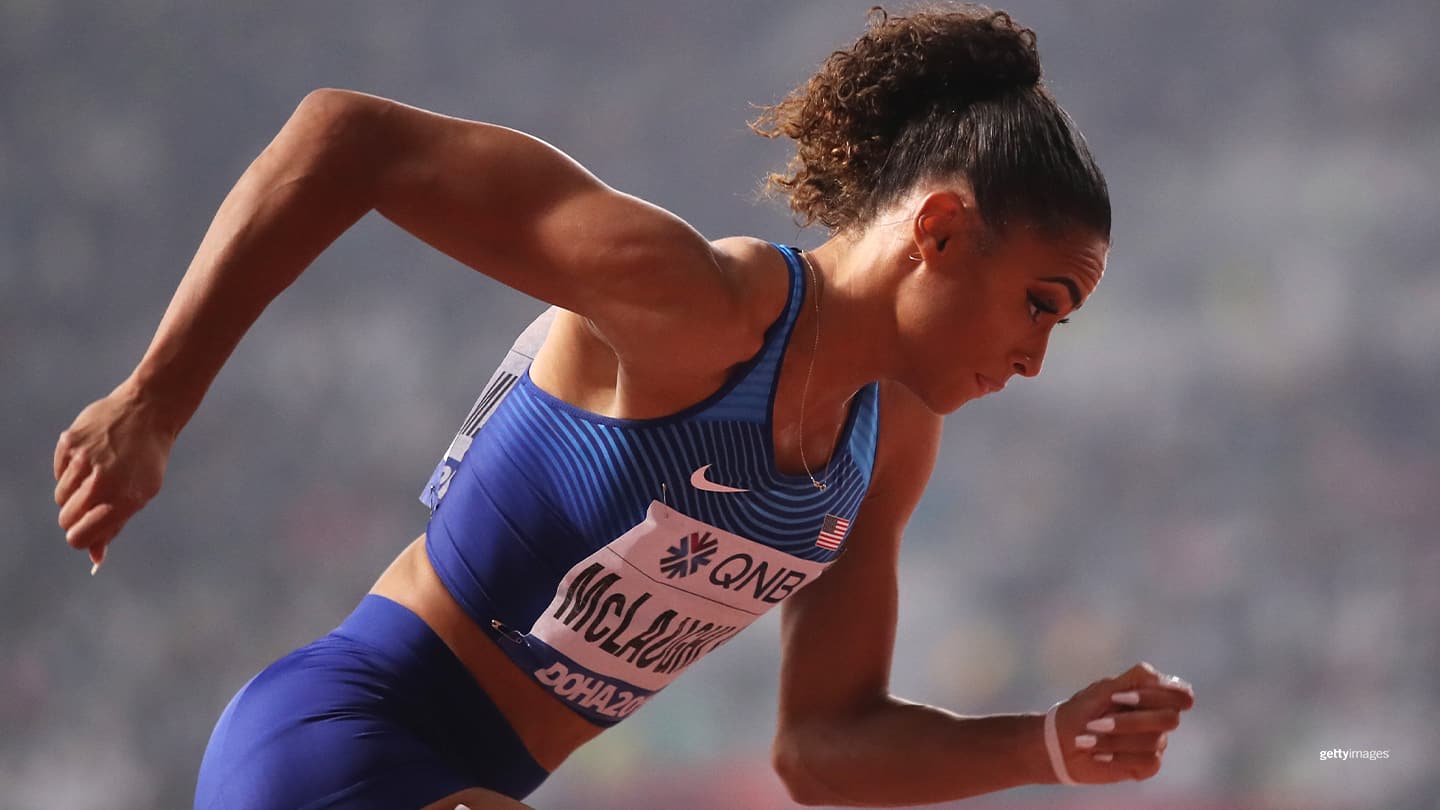 Sydney McLaughlin competes at the 17th IAAF World Athletics Championships Doha 2019 on Oct. 4, 2019 in Doha, Qatar.
The Olympics Games host the most famous track and field meet in the world, but the Olympic trials might be the most intense. The official selection meet for the squad that will represent the United States every quadrennial features some of the most dramatic competition in the sport.

"In most events, to make the U.S. team often requires performances that would result in Olympic medals," says NBC's Betsy Riley, who will be producing the network's coverage of the U.S. Olympic Team Trials — Track & Field. "So just making the U.S. team is hard, and because of that, in my experience you see this incredible emotion and drama play out throughout the competition."
This year's Olympic trials begin Friday, June 18 at Hayward Field in Eugene, Oregon, and run through Sunday, June 27. Up to three athletes can qualify in each of the 20 men's and 20 women's events contested. (Separate trials for the men's and women's marathons and men's 50K walk were held previously.) Additional athletes will also be added to the relay pools for the men's and women's 4x100 and 4x400 as well as the mixed 4x400, which is making its Olympic debut in Tokyo.

On hand will be some of this generation's most famous names in the sport, including iconic superstars — and gold medalists — like Allyson Felix, Tianna Bartoletta, Matthew Centrowitz, Dalilah Muhammad and Ryan Crouser. It will also be a showcase for the next generation of stars. Prepare to become very familiar with names like Noah Lyles, Sydney McLaughlin, Sha'Carri Richardson, Athing Mu and Grant Holloway.

All the athletes will be vying for a top 3 finish at this non-stop pressure cooker, where a lifetime of dreams can be realized or crushed in an instant. Unlike other countries, which have complicated (and sometimes controversial) selection criteria for their Olympic teams, the U.S. implements a democratic approach. Your past accomplishments — be they world records or gold medals — mean nothing at the Olympic trials.
"You see the highest of highs and the lowest of lows as people make and Olympic team or narrowly miss," says Riley, who has worked on NBC's track and field coverage since 2004 and is set to be the first woman to produce Olympic track this summer.
The Road to Eugene — and
Tokyo
Just getting into the Olympic trials is quite an achievement. In some cases, the automatic qualifying standard for the meet is just as difficult as for the Olympic Games. For example, to make it to Eugene in the women's 100-meter hurdles, athletes must have run 12.84 seconds during the qualifying period, exactly the same as the Olympic standard. (That's not too surprising when you consider that Team USA swept the podium in the event in Rio in 2016.) Likewise, the standards in the women's 100, 200 and 400 dashes, and the men's 100 and 200 are the same for both meets.

In the (few) instances where a Top 3 athlete has not achieved the Olympic standard, they may still earn a spot for Tokyo based on their ranking by World Athletics, the international governing body for the sport. An athlete's ranking is determined based on a complicated formula that combines their measured results (times, distances, heights, etc.) and their placings in competitions (with higher level events like world championships and Diamond League meets having a greater value than smaller national-level meets). An average of an athlete's best performances is used to determine his or her ranking. (We told you it was complicated!)

Though finishing fourth at the trials is unquestionably disappointing, there is some consolation in the $4,000 prize money offered for that spot by USA Track & Field. That's part of a total purse of $1.4 million, including $35,000 in each event. The breakdown is $10,000 for first place, $8,000 for second, $6,000 for third, $4,000 for fourth, $3,000 for fifth, $2,000 for sixth and $1,000 for seventh and eighth.
Eugene bills itself as "Track Town USA," and it's hard to argue that. This will be the seventh time the small college town in the Willamette Valley has hosted the meet (and the fourth consecutive time since 2008). Hayward Field, on the campus of the University of Oregon, has recently been renovated in anticipation of hosting next year's World Athletics Championships, and is the highest-profile track stadium in the country, known for its enthusiastic and knowledgeable fans. "It's spectacular," Riley says of the extreme makeover, which expanded seating capacity (and comfort) and features a sleek new design. Other upgrades include a pair of video scoreboards, state-of-the-art training and warm-up facilities and even a museum.

"In the architect and designers' eyes, it was intended to be a theater for the sport and it lives up to that expectation," Riley says. "I actually think it's a cathedral for the sport. It takes into account the way the sport functions, the way athletes approach their given discipline."


After months of uncertainty, it was finally confirmed that spectators will be allowed to enjoy this showy new venue in person, which will be a huge boon to the athletes. (There will be both vaccinated and physically distanced sections in the stadium.)

And if you aren't one of the lucky fans who will be on hand at Hayward, NBC will provide substantial coverage. NBC and NBCSN are combining for 20.5 hours on TV, beginning Friday, June 18 at 7 p.m. ET on NBCSN with the first session and finals in the men's shot put and men's 10,000-meter run (All NBCSN coverage will also be streamed on Peacock.) The opening weekend includes the finals of the 100-meter dash for women (Saturday, June 20) and men (Sunday, June 21).

Leigh Diffey will be the lead play-by-play voice, joined by a team of analysts (and former Olympic stars) including Ato Boldon, Sanya Richards-Ross, Trey Hardee and Kara Goucher.

In addition to the television coverage, NBCOlympics.com and the NBC Sports app will be streaming select field events, including long jump, pole vault, shot put, hammer, javelin, discus, 20km race walk, decathlon and heptathlon. "The avid track and field fan will be well served," Riley promises. "Their appetite will be addressed." (You can follow live results at results.usatf.org/2020Trials.)

NBC plans to remind fans that just making it to this meet — whether you win or go out in the preliminaries — is a monumental accomplishment. "We have the opportunity to tell the stories of all the athletes who compete," Riley says. "And for some the meet is certainly a stepping stone toward another goal: the Olympics, or an Olympic medal, or an Olympic gold medal. But for others, this year especially, we'll see that the starting line is their triumph."
Rich Sands is a New York City-based freelance editor and writer and has been a correspondent for Track & Field News since 1995, covering the sport at the high school, college and professional levels. He was previously an editor at TV Guide Magazine, overseeing the magazine's Olympic coverage.