Spin Doctor: Mason Finley Makes Second Straight Olympic Team In Discus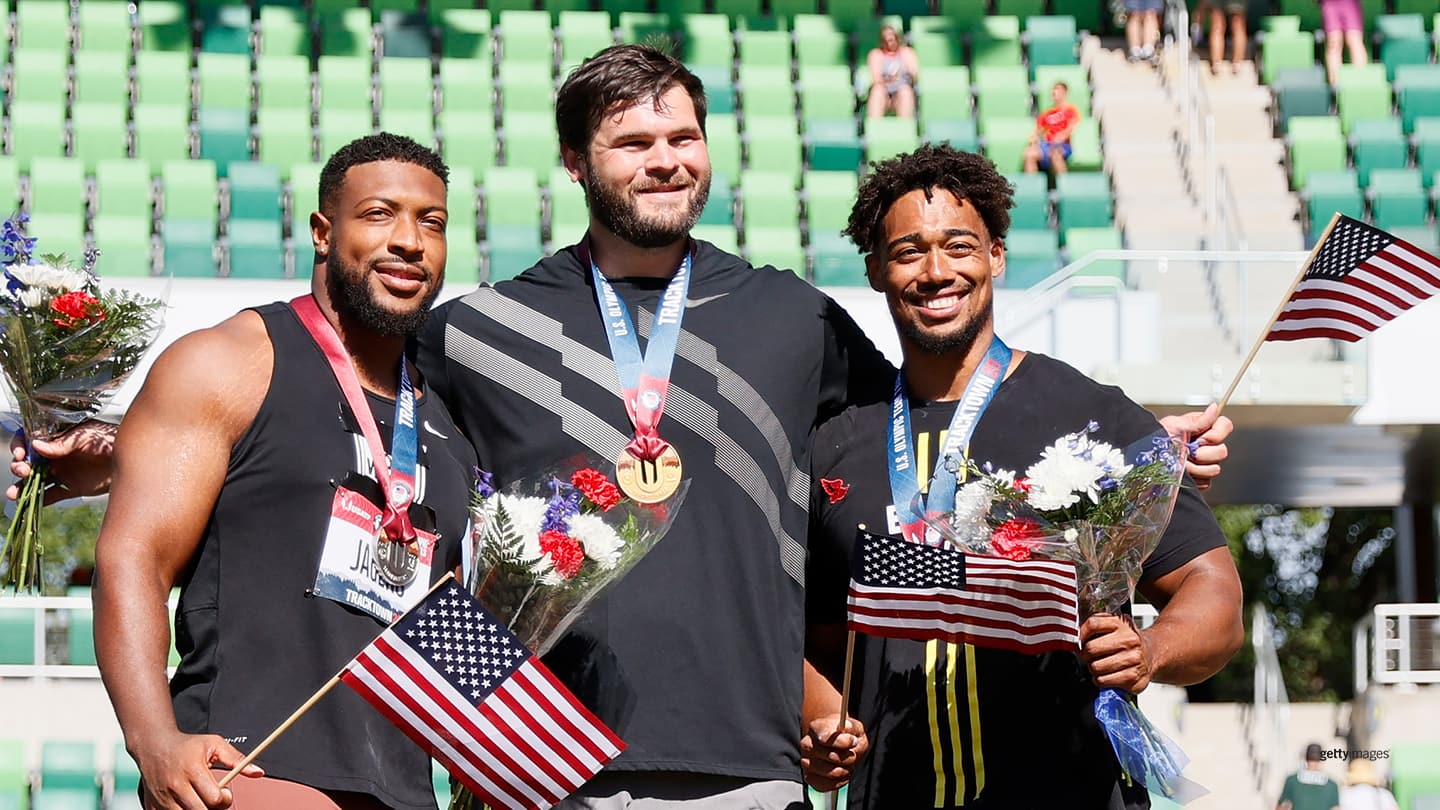 Mason Finley (C), Reggie Jagers (L) and Sam Mattis (R) celebrate on the podium after the Men's Discus Throw Final during day eight of the 2020 U.S. Olympic Track & Field Team Trials at Hayward Field on June 25, 2021 in Eugene, Ore.
EUGENE, Oregon – With the back issues he's been having this season, Mason Finley didn't know if he'd be in any shape to throw the discus once he arrived at Hayward Field for the U.S. Olympic Team Trials – Track & Field.

"The airplane's small and I'm a giant," said Finley, who is 6-foot-8 and weighs 335 pounds.

Luckily, he flew in 10 days ahead of his competition, found a chiropractor and recovered well enough to win the Olympic Trials for the second straight time.

And Finley didn't even need a giant throw Friday afternoon. The 2017 world championships bronze medalist won with a throw of 63.07 meters (206-11), followed by Reggie Jagers (62.61/205-5) and Sam Mattis (62.51/205-1), who made their first Olympic team.

They were the only three throwers in the 12-man field who had met the Olympic standard, which gave them an advantage in case no one else met the 66-meter threshhold -- but they didn't know who might get hot on a day in which temperatures reached the 90s.

And, said Finley, "Even though I'm one of the three, I still want to win."

However, Finley did have a bit of a scare in the qualifying round. He fouled his first two attempts, then threw 59.64 meters (195-8) on his last attempt to get into the final as the 10th qualifier.

The felicitously named Legend Boyesen Hayes had the top throw in qualifying (62.59/205-4) Thursday, but could not match that a day later to finish fifth at 61.85 (202-11) behind Brian Williams, whose fourth-place throw was 62.19 (204-0). However, neither reached Olympic standard.

This was only the third meet of the year for Finley, who threw 66.40 on May 1. It was his first meet since May 9.

He fouled his first throw of the final, then was sitting in fifth place entering the fourth round.

"I stopped trying to tweak things and said you just gotta make this team," said Finley, who also won the national title in 2017.

He then threw 62.80 meters (206-0) to move into the lead ahead of Mattis, and improved on his fifth throw for the winning mark.

"It was late in the game, but still kind of turned a bad day into an OK day," said Finley.

Jagers, the 2018 national champion and 2019 Pan American Games bronze medalist, was languishing in fourth place after three throws. He then dropped to fifth after Finley's first big throw.

"The first day I was in Steph Curry mode, boom, boom boom," said Jagers, 26, who qualified second with a throw of 62.55 on his first attempt. "Today my mind was all over the place."

He knew he needed to throw at least 62.19 to pass Williams, who was then holding down third place. "I can make 62.19 in my sleep," said Jagers, who currently has the top throw by an American this year of 67.82 meters, which ranks No. 6 on the world list.

He saw his mother in the stands, as well as Michelle Carter, the 2016 shot put Olympic gold medalist who was unable to compete at the Trials after surgery on her ankle.

"I've talked to her countless times," Jagers said of Carter. "I call her my auntie."

Gaining strength from his support system, Jagers stepped into the ring, spun around and did what he needed to do with his sixth throw.

"This meet showed me when you're feeling terrible, just find a way to get it done," said Jagers, who competed in football and track at Kent State. "Squeaking through, it is what it is."

And it was even more meaningful considering his disappointing performance in 2019 when he was ninth at nationals after rolling his ankle. Jagers was also grieving his father, who passed away that year.

In 2020, he tore his pectoral muscle, but that's all behind him. "I'm an Olympian now," Jagers said, looking ahead to Tokyo. "I really want to make a dent."

Mattis, 27, had his best throw on his first attempt and it held up for third place.

"The first was good enough, so can't complain too much," said Mattis, who had four other legal throws.

He was the 2019 national champion and a world championships finalist, placing 11th, but his momentum was stopped by the pandemic.

"It was essentially two years of getting ready for a single meet," said Mattis, who graduated from the University of Pennsylvania's Wharton School and turned down a lucrative job offer from JPMorgan Chase to pursue his Olympic dream. "I'm ready for the stress of that to wash away."

He also had a hard time sleeping on the night between qualifying and the final. "I had a bunch of caffeine to get through qualifying, so more caffeine in pre-workout and that's basically what powered me through this competition," Mattis said.

Finley said he believes the three Team USA throwers will bring their A game to Tokyo.

"I think all of us agree that we kind of underperformed today," he said. "I know we all can achieve 66 meters and higher. We've already done it, and we're bringing in a dang good team. I think one of us is going to get on that podium."

Finley, who competed for the University of Kansas and University of Wyoming and graduated from Wyoming with a degree in theater, said he will bring his experience from the past five years to Tokyo.

"Rio was my first big boy international competition," said Finley, who has since married and he and his wife are expecting a baby girl in October. "I was seeing all of my idols for the first time and competing with them. I've competed against the top in the world quite a bit since then, so this round, I'm not going to be so starstruck."

And hopefully, he'll be comfortable on the flight to Tokyo.
Olympic Trials triple jump champion Will Claye did not qualify for the final in the long jump, finishing last in the field of 24 with a jump of 7.18 meters (23-6 ¾). Chicago Bears wide receiver Marquise Goodwin, a 2012 Olympian, was 19th in the qualifying round (7.57/24-10) and also did not advance.
Jarrion Lawson averted disaster to qualify first in the long jump. He fouled his first two attempts and then on his final try went 8.12 meters (26-7 ¾).
JuVaughn Harrison of LSU qualified fourth (8.06/26-5 ½) and then returned to the infield for the qualifying round in the high jump, where he was 12th and last in his flight, giving him a bit more recovery time. He was one of 12 jumpers who went 2.19 (7-2 ¼) to reach the final.
High school sprinter Erriyon Knighton, 17, not only beat world champion Noah Lyles in their heat of the 200 meters, he also broke Lyles' under-20 record. Knighton clocked a personal best of 20.04 seconds to break Lyles' record of 20.09, which was set on this same track during the 2016 Olympic Trials, where he placed fourth in the final. At the time, Lyles broke a record by Roy Martin that had stood for 31 years.
Lyles, now 23, qualified second at 20.19, followed by Isiah Young, whose time of 20.21 met the Olympic standard.
In the women's 200, Gabby Thomas lowered her personal best to 21.94 seconds, followed by Jenna Prandini, who also posted a PR of 21.99 seconds. Allyson Felix, who has already made Team USA in the 400, was the third-fastest qualifier at 22.20. However, the Olympic schedule will not allow her to run the 200 and the 400 so she will choose which event to contest in case she makes the team in both.
In the highly-anticipated women's 400-meter hurdles, Sydney McLaughlin won her heat with the fastest time of the day, 54.07 seconds. Nnenya Hailey, who was second to McLaughlin, had the second-fastest time of 55.05. Olympic and world champion Dalilah Muhammad and 2015 world silver medalist Shamier Little also won their heats. Little's time was 55.22 and Muhammad posted a time of 55.51, followed by Olympic bronze medalist Ashley Spencer in 55.92.
Olympic champion Matthew Centrowitz advanced to the final in the men's 1,500, winning his semifinal with a time of 3:42.96, but high school phenom Hobbs Kessler was eighth in his semi (3:45.50) and his Trials are now over.
Athing Mu had the top time in the semifinals of the women's 800, clocking 1:59.31 to edge Kate Grace (1:59.43). Ajee Wilson and Raevyn Rogers went 1-2 in the other semi.
Karen Rosen has covered every Summer and Winter Olympic Games since 1992 for newspapers, magazines and websites. Based in Atlanta, she has contributed to TeamUSA.org since 2009.