Hammer Thrower Rudy Winkler Looking to Nail Down Second Olympic Berth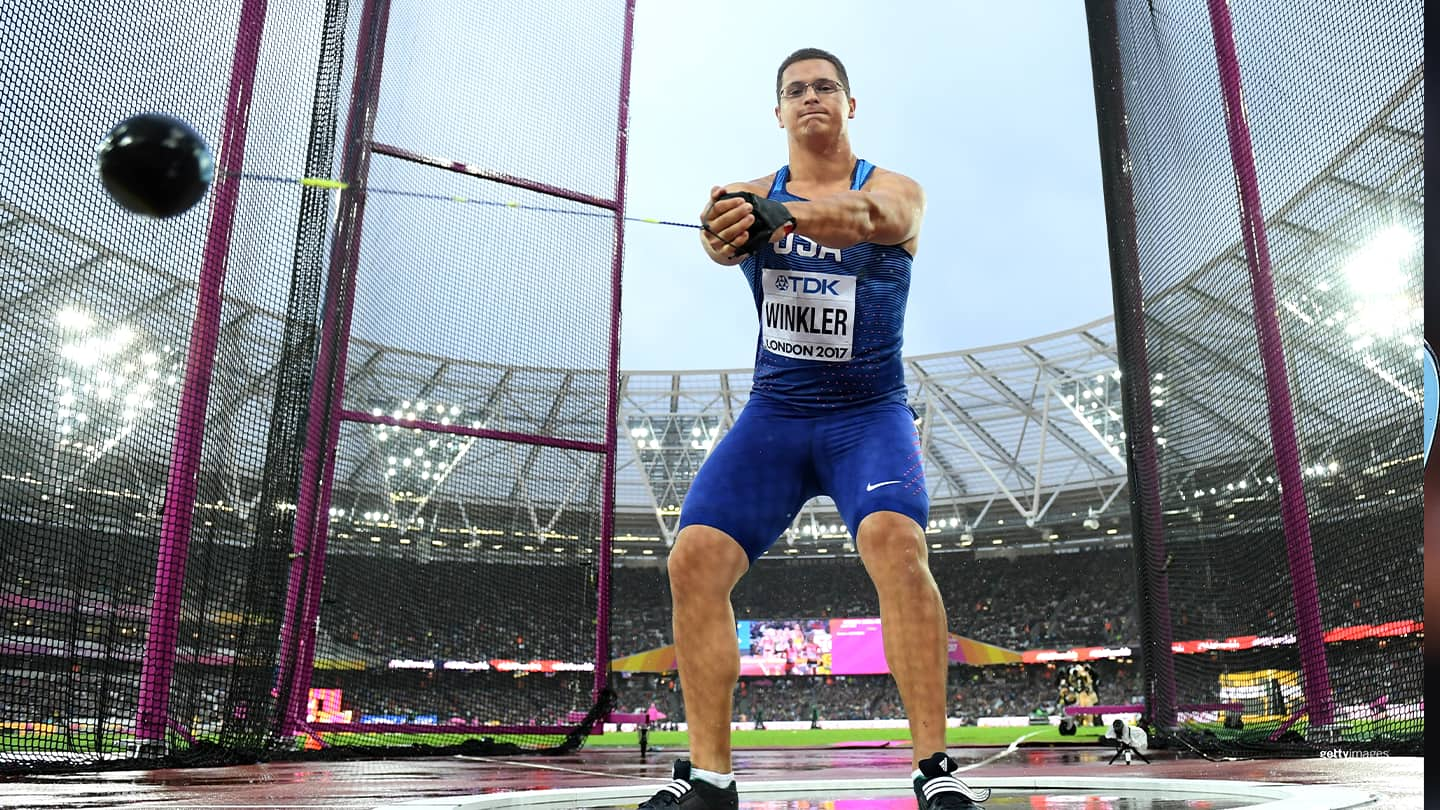 Rudy Winkler competes in the Men's Hammer Throw at the IAAF World Athletics Championships on Aug. 9, 2017 in London.
Rudy Winkler should have been utterly thrilled after winning the 2016 U.S. Olympic Team Trials – Track and Field. Instead, he went home with the weight of the world on his shoulders.

Or more accurately: the wait of the world.

That's because Winkler was in qualification limbo. He threw 251 feet, 10 inches – improving his personal best by nearly 13 feet – yet missed the Olympic standard by about 9 ½ inches. Would the college junior be invited to fill out the field at the Olympic Games Rio 2016 or would he stay home?

"It was super stressful as I'm sure you can imagine," Winkler said with a laugh. "I was refreshing my emails like every 20 minutes for the week and a half, two weeks after the Trials."

He finally got word that he'd be on his way to Rio.

For the upcoming Tokyo Games, Winkler, who majored in information science at Cornell, hoped to remove unpredictability from the equation. The qualification period began in 2019, but he came up just short of the standard of 77.50 with a throw of 77.06 at the 2019 world championships, where he placed 11th.

In 2020, he exceeded 80 meters for the first time in his career with a throw of 80.70, but the mark didn't count for Olympic qualification because it happened during a dead period due to the pandemic.

As his 2021 season began, Winkler finally put any uncertainty to rest. On April 11, he posted a mark of 77.89 meters at the New York Hammer Summer Series in Wallkill, New York.

"It's a huge relief knowing I have the standard," Winkler said.

Not only will he have instant gratification if he wins this month's Olympic Trials in Eugene, Oregon, where he's the overwhelming favorite, he's also a contender to bring home the first Team USA hammer throw medal since Lance Deal won the silver in 1996.

Winkler, 26, is undefeated so far in 2021 and his personal best of 81.98 meters (268-11) at the USATF Grand Prix in Eugene on April 24 was the second-longest throw by an American behind Deal, who threw 82.52 (270-9) in 1996. Winkler inched ahead of Jud Logan, who posted a mark of 81.88 in 1988.


Winkler was atop the 2021 world list until Pawel Fajdek of Poland, the reigning world champion, moved past him May 30 with a toss of 82.98. No other thrower has surpassed 80 meters this year.

For the first time in almost a quarter century, Deal's American record is at risk, just 22 inches away. "If I get asked, 'What did you change? What's been different from 2019 to now?'" said Winkler, "It's really nothing. It's just doing more of what I'm good at, doing more of what we know worked for me. I think too many people, as soon as they reach a goal or a milestone, they want to start changing a bunch of things to get to that next milestone."

However, he did go back to basics last year. After contracting Covid-19 in early April 2020, Winkler was out of commission for a month.

"On my return, I had to start back with some fundamentals and build myself back up," he said. "I think in a way that was really helpful. It's a big reason why I ended up throwing what I threw in 2020."

Compared to 2016, when no American male hammer throwers met the Olympic standard, this year so far there are four. While Winkler has the top three throws of the season, Sean Donnelly has a mark of 79.27 meters, followed by Daniel Haugh (79.03) and Alex Young (78.30).

"We push each other, obviously, so when one person's doing well, we want the other people to do well," Winkler said. "With the Internet being what it is, it's very easy to share information and communicate with each other."

He said they are a close-knit group who enjoy doing camps and training with each other, and they're also good friends with the American women – DeAnna Price, Brooke Andersen, Gwen Berry and Janee Kassanavoid - who are at the top of the world list in their event.

"They've been killing it," Winkler said. "And I think that's another big part of it, too, seeing them be successful the past couple of years has pushed the men's side of it."

Global Influence
They've also been able to watch how throwers around the world train.

"That's been really helpful for the Americans," Winkler said, "and we've kind of adapted our training styles to be more in tune with that."

While he's generous in what he shares online when it comes to his sport, Winkler's job requires him to be much more protective.

After earning a masters of business and science with a concentration in cyber security at Rutgers, since January 2020 Winkler has worked as a cyber security analyst for New Jersey's largest integrated healthcare delivery system.

That has allowed him to drop the hammer on some nefarious plots.

"We've stopped a number of attacks," said Winkler, who now lives in Ithaca, New York, where his girlfriend is in law school at Cornell. "We get lots of phishing attempts where someone will send you an email and try to get you to click on something and get your password. We also get network attacks and other types of hacks."

While the work can be stressful, he enjoys collaborating with a team.

"When I'm at a meet, it's all about me," Winkler said. "No one else really can affect how I do. It's all about competing with myself."

When Winkler describes the hammer throw to members of the general public, he usually says, "It's a shot put on about a 3-foot wire with a handle on the end of it."

"And most people will say, 'Oh, I've seen it. That's the one where you like spin around,'" said Winkler.

For track fans or sports fans in general, he's more precise. "It's usually something along the lines of, 'It's a speed sport and it's a strength sport,'" he said. "Like the pole vault, it's very technical.

"So, it's a balancing game of what you do in the weight room and what you do on the field. That's what makes really good hammer throwers - being able to balance those two and find a good harmony."

Winkler spins four times, which is the standard, although some people do three spins and he's known a couple to do five.

Isn't spinning in the cage disorienting? "After awhile, it's just habit," said Winkler. "It's like riding a bicycle; you know when and where to release."

These days a good throw for him is nearly the length of a football field, landing at about the 10-yard line.


Winkler began his track career with a peewee team in his New York hometown, the Averill Park Road Runners. While he tried running and jumping events, he was a big kid and gravitated toward the shot put and discus. With no middle school track team, Winkler had the opportunity to practice with the high school squad. When a coach introduced them to the indoor version of the hammer, which is called the weight throw, Winkler discovered he had a knack for it.

As a freshman, he made it to the high school nationals and attracted he attention of an Irish Olympian named Paddy McGrath, who offered to coach him.

While a lot of athletes have had to adapt to working with their coaches online and through video, Winkler and McGrath have been doing it for years. "Ever since high school I've only been able to see him at most once a week," Winkler said.

He was able to get international experience early, competing at the 2011 World Youth Championships and the 2012 World Junior Championships. He placed second at the 2013 Pan American Junior Championships.

In 2016, Winkler thought the 2016 Olympic Trials would be simply a learning experience for 2020. Then he started getting closer to the Olympic standard, was the runner-up at the NCAA Championships and realized he could actually win the Trials. "So it was kind of a shock," Winkler said.

He'd already started an internship, getting the week off for the Trials. After he won, he called his manager. "I said, 'Hey, uh, I'm probably not going to be coming back,'" Winkler said. "He was following the event and he knew. They were supportive."

In Rio, Winkler had a disappointing outing in the preliminaries, throwing 71.89 meters for 18th place.

He said he's more mature now as both a person and an athlete.

"I was changing things," Winkler said. "I was doing things I wouldn't normally do. I think I just put myself in a place where I was a little bit uncomfortable when I should have just kept doing the things that I was very comfortable with."

He also wished he had taken the time to enjoy his trip to Rio more by doing some sightseeing or hanging out more with fellow athletes.

"I was treating it like, 'This is business, this is my job,' and I had never really done that or treated the sport like that in the past," Winkler said. "If I do make the (Tokyo) team, I'll be a little better prepared."

And he won't have to hit refresh on his computer to find out if he's gotten into the Games. Just making the top three will be enough for Winkler to nail down his trip to Tokyo.
Karen Rosen has covered every Summer and Winter Olympic Games since 1992 for newspapers, magazines and websites. Based in Atlanta, she has contributed to TeamUSA.org since 2009.