Front-Running Athing Mu Wins 800-Meter Gold, Breaks American Record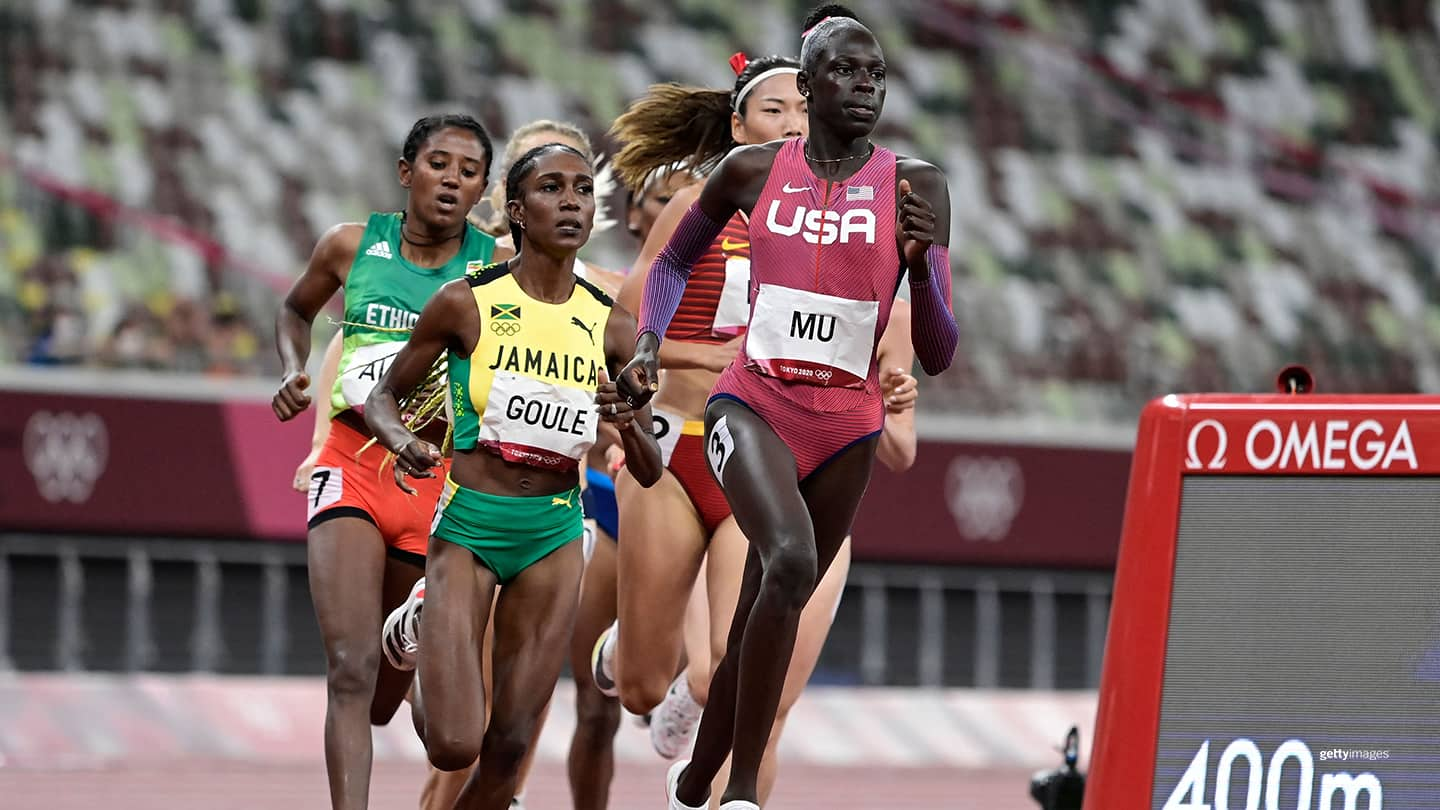 Athing Mu competes at the Olympic Games Tokyo 2020 on Aug. 3, 2021 in Tokyo.
TOKYO – Only a question could stop Athing Mu in her tracks Tuesday night at Olympic Stadium.

Mu, who had just raced to an Olympic gold medal and American record in the women's 800 meters, was talking a mile a minute when she was asked what people watching her for the first time should know about her.

The 19-year-old from Trenton, N.J., paused and pondered.

"I'm very fun," she said at last. "This isn't the last time you're going to see me run. This is just the beginning. There's more."

Mu then recalled a statement she made two years ago - when she was a precocious teenager already breaking records - and said it still holds true: "My time is now."

"Six years from now, two years from now, it's going to be my time," Mu said. "I'm going to do whatever I can in my time, no matter what age I am … to be great."

Mu also set an American record of 1 minute, 55.21 seconds, breaking Ajee Wilson's four-year-old mark by four-tenths of a second.

"I'm accomplishing all these crazy things," said Mu, who is a candidate for the 4 x 400-meter relay later this week. "Being an Olympic gold medalist, that's insane. But I just feel like when I expect it or I know it's possible, it's not as shocking."

Mu, whose first name is pronounced just the way it looks, but whose last name sounds like "Mo," was born after her parents emigrated from Sudan. She is equally comfortable at 400 meters - in which she was NCAA champion as a Texas A&M freshman before turning pro this year - and at 800 meters.

Following her usual strategy of making a beeline for the lead and never relinquishing it, Mu won the first Team USA gold medal in the women's 800 since Madeline Manning in 1968. Kim Gallagher won the silver medal in 1984 and the bronze in 1988.


1:55.21 😳

19-year-old @athiiing golden at 800m. @usatf x #TokyoOlympics pic.twitter.com/k3w8hwtiYp


— Team USA (@TeamUSA) August 3, 2021
"I don't want to leave anything up to chance," Mu said of getting out in front. "I don't want to get into a race and not do what I can and get mixed in there and mess up my chances of reaching any of my goals."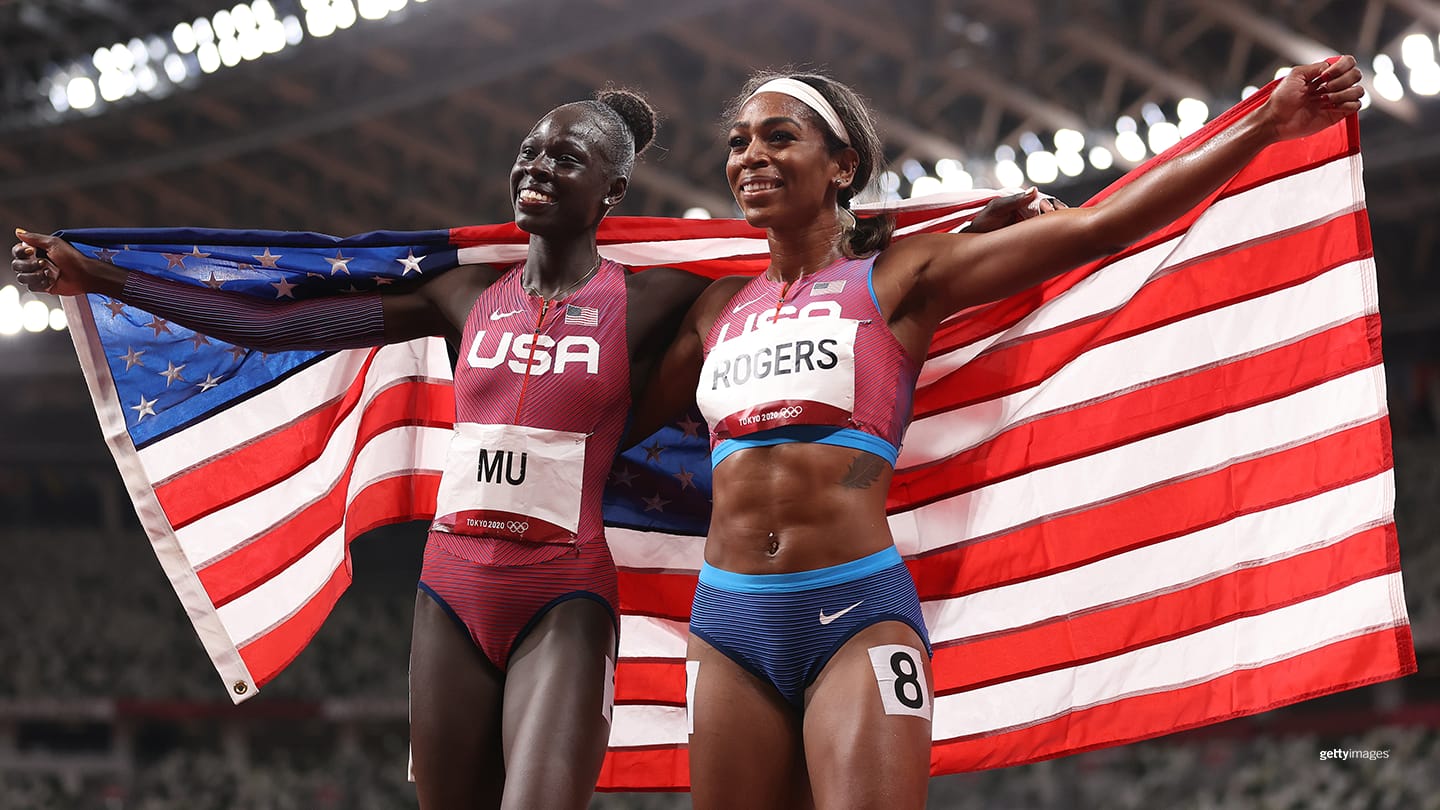 Athing Mu and Raevyn Rogers pose at the Olympic Games Tokyo 2020 on Aug. 3, 2021 in Tokyo.
Rogers Breaks Through For
Bronze
Keely Hodgkinson of Great Britain was second, clocking 1:55.88 for a British record, while Team USA's Raevyn Rogers burst out of the pack on the final straightaway to run a personal best of 1:56.81 and claim the bronze medal.
"There was a split second in the race where it's like, 'You should like try to go 'cause you can get a medal,'" Rogers said.
The 2019 world silver medalist dedicated her medal to her mother, who was celebrating her birthday.
Wilson, the other Team USA runner, did not make the final.
When Mu won the U.S. Olympic Team Trials - Track & Field in June, she said, "I wouldn't even call myself dominant yet."
She's getting there. With South Africa's Caster Semenya and the other two Olympic medalists from Rio banned from competing in the 800 because of DSD (Differences of Sexual Development, with elevated testosterone levels), the podium was guaranteed to have new faces.
"I came in very relaxed," said Mu, who wore a barrette that said "CONFIDENT," which she just had to have after seeing it in a Los Angeles department store. "My mind was very chill. I wasn't nervous or anything. I was just ready to go, ready to do what I had to do to get on that medal stand."
At her next Olympics - and trust her, Mu says, there will be another one or a few - she wants to join Alberto Juantorena of Cuba as the only athletes to double in the 400 and the 800 at the same Games.
"I'm also going to break the 800 world record, eventually," Mu said. "Not even eventually, we're going to break it."
Czech runner Jarmila Kratochvilova ran 1:53.28 in 1983.
This has been a sensational year for Mu, who set an American under-20 record in the 800 and won NCAA titles in the 400 and 4 x 400 for Texas A & M. At the Olympic Trials, she posted a personal best of 1:56.07, which was also a meet record.
Without prompting, Mu circled back to the question about what she wants people to know about her. "I think I'm just like a really jolly person," she said, "especially when it comes to being on the track. I have so much fun. I think I'm probably the only person - OK, I don't want to say only person smiling, but I'm definitely always smiling. I think the one reason why I'm here at the Olympic Games, being an Olympic champion, is because I have fun with what I do. Very happy to be here, very excited to be here, I've earned this. I deserve this as well."
While Mu is focused on personal goals, she's also a team player. As Team USA's Gabby Thomas was running the 200, Mu cheered for her in between trackside interviews with broadcasters.
"I'm just happy for literally anyone on our team that gets a medal, or is just running good," Mu said. "I'm very supportive. I love teams, and I was really happy for her. If it were me on the track, I'd want to hear her cheering as well. So I'm just trying to give everyone the love and support that I'd want if I was on the track…."
With the final of the women's 200 meters just 25 minutes after the 800, Thomas didn't see Mu race, but she said, " I knew that was coming before I even saw the results. Athing is an incredible athlete. She has so much grace, so much poise. So much composure at such a young age. An amazing teammate.
"She's an inspiration to me and she was rooting for me, screaming at the top of her lungs during my 200, so I wish the best for her. The sky is the limit with Athing."
And it could be for Thomas as well.
However, when she crossed the finish line at her first Olympics, she didn't know if she was third, fourth or fifth.
"It feels amazing because I really worked for that one," Thomas, 24, said. "I fought tooth and nail those last 30 meters."
When she saw that she was the Olympic bronze medalist, Thomas said she felt "first relief, and then shock and then pure excitement. Just thrilled."
Elaine Thompson-Herah of Jamaica won her second straight gold medal in the event while also repeating her double-double from 2016 of winning the 100 and the 200.
Thompson-Herah clocked 21.53 seconds for a new Jamaican record and the second-fastest time in history behind Florence Griffith Joyner's 21.34 from 1988. Eighteen-year-old Christina Mboma of Namibia lowered her own world under-20 record to 21.81 seconds to take the silver.
Thomas, who ran 21.61 at the U.S. Olympic Trials, posted a time of 21.87 seconds, followed by Shelly-Ann Fraser-Pryce of Jamaica at 21.94. Fraser-Pryce was competing in her ninth Olympic final after placing second in the 100.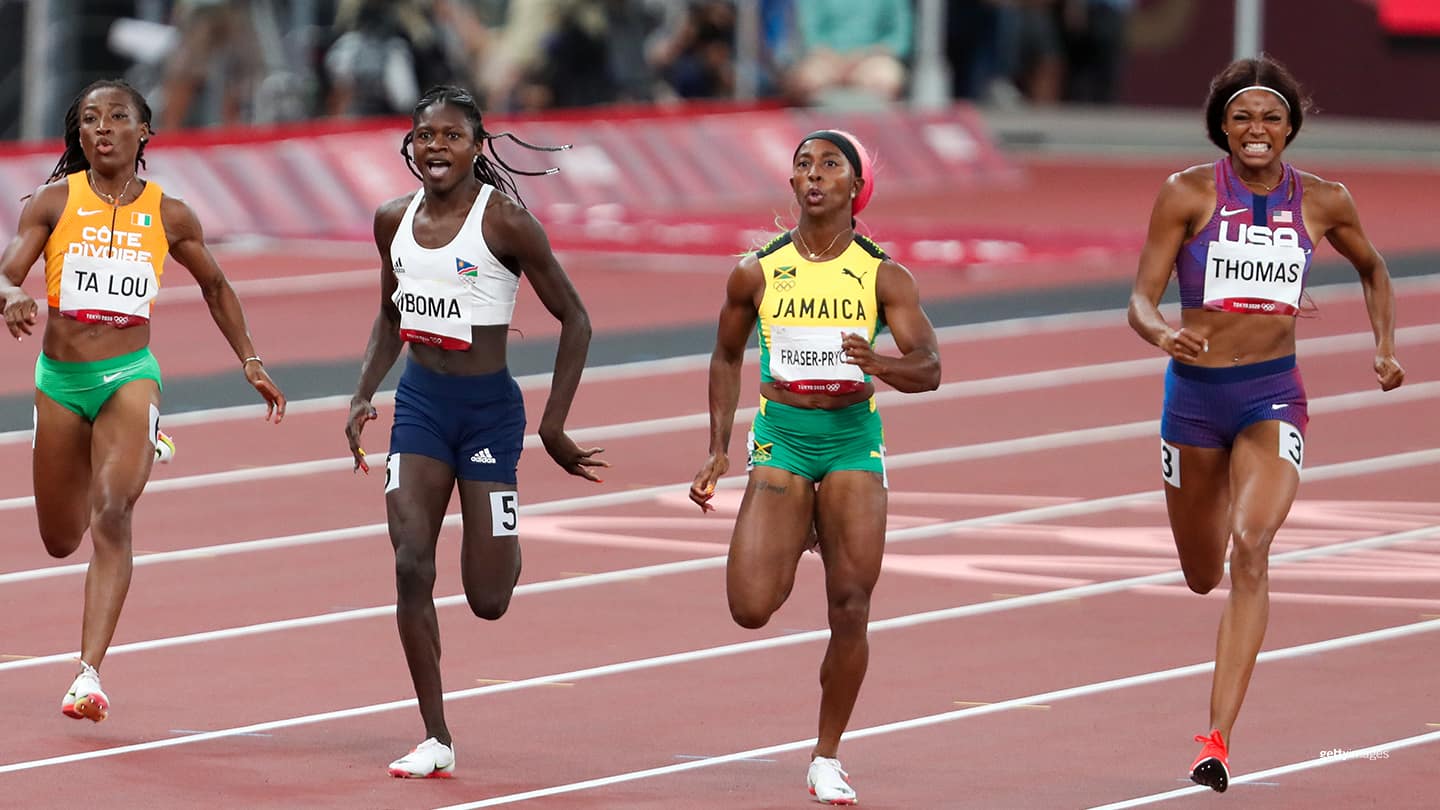 Gabby Thomas competes at the Olympic Games Tokyo 2020 on Aug. 3, 2021 in Tokyo.
Team USA has now medaled in five straight Olympic Games in the 200, with Allyson Felix winning silver medals in 2004 and 2008 and the gold in 2012, Carmelita Jeter winning the bronze in 2012 and Tori Bowie also claiming bronze in 2016.
Thomas said she was able to stay composed and relaxed, "and I think that's what got me the medal."

"She's like a gazelle," said Gwen Torrence, the last American woman to win the gold medal in the 200 in 1992. "Gabby the Gazelle."

Thomas, a Harvard graduate who majored in neurobiology with a secondary in global health and health policy, has had a breakout year since moving to Austin, Texas, to train with "the Bailey Bunch" led by coach Tonja Buford-Bailey.

While Thomas felt she was sometimes overlooked as an Ivy League runner, she said her bronze medal proves "that I belong here, but I also want more for myself and I want to come with the gold at some point. So, I'm definitely looking forward to the next few years and being a different athlete. I have these goals for myself that I didn't have a couple of months ago."

The Olympic final included two athletes with DSD - Mboma and her countrywoman Beatrice Masilingi, who was sixth. Both had been running well at 400 meters before they were banned from that event and dropped down to 200 meters.

Thomas said it's tough to answer questions about DSD sprinters

"It's hard to have an opinion on that when I actually don't know their biology," she said. "I don't now how decisions are being made, so I do my best to stay out of it. What's done is done. They'll be competing and they're talented, so all I can do is focus on my own lane. And I came with a medal, so I'm happy with that."

Thomas is expected to run on the 4 x 100-meter relay later this week.

When she returns to the United States, she has to finish registering for classes. Thomas is pursuing her masters degree in public health, specifically epidemiology, at the University of Texas.

"For me, it is very important to find balance and just let everyone know that you can really do whatever you want to do as long as you're passionate about it," Thomas said, "as long as it's something that you believe in and want to do, just go do it. Go take what's yours and live out your dreams."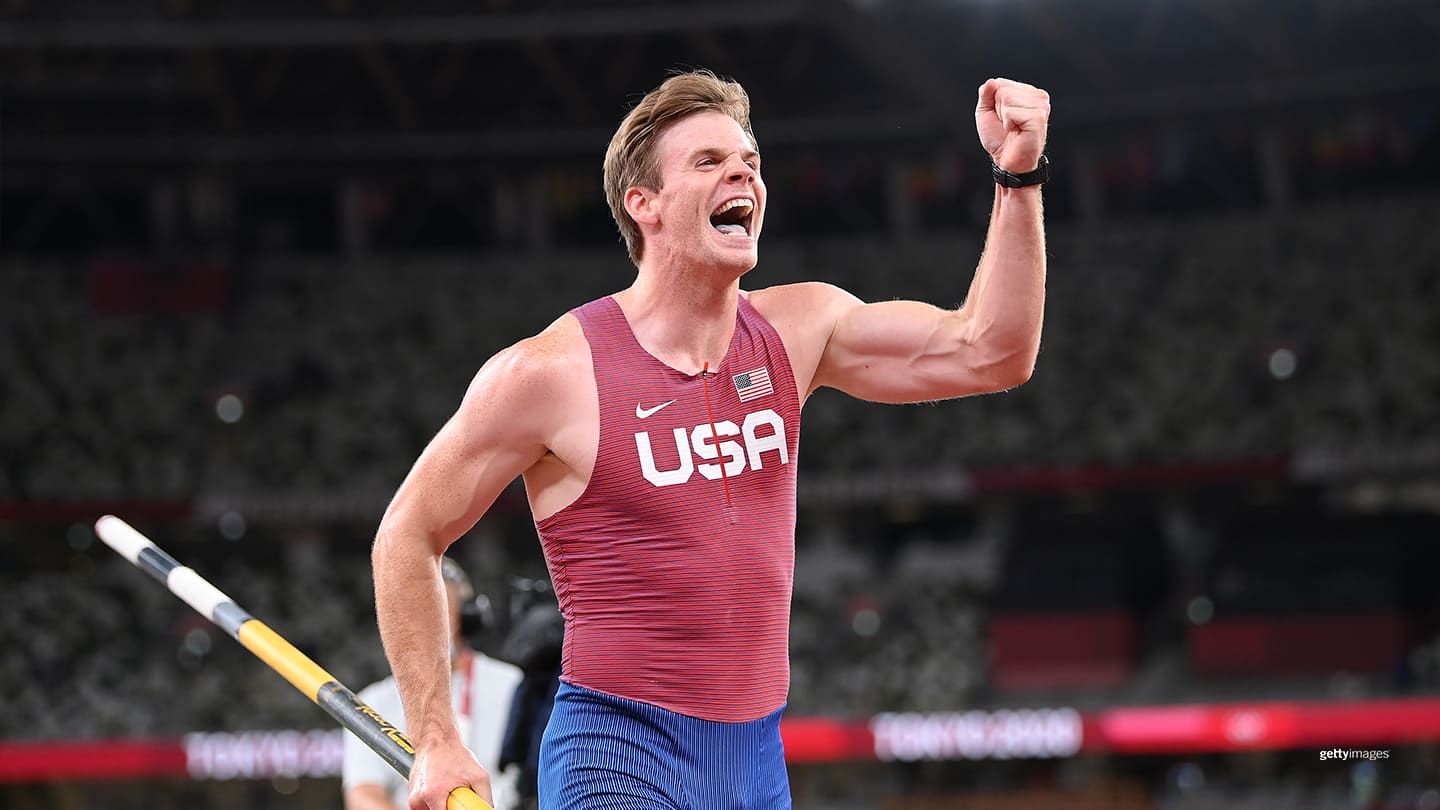 Chris Nilsen celebrates at the Olympic Games Tokyo 2020 on Aug. 3, 2021 in Tokyo.
Mixed Results in Field
Events

Team USA's Chris Nilsen won the silver medal in the men's pole vault behind world record holder Armand "Mondo" Duplantis of Sweden, who vaulted 6.02 meters and then missed in his attempt at a new world record of 6.19.

Although Nilsen won the Olympic Trials, many considered Sam Kendricks, the 2016 Rio bronze medalist, the top American hope. However, Kendricks tested positive for COVID-19 and had to withdraw from the event and go into quarantine.

Nilsen vaulted a personal best of 5.97 meters, while teammate KC Lightfoot tied for fourth at 5.80.

"I had a couple of good jumps at 6 meters, and I was happy to walk away with that," said Nilsen "but at the end of the day, Mondo was going to do everything in his power to win that gold and I don't think anybody was going to stop him."

Although hammer thrower DeAnna Price came in ranked No. 1 in the world and is the reigning world champion, she finished eighth with a throw of 73.09 meters, well off the winning throw of 78.48 by Poland's Anita Wlodarczyk, who won her third straight gold medal. Brooke Andersen was 10th with a toss of 72.16 and Gwen Berry placed 11th at 71.35.

Price said she fractured her talus (ankle) two days before the Olympic Trials, where she threw well. But the more she practiced, the more pain she felt. She also has a torn hip labral.

"This whole right leg isn't working for me, apparently," said Price. "It's revolving against me."

She plans to go home and have surgery. But Price said she competed in Tokyo because she wanted to show people that "even through the pain and excruciating mental games that were going through my head, I made it through. I did it. That injury does not define who I am. I am DeAnna Price! I am the international hugger and I am so excited."

Price said that as defending world champion, she has an automatic bid at the 2022 worlds in Eugene, Oregon, and "I can't wait to get back and start training again."

And hugging.
Want to follow Team USA athletes during the Olympic Games Tokyo 2020? Visit TeamUSA.org/Tokyo2020 to view the medal table, results and competition schedule.
Karen Rosen has covered every Summer and Winter Olympic Games since 1992 for newspapers, magazines and websites. Based in Atlanta, she has contributed to TeamUSA.org since 2009.