News
Noah Malone
Mikey Brannigan
Ten To Watch At This Weekend's Drake And Penn Relays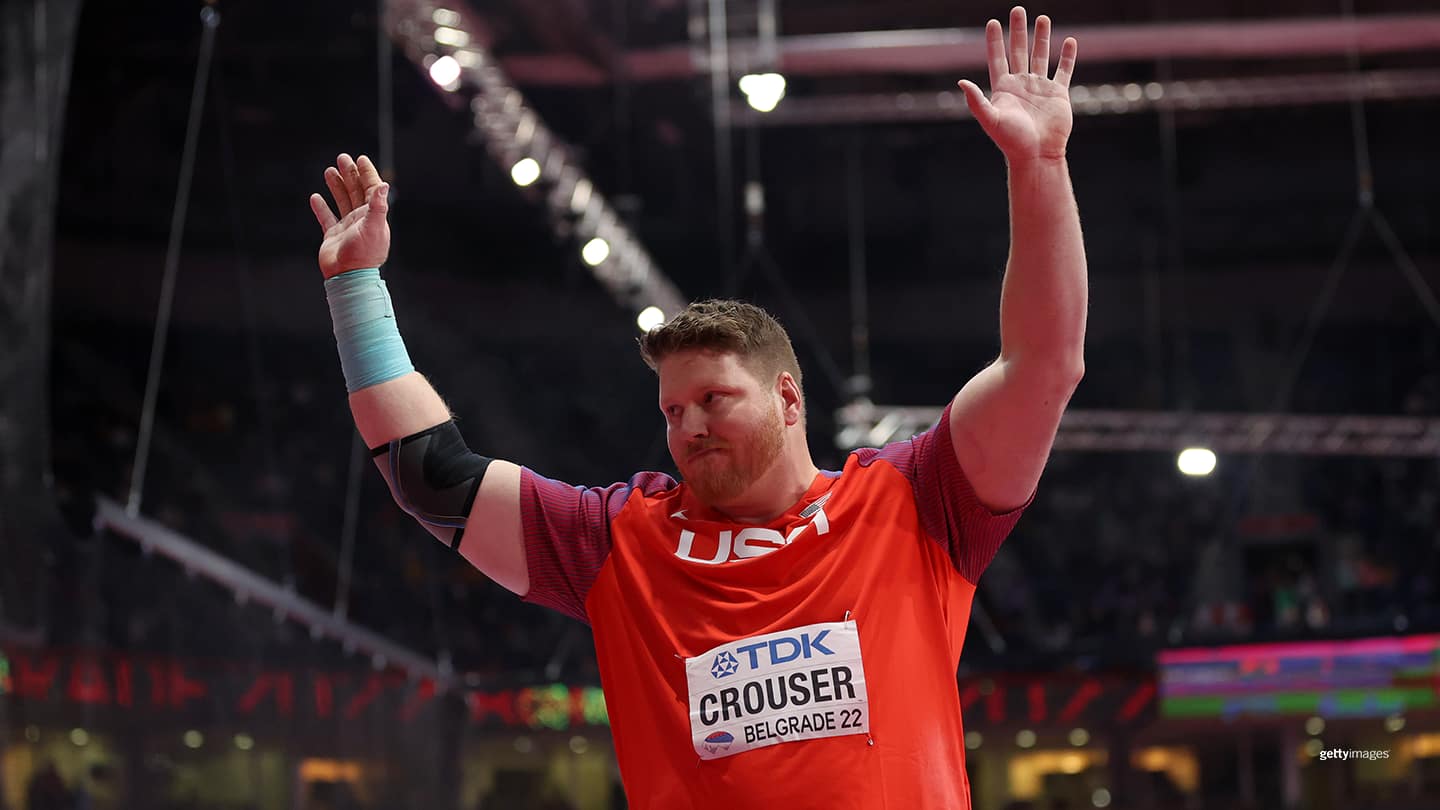 Ryan Crouser reacts during the men's shot put at the 2022 World Athletics Indoor Championships on March 19, 2022 in Belgrade, Serbia.
The snow melts, the flowers bloom and, for track and field fans, the Drake and Penn Relays kick off the outdoor season in earnest.

It wouldn't be spring without them.

The two early-season track meets get underway this week with high school and college competition before the elite international competitors take center stage this weekend.

At Drake, which is held on the famous blue track in Des Moines, Iowa, the elite invitational contests will be held primarily on Saturday afternoon, although some elite Para races take place on Friday.

Penn, the oldest annual track meet in the U.S., dating back to 1895, is held at Franklin Field in Philadelphia. The elite portion of this meet starts on Friday night and continues Saturday afternoon.

Although Allyson Felix, racing in her final season, scratched her planned race at Penn, both meets feature lots of U.S. star power. Here are 10 Americans to keep an eye on going into the big outdoor season that leads up to the world championships in July in Oregon.


Devon Allen – Penn, Men's 110-Meter Hurdles
Earlier this month the former Oregon Ducks wide receiver announced he was signing with the NFL's Philadelphia Eagles. Before he heads back to Philly to attempt to resume his football career, Allen has some work to do on the track. The two-time Olympian, who raced to top-five finishes in the hurdles in both Rio and Tokyo, will go against a Penn Relays field that includes 2016 Olympic gold medalist and 2017 world champ Omar McLeod of Jamaica.


Ryan Crouser – Drake, Men's Shot Put
Few in the sport have been as dominant as Crouser in recent years, with the 29-year-old having put together a 27-competition winning streak in the shot put starting in 2020. Within that streak was a second consecutive Olympic gold medal in Tokyo. That made it shocking when Brazil's Darlan Romani upset the American for gold at the world indoor championships in March. Crouser, who is also the world record holder in the event, will look to start a new streak in his first outdoor meet of the season.


Sam Kendricks – Drake, Men's Pole Vault
Kendricks rose to viral fame at the 2016 Olympics when cameras caught the U.S. Army Reservist abruptly stopping mid-run to stand at attention for "The Star-Spangled Banner." He went on to win a bronze medal in Rio and has remained among the best in the sport ever since, with two world titles to his name. In Des Moines, he's expected to face off against a talented U.S. field that includes Chris Nilsen and KC Lightfoot, who finished second and fourth in Tokyo (Kendricks missed the competition due to a positive COVID-19 test).


Noah Malone – Drake, Para Men's 100- and 200-Meter
Coming off three medals at the Paralympic Games Tokyo 2020 last summer, Malone is one of several U.S. Paralympians taking part in Para competitions at Drake. The 20-year-old took home silver medals in the 100- and 400-meter races in Tokyo, plus gold in the universal relay. Other Paralympic medalists from Tokyo expected in Des Moines include thrower Josh Cinnamo, sprinters Brittni Mason and David Brown, and middle-distance runner Mikey Brannigan.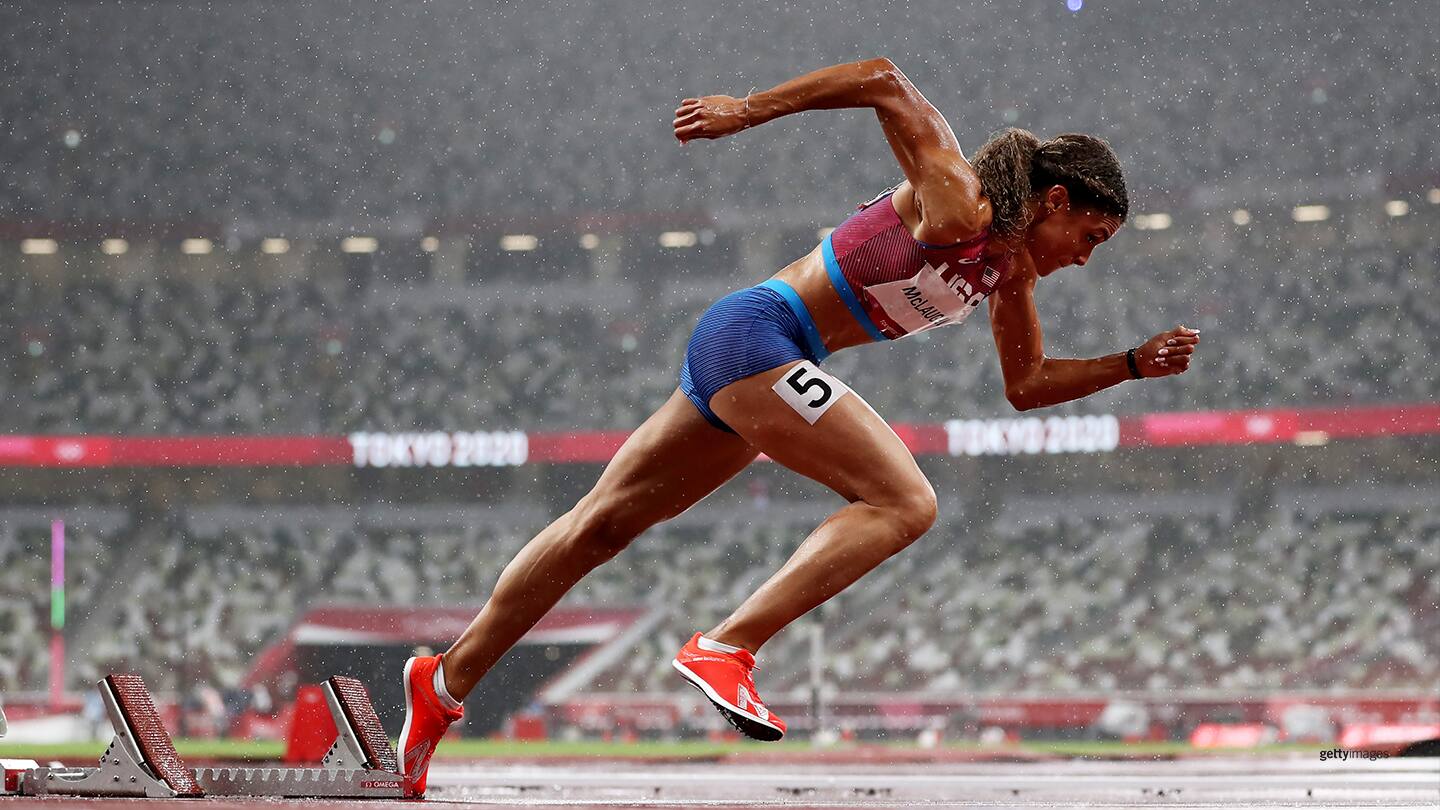 Sydney McLaughlin competes in the women's 400-meter hurdles semifinals at the Olympic Games Tokyo 2020 on Aug. 2, 2021 in Tokyo.
Sydney McLaughlin – Penn, Women's 100-Meter Hurdles
The last time we saw McLaughlin, she was setting the world on fire in Tokyo. First she held off teammate Dalilah Muhammad to claim her first Olympic gold medal, in the process lowering her own world record to 51.46 seconds. Three days later the teammates worked together to win the 4x400. The former phenom, still just 22, opens her season in Pennsylvania running the shorter hurdles event. The Franklin Field venue is one the New Jersey native knows well, having raced there as a high schooler.


Athing Mu and Ajeé Wilson – Penn, Women's 800-Meter
The former New Jersey prep stars are now among the world's best in the half mile, and they'll go head-to-head in this anticipated race. Mu, 19, was one of the breakout stars of the Tokyo Games, winning the 800 in American record time and then closing out the Games as part of the gold-medal 4x400 team. Wilson, meanwhile, is a two-time medalist at the outdoor world championships and the 27-year-old is coming off her first indoor world title in March. Both have raced outdoors so far this season, though not against each other.


Dalilah Muhammad – Drake, Women's 400-Meter Hurdles
After getting around the track for a pair of 400-meter races in April, Muhammad, 32, is ready to take a lap with some obstacles in her way. The reigning Olympic silver medalist and former world record holder will have to wait for a rematch against McLaughlin, but she's set to take on a speedy field in Des Moines that includes fellow Americans Anna Cockrell, Shamier Little and Ashley Spencer.


Clayton Murphy – Drake, Men's 1,500-Meter
The men's 1,500 at Drake has attracted a wide group of runners. Among them is Murphy, best known for winning a bronze medal in the 800 at the 2016 Olympics and reaching the finals again in Tokyo. He also won the 1,500 at Drake last year. Joining him will be fellow Olympians Ben Blankenship and Hillary Bor, the latter as a steeplechaser. Earlier this week, Murphy raced to a fourth-place finish in the USATF 1 Mile Road Championship also in Des Moines.


Hunter Woodhall – Penn, Men's 600-Meter
The three-time Paralympic medalist became the first double-amputee to earn a Division I track scholarship in 2017. He's back racing against able-bodied runners this weekend in the non-traditional 600-meter event. On Tuesday, the 23-year-old Tweeted: "Today was the best I've felt on the track in over 3 years. Starting to love the sport again, and body is responding so well right now. So excited to race!"
Chrös McDougall has covered the Olympic and Paralympic Movement for TeamUSA.org since 2009 on behalf of
Red Line Editorial, Inc.
He is based in Minneapolis-St. Paul.