The Real Deal: Rudy Winkler Breaks American Record In Hammer Throw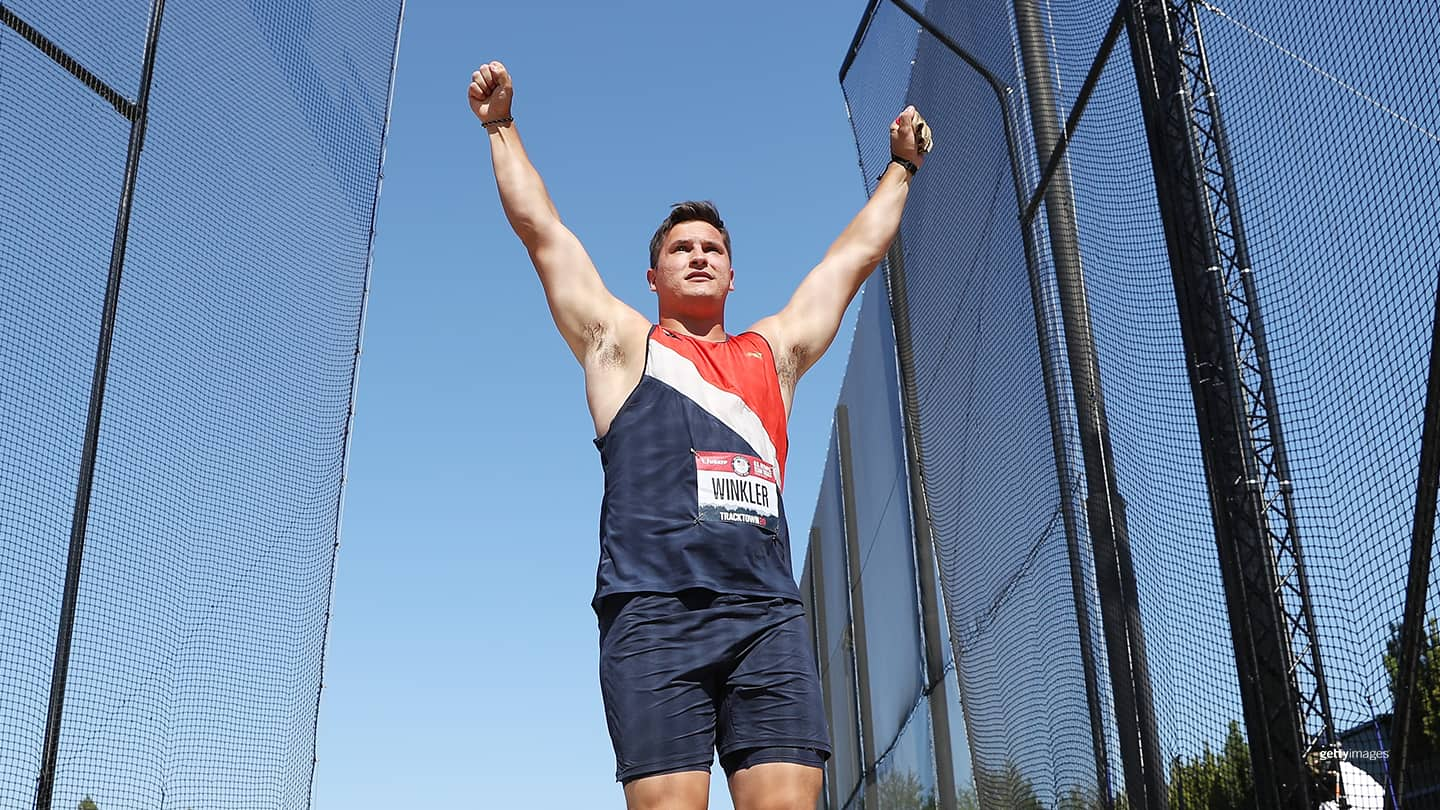 Rudy Winkler competes in the Men's Hammer Throw Final at the 2020 U.S. Olympic Track & Field Team Trials on June 20, 2021 in Eugene, Oregon.
EUGENE, Oregon – Rudy Winkler broke the American record in the hammer throw in front of the man whose mark had stood for 25 years.

Lance Deal, an assistant coach for the University of Oregon, was in the throwing area at Hayward Field during the U.S. Olympic Team Trials – Track & Field on Sunday when Winkler released the record-breaking heave of 82.71 meters (271 feet, 4 inches) on his second attempt.

That surpassed Deal's mark of 82.52 (270-9) set in 1996.

"Lance was probably the second or third person I talked to immediately after the throw," said Winkler, who also broke the Olympic Trials record and Hayward Field record. "He immediately said, 'I'm so proud of you' and 'Keep it going.' I'm really happy he was here and he was proud of me. That's awesome."

So was Winkler's series, matching Deal, the 1996 Olympic silver medalist, in having five throws over 80 meters. His sixth throw was well over 79 meters and Winkler, 26, would have won the competition with any of his attempts.

"It's a bit unbelievable," said Winkler. "If you saw me during the competition, I would walk out of the circle after throwing 80 (meters) and was saying, 'This is crazy.' It felt effortless and it was good to be able to do it repeatedly."

He made his second Olympic team while his good friends Daniel Haugh (79.39 meters) and Alex Young (78.32 meters) also threw personal bests to become first-time Olympians.

"He's a beast; he's an absolute stud," Haugh said of Winkler. "He's been at a high level ever since he was young…he just put the time in."

In 2016, Winkler was the surprise winner of the Trials. Because he had not met the qualifying standard, he had to wait a couple of weeks to find out that he was going to Rio. He eventually placed 18th.

This time Winkler already had the standard covered when he arrived at the Trials.

"I think I was more prepared for this," he said, "than I've ever been for anything in my entire life."

No American man has medaled in the Olympic hammer throw since Deal, while it has been 97 years since two made the podium. With Winkler at No. 2 on the world list, Haugh at No. 5 and Young at No. 10, they provide multiple medal threats at the Olympic Games Tokyo 2020.

"We got a lot of potential," Young said. "We got the polls talking about us. The U.S. is here and we're about to do some damage in Tokyo, baby."
As soon as Jasmine Moore was assured of making the Olympic team in the women's triple jump, Keturah Orji sprinted nearly the length of the runway to give her a congratulatory hug.

Both are Georgia Bulldogs. While Orji, 25, has graduated, Moore, 20, is a sophomore and was the NCAA runner-up.

"This made it all worth it," Moore said, "the tears, the hurt, the bad, the good, for this moment right here."

Orji, the American record holder who was fourth at the Olympic Games Rio 2016, led from her first jump of 14.40 (47-3).

"I put that out there for everyone else to chase," said Orji, "but I really have been looking for better marks this year after breaking the American record on my first jump of my first meet this year."

She was a bit more pleased with her last attempt, jumping 14.52 (47-7 ¾) to break the Olympic Trials record set by Tiombe Hurd in 2004 (14.45/47-5).

Tori Franklin, competing with her signature white bow in her hair, jumped 14.36 (47-1 ½) for second place to make her first Olympic team, while Moore's best mark was 14.15 (46-5 ¼).

"As always, I'm thankful for Tori, who pushes me to my best jumps," Orji said.

"I'm incredibly proud of myself," Franklin said, "because if anyone had seen the rest of my season, you might have counted me out.

"This is just the beginning, I know it's kind of like towards the end of the season, but it's just the beginning for me right now."
America's Greatest
Athlete
Garrett Scantling ran into a decathlon legend on the first day he arrived in Eugene.

"I was in line for Covid testing," Scantling said, "and I looked down and I saw these calf muscles and I'm like, 'There's only one person I know who has these calf muscles like that and it was Ashton (Eaton, the American record holder and Olympic gold medalist)."

They talked for 20 minutes. "He gave me a boost of confidence," Scantling said.

During the two-day decathlon, he amassed a personal best of 8647 points, bettering his previous score of 8476 from early April and moving to No. 8 on the all-time U.S. list.

Scantling, 28, had PRs in four of the 10 events – the 100, 110 hurdles, pole vault and discus. His long jump was also his best, but it was wind-aided.

After finishing fourth in 2016, one spot shy of making Team USA, Scantling retired, but decided to return for another bid to make the Olympic team. Now he's a medal contender in Tokyo. Only Damian Warner of Canada (8995) has a better score this year.

Steven Bastien, with a personal best of 8485 points, and Zach Ziemek, with a PR of 8471, moved to 10th and 11th on the all-time U.S. list. Both had to push themselves hard through the final event, the 1500 meters, to surpass the Olympic standard. Ziemek was a 2016 Olympian.

Scantling came in with the Olympic standard, " so you feel like that's a security blanket," he said, "but at the Olympic Trials, Steven Bastien is an example -- people can have incredible performances, and you'e never really safe. So I just wanted to come here and set the tone and let everyone know that I put in the work, this is my dream and I've been chasing it for a long time."

And, he added, "I know there's still a lot left in the tank. I've just got to come out in Tokyo and do what I know I can do."
Before arriving at the track Sunday, Vashti Cunningham, wanted to do something special for her father, former NFL quarterback Randall Cunningham. He is also her coach.

"I was looking at pictures of us over the years before I came out here and sent them to him," she said, "and I was like Happy Father's Day! I know that making him happy makes me feel so good."

Vashti, 23, won the high jump with a leap of 1.96 meters (6-5), which wasn't the height she wanted, but was good enough to produce her first Olympic Trials victory. In 2016, Cunningham lost to Chaunte Lowe, who won three straight titles. Lowe, who battled breast cancer, did not qualify for the Trials.

Cunningham had no misses until she attempted 2.02 (6-7 ½), which would have matched her world-leading mark from May 29. The 2019 world bronze medalist missed all three attempts, then held her arms up to wave to the crowd.

"This meet right here has meant a lot to me," Cunningham said. "I really, really wanted the title in 2016, but I was young and I was still going through everything, just trying to navigate my way."

Inika McPherson, a 2016 Olympian, and Nicole Greene jumped 1.93 (6-4) to place second and third, but neither has met the Olympic standard of 1.96/6-5.

Cunningham, who was 13th at the 2016 Olympics, said this year has been her most consistent buildup.

"I do plan on peaking at the Olympics," she said.
Karen Rosen has covered every Summer and Winter Olympic Games since 1992 for newspapers, magazines and websites. Based in Atlanta, she has contributed to TeamUSA.org since 2009.