Hammer Throw World Champion DeAnna Price Balances Hugs & Headbutts On the Quest For Her Second Olympic Team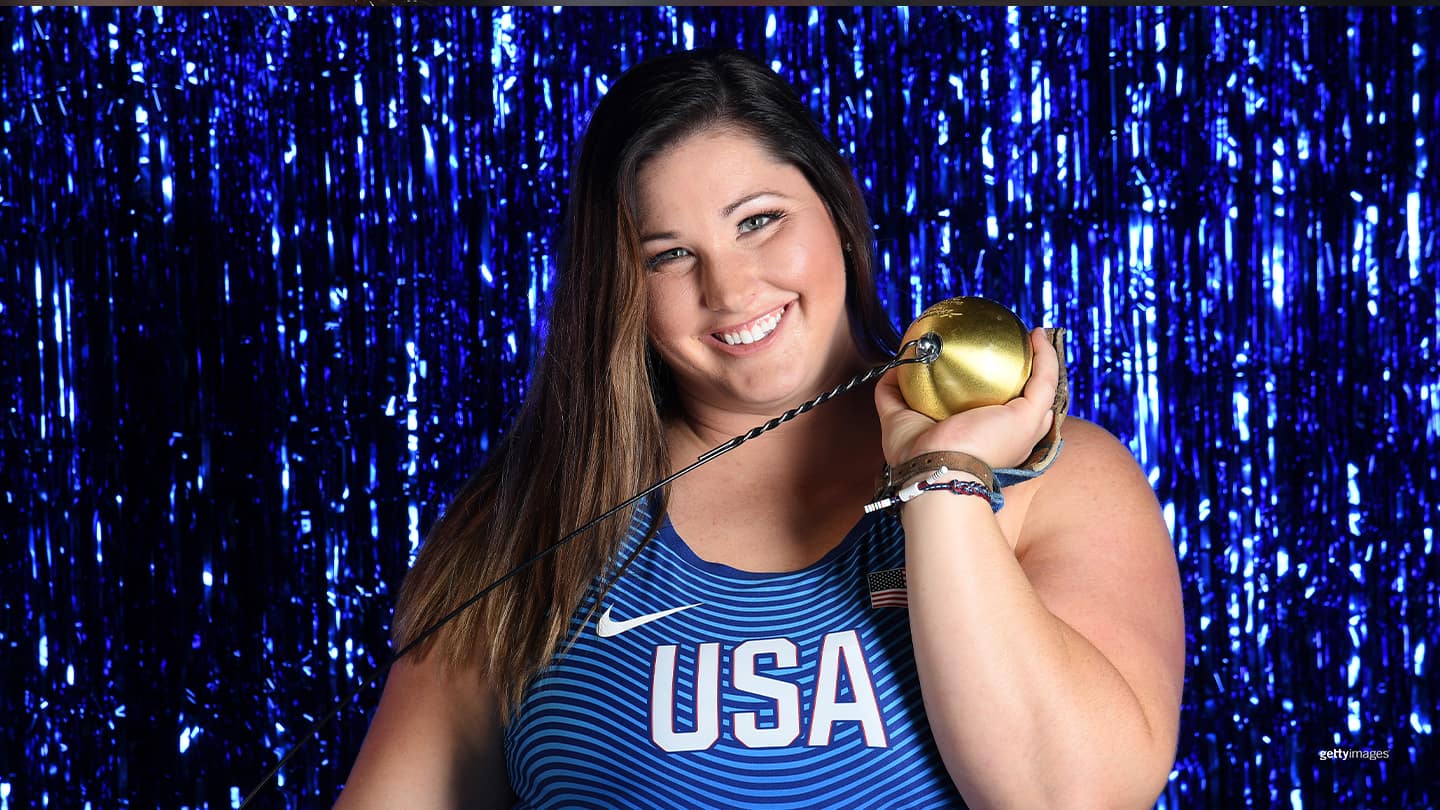 DeAnna Price poses for a portrait during the Team USA Tokyo 2020 Olympics shoot on Nov. 21, 2019 in West Hollywood, Calif.
DeAnna Price has a message for her rivals: I'm coming for you.

To give great big bear hugs, that is.

The reigning world champion in the women's hammer throw is also a self-proclaimed world-class hugger, prone to enthusiastically embracing her fellow competitors before and after competitions.

"We see each other all the time and you build this relationship with them. You want them to be successful, you want them to throw far," says the Troy, Missouri, native. "Every single person competing wants to bring honor to their country. I have nothing but respect for my girls here in the USA and all around the world. I love them all — especially Joanna."

That would be Joanna Fiodorow of Poland, who took the silver medal behind Price at the 2019 World Athletics Championships in Doha, Qatar.

"She's is such a big sweetheart, I just adore her," Price says. "Every time I see her I go full-on attack mode of hugs!" (Though she admits she may have to settle for air hugs this year thanks to the pandemic.)

That's a much more affectionate greeting than the one Price gives her own husband and coach, J.C. Lambert, before competitions. Price prefers something more aggressive than a hug to help fire her up, so the couple have a ritual headbutt just before she heads to the ring.

"I want to be aggressive and get into an attack mode," she says. "I don't want to be in this lovey-dovey mode. We don't kiss goodbye. We look each other in the eyes and then — pop! — we headbutt. That's our 'I love you.'"

It seems to be working. Price and Lambert met as teammates on the track and field team at Southern Illinois University in Carbondale. Lambert, two years older, eventually became the Salukis throws coach and has helped Price — already a solid performer in the shot put and discus — steadily climb the hammer throwing ranks. She won her first NCAA title in 2015, then finished second at the USA Track & Field Outdoor Championships two weeks later.

She punctuated her breakout 2015 season by placing fourth at the Pan American Games and competing at the World Athletics Championships in Beijing. Her personal best that year jumped from 65.18 meters (213 feet, 10 inches) to 72.30 (237-2) and she realized she could be a contender on the world stage.

The momentum continued the following season when Price went undefeated against collegians in the hammer, won her second NCAA crown and placed third at the U.S. Olympic Team Trials – Track & Field to qualify for the Olympic Games Rio 2016, where she made it to the the final and placed eighth.

In 2017 Price won her first USATF Outdoor title and placed ninth at the world championships in London. Then in 2018 she traded American records with friend and rival Gwen Berry, eventually coming out ahead with a mark of 78.12 (256-3).

She and Lambert married that fall, and turned their honeymoon in Las Vegas into a (partial) training trip. "He loves to throw, and I love to throw, too," she says of her husband, who also specialized in the hammer throw as an athlete, earning All-American honors five times at SIU and placing eighth at the 2016 Olympic Trials. "He kept saying that it was great training weather."

But the newlyweds hit the casino just as much as the track on the vacation. "He would go to the blackjack table, and I was at the penny slots," Price says. "We had a really fun time."

After a rough start to her 2019 season while she dealt with a hip injury, Price rallied to successfully defend her USATF title, raising her American record to 78.24 (256-8). That was followed by the biggest moment of her career so far, becoming the first American to win a world title in the event. "It's so weird thinking I am world champion hammer thrower," says Price, who turns 28 on June 8, just a few weeks before the Olympic trials in Eugene, Oregon.
"It kind of sank in, but at the same time, that was just one day that happened in my life, but what matters from here on out is backing up the numbers."

She's certainly backing them as she strives to qualify for her second Olympic team and reach the podium in Tokyo. After a year without competing due to the pandemic, Price broke her American record on April 8 at a small meet in Columbia, Missouri, reaching 78.60 (257-10). That makes her the No. 3 performer on the all-time behind Poland's Anita Wlodarczyk (82.98) and Germany's Betty Heidler (79.42).

Not bad for a woman who banged herself on the head the first time she attempted the event, in which a 4-kilogram (8.8 pound) ball is attached to a 1.2-meter steel wire that athletes rapidly swing in circles to generate momentum before releasing.

"I didn't even know what the hammer throw was," Price says of trying the event after her freshman year of high school. "I was thinking it was going to be an actual hammer, not a ball on a wire."

In addition to throwing the shot put and discus at Troy Buchanan High School, Price was a star softball player.

"I was thinking I was going to go to college playing softball, not for track," she admits, but when softball's future status in the Olympics became tenuous she decided to go all-in on track. She chose Southern Illinois for its deep tradition in the throwing events.

"I actually had full ride opportunities all across the country for softball and track," she says. "I took a partial scholarship to SIU because I knew there was something special here and I could do something really good with my life."

Price and Lambert live in Carbondale with their two dogs, Maverick, an Australian shepherd, and Bella, a mini Bernese mountain dog nicknamed Doha since Lambert got her as a reward for his wife after winning the world title. Lambert continues to coach the SIU throwers and Price is a volunteer assistant with the program, providing one-on-one expertise to the athletes.
"I have a lot of energy and love watching the kids develop athletically and academically," she says. "We're like that final step in their life before they go out into the world."

While coaching may be in her future, she knows she still has work to do as an athlete. She has her eyes on the 80-meter mark (262-5) and of course wants Olympic gold.

"If I'm being honest, I'm not the most technically sound hammer thrower," she claims. "But I'm very strong, and I know how to implement the power into the ball. Now I'm getting more technically sound."

The American record she set in April probably won't last much longer as she continues to perfect her technique. The U.S. has gotten stronger in the event (Brooke Andersen and Gwen Berry currently sit fifth and sixth on the all-time world list) so Price knows she has to commit herself fully to the sport — including sacrifices like making time for practice during her honeymoon — to back up her status as the best in the world.

"Every day it's drill, drill, drill," she says. "We want to make sure that even on bad day you're throwing far. Consistency is key. It helps with confidence and it is the difference between making the Olympic team and not."
Rich Sands has been a freelance correspondent for
Track & Field News
since 1995, covering the sport at the high school, college and professional levels. He was previously an editor at
TV Guide Magazine
, overseeing the magazine's Olympic coverage.