Figure Skater Amber Glenn: What Pride Month Means To Me As An Out Athlete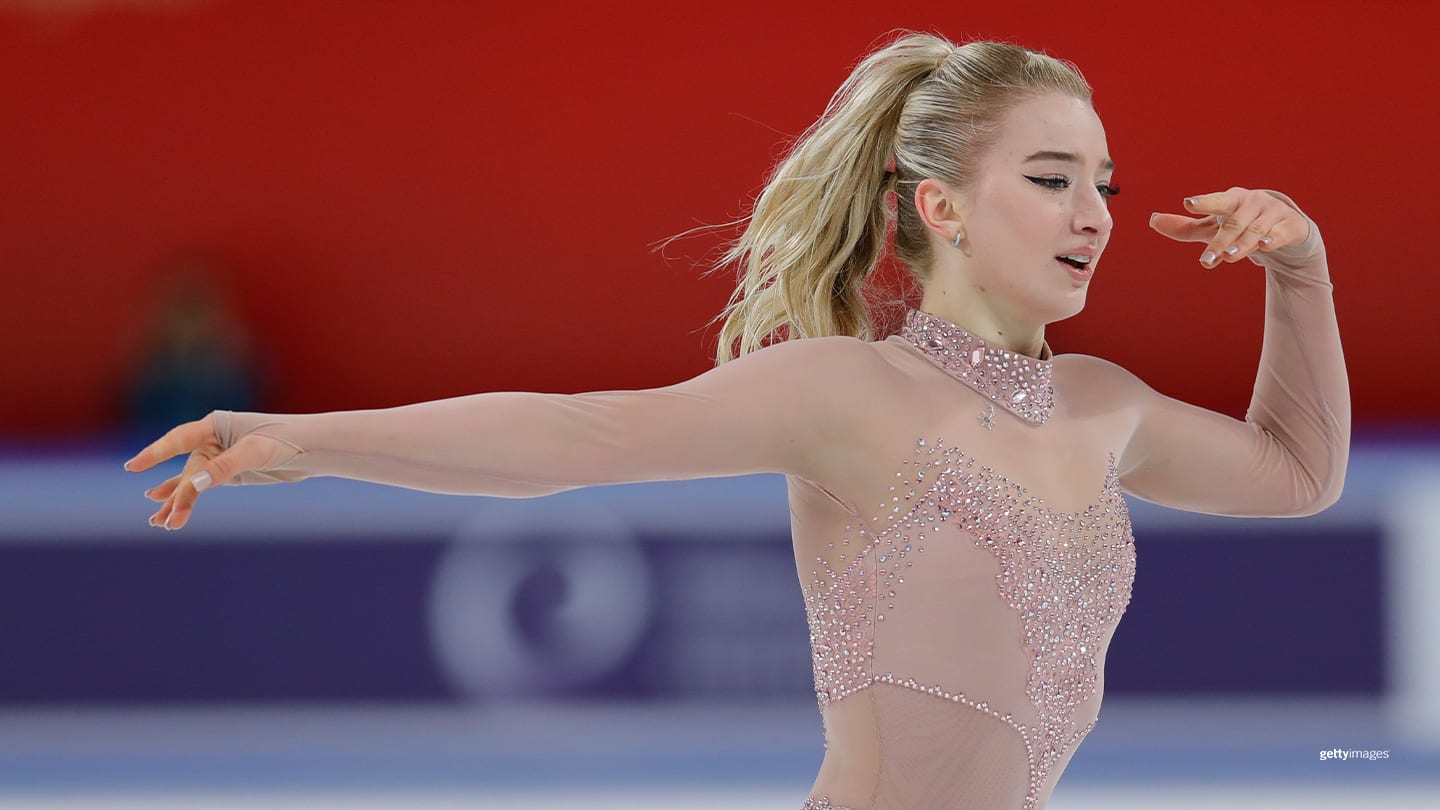 Amber Glenn competes in the Ladies Free Skate during the ISU Grand Prix of Figure Skating Cup of China at Huaxi Sports Center on Nov. 9, 2019 in Chongqing, China.
I remember the day I looked up on the Internet what it meant to be a woman who liked other women. Or what it meant if you liked both men and women. That's when I first learned the word "bisexual." I was 15. It was a confusing time.

It was also around that time that I started seeing a therapist for some mental health issues I was dealing with, like anxiety, depression and ADHD. While filling out paperwork I came to the line that asked, what is your sexuality? After much hesitation I scribbled for the first time, "I think I'm bisexual. What do I do?"

But my question was quickly dismissed, because after all, the reason I was seeing a therapist was for my mental health — not my sexuality. Bisexual, sexuality… I didn't even know what the word sexual meant, let alone know how to talk about it. It took me a long time before I was ready to have that conversation with anyone again.

At 16 when my friends and training mates were starting to look at the opposite sex, I was crushing on both males and females.

I didn't say anything because I didn't want to make my teammates and my friends feel uncomfortable. And I certainly didn't want them to gloss over my feelings like I had experienced in the past.
But over time people started to notice that when I talked about what a great person someone was and how much we got along, the gender didn't seem to matter. As a bi/pan sexual woman I plan to love someone regardless of their sex or gender identity. For me, if everything works out well, it works out well — no matter what gender you associate with.

Eventually my parents found out, too. Thankfully everyone was supportive, and great.

Growing up in figure skating the stereotype was always that the men were gay. But I had never seen a bi or queer woman, in any sport really. So I stayed quiet. I put my head down and focused on my skating.

My silence was pushed even further down by the knowledge that I was in a sport where humans judge other humans. And you don't know what the judges' personal beliefs are. You can hope that everyone is tolerant. But now that I am out, a judge could have a preconceived notion of who I am before I even step out onto the ice. I push that knowledge down too and just try to keep a positive mindset and show them my skills.

My hope is that the judges — and everyone — can appreciate that I am putting my authentic self forward by being true to who I am. I skate with my heart, and not always with my head. But by being honest with myself I feel I am able to give my best performance because I am putting it all out there.

Before that I felt like I was hiding a part of myself. When I wasn't out, I was trying to conform to fit into a box. Slowly I've been stepping out of it. Now I'm not afraid to be the girl who has a little muscle on her, or the skater who's described as powerful and emotional.

I'm proud to be out. That's what Pride Month is about. I'm so grateful to be able to be in the U.S. and be able to express myself without repercussions. Not every country is like that. Looking back at the history of LGBTQ+, it is shocking to me how recently people have been separated by race and gender.

To have opportunities now that so many people fought for, like gay marriage, is something that should be celebrated. That's the goal of Pride Month. While it's great to see everyone wearing rainbows and having fun, Pride Month is about celebrating the progress we've made while striving to make even more. We need to keep pushing boundaries in the hopes that down the road things can become even more accepted, and eventually normalized.

For me, the message I hope to share as an out athlete is that you can accomplish anything in life — and in sport — no matter your sexuality or what gender you identify with. No matter what pronoun you use, you should be able to go after whatever it is that you're passionate about. It makes me proud knowing that I can help someone realize that it's okay to be you. Don't hide your true self!
My fear of not being accepted for who I am was what kept me from coming out sooner. But when I was interviewed by the Dallas Voice in December of 2019 about my teammate Timothy LeDuc, who is a big inspiration to me for the awareness he brings to the LGBTQ+ community as a gay man, it was because of him that I felt comfortable taking that last step out of the box to call myself a bisexual/pan sexual woman.

I didn't expect that story to blow-up the way it did, but very quickly it went from only my family and friends knowing to everyone in the world. If you Google my name that's what comes up. And for the most part, everyone has been amazing.

I remember at nationals not long after, a young girl came up to me crying saying that after years of struggling with her gender identity she was finally able to be honest with her mom. Her mom was with her and thanked me, saying her daughter was in a dark place before that and I inspired her to come out. I started crying too and the three of us were in a hotel lobby bawling.

That means a lot to me because from a young age I've struggled with my own mental health, and I try to send out the message that it's okay to struggle — as long as you keep pushing through those struggles. Don't ever give up.

This past year has been hard. The pandemic affected everyone, and a lot of people negatively. It's okay to acknowledge that, but just don't stay stuck in that dark pit. Get a ladder and climb out of it. It's okay to reach out and ask for help. Yell if you have to! HEY, CAN I GET A LADDER DOWN HERE? People are more willing to help than you think.