Hubbell, Donohue Wrest U.S. Ice Dance Title From Chock, Bates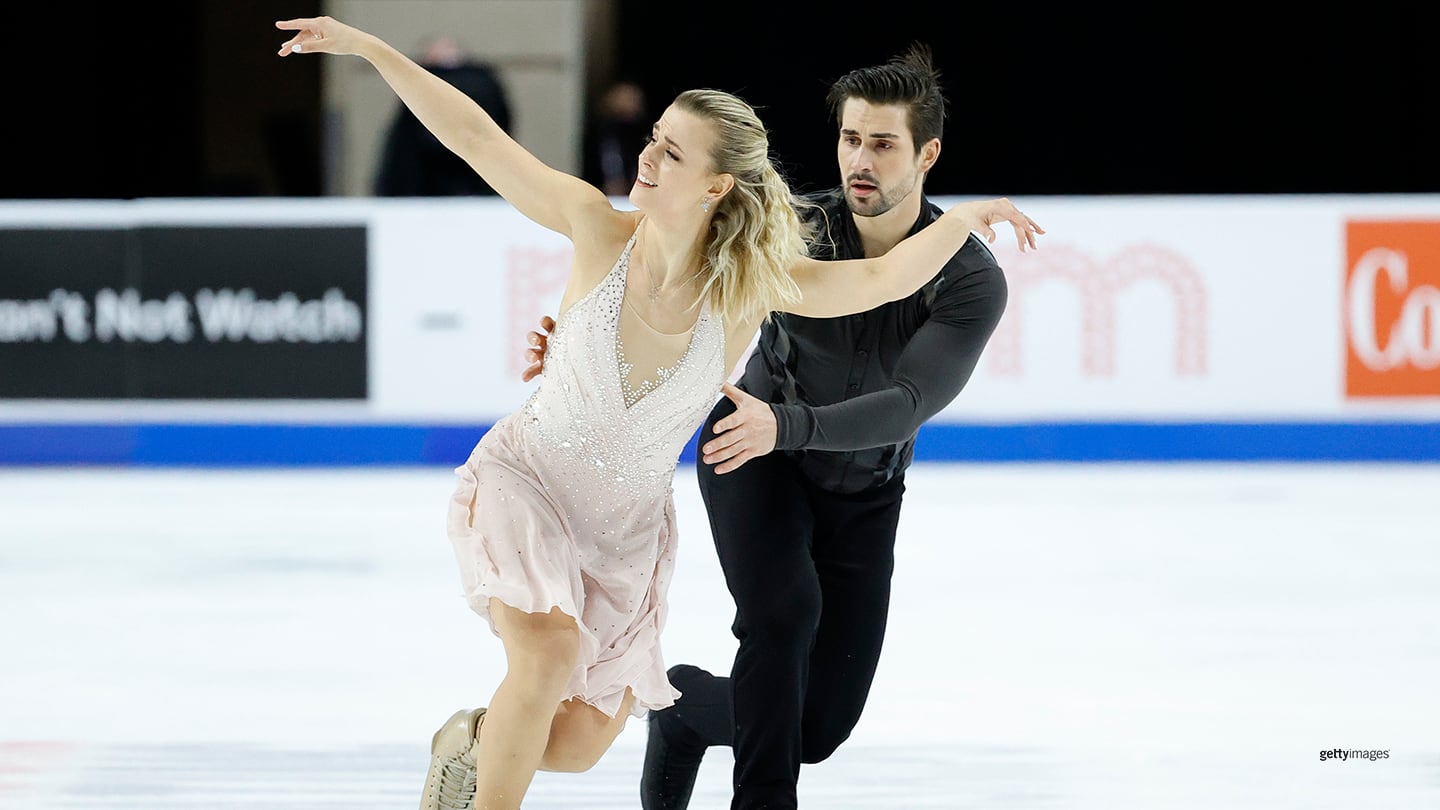 Madison Hubbell and Zachary Donohue compete during the U.S. Figure Skating Championships at the Orleans Arena on Jan. 16, 2021 in Las Vegas, Nevada.
The decade-long ice dance rivalry between Madison Chock and Evan Bates, and Madison Hubbell and Zachary Donohue, wrote yet another chapter in Las Vegas.

While their style and athletic strengths are different, rarely have teams been more closely matched competitively. Both have won two world medals. Since 2018, they have trained together in Montreal, sharing coaches Marie-France Dubreuil, Patrice Lauzon and Romain Haguenauer.

When they arrived at the Orleans Arena for the 2021 U.S. Figure Skating Championships, part of the Team USA Champions Series, presented by Xfinity, each couple had won two U.S. titles. And following Friday's rhythm dance, the teams were in nearly a dead heat.

Now, Hubbell and Donohue have bragging rights: following Saturday's free dance they defeated their friends and training partners by 1.63 points, about the margin of a missed twizzle (fast, one-foot turn) by Bates.

"We all know it is tough to go back and forth year after year," Hubbell, 29, said. "We know every year when we come to nationals or any other event, it is going to be hard to beat one another. Last year we were there to give them a hug, and this year they were there to give us a hug. We know that competitiveness will continue until we retire."

After grappling with their material much of last season, Hubbell and Donohue hit their stride this fall with a sensitive, free-flowing and powerful free dance to a medley of the Jeff Buckley and k.d. lang renditions of "Hallelujah."

Choreographed with two-time Olympic ice dance champion Scott Moir, the program won rave reviews at Skate America in October and was far smoother and more emotionally captivating on Saturday. The seven judges assigned positive grade of execution marks across the board for all of its elements, and it earned 134.90 points, a new U.S. record for a free dance. Hubbell and Donohue's total score, 224.56, is also a new U.S. record.

"Third-time national champion has a really nice ring to it," said Hubbell, who with Donohue also won the 2018 and 2019 titles. "We worked really hard this year, and through all the struggles, it's actually been a really productive year for us. It was not the easiest performance for us tonight, we definitely had to just keep calm and skate on, but we couldn't be happier to be here and have accomplished this big goal."

Chock and Bates performed an inspired outing of the exotic, intricate free dance they call "Egyptian Snake Dance." While their lifts, as usual, were stunning highlights, Bates fell out of a twizzle. The error likely cost them about two points. With Hubbell and Donohue bringing their "A" game, the slight stumble was more than enough to lose the title they won for a second time last season. They also won the 2015 U.S. crown.

"I really don't know what happened. Even reflecting back on it, I didn't feel like I did something to make it go haywire, but it certainly did go haywire," Bates, 31, said. "I just kept going, the way we always do when we make mistakes in training."

He added, "It's just part of being an athlete for many years, you succeed sometimes and fail other times. I wouldn't say today is a failure by any means, but I certainly wish I had not made the mistake."

Chock and Bates are fortunate they were even able to compete. Chock suffered a concussion in Montreal over the summer when, dehydrated and having skipped breakfast, she fell while out walking with Bates. She was off the ice for a month, prompting the couple to withdraw from Skate America.

"Madi and Evan had quite a difficult time preparing for this competition," Lauzon said. "We weren't sure if they were going to be able to come, so I was proud of the performance that they put on the ice."

Lauzon noted that all of his teams seemed more jittery than usual.

"I felt everyone was very nervous, nobody has skated a lot this season," he said. "For everybody, it's been a difficult year to train. I could feel that nervousness, so it made me nervous."

The third team in the Montreal trio, Kaitlin Hawayek and Jean-Luc Baker, performed to a haunting remix of Blondie's "Heart of Glass" and contemporary composer Philip Glass' "First Movement." The couple placed third in the free dance and ended the event with 212.55 points to win their third straight U.S. bronze medal.

Hawayek explained that instead of a story or character-driven program, she and Baker wanted to create art that sprang from deep within.

"It's a lot more rewarding at the end of the day for us to finish a program and feel like it came from within us out onto the ice and through our bodies, than to hope that people understood a program," she said. "So that was the biggest step for us this year, and it's been really rewarding."

Knierim, Frazier Continue Ascent With First U.S. Title Together
The newly minted pair of Alexa Knierim and Brandon Frazier won the U.S. title by a whopping 22.81 points over training partners Jessica Calalang and Brian Johnson.

"We are elated with our performance," Knierim, 29, said. "We are just very, very pleased with it, we are proud of what we put out there, and we are excited for the future."

"One year ago I was (in the media mixed zone) after my free program, trying to fight back tears," Frazier, 28, said. "Now I'm trying to fight back tears for a different reason."

The skaters, who teamed up last spring, have taken the U.S. pair ranks by storm. In October, at the same Orleans Arena, the duo won Skate America.

On Saturday, in their free skate to Andrea Bocelli and Matteo Bocelli's "Fall on Me," they were even more polished and secure, gaining fine ice coverage with their lifts and landing triple toe combinations and triple salchows, as well as two huge triple throw jumps and a solid triple twist.

Their 150.64 point program gave them a scoring hat trick: new U.S. records for a pairs short program, free skate and total score. They had to fight for it every step of the way.

"There were several elements, like the death spiral, that got real tight," Frazier said. "Toward the end, our second lift didn't have a good (lift) up, so that was a fight there, I wasn't balanced well. During the choreographed steps, a lot of emotions were going through us at that point. It was a long week and the body gets tired, and we both just really had to reach down deep."

The skaters have won a combined five U.S. titles: Knierim won three with husband Chris (2015, 2018, 2020), while Frazier is the 2017 U.S. champion with Haven Denney.

"Every time you win a national championship, it means something different to you," Alexa Knierim said. "This one is extra special because it isn't something we expected when we first teamed up. I am kind of speechless. If I can say anything at all, it feels great to win with Brandon. And to be honest, I felt like Chris was out there in my heart every glide of the way, so I just feel fortunate to have two great guys who support me."

Calalang and Johnson, who train alongside Knierim and Frazier in Irvine, California, won their second straight silver medal with speedy, refined program to the Tenors featuring Lindsey Stirling's version of "Who Wants to Live Forever," but trouble with both sets of triple jumps, as well as an uncharacteristic bobble on the dismount of their final lift, likely cost them nearly 10 points. They placed third in the free skate and fourth overall with 205.29 points.

Last season, as relatively new kids on the block — they teamed up in April 2018 — Calalang and Johnson were thrilled with their second-place finish. This time around, they were disappointed.

"That performance was not exactly what we have been training for," Calalang, 25, said. "There were quite a few mistakes in the program, but we really tried to put them aside and keep our performance strong all of the way through."

"All the hard work we put in this year on the expression, skating skills, stamina, all that stuff, was done really well," Johnson, also 25, said. "So even though we might not have been the happiest with it, in our minds, we also showed improvement in many ways, and we're looking forward to adding on to that."

This is the second consecutive season pairs coached by Jenni Meno and Todd Sand, three-time U.S. champions who competed together at two Olympics (1994, 1998), took home gold and silver and medals. Last season, Alexa and Chris Knierim won their third U.S. title, shortly before Chris retired from competition.

"Our hope is that both teams skate the absolute best they can, and today that didn't happen for Jessica and Brian, but I think they will go away from this and they will learn something and it will make them stronger for the future," Meno said. "But we got the result we wanted for the teams, first and second, so we're happy with that."

No U.S. pair has won a medal at the world championships since Kyoko Ina and John Zimmerman in 2002. The last U.S. Olympic pairs medal was in 1988, when Jill Watson and Peter Oppegard took bronze.

Meno and Sand want to change that.

"This is how they train at home, what you saw this week," she said of Knierim and Frazier. "They will continue to develop as a team, continue to get to know each other on the ice and continue to skate as one. There are so any things they can improve on, to compete with the top teams in the world. That's our goal, to get the U.S. teams back on the podium at worlds and at the Olympics."

The bronze medal went to Ashley Cain-Gribble and Timothy LeDuc, who won the U.S. title in 2019.

The Texas-based skaters, known for their tall, matching lines, placed second in the free skate with a sophisticated and dramatic program set to Rachmaninoff's "Piano Concerto No. 2." Their only major mistake was LeDuc's fall on a triple loop, and they amassed 200.52 points.

"In that performance, I felt like I finally let go and became the athlete I know that I am," Cain-Gribble said. "I think this is a huge step forward in our building blocks for next season."

"My partner coming off of the ice feeling like that, is the biggest win I could get," LeDuc said.
Audrey Lu and Misha Mitrofanov, who train at the Skating Club of Boston, dropped from third place after the short program to fourth overall.
Lynn Rutherford is a sportswriter based out of New York. She is a freelance contributor to TeamUSA.org on behalf of
Red Line Editorial, Inc.