Chen, Tennell In Position To Qualify Three Women's Entrants For Beijing After Short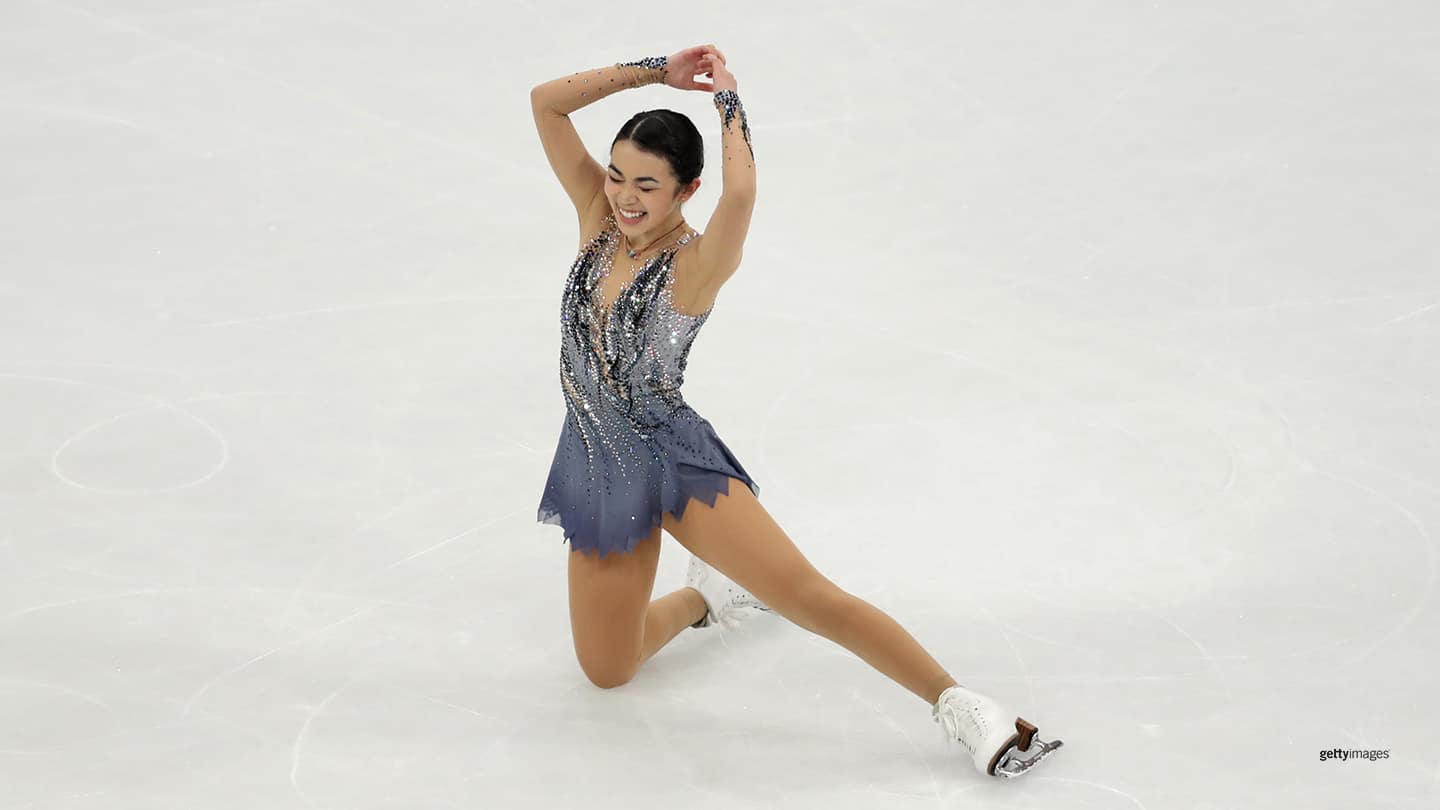 Karen Chen reacts after her performance in the Ladies Short Program during the ISU World Figure Skating Championships at Ericsson Globe on March 24, 2021 in Stockholm, Sweden.
Is history repeating itself?

In 2017, Karen Chen's fourth-place finish at the World Figure Skating Championships assured Team USA of three women's quota spots at the Olympic Winter Games PyeongChang 2018.

Four years later, we're coming to the end of another Olympic cycle. Those spots are on the line in Stockholm, Sweden, this week. And once again, Chen is rising to the occasion.

"It's been the hot topic, since right after nationals; everyone is asking, 'How do you feel about getting three spots for the ladies?'" she said. "I do feel the pressure, but at the end of the day what matters is my skating. I want to enjoy it, and if I am enjoying it, chances are I am skating well."

So far, Chen must be enjoying herself — a lot.

On Wednesday at Stockholm's Ericsson Globe, the 21-year-old performed her short program to Katy Perry's "Rise," and rarely have lyrics been so apt.

As Perry sung out "I won't just survive … Oh, you will see me thrive," Chen landed a clean triple Lutz, triple toe loop combination, along with a sterling triple loop. All of her movements were fast and fluid, her spins and steps among the best in the event.

"The music is so inspiring and motivating," Chen said. "I wanted to have that fire every single time I did my short, whether it's a practice or competition, and this music brings that out."

The score, 74.40 points, is some seven points above Chen's previous personal best international tally. It puts her fourth heading into Friday's free skate, 6.60 points behind leader Anna Shcherbakova of the Figure Skating Federation of Russia (FSR) and 4.46 points out of bronze medal position.

"I've just been training so incredibly hard this whole, entire season, keeping the momentum going," she said. "In the past, I've had ups and downs. I would do well at one competition, and then do really bad the next, and then really well the next. This season it is a completely different pattern. I've just been building from Skate America, to nationals, and hopefully here I will also do a really solid free skate."

A California native who now trains in Colorado Springs, Colorado, under coach Tammy Gambill, Chen won the U.S. title in 2017, the same year she made her worlds debut. The following season, she placed 11th in PyeongChang.

There have been times in Chen's career when, as Perry's "Rise" lyrics go, "the vultures all start circling …. whispering, you're out of time." Boot problems and illnesses, plus a stress fracture to her right foot that forced her withdrawal from the 2019 U.S. Championships, all added up to inconsistent results.

Last season, Chen struggled to balance training with her studies at Cornell University. Currently, she is taking a two-year leave of absence from school to focus on her training heading into the Beijing Games.

"Coming here I felt a lot of pressure, and I also know I haven't been to worlds in such a long time (since 2017)," Chen said. "I've definitely struggled with injuries in the past, but to be here and skate a really solid short program is such a great confidence booster for me."

Bradie Tennell, who won her second U.S. title with near-perfect programs at the 2021 U.S. Championships in January, skated a solid short program on Wednesday with one costly mistake: instead of executing a triple-triple jump combination, she performed a triple-double.

The error caught the usually consistent jumper by surprise.

"My triple Lutz-triple toe loop combo is one of my most solid jumps, so I'm pretty disappointed with that skate," Tennell said. "I've been skating clean short programs every single day (in practice) since nationals, so to come here and put out a program like that is surprising to me. … I think I really let myself down there."

Tennell earned 69.87 points, putting her in seventh place heading into the free skate.

"This was a very uncharacteristic mistake for Bradie; other than that combination, things looked good," Tom Zakrajsek, who coaches Tennell in Colorado Springs, said. "(If clean) this short could have been top three. She would have been neck-and-neck with Karen."

Despite the error, Chen and Tennell's total placements — 4 + 7 = 11 — have them in good position to qualify three U.S. women's spots for Beijing. In order to gain three spots, a country's total placements for two entrants must equal 13 or less.

Team USA should not celebrate that third Olympic spot just yet. Pre-event favorite Alexandra Trusova of the FSR had an off day, placing 12th, but could roar back in the free skate with several quadruple jumps. Placements could shift. Still, with strong free skates, the Chen and Tennell should achieve their goal.

"Just deliver the free skates I know I am capable of, that clean program I do in practice," Chen said. "I have yet to show that at Skate America or nationals. This is a good time to pull it out."
Cain-Gribble, Le Duc Sit Sixth, While Knierim, Frazier Stand
Seventh
Team USA's pairs are also within striking distance of gaining three spots for Beijing. If they do so, it will be the first time since the 1994 Lillehammer Games that the U.S. has entered three pair teams in an Olympic Games.

Ashley Cain-Gribble and Timothy LeDuc, and Alexa Knierim and Brandon Frazier, stand sixth and seventh, respectively, after Wednesday's short program event.

Both teams skated strongly overall, but each had errors on side-by-side triple jumps.

Cain-Gribble and LeDuc, the 2019 U.S. champions who won bronze at the 2021 U.S. Championships, were assigned to compete in Stockholm after U.S. silver medalists Jessica Calalang and Brian Johnson withdrew due to personal reasons.

"We saw the opportunity after nationals, to really build up to next year," LeDuc said. "We were still in (top) shape, we still trained our programs every day, so if we did get called, we would be ready."

Performing to Bishop Briggs' "Never Tear Us Apart," Cain-Gribble fell on a triple Salchow, but the Texas-based pair executed a fine triple twist and throw triple Lutz. Their pair elements, including a closing death spiral, were excellent, and they earned 64.94 points.

Asked how she recovered so well after a fall, Cain-Gribble said, "We are very passionate skaters, we've always been that way, for our whole career. We never want to hold back. We always want to put very ounce of energy into every performance."

Knierim and Frazier, who did not miss a jump in winning Skate America and the U.S. Championships earlier this season, lost ground here when Frazier doubled his intended triple toe loop.

"It was just a fluke," Frazier said. "Obviously, it is frustrating. I could stand here for hours and tell you that. I'm not going to do that. We are happy for all of the stuff we are working on. I know I can do this (jump), no problem. So I'm just going to refresh, focus in and get it done tomorrow (in the free skate)."

The skaters hit all of their other elements, including a big triple twist and throw triple loop, smoothly. They earned 64.67 points.

"(Brandon) apologized immediately for missing the jump, and I said you have nothing to be sorry for, you gave everything you could, and that program was awesome," Knierim said. "I wanted to reassure him that one small mistake doesn't take away from the amazing things we did today."

Aleksandra Boikova and Dmitri Kozlovskii of the FSR, the 2019 European champions, are first with 80.16 points. China's two-time world champions and 2018 Olympic silver medalists Sui Wenjing and Han Cong sit second with 77.62 points, while another FSR pair, 2019 world junior champions Anastasia Mishina and Aleksandr Galliamov, are third with 75.79 points.

With the prospect of three entries at next year's Olympic Games in sight, the U.S. pairs vowed to give it their all in Thursday's free skate.

"We will fight," Cain-Gribble said. "Fight for every single point."
Lynn Rutherford is a sportswriter based out of New York. She is a freelance contributor to TeamUSA.org on behalf of
Red Line Editorial, Inc.