Katie Zaferes Scores Bronze In Triathlon, Makes History As Third American Woman To Win Olympic Medal In The Sport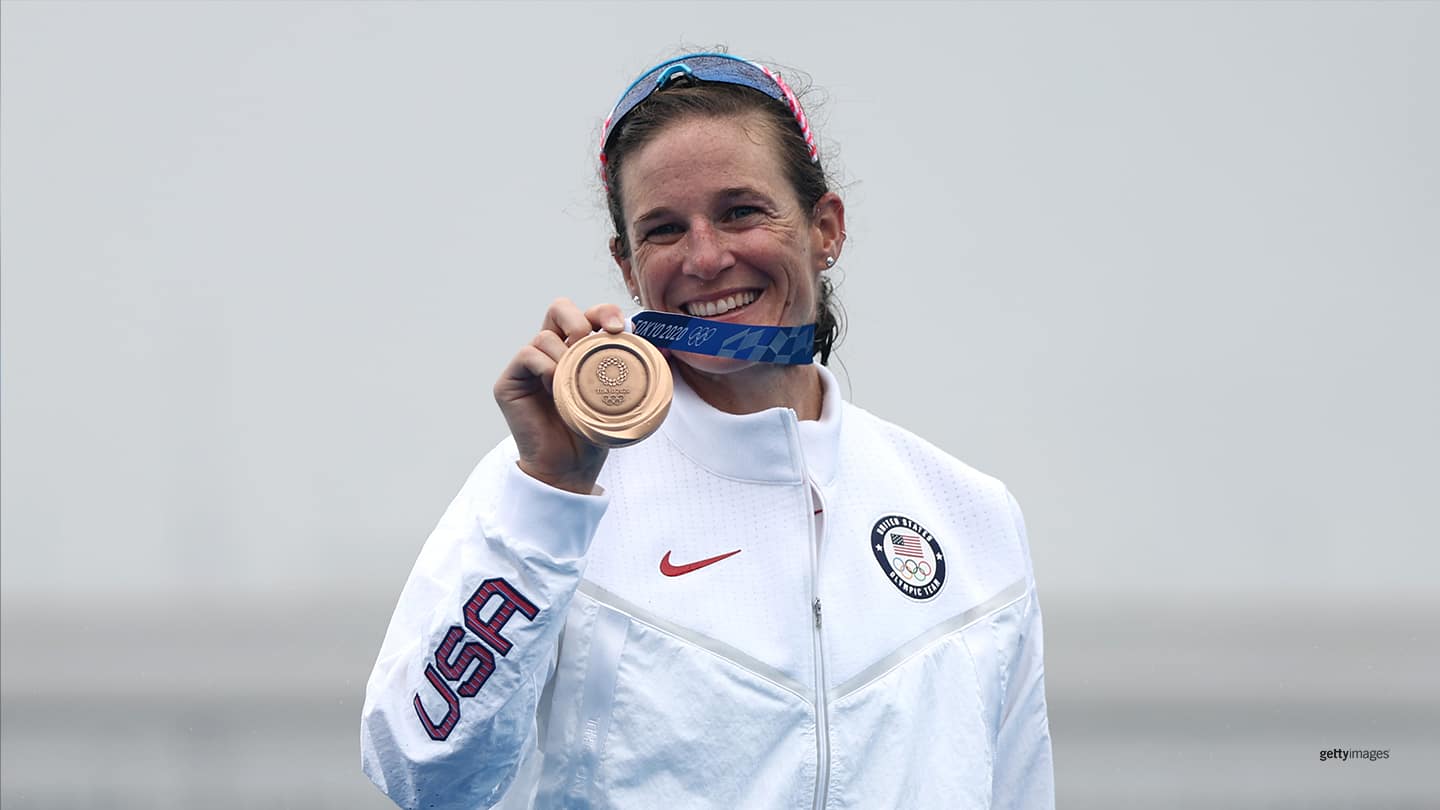 Katie Zaferes celebrates winning bronze in the Women's Individual Triathlon at the Olympic Games Tokyo 2020 on July 27, 2021 in Tokyo.
TOKYO — It's said to be good luck for it to rain on your wedding day, but wonder what a tropical storm during an Olympics in the middle of a worldwide pandemic brings?

For 2016 Olympian Katie Zaferes it meant great luck, thanks to a third-place finish and bronze medal at her second Games — the third-ever medal for U.S. women in triathlon.

"I knew if I could keep my rhythm and not let it get to me mentally, I could still get on the podium," Zaferes said immediately after the race and still out of breath. "I feel like I used everything: every ounce of support, every lesson learned. Everything came together for me. I know I didn't win, but it feels like it."

The race got off to a slow start in Odaiba Marine Park in Tokyo Bay, after torrential rain and cloudy conditions delayed the start time by 15 minutes. Once all 54 athletes were in the water, Zaferes, 32, and USA teammate Summer Rappaport were at the head of the pack after the first lap of the swim.

The rain continued for the transition to the bike and made for a wet and slippery start to the cycling.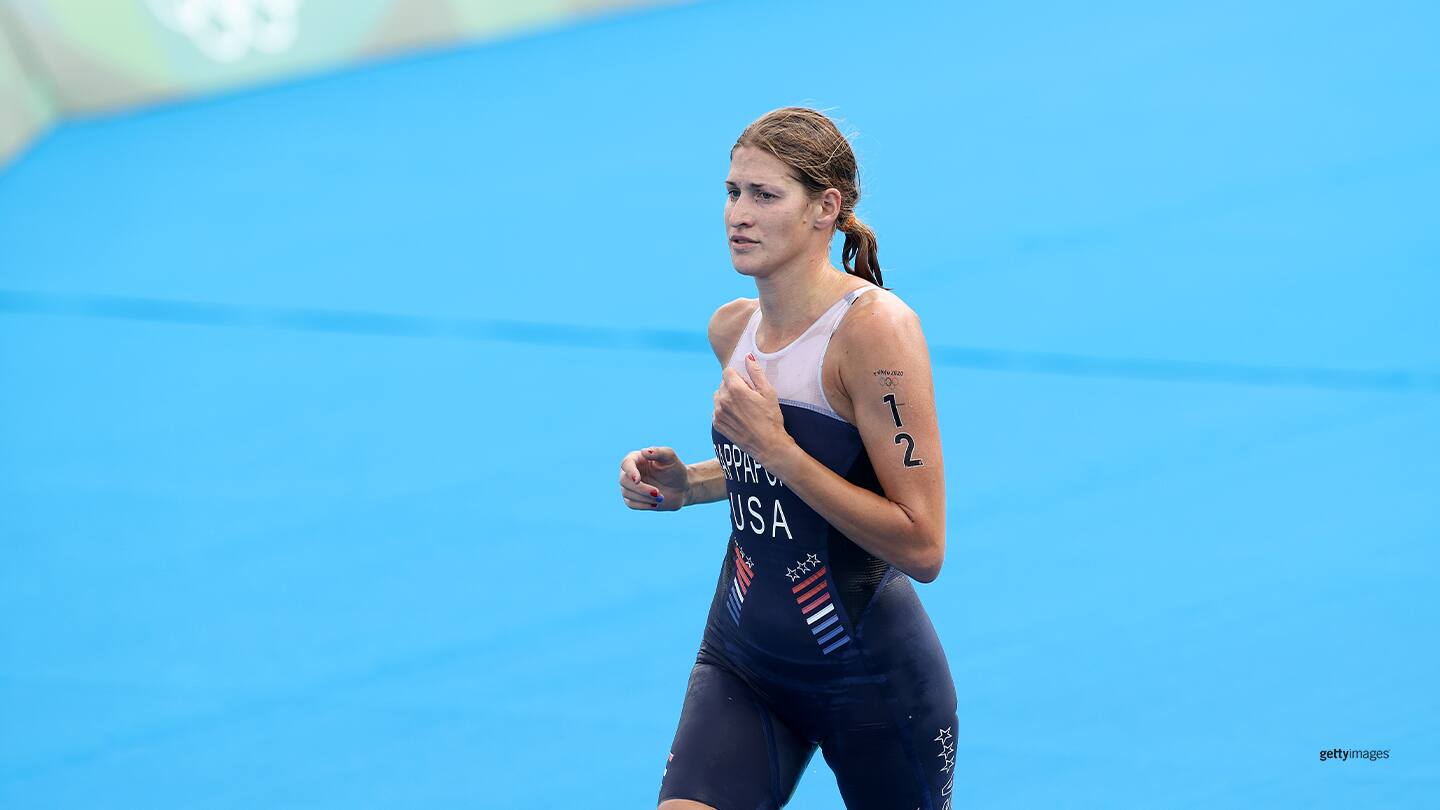 Summer Rappaport competes during the Women's Individual Triathlon at the Olympic Games Tokyo 2020 on July 27, 2021 in Tokyo.
Thankfully with no accidents, Zaferes and first-time Olympian Rappaport were able to stay among the group of seven leaders with Zaferes pushing towards the front. Once the pace quickened, Rappaport struggled to keep up and dropped back among the chase group.

"I'm just really proud of myself for hanging tough," Rappaport said. "There were a few moments in the race where I didn't feel as strong as I had hoped to feel. I just refocused when I wanted to give up."

As the first athlete to qualify for Tokyo 2020, Rappaport — who celebrated her 30th birthday two days earlier — didn't have to compete in test events and recent competitions like the other racers did, which could have left her feeling out of practice.

Halfway into the race, Rappaport dropped down to 17th, while Zaferes kept up with the lead group. On the second to last lap on the bike, the sole returning Olympian on Team USA took the lead.

It was around that time when Zafares remembers seeing a rainbow on the course, a reminder that her dad — who had passed away unexpectedly four months earlier — was with her.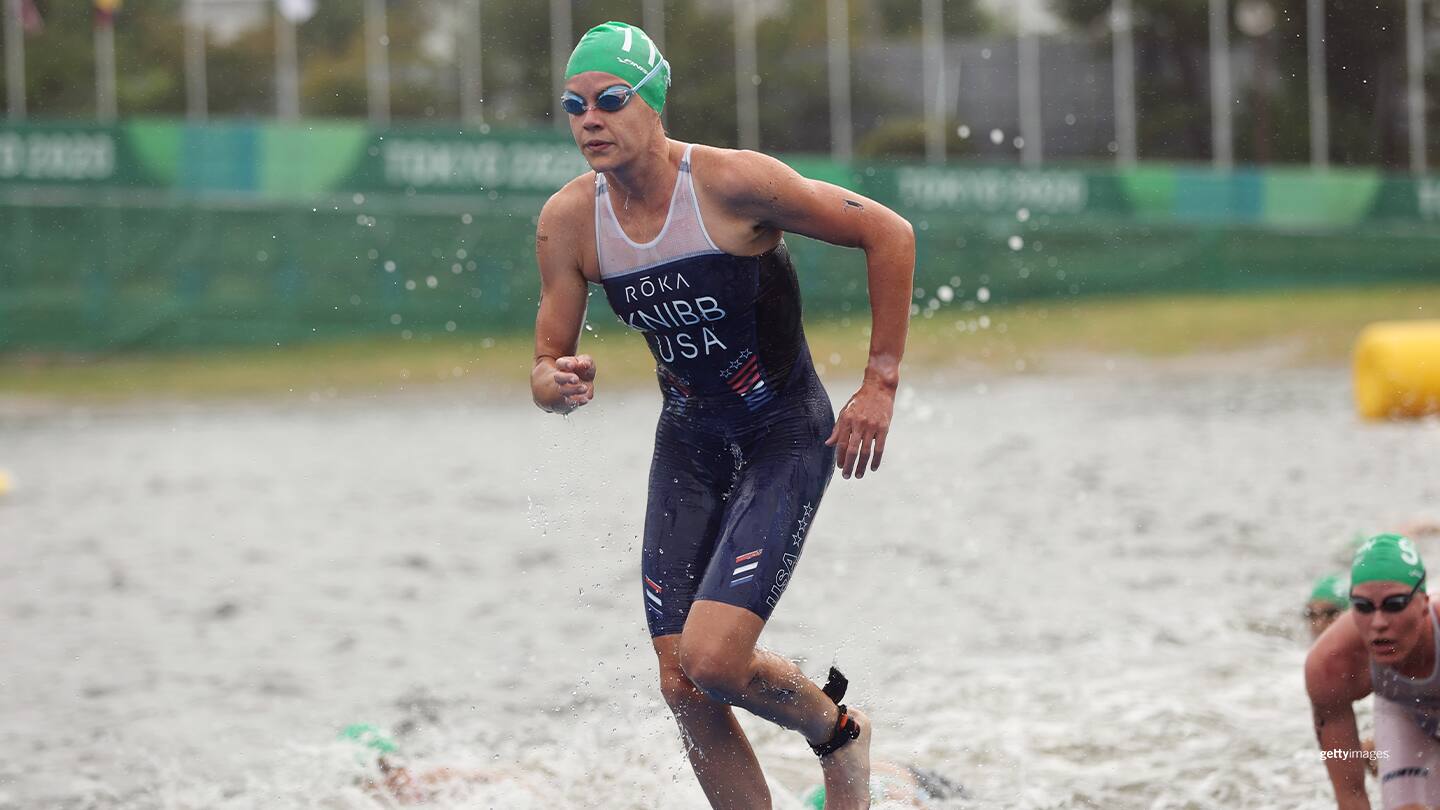 Taylor Knibb competes during the Women's Individual Triathlon at the Olympic Games Tokyo 2020 on July 27, 2021 in Tokyo.
"I saw the rainbow. I just gave a little, hi dad. I felt like that was him," she said about the man who introduced her to triathlon when she was 17-years-old.

Unable to hold the first place spot for long, Zafares was overtaken by double triathlon world champion Flora Duffy. The two-time Olympic Bermudian athlete never gave up her lead, crossing the line in first place with a time of 1:55:36 — besting her eighth place finish from Rio. With her win, Duffy made history by earning her country's first-ever gold medal — and second medal of any color.

Great Britain's Georgia Taylor-Brown passed on the final lap and went on to take the silver with a time of 1:56:50. Zaferes finishing time was 1:57:03. Rappaport followed behind, coming in 14th. Her USA teammate, Taylor Knibb, 23 — another first-time Olympian and the youngest female USA triathlete ever to qualify for the Games — finished two spots behind in 16th.

The third and final day of triathlon will take place on Saturday morning in Japan and will feature triathlon mixed relay, which is making its Olympic debut in Tokyo.
Want to follow Team USA athletes during the Olympic Games Tokyo 2020? Visit TeamUSA.org/Tokyo2020 to view the medal table, results and competition schedule.
Lisa Costantini is a freelance writer based in Orlando. She has covered Olympic and Paralympic sports for various publications, and has contributed to TeamUSA.org since 2011.