Fencer, Gold Medalist, Mother: Mariel Zagunis' Historic Olympic Career Adds A New Chapter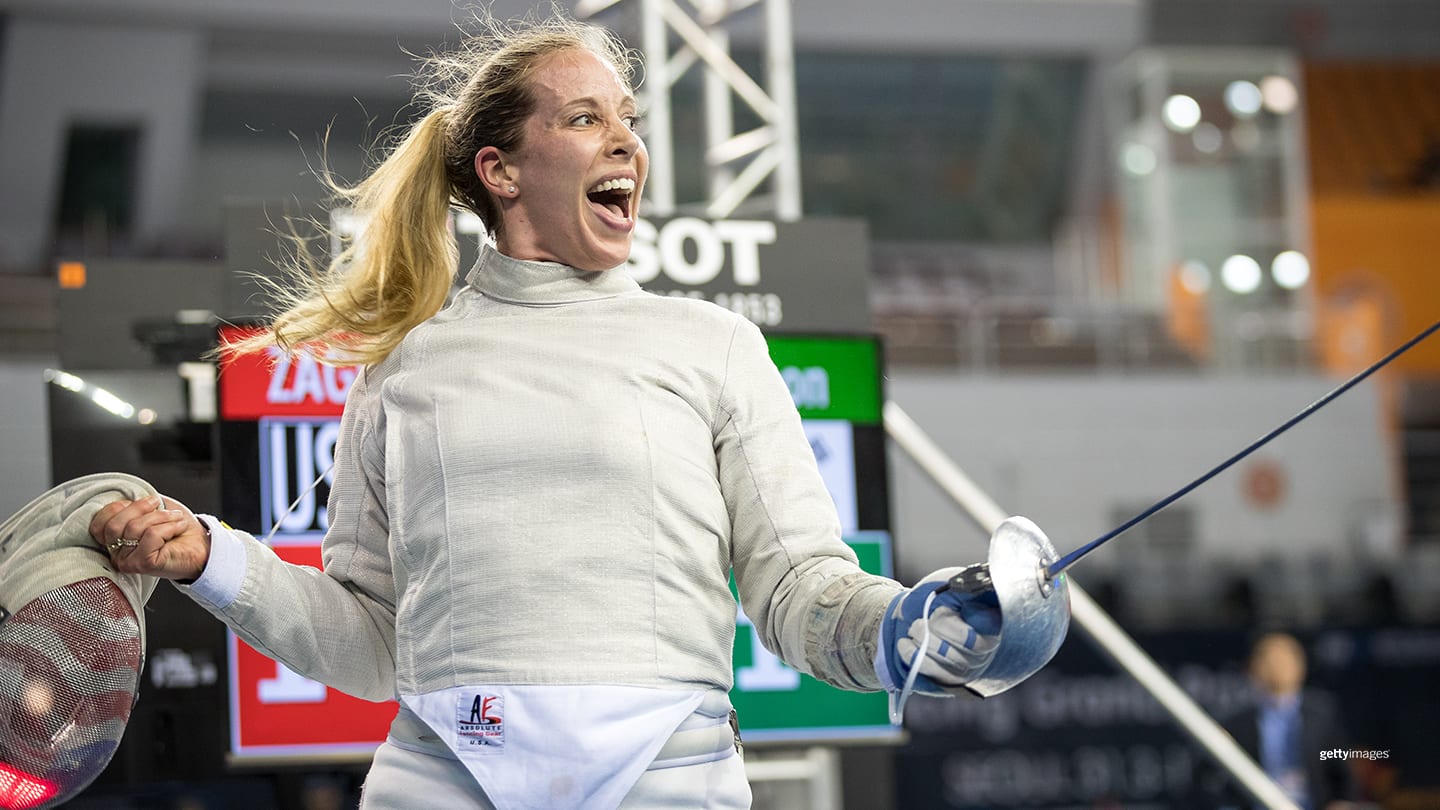 Mariel Zagunis celebrates a victory during competition at the SK Telecom Seoul Sabre Grand Prix on April 1, 2017 in Seoul, Korea.

TOKYO — Mariel Zagunis has faced off against the best that saber fencing had to offer over the past two decades. No opponent quite compares to the one she duels in the living room of her Portland, Oregon, home.

"My daughter definitely knows what fencing is," said Zagunis, the Olympic champion fencer who became a mother to Sunday Noelle in October 2017. "She's been watching me in the fencing gym since the early months of her life. So she definitely knows, and we have our little foam sabers that we fight with each other in the living room sometimes. So she's really excited to watch mommy."

The country's most decorated fencer, Zagunis became the first American fencing champion in a century when she claimed the Olympic gold medal in women's saber in 2004, then she defended the title four years later. Now in her 21st year at the top level of the sport, the Notre Dame alum is still ranked among the top 10 in the world, and at 36 she's in Tokyo preparing to compete in her fifth Olympic Games. The women's saber competition is set for Monday, followed by the team contest July 31.

Most notable for Zagunis, though, is that these will be her first Olympics as a mom.

"If there's one thing I want people to know about my journey here it's that being a mom and a professional athlete is very, very challenging," she said. "I think it's harder than winning an Olympic gold medal without a child, so I'm just really happy to be here, really thankful, and this journey has really taught me a lot."

Like Sunday, Zagunis has been around elite sports her entire life. The daughter of U.S. Olympic rowers, she began fencing at age 10, and five years later competed at her first world championships, where she won a team gold medal.

She's since gone on to compete at the world championships 18 times — with five world titles to show for it. And that's not to mention her four Olympic medals, which in addition to the individual golds include team bronze in 2008 and 2016, plus a fourth-place finish individually in London.

Had she called it a career after Rio, Zagunis' legacy would have been secure. After all, she had already been inducted into the sport's hall of fame three years earlier.

So she took some time off after giving birth to her daughter.

Then she decided she had more to achieve.
"I think after having my daughter I just wanted to see if I could do it," Zagunis said. "I wasn't done with fencing, and I know that obviously having a baby is a big deal in your life, but I just wanted to try and see can I do it? Should I do it? And you know, after a couple of months, almost a year into it I was like yes, this still can happen and I still like fencing and a fifth Olympics isn't completely implausible."

With Sunday in tow watching her mom compete on pistes around the world, a fifth Olympics for Zagunis quickly changed from "not completely implausible" to "highly likely."

Zagunis returned to the top level of the sport in the spring of 2018. She won a bronze medal on the grand prix circuit that year, and in March 2020, just days before the pandemic shut down global sports, she earned her 16th win in a world cup event — and her first in four years.

Though the pandemic wiped out all but a few major competitions between then and now, Zagunis has managed to keep herself among the contenders. She enters the Tokyo Games ranked No. 9 in the world.

"I think fencing has constantly evolved," she said. "It seems like every couple years there's a change in the refereeing, a change in the equipment. So it's about kind of just embracing that change, even though I don't like change. I like to stick to my routine. But, you know, you've got to be a bit fluid when it comes to the day to day with your training, especially now being a mom. Sometimes it's not just going to happen and you just have to adjust and move on and make the most of every hour you have during the day."

That March 2020 world cup win, which fittingly came in Athens, where she won her first Olympic gold medal, secured Zagunis' fifth Olympics berth.

In a career filled with highlights, that might have been the most meaningful.

"It's something I wanted to do for myself, but also to set an example for my daughter and for other young women, young girls also who don't need to choose between being a professional athlete and being a mom," she said. "Because in the past it was kind for like, well now I'm going to have kids so I guess I have to be done.

"But I think, not just with me but with a lot of Olympic moms who are here, we're proving that that's not the case, and I think that's really empowering and it sets a great example for the next generation."
Want to follow Team USA athletes during the Olympic Games Tokyo 2020?
Visit TeamUSA.org/Tokyo2020
to view the medal table, results and competition schedule.
Chrös McDougall has covered the Olympic and Paralympic Movement for TeamUSA.org since 2009 on behalf of
Red Line Editorial, Inc.
He is based in Minneapolis-St. Paul.