Sue Bird And Eddy Alvarez Selected As Team USA's Flag Bearers For The Olympic Games Tokyo 2020
by U.S. Olympic & Paralympic Committee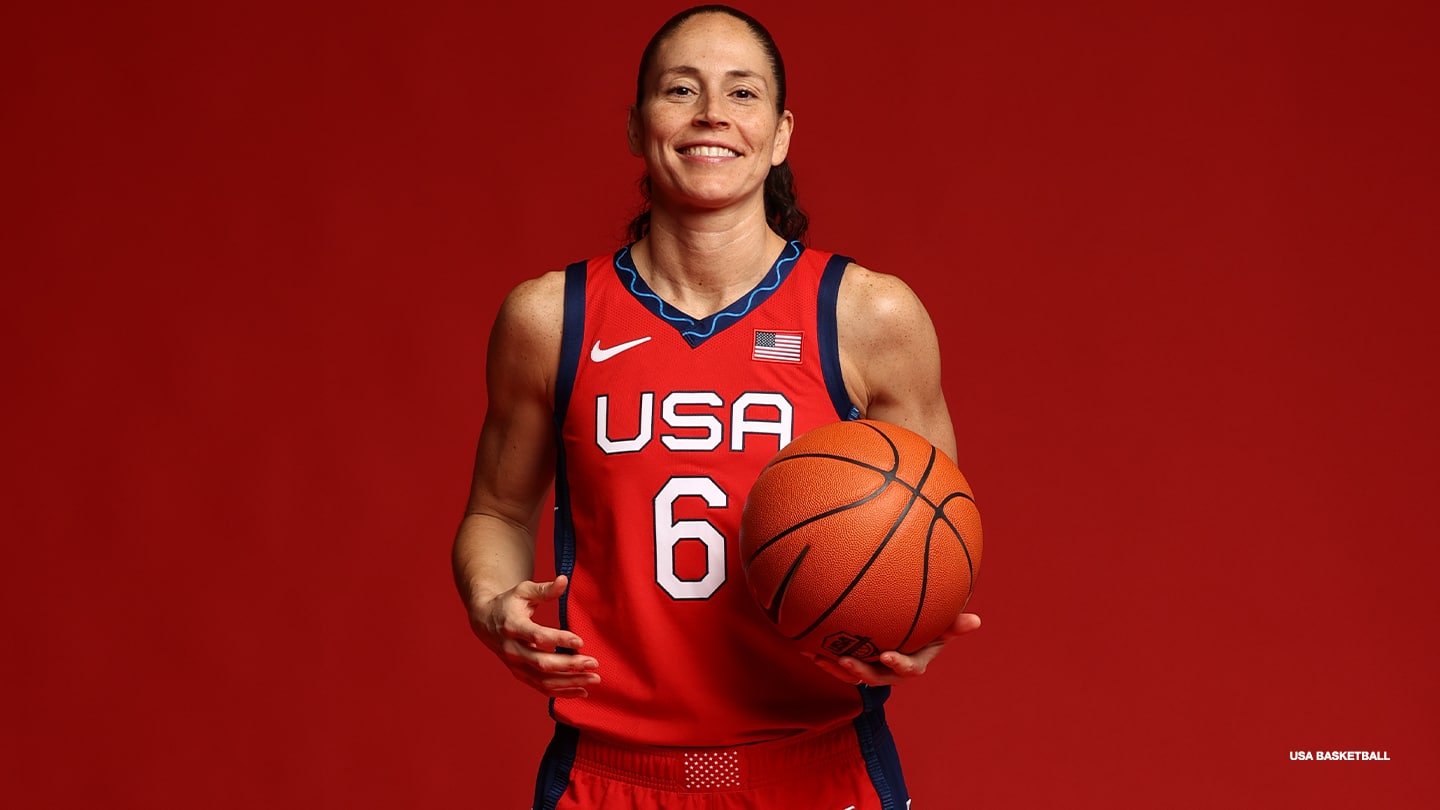 Sue Bird poses for a photo during a USA Basketball photo shoot prior to the Olympic Games Tokyo 2020 in Las Vegas.
TOKYO – Basketball player Sue Bird, a four-time Olympic champion, and baseball player Eddy Alvarez, a 2014 Olympic silver medalist in speedskating, were selected as Team USA's flag bearers for the Opening Ceremony of the Olympic Games Tokyo 2020, the United States Olympic & Paralympic Committee announced today. The Opening Ceremony will be held Friday, July 23 at Olympic Stadium in Tokyo.


Alvarez and Bird were chosen by a vote of fellow Team USA athletes and are the first duo to share the honor of leading the delegation into the Opening Ceremony, which serves as the official start to the Games. Of the 613 athletes who were named to the 2020 U.S. Olympic Team, more than 230 are set to walk in Friday's Opening Ceremony.


In March 2020 – and prior to the decision to postpone the Tokyo Games due to the COVID pandemic – the International Olympic Committee amended its policy to allow national teams to appoint two flag bearers – one female and one male – in promotion of gender parity. The IOC also required that at least one male and one female athlete be included in each of the 206 national delegations that will compete in Tokyo.


After making her Olympic debut at Athens 2004, 40-year-old Bird has gone on to win four-straight gold medals and is in pursuit of her fifth-straight gold. Bird, who played on her first USA Basketball team in 2000, holds a combined nine Olympic and FIBA World Cup medals, which is the most of any basketball athlete, male or female, across the globe. Adding to her impressive resume, she is a four-time WNBA champion and is currently the defending WNBA champion with the Seattle Storm. Of note, she is one of just 11 players to have earned an Olympic gold medal, FIBA World Cup gold medal, WNBA title and NCAA title.


"It's an incredible honor to be selected the flag bearer for Team USA," said Bird. "I know what that means because I got to witness Dawn Staley go through it when she was selected in 2004. It's an honor that is bigger than the moment in that you've been selected by your fellow Team USA athletes to represent the entire delegation, and it will last forever. Also, in the moment, I got to witness what it was to lead Team USA into the Opening Ceremony and it's an incredible feeling and once again, such a huge honor. Also, I know this isn't about me. This is about all the players who either came before me and set the tone for what the USA Basketball women's program is now, and also the players that I've been fortunate enough to play with. So, it's not just about me. It's representing all of them."


Bird is the first basketball player to be named flag bearer since 2004, when Staley, the 2020 U.S. Olympic Women's Basketball Team coach, held the honor.


Alvarez, a member of the 2020 U.S. Olympic Baseball Team, brings Olympic experience to Tokyo having competed in the Olympic Winter Games Sochi 2014 and won a silver medal as part of the 5,000-meter four-man short track speedskating team. Alvarez currently plays professionally in the Miami Marlins Minor League system and, in addition to being the first Winter Olympic Games medalist to play in Major League Baseball, is the first athlete from the sport of baseball to carry the U.S. flag in the Opening Ceremony.


"It is an honor and a privilege to be named as one of the flag bearers by my fellow Team USA athletes for the Opening Ceremony," said Alvarez. "Being a first-generation Cuban-American, my story represents the American Dream. My family has sacrificed so much for me to have the opportunity to wave this flag proudly. I am grateful for my time with US Speedskating and USA Baseball, as well as for all of my teammates, and I am humbled to lead Team USA into the Tokyo Olympic Games."


Determined by the language of the host country and according to IOC protocol and executive board decision, Greece will march first, followed by the Refugee Olympic Team second. As upcoming host countries, the United States and France will be two of the final three countries to walk, with host country Japan closing out the Opening Ceremony.


NBC Olympics will provide unprecedented full-day coverage of the Opening Ceremony of the Tokyo Olympics this Friday, July 23. The day will culminate on NBC in what is always one of the most popular nights of the Olympics with the primetime presentation of the Ceremony at 7:30 p.m. ET/4:30 p.m. PT. The day begins on NBC with the network's first-ever live morning broadcast of an Opening Ceremony at 6:55 a.m. ET/3:55 a.m. PT, followed by a special edition of TODAY with reaction and athlete interviews, and then NBC's first-ever Olympic Daytime show on the opening Friday of the Games.


Following the year-long postponement of the Games due to the COVID-19 pandemic, the Opening Ceremony will take place Friday, July 23, with competition beginning today and concluding Sunday, Aug. 8.


Team USA fans can follow the 2020 U.S. Olympic Team at TeamUSA.org and across Team USA's social channels on Facebook, Twitter, Instagram, TikTok and YouTube. The U.S. Olympic Team microsite will offer Team USA results from the Olympic Games, as well as athlete biographies, sport previews, a history book, competition schedules, and facts and figures about the U.S. delegation.

U.S. Olympic Team Flag Bearers – Opening Ceremony (summer only)
1908 Ralph Rose, Track and Field

1912 George Bonhag, Track and Field

1920 Patrick McDonald, Track and Field

1924 Patrick McDonald, Track and Field

1928 Lemuel (Bud) Houser, Track and Field

1932 F. Morgan Taylor, Track and Field

1936 Alfred Jochim, Gymnastics

1948 Ralph Craig, Yachting

1952 Norman Armitage, Fencing

1956 Norman Armitage, Fencing
Warren Wooford, Equestrian*

1960 Rafer Johnson, Track and Field

1964 William Parry O'Brien, Track and Field

1968 Janice Lee Romary, Fencing

1972 Olga Fikotova Connolly, Track and Field

1976 Gary Hall, Swimming

1980 U.S. did not attend

1984 Edward Burke, Track and Field

1988 Evelyn Ashford, Track and Field

1992 Francie Larrieu Smith, Track and Field

1996 Bruce Baumgartner, Wrestling

2000 Cliff Meidl, Canoe/Kayak

2004 Dawn Staley, Basketball

2008 Lopez Lomong, Track and Field

2012 Mariel Zagunis, Fencing

2016 Michael Phelps, Swimming

2020Eddy Alvarez, Baseball
Sue Bird, Basketball

*Due to Australia's immigration laws for horses, the 1956 equestrian events were held in Stockholm, Sweden.
Want to follow Team USA athletes during the Olympic Games Tokyo 2020? Visit
TeamUSA.org/Tokyo2020
to view the medal table, results and competition schedule.