Just The Beginning: Athing Mu Plans To Compete In Many Olympic Games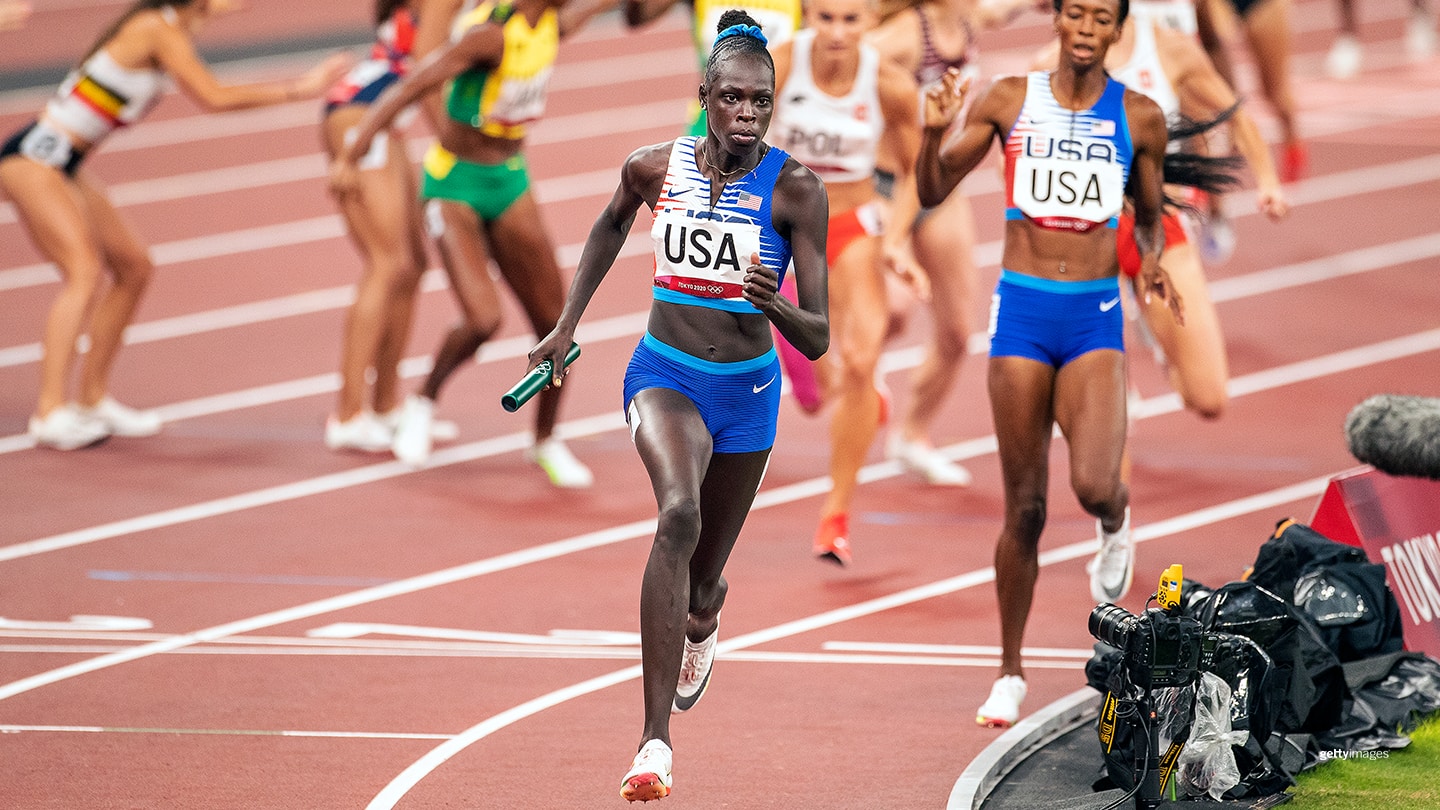 Athing Mu running the fourth leg of the women's 4x400-meter relay final at the Olympic Games Tokyo 2020 on Aug. 7, 2021 in Tokyo.
When Athing Mu announced in late June that she was turning pro after a spectacular freshman year at Texas A&M University, she wrote on social media:

"Some dreams start as prayers.
Quiet prayers whispered alone at night.
Prayers from your parents who know that greatness lives inside of you.
Today, I'm moving another step closer to my dreams.
I'm signing a multi-year deal with Nike
That will allow me to train to represent my country and The Swoosh for multiple Olympics Games.
This is just the beginning."

Mu turned those dreams into reality at the Olympic Games Tokyo 2020. At age 19, she did everything she set out to do - and then some. According to a famous quote attributed to Muhammad Ali, "It's not bragging if you can back it up."

And Mu definitely backed it up.

The native of Trenton, New Jersey, whose parents emigrated from Sudan before she was born, won the Olympic gold medal in the 800 meters. Mu broke the American record with a time of 1 minute, 55.21 seconds and became the youngest Team USA woman to win a track and field gold medal since Wyomia Tyus won the 100 meters in 1964. Mu also was the first American woman to win the 800 meters in 53 years.

"This isn't the last time you're going to see me run," Mu said after winning the 800. "This is just the beginning. There's more."

She was referring to her future Olympic aspirations, but it turned out Mu wasn't finished with Tokyo just yet. She was selected to anchor the 4 x 400-meter relay, joining Allyson Felix and hurdlers Sydney McLaughlin and Dalilah Muhammad as part of an unconventional quartet that captured the gold medal. Mu had the fastest split in the final as Team USA posted the fifth-fastest performance of all time.

Mu burst onto the world athletics scene as a top junior runner. She said the experience she gained running against professionals the past couple of years – including quite a few "not super great races" - helped when she reached the world's biggest stage.

"I said this in 2019, 'My time is now,'" she recalled in Tokyo, and then maintained that the statement still applied. "Six years from now, two years from now, it's going to be my time. I'm going to do whatever I can in my time, no matter what age I am, no matter what I'm doing and do whatever I can to be great."

That even extended to what she wore in her 800-meter final. Mu was sporting a red barrette that said CONFIDENT. "Because I'm confident," she said, "and I've been confident this whole year, which I why I've been doing so amazing."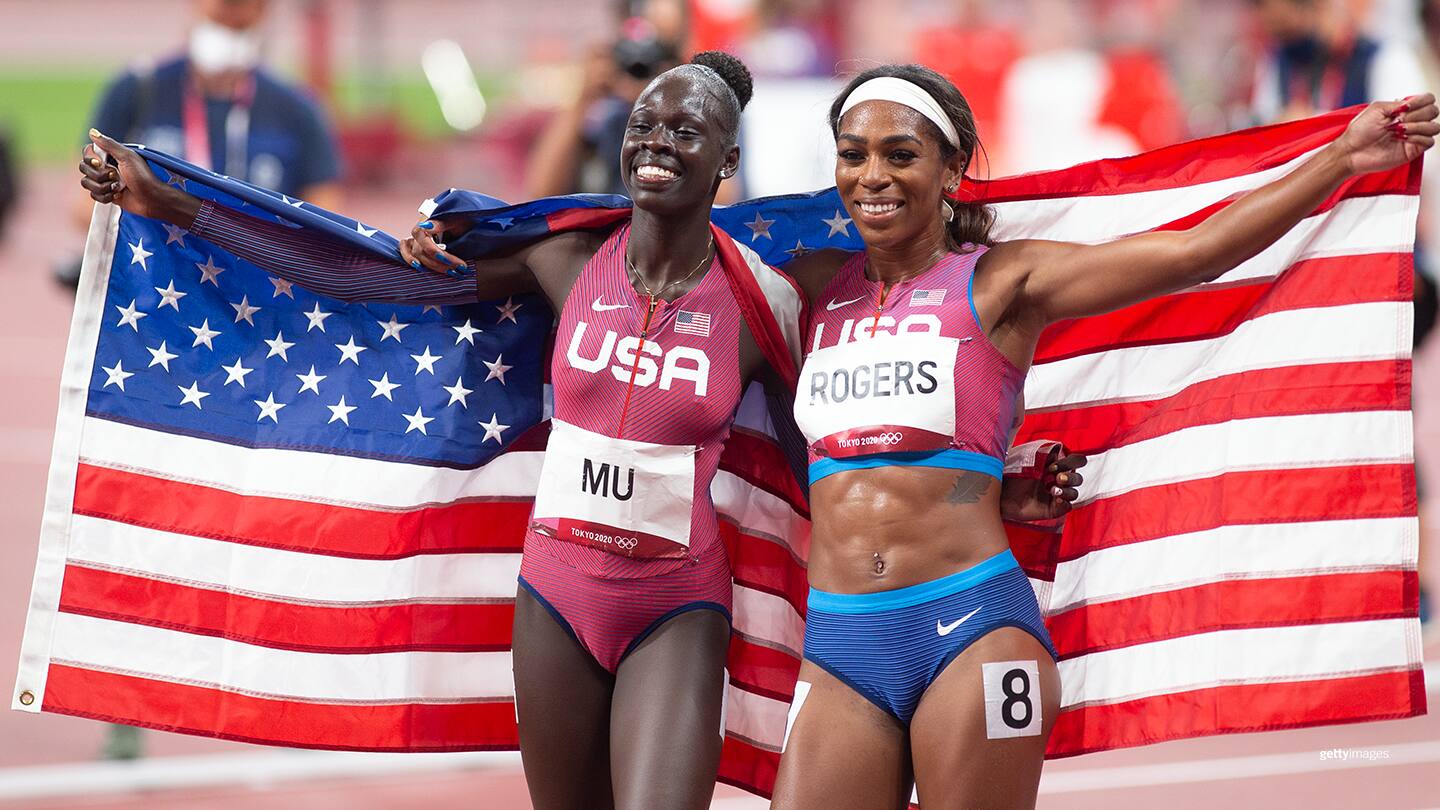 Athing Mu and Raevyn Rogers celebrate after taking gold and bronze, respectively, in women's 800 meter at the Olympic Games Tokyo 2020 on Aug. 3, 2021 in Tokyo.
She saw the barrette in a Los Angeles department store. "I was like, 'I need that, because I'm wearing it in the finals,'" she said, "so I picked it up and now I'm wearing it."

Yet Mu took her 800-meter success in such stride that she almost seemed blasé about it.

"I'm happy," she said. "I'm satisfied with it. I'm glad I came out here and did what I had to do to accomplish my goal — it definitely was a goal of mine to be a medalist. I knew that it was possible. So I'm not super shook or shocked or anything.

"I think if the race didn't go as planned, if something would have happened during the race that would have probably been more shocking than me winning the gold."

She added that she ran the same way she'd been running all year, "not switching it up just because I'm at the Games. I'm just happy that this year is going as well as it is."

All year Mu has set goals and surpassed them — and 2021 isn't over yet. Mu will race on Saturday in the star-studded Prefontaine Classic in Eugene, Oregon.

With Felix, a five-time Olympian, announcing that the Tokyo Games would be her last Olympics, Mu said she's not trying to take on the mantle as the next face of track and field. She noted that there are "a ton of great athletes."

"I probably won't be the face of track and field, but I'm going to be at the face of myself, if that makes any sense," Mu said. "I'm going to show the world who I am and what I can do — which is whatever I believe I can do. So that's what I'll be in the future. I'm not really going to take anyone's spot, I'm just going to be my own person and put my own name out there, my own capabilities, my own goals."

And she has set her sights on two formidable goals. Mu, who is equally adept at the 400 meters, in which she won the NCAA title this season, wants to do the 400/800 double at a future Olympic Games. Only Alberto Juantorena of Cuba, who won both at the 1976 Olympic Games in Montreal, has achieved that double.

"We're going to put my name on the list of the two people that have accomplished that, because I want to do it," Mu said. "I'm also going to break the 800 world record, eventually. Not even eventually, we're going to break it."

The record is 1:53.28, set by Jarmila Kratochvilova of Czechoslovakia in 1983.

Mu already has a slew of records to her credit, so why not? She set six collegiate records this season alone. She set the NCAA record in the 400 meters with a time of 49.57 seconds and also anchored the Aggies' 4 x 400-meter relay (3:22.34, with her split 48.85). She also owns indoor records in the 600 meters (1:25.80), 800 meters (1:58.40) and as part of the 4 x 400 relay (3:26.27, split 50.27). Outdoors, she has the 800 record (1:57.73).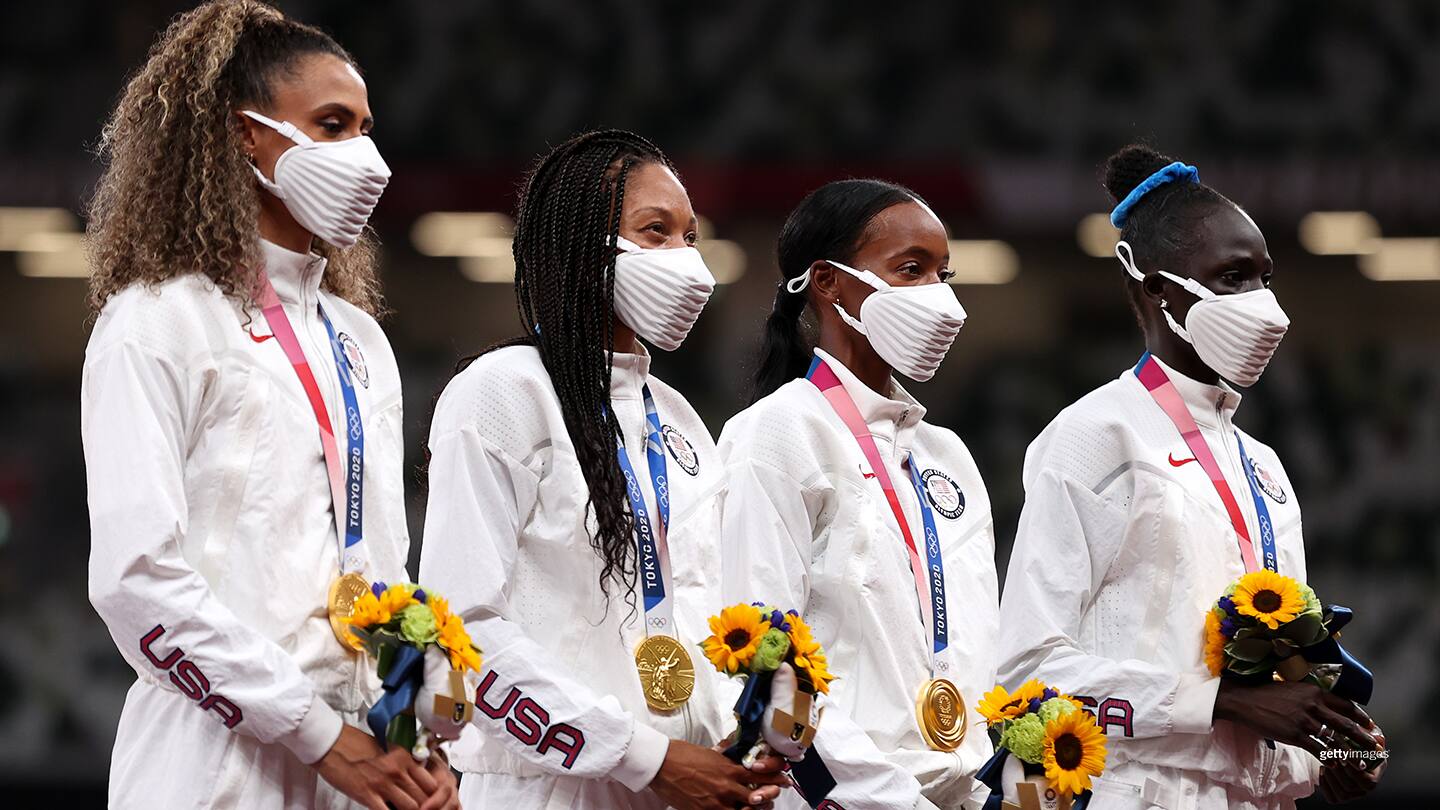 Allyson Felix, Athing Mu, Dalilah Muhammad and Sydney McLaughlin during the medal ceremony for the women's 4x400-meter relay final at the Olympic Games Tokyo 2020 on Aug. 7, 2021 in Tokyo.
At the Olympic Trials, Mu broke the 25-year-old meet record in the 800 with a time of 1:56.07 and she is also the under-20 record holder in the 800.

After Mu's Olympic semifinal, she spent more time in the interviews talking about her hairstyle than her race.

"Some people call it 'space buns,'" she said, noting it took her about 30 minutes to do her hair, with the parting the most difficult part. "I just say 'buns.' I just look on the Internet for hairstyles and try to imitate."

Mu said she noticed Olympics.com was posting on Instagram about best hairstyles at Tokyo 2020 and said, "I try to be on that list, so I hope they take notice of what I did here."

Her performance got more notice than her hair in the final where Mu charged into the lead and never let up.

"I don't want to leave anything up to chance," Mu said. "I don't want to get into a race and not do what I can and get mixed in there and mess up my chances of reaching any of my goals."

Keely Hodgkinson of Great Britain, who is also 19, took the silver medal, while Team USA's Raevyn Rogers had a dramatic finish to win the bronze.

"Athing just really made an intentioned announcement to the world," Rogers said of her teammate.

Then Mu took a break from interviews to cheer on Gabby Thomas in the 200, where Thomas won the bronze. "Athing is an incredible athlete," Thomas said. "She has so much grace, so much poise. So much composure at such a young age. An amazing teammate.

"She's an inspiration to me and she was rooting for me, screaming at the top of her lungs during my 200, so I wish the best for her. The sky is the limit with Athing."


Mu believes her attitude has helped her achieve her goals. "I think I'm just like a really jolly person," she said, "especially when it comes to being on the track. I have so much fun. I think I'm probably the only person - OK, I don't want to say only person - smiling, but I'm definitely always smiling. I think the one reason why I'm here at the Olympic Games, being an Olympic champion, is because I have fun with what I do. I enjoy every single moment, especially this past year in college, I had so much fun.

"And I carried that into the outdoor season, just having fun, enjoying my time. This only happens every four years, so I'm going to enjoy it, enjoy my time and just embrace every single thing that I can. Very happy to be here, very excited to be here, I've earned this. I deserve this as well."

Before the Olympics, Mu said in a video for Texas A&M, "I'm looking forward to standing on the podium, the middle one in particular and receiving a gold medal that will in the future have my name engraved on it, because I'm going to do that. I just want to be an Olympic gold medalist, to be completely honest.

"It's just the first one for now."
Karen Rosen has covered every Summer and Winter Olympic Games since 1992 for newspapers, magazines and websites. Based in Atlanta, she has contributed to TeamUSA.org since 2009.