The Team USA Guide To Para-Cycling At The Tokyo Games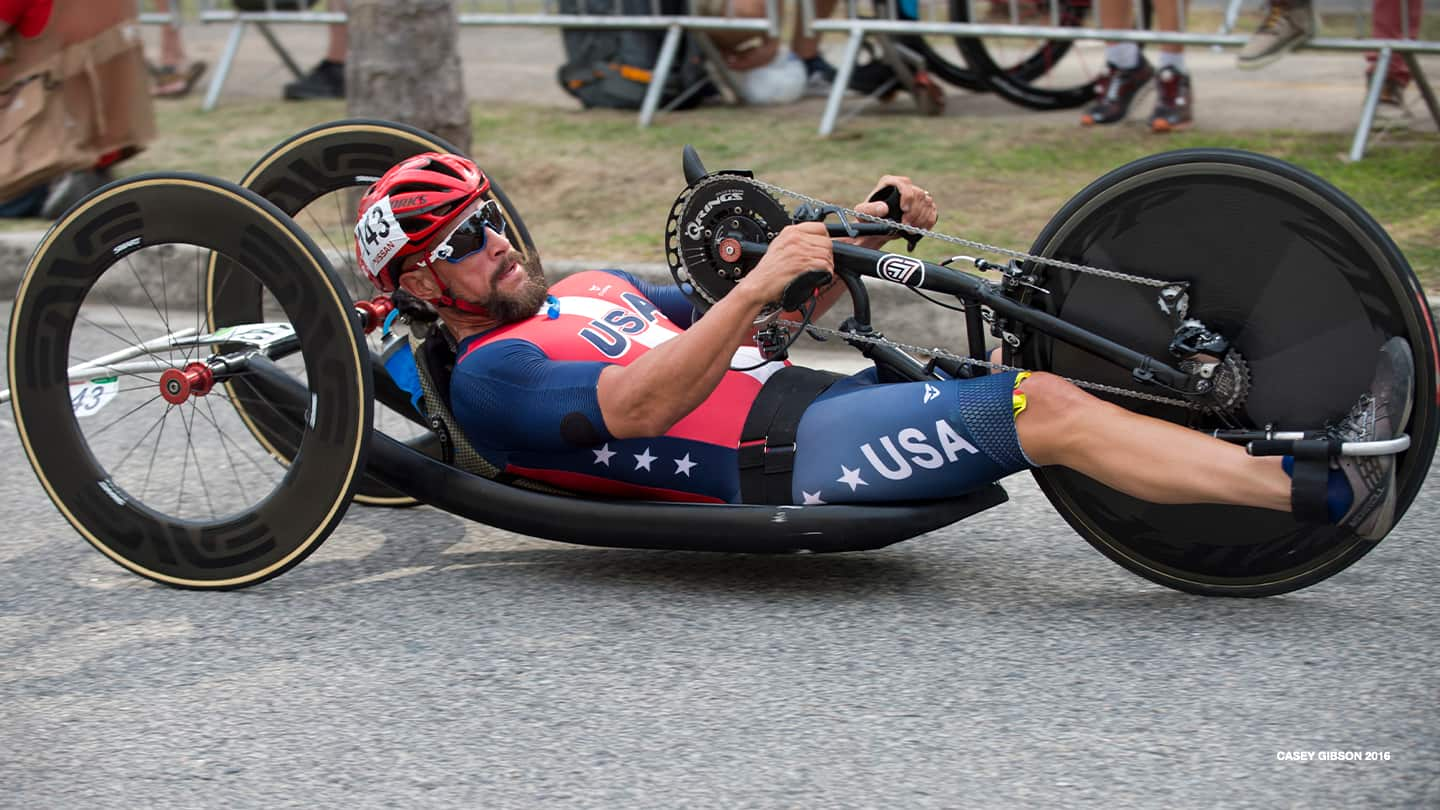 Tom Davis competes at the Paralympic Games Rio 2016 on Sep. 15, 2016 in Rio.
Team USA is coming off a strong performance in Para-cycling at the Paralympic Games Rio 2016, with Americans claiming four gold medals and 18 total medals across both the road and track events. Only Great Britain, with 21, had more total medals in the sport.

With another loaded team this summer, the U.S. should be in contention for more podium spots when the Paralympic Games Tokyo 2020 kick off with the opening ceremony on Aug. 24.

Para-cycling action begins the next day with track cycling running Aug. 25-28 at the Izu Velodrome. Cyclists will compete across 17 events in the time trial, individual pursuit and the team sprint disciplines.

Road events will be held Aug. 31- Sept. 3 at Fuji International Speedway, with 34 gold medals being awarded in various classifications of road races, time trials and team events.

Here's a look at Team USA's journey to get to Tokyo, and what to expect when the 16 Americans get there.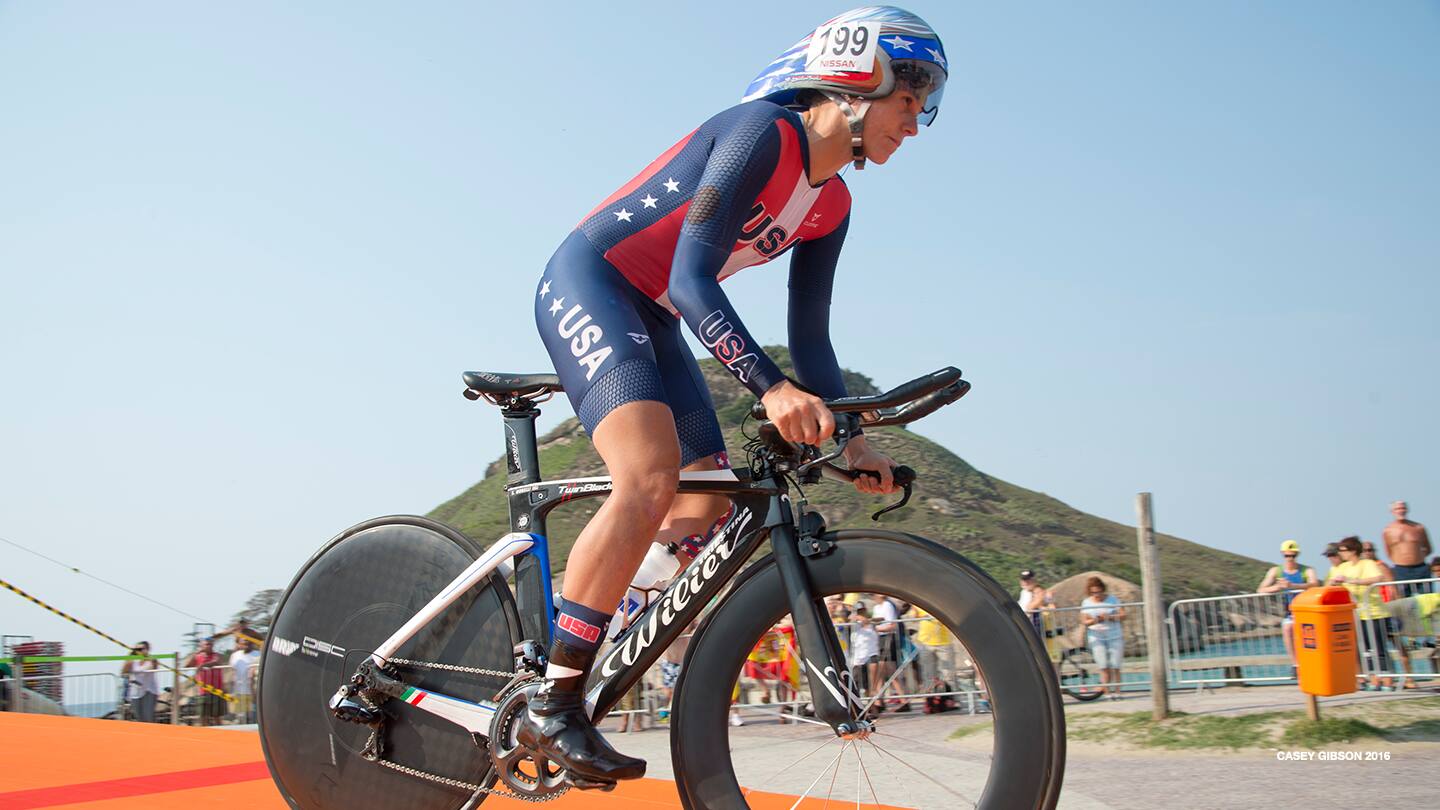 Shawn Morelli competes at the Paralympic Games Rio 2016 on Sep. 14, 2016 in Rio.
Most of the top cyclists tried to get some racing in earlier this year, following a 2020 in which pretty much all competitions were canceled due to the pandemic. Tom Davis had other ideas.

The Army veteran and 2016 Paralympian was all in on the U.S. Paralympic Team Trials. And it showed.

Competing under the bright sun on a classic June day in Minneapolis, Davis (MH4) charged his handcycle along the West River Parkway time trial course to post the top time — relative to the Paralympic standard — among all U.S. men. That all but locked up his spot on Team USA.

Davis, of Fremont, Indiana, was particularly motivated after finishing fourth in the road race and sixth in the time trial in Rio.

"I've been waiting for this for almost five years now," he said.

He'll be one of several top medal contenders for the U.S. Para-cycling team in Tokyo.

The hottest competition on the women's side at the trials featured fellow WC4 cyclists and 2016 Paralympic medalists Samantha Bosco and Shawn Morelli. Bosco led all women in Minneapolis, with Morelli just behind. Both reached the medal podium in Rio — Morelli on top in the time trial and track individual pursuit, and Bosco third in both races but in WC5.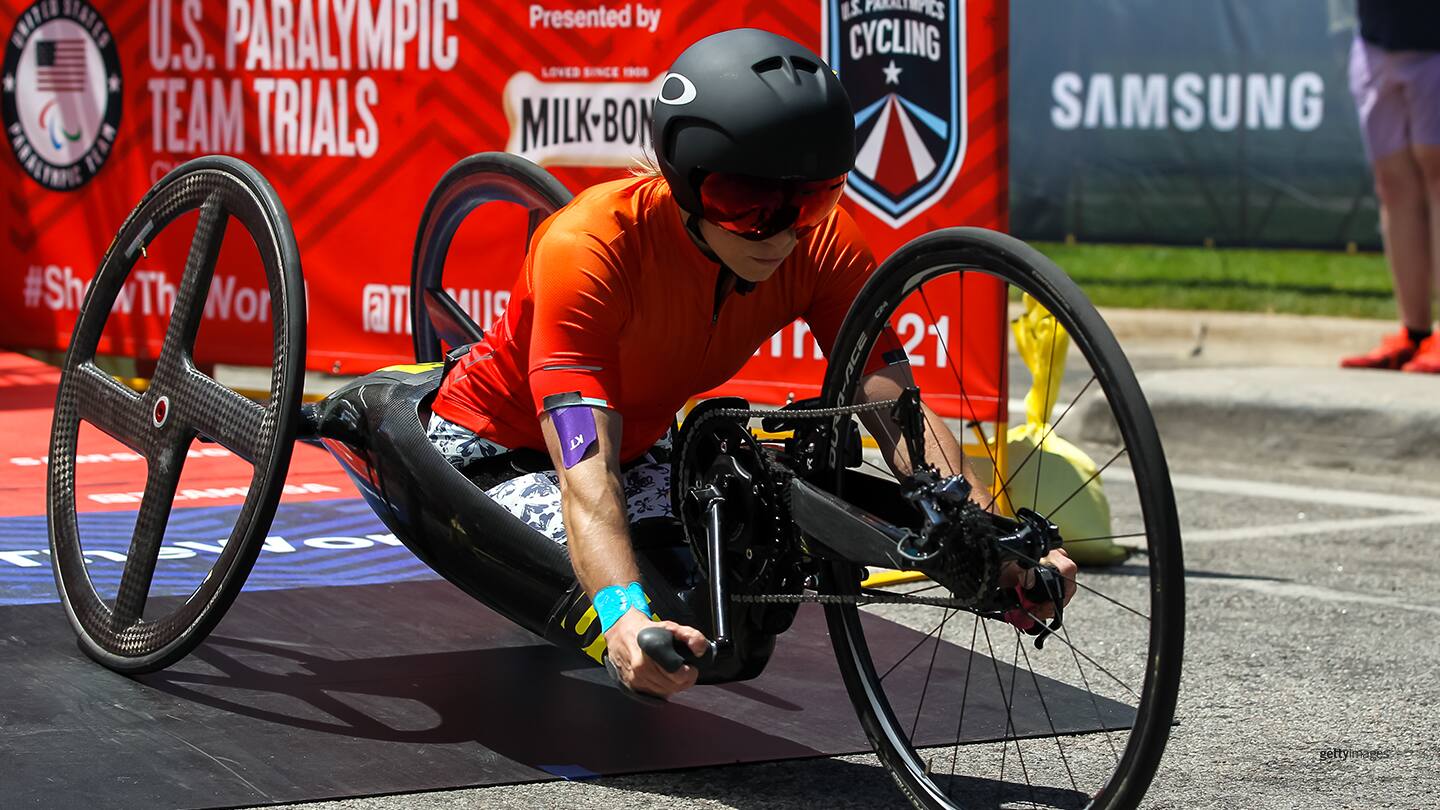 Oksana Masters competes at the 2021 U.S. Paralympic Trials on June 19, 2021 in Minneapolis.
Initially 14 Para-cyclists were named to Team USA, with eight Paralympic veterans and six newcomers on the squad. That's another way of saying a lot of really good U.S. cyclists were left at home. And that remained the case even after Paralympic medalists Joe Berenyi and Jill Walsh were added to the team via the Bipartite Invitation Allocation. Among the big names who fell just short of the team was three-time Paralympian and six-time medalist Oz Sanchez. "Team USA is really one of the hardest teams in the world to make," said U.S Paralympics Cycling Director Ian Lawless, adding: "It's a good problem to have."
Jamie Whitmore was originally on that list of big names left off the Tokyo team. The 2016 road race gold medalist was initially named as a substitute but was promoted to the team after Samantha Bosco was involved in a serious bike accident while training. Whitmore, who competes in the WC3 class, also won a silver medal in the track pursuit in Rio, to go along with 20 career medals from the world championships.
Lawless is bullish on the U.S. chances in Tokyo, telling TeamUSA.org earlier this year: "In every event in which we have an athlete entered, we have a medal chance." Among those favorites are no doubt those who have done it before. Among the 10 returning Paralympians on Team USA, they account for 25 career medals. Shawn Morelli is Team USA's top returner from Rio, having won two gold medals. Will Groulx (MH2 road race) and Jamie Whitmore (WC1-3 road race) are the other returning gold medalists.
Team USA is bringing some decorated Paralympic veterans to Tokyo. One of the hottest up-and-coming stars is Clara Brown. The 25-year-old from Portland, Maine, who competes on a traditional bicycle in the WC3 class, picked up the sport in the summer of 2018. In two world championships so far — on the road in 2019, and on the track in 2020 — Brown has already accumulated two gold medals, two silver medals and two bronze medals. On the men's side, keep an eye out for handcyclist Ryan Pinney (MH3), who was second only to Tom Davis at the trials.
Oksana Masters broke onto the Paralympic scene in 2012, when she teamed with Rob Jones to win a bronze medal in rowing. She's since gone on to win seven more Paralympic medals — two of them gold — as a Nordic skier, while also becoming one of the world's highest-profile Para athletes. As if that wasn't enough, along the way she's also picked up handcycling. Although she's won world championships medals in cycling, Masters (WH5) fell just short of the podium in her Paralympic debut in the sport in Rio, taking fourth in the road race and fifth in the time trial. The 32-year-old will aim to become a three-sport medalist in Tokyo.
In one of the few major events of the past year, Cody Jung (MC4) and Matt Rodriguez (MT1-2) each won silver medals at the road cycling world championships this past June in Portugal. Both then came right to Minneapolis for the trials to book their first trips to the Paralympics.
Although the Paralympics are mostly being held in Tokyo, the cycling competitions — like those at the Olympics — won't quite be in city limits. The Izu Velodrome is about 80 miles southwest of the Paralympic Village. Fuji International Speedway, the auto racing track that will be used for road cycling, is in the foothills of the famous Mount Fuji approximately 70 miles from the Paralympic Village.
Chrös McDougall has covered the Olympic and Paralympic Movement for TeamUSA.org since 2009 on behalf of
Red Line Editorial, Inc.
He is based in Minneapolis-St. Paul.