Team USA Earns Second Place Behind Team Russia At World Team Trophy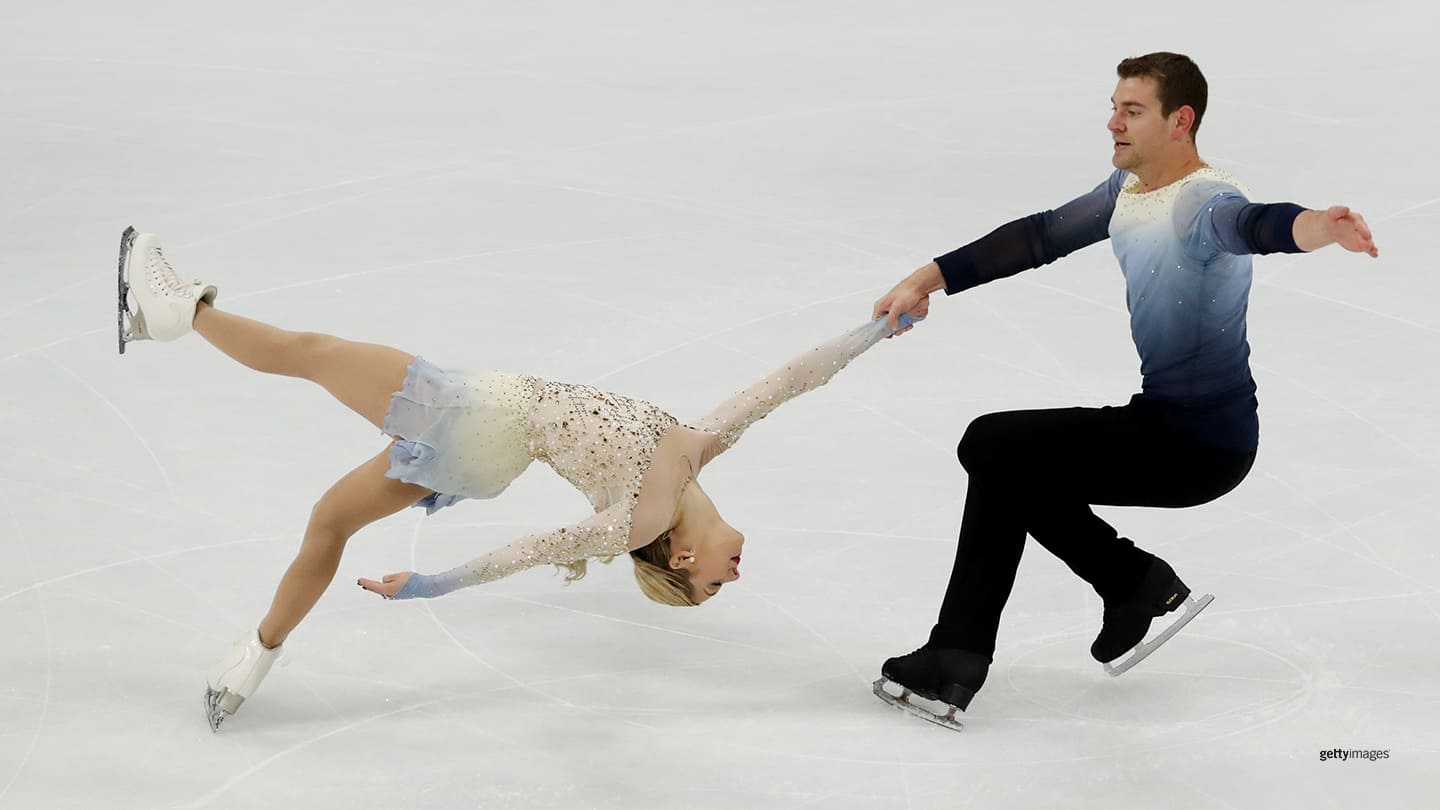 Alexa Knierim and Brandon Frazier perform in Pairs Free Skating during ISU World Figure Skating Championships at Ericsson Globe on March 25, 2021 in Stockholm, Sweden.
When Alexa Knierim and Brandon Frazier rose from the closing position of their free skate at the World Team Trophy (WTT) in Osaka, Japan, on Saturday, Knierim pumped her fist and beamed at her equally happy partner.

Then, all of the activity of the past 12 months — teaming up with Frazier, racing to perfect high-risk elements like twists and lifts, fretting about doing every last arm movement in unison — played across her mind, and she had one thought.

"Vacation!" she yelled as she left the ice.

"This feels like the longest season of my career, just because of training days at home and the virtuals we've done," Knierim said. "So before we took to the ice today, Brandon brought me to the side and said, 'One year ago, we were doing lifts and falling on things in the parking lot, just trying to learn each other's timing. It's incredible we are here. Let's just let everything go, of course fight, but stop trying to be perfect and just do this for each other.'"

Knierim and Frazier weren't perfect on Friday — Knierim put her hands down on a throw flip and stepped out of a triple Salchow — but their elements were high-quality, and they maintained ease and flow throughout their four-minute routine. They even showed off a new skill: a three-jump combination of triple toe loop, followed by two double toes.

Their free skate score, 133.63, was more than six points higher than that earned at the 2021 World Figure Skating Championships in Stockholm last month, where they placed seventh.

"We were very proud to put on our three-jump combo," Knierim said. "We train it at home in our run-throughs, but it wasn't quite ready for the world championships, so we decided this is a really good opportunity to put it out here. It's a confidence boaster moving forward."

In Osaka, the U.S. pairs champions placed second in the free skate to world champions Anastasia Mishina and Aleksandr Galliamov of Russia. That earned a crucial 11 points for Team USA, locked in a tight battle with Team Japan for second place.

At the end of this final day of the three-day event, Team Russia won gold with 125 points, while Team USA earned 110 points to edge out Team Japan by three points. Each of the six teams competing earned a share of $1 million in prize money, with Team Russia gaining $200,000, Team USA $170,000 and Team Japan $160,000.

WTT capped a successful debut season for Knierim and Frazier, who teamed up last April after their prior partnerships ended. Knierim won three U.S. titles and the 2018 Olympic team bronze medal with her husband, Chris, while Frazier is the 2017 U.S. champion with Haven Denney.

"Alexa and I are very proud of how this season went, not on the basis of results but because of how quickly we were able to gel with the technical elements," Frazier said. "We both came from long term partnerships, so it's not necessarily easy to hit these high-powered tricks this quickly. … Overall, this has taught us so many things to progress even further on the ladder for next season."

When Chris Knierim retired from competition in February 2020, he knew his wife wanted to continue and was determined to support her.

"He gives us endless, infinite amounts of support, emotionally and technically," Alexa said. "He has been just a true gentleman, handing me over to Brandon and kind of guiding him in the beginning. … Chris has no jealousy or awkwardness watching us compete."

Watching WTT from home in California, Chris called both of Knierim and Frazier's programs in Osaka the best of their career thus far.

"They are very consistent daily and if they can put that out next season, their marks are going to go up through every competition," said Chris, who now works alongside Knierim and Frazier's primary coaches, Jenni Meno and Todd Sand. "Even if they have a mistake, it's not going to hurt them like it did this season, being such a new team."

In the women's free skate, also held in Osaka on Saturday, Bradie Tennell performed the way she had wanted to at the world championships.

Skating with speed and confidence, the two-time reigning U.S. champion landed two triple Lutz-triple toe loop combinations, although the technical panel judged both jumps in her second triple-triple to be under rotated. Still, her score of 133.19 points was her season's best, and her fourth-place finish contributed nine points to Team USA's total.

"That was the way I've been training this program every day in practice," Tennell said. "Especially after worlds, with my boot breaking and all of the other issues I had, I am so grateful that we had the opportunity to come here and that I skated well. It was so much fun to skate for fans again."

Karen Chen finished her season with a lyrical performance to "Butterfly Lovers" that had lovely moments, including a strong opening double Axel, triple toe loop combination. She fell on a triple Lutz and, like Tennell, had a few under rotations.

The 2017 U.S. champion, fourth in the world last month, placed sixth in the free skate, earning seven points for Team USA. Overall, she was encouraged by her 2020/2021 campaign.

"It's definitely a different trajectory than previous seasons I've had, just in a sense that each time I have competed, I've been putting out much more solid performances and not so much flopping around the ice," Chen said.

With the Olympic Winter Games Beijing 2022 scheduled to open less than a year from now, here are four things we've learned from WTT:
Nathan Chen Is Playing It
Cool
Three years ago in PyeongChang, an 18-year-old Chen failed to land a clean jump in his short program, placing 17th in that segment. A winning free skate lifted him to fifth place, far less than the gold many had tipped him to win.

This time around, an older and wiser Chen is doing what he can to keep pressure at bay. After defeating two-time Olympic champion Yuzuru Hanyu by nearly 10 points in Friday's free skate and extending his personal event winning streak to 11, the three-time world champion refused to even talk about Beijing.

"There is still a whole season ahead of it, before the Olympics happens," Chen said. "Too early, really, to say as of now. I don't know what other guys will look like by then, I don't know what the season will look like, I don't know how many competitions I will have. Right now, (I will) just enjoy the season I had, go back home, rest, recover and just get myself refreshed for the following season."

Of course, as the Opening Ceremony draws closer, Chen will have a harder time fending off expectations. But the 21-year-old, who is taking a two-year sabbatical from Yale University, has learned a lot about what makes him tick.

"I think all athletes want to go to competitions and win and do the very best they can, skate perfectly clean," he said. "For me, focusing entirely on doing that doesn't help me perform better. If anything, it makes my performance worse."
The Ice Dance Scene Is
Shifting
Between the 1976 Innsbruck Games, when ice dance was first added to the Olympic program, and the 2006 Torino Games, couples from Russia won seven Olympic titles and nine silver or bronze medals. In the past three Games, Russian teams have won bronze twice.

That may change in Beijing. Momentum is important in ice dance; lacking the high-risk jumps, throws and overhead lifts of the other disciplines, judging can be a bit more subjective.

With their wins in Osaka, world champions Victoria Sinitsina and Nikita Katsalapov have built momentum, on top of their victory over three-time U.S. champions Madison Hubbell and Zachary Donohue at the 2021 world championships last month. The Russians also defeated four-time world champions Gabriella Papadakis and Guillaume Cizeron of France — who did not compete this season — at the 2020 European Championships. Known for inconsistency early in their career, they may be hitting their stride.
U.S. Women Need More, And Cleaner, Technical
Firepower
Consider this: Tennell had a season's best free skate in Osaka and it put her fourth. Winner Anna Shcherbakova, the reigning world champion, had an imperfect quadruple flip in her program, while world silver medalist Elizaveta Tuktamysheva capitalized on two triple Axels.

The Russians, and Japan's Kaori Sakamato, also did many of the same jump combinations as Tennell and Chen — and did them cleaner, in the eyes of the technical panel. The top three women had no under rotation calls, while the U.S. athletes had five total.

"Definitely, getting a triple Axel is, I would say, top priority for me," said Karen Chen. "Now that it is off-season, I can finally start working on that, since I won't need to do as many program run-throughs. That's my biggest goal, getting a triple Axel and working on my jump consistency and cleanliness, and then working on the Olympic programs."
WTT Is A Preview Of The Olympic Team
Event
The results in Osaka — Team Russia first, with Team USA and Team Japan battling for second — could well play out the same way in Beijing, although the Olympic team event rules allow for a bit more strategy.

While Japan is strong in men's and women's, its ice dance and pairs disciplines have less of a winning tradition. This season, though, pair Riku Miura and Ryuichi Kihara improved to 10th in the world. In Osaka, they defeated Knierim and Frazier in the short program after Knierim fell on a throw triple loop.

Team Russia is heavily favored to win gold in Beijing. To win silver, Team USA will need its advantage in pairs. Two U.S. teams will compete in Beijing, and Chris Knierim is confident that with another season under their belts, Knierim and Frazier will be one of them.

"They need to get out into international atmosphere in front of international judges," Chris said. "Next year, they could be a very competitive team, if they can get out more often and get those nerves dealt with and gone for the latter part of the season."

With hopes that the COVID pandemic will abate by the fall, the ISU recently released a full slate of Challenger Series events starting with an event in September in Italy and running through December. Competing in one or two of these events, plus the Grand Prix circuit, will be key to Knierim and Frazier's development.

"I'm pretty excited to get going in the off-season working on their twist, some of the throws, along with their coaches, Jenni and Todd," Chris said. "Now that they've competed with the program, they have an idea what they like to do with the (order of the) elements, so that will probably change, and they will be even more comfortable next season."
Lynn Rutherford is a sportswriter based out of New York. She is a freelance contributor to TeamUSA.org on behalf of
Red Line Editorial, Inc.