Sydney McLaughlin Hopes Coaching Change Can Help Lead to Olympic Gold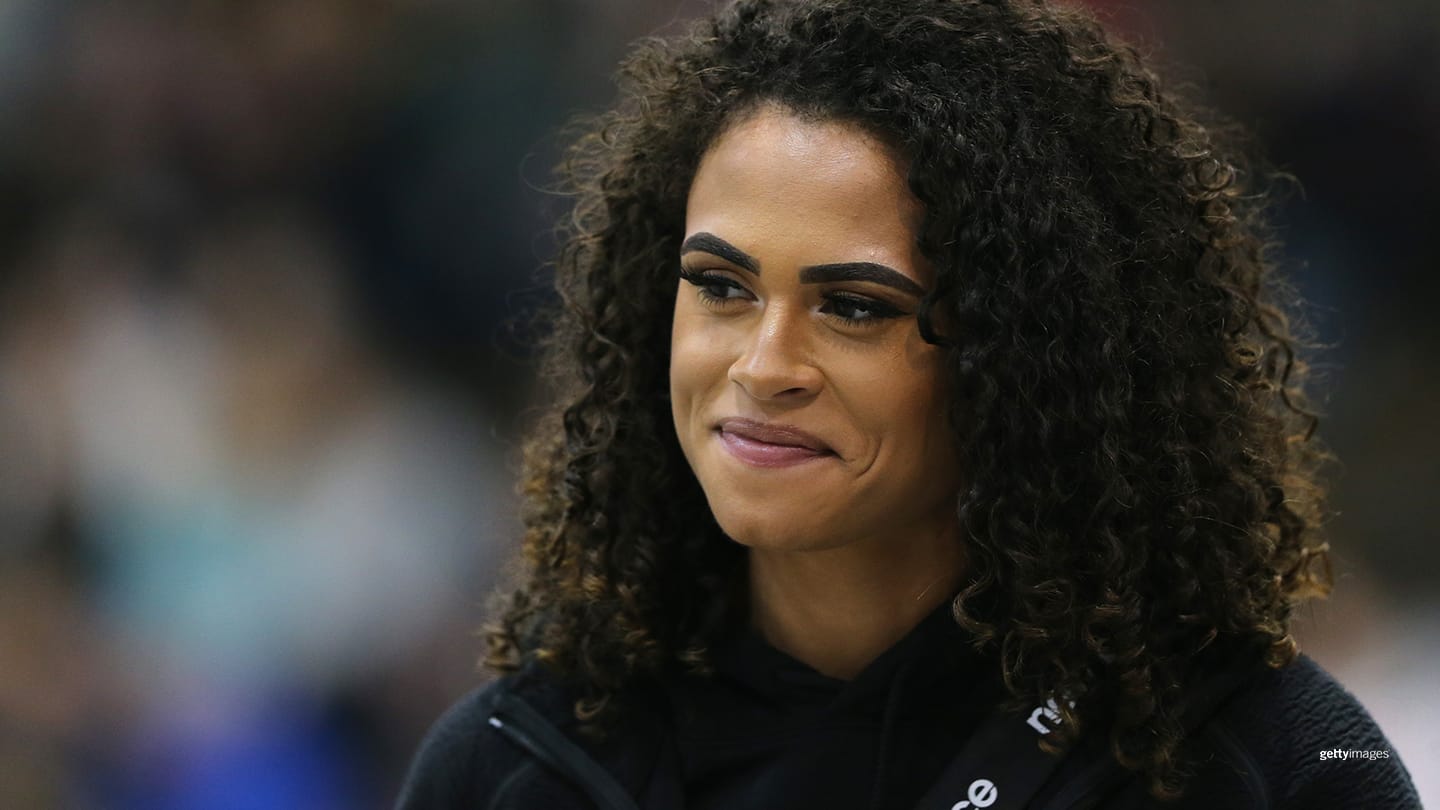 Sydney McLaughlin looks on during the New Balance Indoor Grand Prix at Reggie Lewis Center on Jan. 25, 2020 in Boston, Massachusetts.
Hurdling is all about timing and taking the right steps, and Sydney McLaughlin has applied that approach in her life as well.

She was well aware that Olympic years are not the best time to make drastic changes – such as switching coaches.

However, the postponement of the Olympic Games Tokyo 2020 gave McLaughlin, a 2016 Olympian and 2019 world silver medalist in the 400-meter hurdles, the perfect opportunity to pivot – and she didn't even have to leave Los Angeles.

Last summer McLaughlin joined the group led by famed coach Bob Kersee, which means one of her training partners is Allyson Felix. The versatile sprinter has won six gold and three silver medals in four Olympic Games dating back to 2004 -- when McLaughlin was 5 years old.

"It's been a really great experience being around both her and Bobby," McLaughlin said of the 35-year old Felix, "and just at a young age being able to soak up as much as I can as she's at the end of her career."

McLaughlin, 21, opened her outdoor season Saturday at the Antelope Invitational in Phoenix, winning the 100-meter hurdles with a respectable and very encouraging time of 13.03 seconds It was a personal best for McLaughlin, who had not contested the race since high school due to a groin injury. Also in Phoenix, Felix won the 100 with a time of 11.31 seconds.

Both are sharpening up with shorter races to get ready for their specialties.

Before joining Kersee, who is a volunteer assistant coach at UCLA, McLaughlin had been working with Joanna Hayes, the 2004 Olympic gold medalist in the 100-meter hurdles and a volunteer assistant coach at the University of Southern California.

"I'd seen Bobby out at the track a couple of times when we were at UCLA," McLaughlin said, "and he was helping for a while with the hurdling technique, and the chemistry kind of clicked."

After all, even Hayes was once coached by Kersee. He has also coached his wife, Jackie Joyner-Kersee, and sister-in-law Florence Griffith Joyner -- both Olympic legends -- as well as athletes including world and/or Olympic hurdles champions Gail Devers, Dawn Harper Nelson, Michelle Perry, Andre Phillips and Kerron Clement.

McLaughlin still sees Hayes and her former group at the track. "It's all good vibes," she said, "but in terms of my race, and really breaking it down, as someone who ran the 400 hurdles Bobby has a lot of knowledge in it."

The stakes are high for McLaughlin, who has one of the highest profiles in U.S. track and field. She's known for her style – wearing FloJo-esque one-legged tights at the meet in Phoenix – as well as her talent.

McLaughlin was only 16 years old when she made the U.S. Olympic team for the Olympic Games Rio 2016. The New Jersey high school phenom was the youngest U.S. track and field athlete since 1976 to compete at the Olympics when she ran her first race in Rio eight days after her 17th birthday.

McLaughlin finished fifth in her heat and fifth in her semifinal while Dalilah Muhammad won the gold for Team USA and teammate Ashley Spencer took the bronze.

Although she could have turned pro immediately, McLaughlin wanted to experience collegiate life. At the University of Kentucky, she won the NCAA title in the 400-meter hurdles by nearly 2 seconds in a hailstorm and then turned pro in 2018 after her freshman year.

By 2019, McLaughlin, the under-20 record holder, had emerged as the greatest threat to Muhammad. In her Diamond League debut, McLaughlin defeated Muhammad in Oslo in June.

The next month, Muhammad broke the world record at the U.S. nationals with a time of 52.20 seconds, with McLaughlin nipping at her heels. At the world championships in Doha, Muhammad lowered the world mark to 52.16 seconds to edge McLaughlin, whose own time of 52.23 was just off the previous record and made her the second-fastest all-time.

In fact, they were so fast they were selected to run legs in the final of the 4 x 400-meter relay, with McLaughlin passing the baton to Muhammad as Team USA won the gold medal.

Naturally, their rivalry is one of the most eagerly awaited at the Tokyo Games.

"It's an honor, honestly, to be a part of something that's so watched and so anticipated," McLaughlin said. "It's motivating. There's always nerves and hype and everything on the side, but I think just to be able to be a part of something that is constantly pushing me to be my best is really an honor.

"Having to go into these races where it results in a world record it pushes you to run even faster, so it's a really amazing experience to go out there and not know what could happen on any given day."

And McLaughlin thinks the world record "definitely can be lower than what it is right now."

Both McLaughlin and Muhammad also have to fend off a deep U.S. field that includes Spencer, 2017 world champion Kori Carter and 2015 world silver medalist Shamier Little.

McLaughlin feels she'll be ready, calling the extra year to prepare "a blessing for sure" that has helped her "kind of just mentally grasping everything, especially with the coaching change. It's given me a lot more time to really break down my race and get into all the intricate details that I haven't had time in the past to really focus on."

Earlier this year, McLaughlin was named to the TIME100 Next list in the phenom category, and Felix agreed to write the entry.

"I train alongside Syd every day, and what I notice the most is her tremendous potential and not just as an Olympic athlete," Felix wrote. "She has the potential to become the most outstanding 400-meter hurdler of all time, yes, but, more importantly, Syd has the potential to impact lives. That is her greatest strength and her greatest opportunity."

McLaughlin said Kersee has helped her establish a race plan while working on her form, her start, step patterns between hurdles and the takeoff and landing.

While they were settling in, McLaughlin said she didn't feel comfortable racing, so she did not compete at all in the pandemic-shortened 2020 outdoor season.

In mid-February, there was a lot of buzz when McLaughlin went to the starting line in the 60-meter hurdles at the New Balance Indoor Grand Prix in New York. She hadn't raced for 495 days going all the way back to Doha in October 2019.

However, unbeknownst to the media or the public, McLaughlin – who is sponsored by New Balance and was featured in the television commercials -- had an unusual plan for the race. She hurdled with her non-dominant leg – her left leg -- finishing last in a race won by Keni Harrison, the world record holder in the 100 hurdles.

McLaughlin said after the race that the strategy was designed to help her hurdle efficiently with both legs when it was time to compete in the 400-meter hurdles.

"It's such a short race and a fast-paced race that you can really work on that technique," McLaughlin said, "so it was good to get into a fast race and really be forced to use it without being able to think that much."

But thinking has occupied a lot of McLaughlin's time during the pandemic when she's not clearing hurdles. She has shared Instagram posts about social justice and her deep faith to her 459,000 followers.

"Understanding who Sydney is away from track really brings a lot more purpose to every second that I spend on the track," McLaughlin said, "so I've discovered a lot more who I am and understanding that track is not who I am, but it's what I do."

And the additional time off, she added, has helped her differentiate the two, "so that going into this I understand that this is just something that I love to do and it doesn't define who I am."
Karen Rosen has covered every Summer and Winter Olympic Games since 1992 for newspapers, magazines and websites. Based in Atlanta, she has contributed to TeamUSA.org since 2009.