Keni Harrison Sees Her Training Paying Off After LA Grand Prix Performance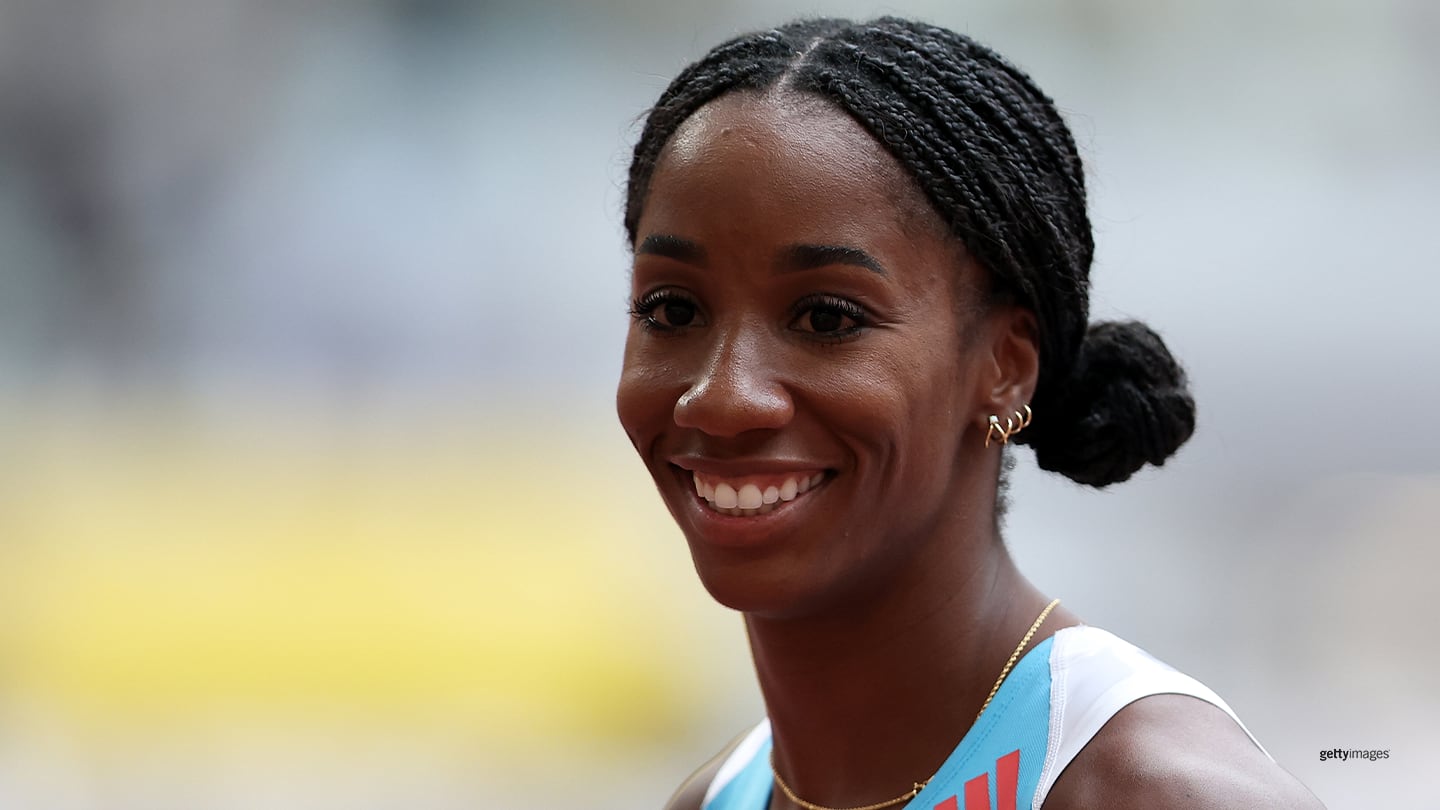 Keni Harrison reacts after winning the women's 100-meter hurdles final during the Golden Grand Prix on May 8, 2022 in Tokyo.
LOS ANGELES — Last weekend, Kendra "Keni" Harrison drove a mile from her townhome to UCLA's double-blue track just as she does for practice under Bobby Kersee, her new coach.
But it's not every Saturday that she races three others from last year's world championships 100-meter hurdles finals, including the reigning Olympic champion and Harrison's successor as the world record holder.
At the inaugural USATF LA Grand Prix, Harrison's 12.35-second performance was good enough for second place, as Puerto Rico's Jasmine Camacho-Quinn, the Olympic Games Tokyo 2020 champ, finished in a world-leading 12.31. The current world record holder, Tobi Amusan of Nigeria, finished last, clocking in with a time of 12.69.
"I just think it was a perfect opportunity for us to run on a track we train on every single day," Harrison said after a Memorial Day workout. "We didn't have to change our routine...We got to sleep in our own beds and, you know, drive to the track like it was just a normal day. So, it's just like: Why not?"
Harrison didn't like losing to "JCQ," the old training mate who bested her 12.37 to 12.52 in the Tokyo 2020 final. But the University of Kentucky alum saw a silver lining that could turn gold at this summer's world championships in Budapest.
"I think everything is falling into place," she said, noting her "decent time" of 12.44 on an elevated track in Atlanta three weeks earlier, and her race against "such a stacked field" at UCLA to drop a 12.35. That time is better than her season bests in all but three years since 2010.
"That's exactly where my coach thought I was going to be – and the race wasn't perfect," she said of her Grand Prix performance. "And still being able to run as well as I did, it shows that everything I've been doing in training is paying off."
With the "Formula Kersee" training group that includes superstars Sydney McLaughlin-Levrone and Athing Mu (plus old friend and housemate Jenna Prandini), Harrison says she's doing "workouts that I've never put my body through."
So her 12.35 at UCLA's Drake Stadium – despite a lackluster start – is proof that "Bobby knows what he's doing."
At last year's world finals, Harrison hit the first hurdle with her trail leg and fell off the pace before crashing into the eighth barrier and pushing over the ninth, leading to a disqualification.
It wasn't her biggest disappointment. In 2016, she took sixth in the U.S. Olympic Team Trials final – only to later run a world record 12.20 in London against the three Americans who went on to sweep the final in Rio.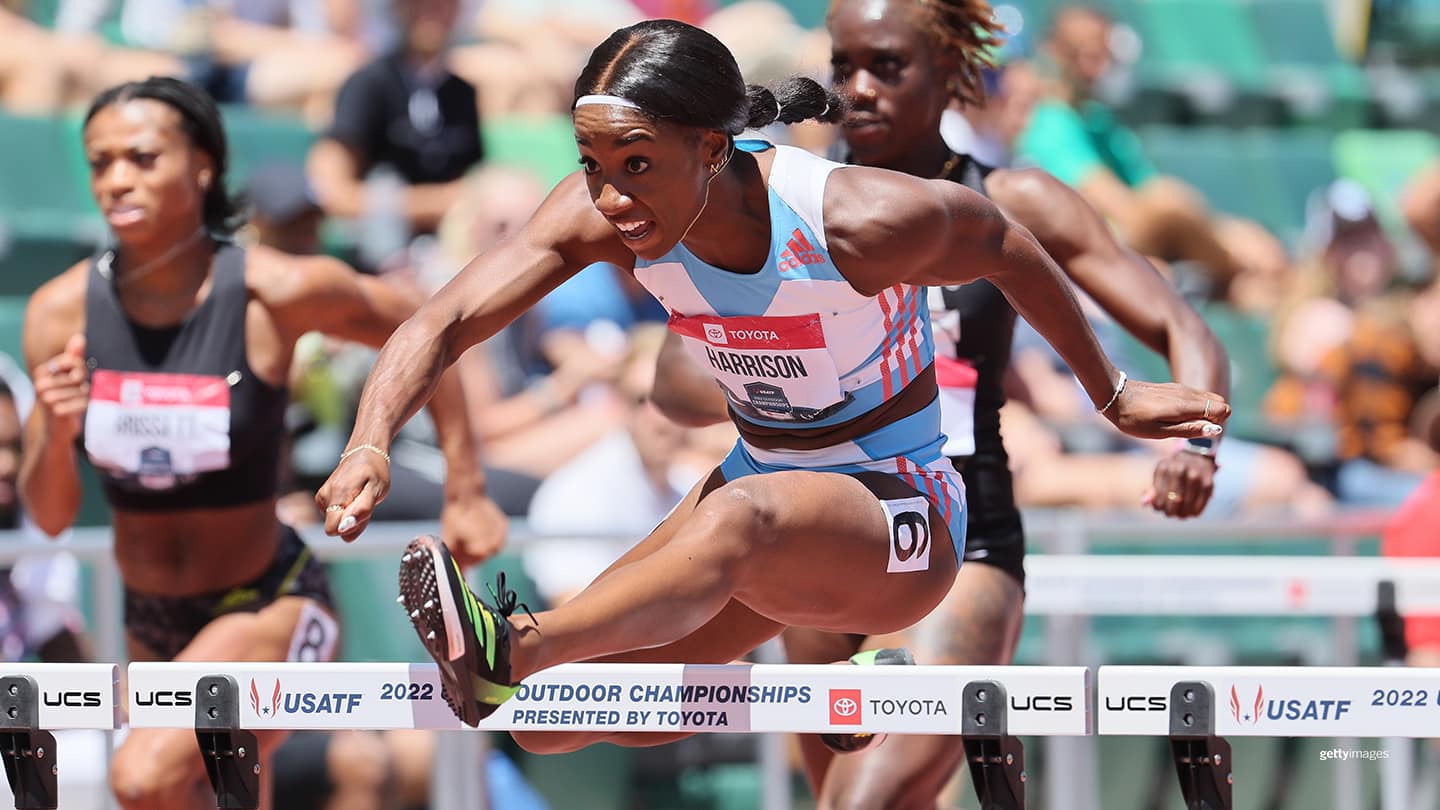 Keni Harrison competes in the women's 100-meter hurdles semifinal during the 2022 USATF Outdoor Championships on June 25, 2022 in Eugene, Oregon.
Harrison fears no PTSD about returning to Eugene.
"It's just a bad race," she said of worlds. "I mean, I'm not worried or concerned going into (nationals)."
Indeed, she still employs the same sports psychologist she's had in recent years and says it's helping.
She also agrees with her youth coach Steve McGill, a big booster of "clearing one's mind" on the track.
"I think the less you're thinking, the better you're going to do," she said. "You know, if you're worried about everyone or you're trying not to hit a hurdle, you're probably going to mess up."
But Kersee – who guided Allyson Felix in her legendary career – is helping Harrison focus when needed.
Hesitating to be specific, as she doesn't want to give away all her training secrets, Harrison said Kersey is making her a more confident hurdler.
"I feel like sometimes I race and I'm not really aware of what I'm doing," she said. "I'm just going through the motions, and he's just been like, 'OK, Keni, … when you come off (hurdle) four, make sure you're thinking this and make sure you're doing this.'
"He's just making me a little bit more aware of what I'm doing."
Harrison had spent 10 years with her former college coach Edrick Floréal, most recently based in Austin, Texas. She switched coaches after she moved west in November.
She plans to race on June 24 at the New York Grand Prix. But, she won't compete in any Diamond League meets until after USATF nationals in July.
If she qualifies at Eugene's Hayward Field, she'll look next to Budapest in late August.
At age 30, Harrison is three years younger than Olympic champion Gail Devers was when she set an American record of 12.33 in the short hurdles in 2000. Devers made her fifth Olympic team at age 37 and was clocking world-class indoor times at 40.
Harrison, who met Devers a couple of years ago, pays no attention to the calendar.
"I feel the clock speaks for itself," she said.
Being able to run 12.27 in the world semifinal last year "shows that age is just a number. … I'm going to continue to train and continue to do the sport that I love."
She says she's taking things season-by-season, though she hopes to qualify for Paris 2024 and the 2025 world championships in Tokyo.
And LA2028 – when she'd be 35?
"My coach says that (you'll peak) in your early 30s," she said. "So as long as my coach is on my side, I don't really care what (others say)."
After her LA Grand Prix race, where she couldn't overcome Camacho-Quinn's slight lead at the first hurdle, Harrison said it's a "good problem to have" when she knows what aspects of her race need work.
"You know," she said, "it's basically we just take this race, study it, go to practice, work on it, and get to have a rerun."
Ken Stone has covered track since the early 1970s, including for Track & Field News, and won TAFWA's inaugural award for excellence in blogging in 2009. He is a freelance contributor to TeamUSA.org on behalf of
Red Line Editorial.