Bradie Tennell: 'I've Grown Into Myself'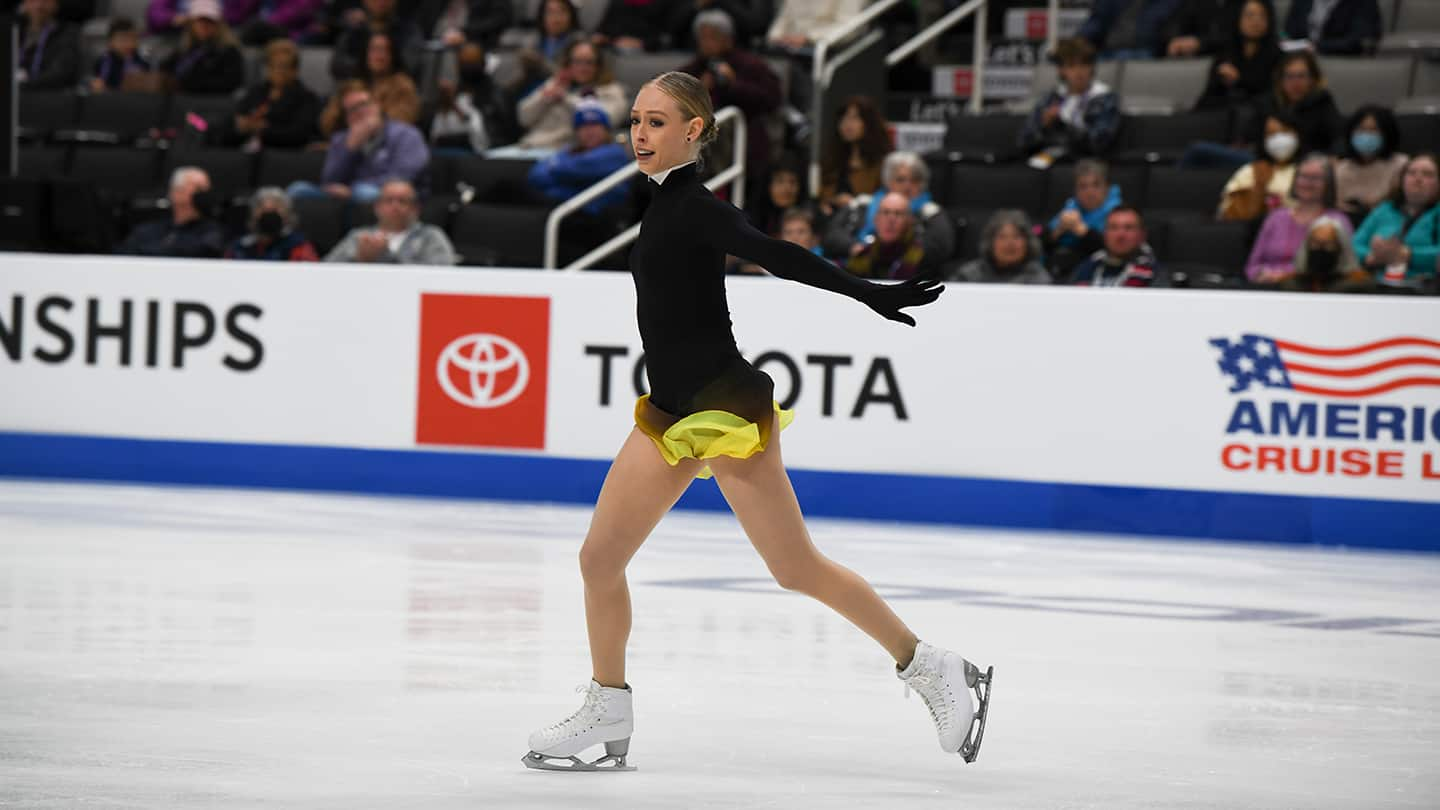 Bradie Tennell skates during the women's free skate at the 2023 U.S. Figure Skating Championships on Jan. 26 in Sane Jose, Calif.
The windows on the fifth floor of Patinoire Jean Bouin, a sports complex in the heart of Nice, a glittering city of one million people on the southeastern coast of France, offer a panorama to a whole new world for Bradie Tennell.

On one side of the rink, skaters can see Fort du Mont Alban, a hilltop 16th century fortress. On another, they look out at the Mediterranean Sea. The French Alps are in the distance.

Sometimes, during early morning sessions when Tennell is working on her skating skills or spins, the beauty of the French Riviera stops her in her tracks.

"You can watch the sun rise over the water from behind the mountains, and the sky will go from pitch black to this nice indigo, then to pink and orange and yellow and purple," she said. "And it's so beautiful. I just stop in the middle of the ice and stare."

That's when Cedric Tour, one of her coaches, will call out, "What are you doing?"

"I say, 'I like the sunrise,'" Tennell said. "And he's like, 'Oh yes, it is beautiful. Get moving.'"

"Sunrise over the Mediterranean" is a good title for this chapter of Tennell's career. When the two-time U.S. champion takes the ice for her short program at the 2023 World Figure Skating Championships in Saitama, Japan on Wednesday, it will mark her return to top-flight international competition after a lingering right foot injury took her out of competition for the entire 2021-22 season, robbing her of the chance to qualify for a second Olympic team.

Tennell described the experience as "traumatic."

"You literally work your entire life, you make so many sacrifices, your family does, too," she said at the U.S. Figure Skating Championships in San Jose, California, in January. "It takes a village to get one athlete to the Olympics. All of a sudden, through no choice of your own, no specific action, your entire life — everything you've held in your hands — crumbles into sand and you don't know why."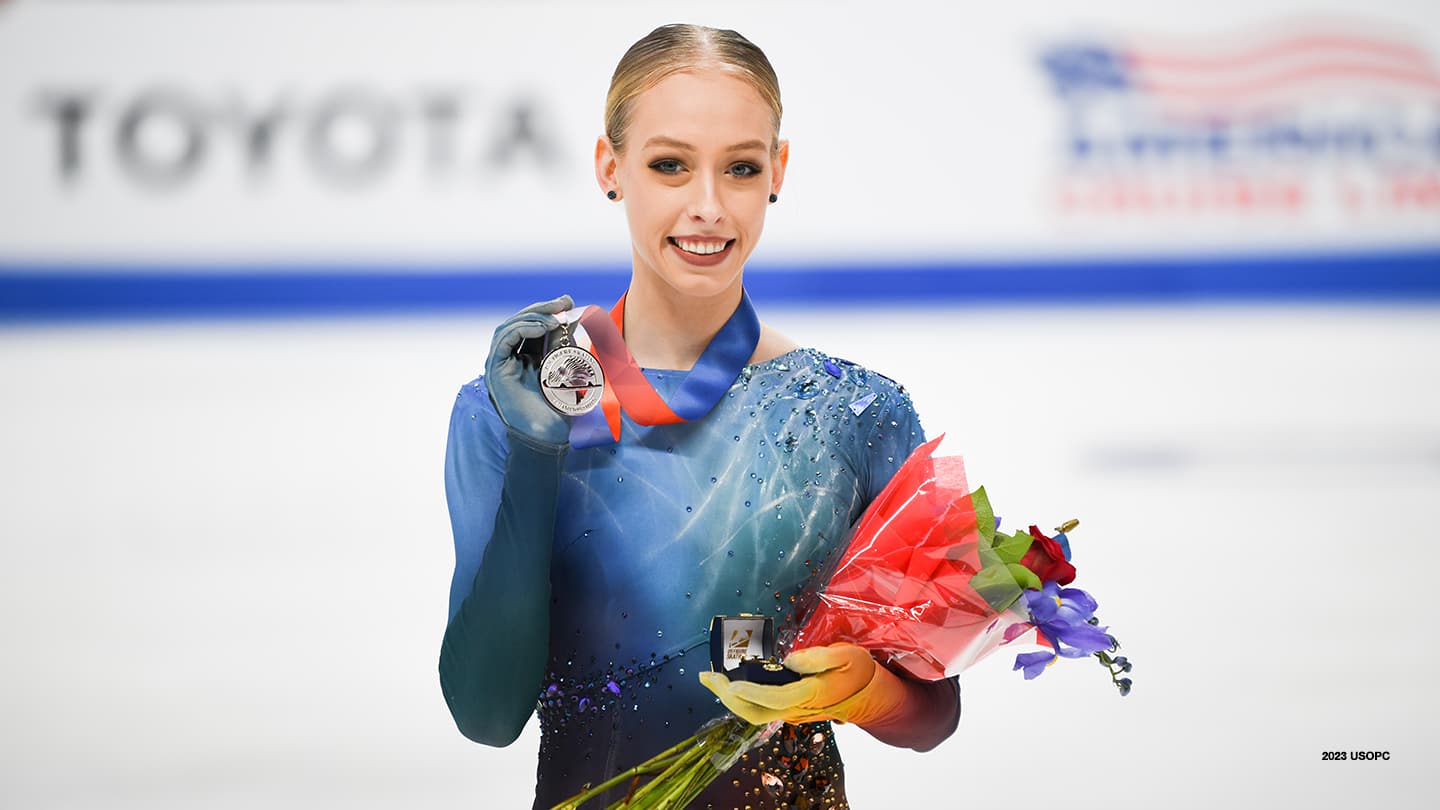 Bradie Tennell poses with her silver medal following the women's singles championship at the 2023 U.S. Figure Skating Championships on Jan. 27, 2023 in San Jose, Calif.
So, when the 25-year-old skater traveled from her home in suburban Chicago to Nice for a training camp last July, she needed a fresh start. The camp was run by Benoit Richaud, her choreographer since 2017. Tennell, who trained in Colorado Springs, Colorado, beginning with the 2020-21 season, had always planned to live in Europe someday. What better time than the present?

"After this last year, I really needed some distance from everything, and I felt I needed a new environment to kind of start a clean slate," she said.
She packed her skates and relocated to Nice full-time in September, moving in with a host family whose daughter also trains at Patinoire Jean Bouin.

"She's 15, and she's helping me learn French," Tennell said at the Four Continents Figure Skating Championships in Colorado Springs last month. "I told her that I would be to a certain unit in my Duolingo by the time I came back, and I'm woefully, woefully behind."

When Tennell arrived in Nice, learning French wasn't top of mind. She had not competed since her ninth-place finish at the 2021 world championships. Her injured foot meant she couldn't execute the difficult toe pick-assisted jumps in her repertoire, triple lutz and triple flip.

"We've been working, first of all, to make her healthy, that was the main goal, because when she came, she was injured," Richaud, her primary coach as well as choreographer, said.

He also continued an evolution interrupted by Tennell's injury last season: helping the skater — known mainly as a technician early in her career — refine into a mature artist on the ice.

"Much more minimal, much more sophisticated, much more real," he said of Tennell's programs and costumes this season.

Richaud's choreography is easily recognizable. Rooted in contemporary dance, it asks skaters to use their entire bodies in their movements and step sequences, rather than focusing only on arms and feet. Competitors ranging from Japanese world champion Kaori Sakamoto to Team USA's Lindsay Thorngren, to European champion Adam Siao Him Fa of France, use programs created by the former ice dancer. Siao Him Fa trains alongside Tennell at Patinoire Jean Bouin.

"Bradie and Adam spent a lot of time in summer working an hour a day on skating skills, they do dance, they do off-ice, they have a technique session, they have a program session," Richaud said. "It's very structured and I think Bradie enjoys that, everything is well planned. It's kind of funny because right now she is much more artistic, but to make her more artistic, we had to make her much more structured, with a plan."

Tennell hoped to kick-off this season at Japan Open in early October, but pain in her left ankle forced her to skip the event, as well as an ISU Challenger Series competition in Budapest, Hungary. She placed 12th at her first Grand Prix, in Sheffield, England, in November, after falling on three jumps in her free skate. Two weeks later, she finished eighth at the Grand Prix of Espoo in Finland.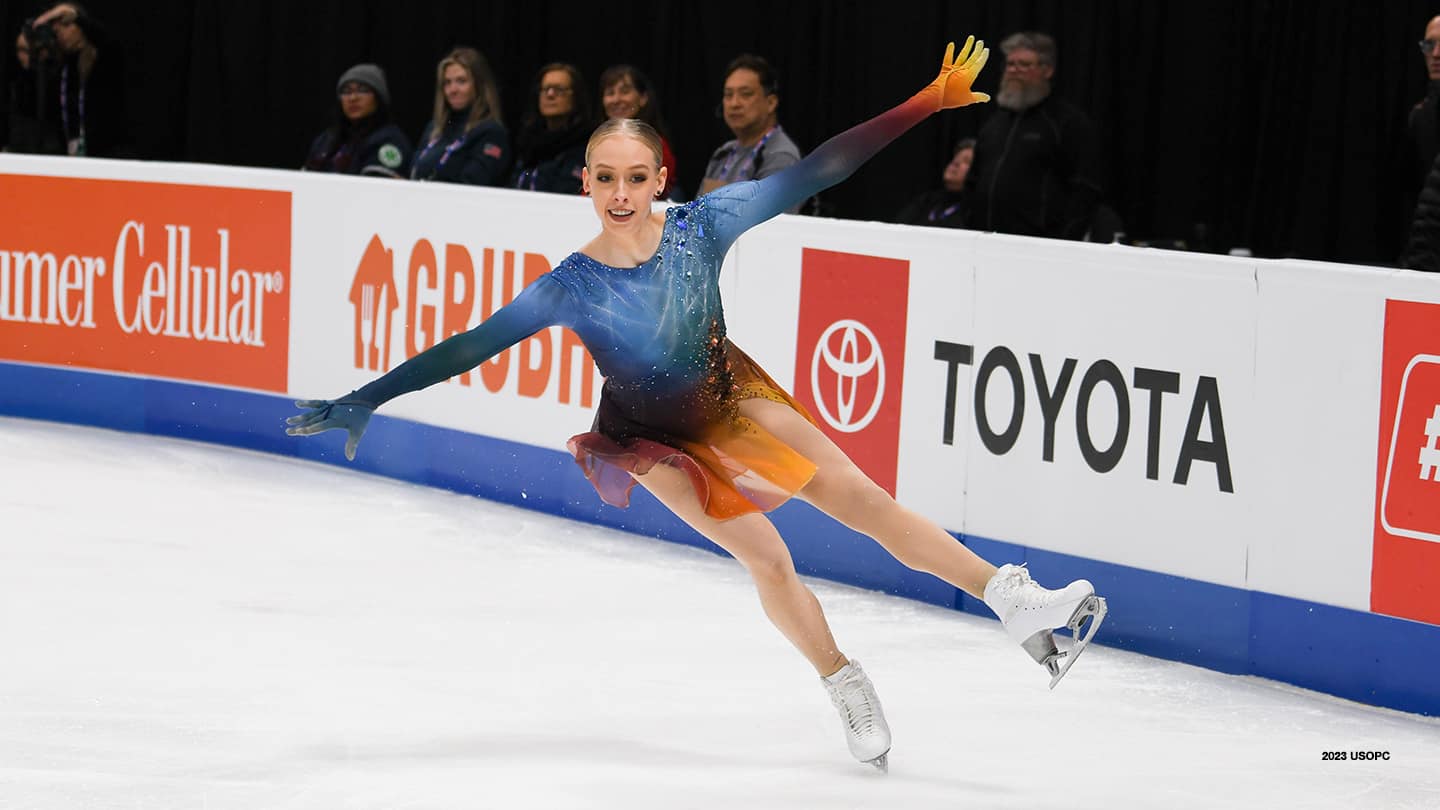 Bradie Tennell skates during the women's singles championship at the 2023 U.S. Figure Skating Championships on Jan. 27, 2023 in San Jose, Calif.
At the Golden Spin of Zagreb in Croatia in December, Tennell landed two triple lutzes and placed second to Thorngren. By the time she won the silver medal behind Isabeau Levito at the U.S. Championships, the triple flip was back in her free skate, although she doubled the jump when she placed sixth at Four Continents.

"The one thing that stays constant is my desire to be better, every single time I stepped on the ice at every competition," Tennell said. "We really started really low (in England). So, I've been making small steps throughout the season. Part of me is satisfied with that, and another part is like, 'Well, you could be even better.' And that's the part that really drives me to continue working."

Tennell's programs this season, especially her short set to a medley including Kirill Richter's "Michigan 7", show a skater finishing every move with care, with fluid arms, crisp spins and interesting positions. Her sleek, contemporary costumes enhance the choreography.

"I had a clear idea of where I wanted to bring Bradie, and we talked a lot together, and we found the right style, the right hair, the right make-up, the right direction where she wanted to go, because everything is (up to) her — it is her career," Richaud said.

"(Richaud) is one of the most creative people I've ever met," Tennell said. "He has a very unique brand of creativity. I think his confidence in his creativity is really what makes him stand out, because he has a lot of faith in his abilities, and rightly so."

Tennell has worked hard to regain the consistency of her triple flip, as well as her triple lutz-triple toe loop and double axel-triple toe, hoping to cleanly land both combinations in Saitama this week. She plans to compete through the 2026 Winter Games in Milano Cortina, and a good showing will serve notice to the skating world that she can still be a force this Olympic cycle.

"I definitely don't feel like I've hit my limit," she said. "I'm very excited to see what else is in store for me because I feel like I have so much more to give, and I feel like I kind of have a second chance.

"I've grown into myself. Some of the things that have plagued me in the past, no longer plague me. My artistry has gotten so much better, because I've worked really, really hard on that. And I also think missing the Olympics, and the devastation and all those emotions, has kind of allowed me to broaden my repertoire. I just appreciate what I'm able to do on the ice so much more, and I feel like that gives me a greater emotional base to draw from."
Lynn Rutherford is a sportswriter based out of New York. She is a freelance contributor to TeamUSA.org on behalf of
Red Line Editorial, Inc.