Paralympic Triathlete Allysa Seely Hopes To Encourage Women Athletes Not To Give Up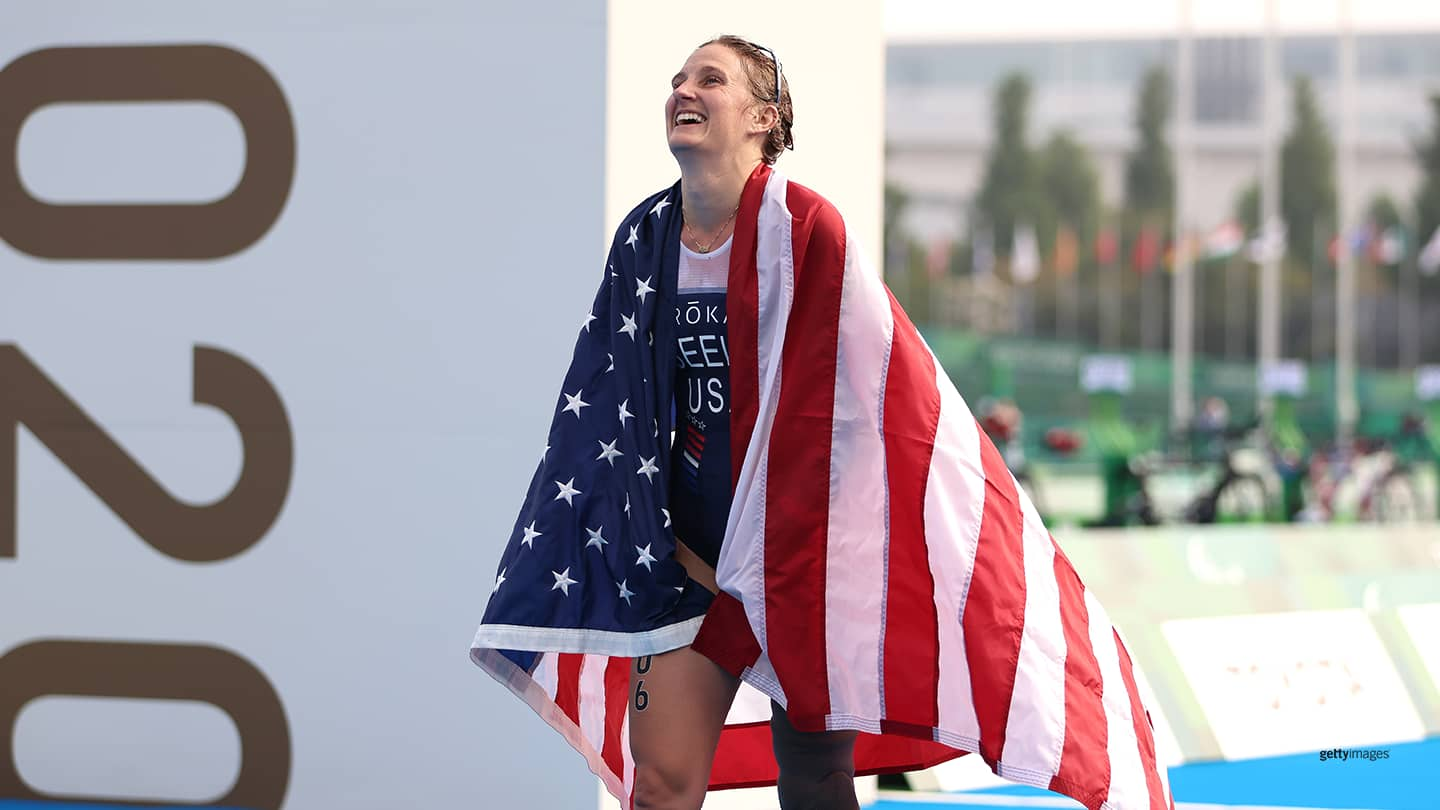 Allysa Seely reacts after crossing the finish line in first place in the women's PTS2 Triathlon during the Paralympic Games Tokyo 2020 on Aug. 28, 2021 in Tokyo.
"All it takes is one teammate, one coach, or one fan to ruin it forever."
A young female content creator recently posted this anonymous quote on social media regarding to her budding sporting career. My heart broke because I knew exactly what that anonymous statement referred to.
The subtle message about bullying was like a knife digging into my chest. The number of likes and comments from young female athletes reassured what I already knew to be true, and my heart crumbled. Again.
I was heartbroken because as a female athlete, I know that bullying in person and online has become — or maybe has always been — commonplace. Even, dare I say, accepted.
Such a simple statement hit so close, knowing I was in the middle of a hiatus from racing to decide the fate of my career because of that figurative "one person". No part of me was ready to walk away from competitive sports.
My story wasn't done being written. But I could no longer handle the toll on my mental health. It was the reason why I hated showing up to training for the first time in my life.
Every day I would tell myself, 'just do what you can and little by little everything will come together.' Day after day, I would do what I could. But, it didn't stop the snide remarks, underhanded tactics and hoping for my failure.
I received an onslaught of advice: "don't let it get to you," they said. "They are jealous," others quipped. Still, some dismissed it as female hysteria and being too emotional. Or maybe I was drawing more attention to it than needed to be. I was winning, wasn't I?
Some wondered why it mattered. But no matter how thick one's skin is after a decade of dealing with this — while being paraded around as some sort of success — it gets to you. I have learned it is impossible not to let it. Female athletes are human, after all.
Just days before the Paralympic Games Tokyo 2020, it consumed me, quickly becoming unhealthy for the first time. Yet it wasn't until that one anonymous post a year and a half later I began to rethink my why.
Why was I going to walk away? Why was I known for advocating and changing the landscape of pay equity in Para sport? Why was I putting the benefit of a movement ahead of myself? I have spent the past 18 months exploring these very questions with the support of a sport psychologist, my sponsors and my closest friends by my side.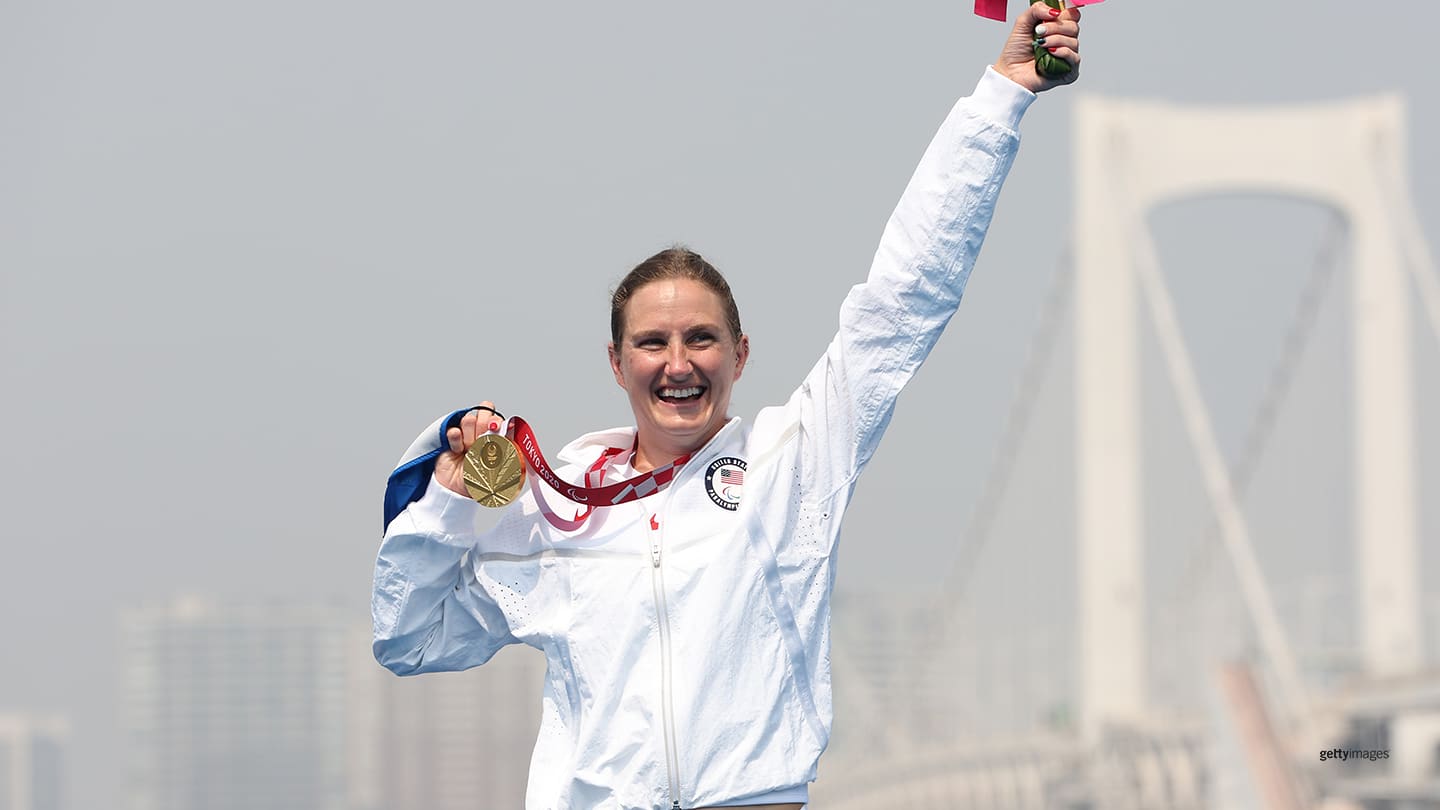 Allysa Seely of Team United States celebrates her gold medal from the women's PTS2 Triathlon during the Paralympic Games Tokyo 2020 on Aug. 28, 2021 in Tokyo.
I worked on finding balance. Finding a way to tell a more authentic version of my story in a system that isn't set up for that.
I turned away from the stressors of training and turned to where I found joy and solace in the movement my body craved — namely, the dirt. Mountain biking, hiking, and walking the dogs constantly. Similar, but different enough for me to start finding my way in this world again.
I began to consciously choose and cultivate the supportive female relationships that already existed around me. These women cared very little for my success on the field of play because they cared about something greater — me.
I reevaluated the team around me, as you do as an elite athlete. I had a strong female role model in my sports psychologist who was ready to work through the difficulties of elite athletics and looked to add female expertise in the way of specialized coaching.
I grew a new community in sports that knows the past and is dedicated to protecting me from it. My team is now comprised of people who are ready to collaborate, engage and work toward excellence. Those are the people I want on my side. Those are the people who have built me up, historically. I am no longer willing to trudge forward with non-believers. The team I have built — my team — is helping me carry this dream forward.
I did this so maybe — for the first time — I will have the chance to put the interpersonal stress aside and focus that energy on being my very best self on the race course.
Only in this past month have I chosen not to be a statistic. Not be one of the numerous female athletes walking away from the sport, but instead to try and build a legacy of changing it for the better. Making sport truly welcoming to all. Changing it for me, even if that sounds selfish.
Today, in honor of International Women's Day, I am recommitting to making every athlete feel welcome, valuable and important in sports. More than anything I want athletes of all ages and levels to feel joy in our common love.
I can't hope for much, but if one girl or woman stays in sport because I refused to give in, I will consider it a success.
Allysa Seely is a Paralympic triathlete for Team USA.