News
Brad Snyder
Allysa Seely
Allysa Seely Defends Her Paratriathlon Gold; Brad Snyder Also Victorious In Paralympic Debut In The Sport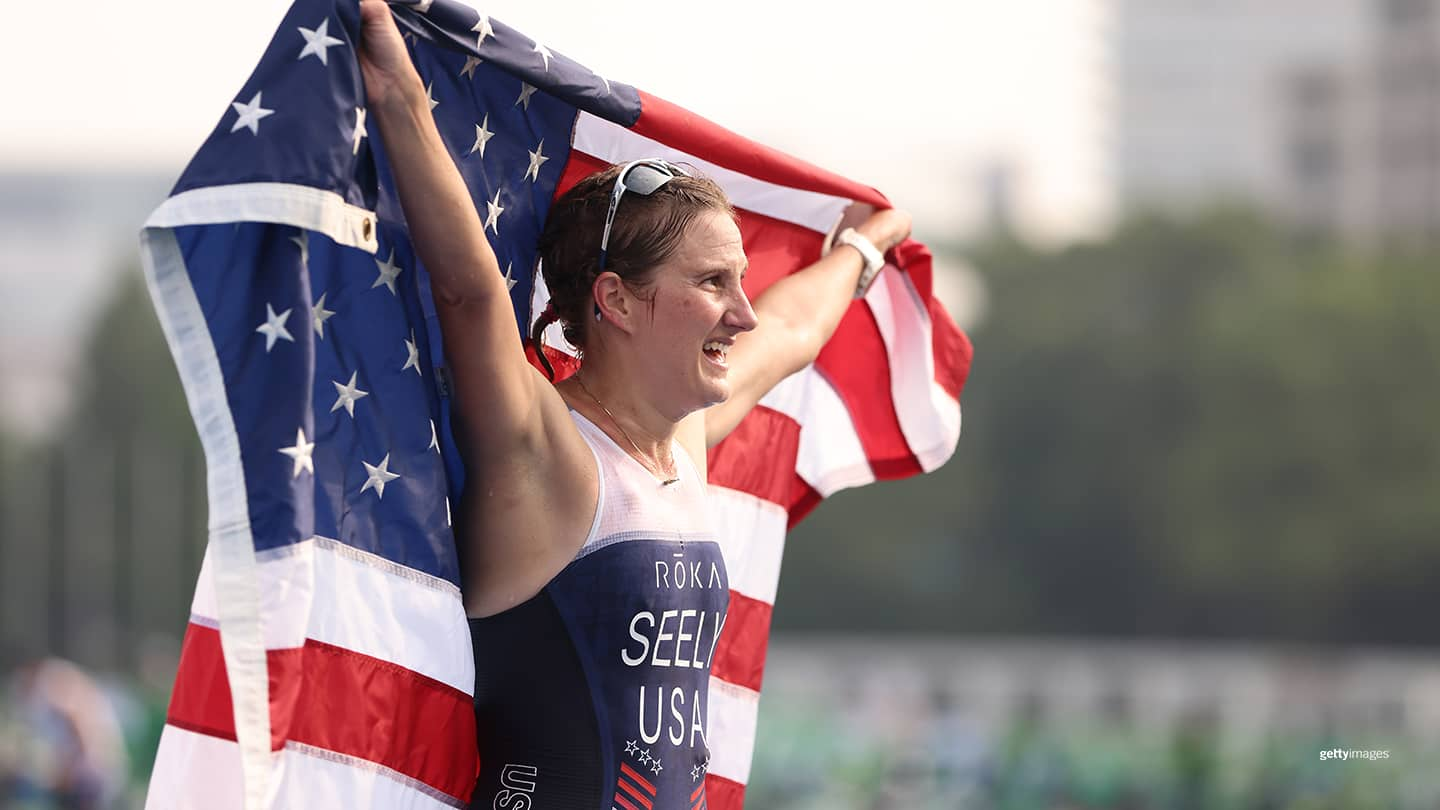 Allysa Seely reacts after winning the women's PTS2 triathlon at the Paralympic Games Tokyo 2020 on Aug. 28, 2021 in Tokyo.
Team USA stormed to gold in two of the four paratriathlon events on Saturday at the Paralympic Games Tokyo 2020, as Allysa Seely defended her Paralympic title in the women's PTS2 race and U.S. Navy veteran Brad Snyder, already a seven-time Paralympic medalist in swimming, won gold in the men's PTVI race.

Seely made up nearly a minute and a half in the first three laps of the run at Odaiba Marine Park to take the lead entering the final lap of her race and grab gold in 1:14:03. The Glendale, Arizona, native persevered through multiple health challenges and scares over the past year, having been diagnosed with endocarditis (inflammation) and blood clots in her heart, making her second gold all the more significant.

"Five years ago still feels like a fairytale, and today I'm just so grateful for the opportunity to be here and to race," Seely, 32, said. "I said the day I won in Rio that a gold here was the goal, and there have been so many ups and downs since then, that to pull off that goal is incredible.

"I want to be able to dedicate this gold medal to all of those who said they can't, including the Afghan Paralympians whose dreams could not be fulfilled."

Hailey Danz of Wauwatosa, Wisconsin, who had led for most of the race, crossed the finish line 55 seconds behind Seely to capture her second straight silver in the event and give Team USA the one-two punch on the podium.

Danz (nee Danisewicz) led the race from the first 5 kilometer mark in the bike up through the third lap of the run, at which point Seely — a 2016 Paralympian in track and field as well as triathlon — passed her.

"We have elevated the bar so much in the last five years. We finished 10 minutes faster today than we did in Rio, which is pretty incredible for the sport," Danz said. "We're training partners at home in Colorado, so today felt like another day at the office. My goal was to tear up the bike course and create as much of a gap as I could on there, and that went really well."

U.S. Army veteran Melissa Stockwell, a mother of two competing in her third Paralympics, finished fifth in 1:21:25 after taking bronze in 2016. Earlier in the week, Stockwell was the Opening Ceremony flagbearer for Team USA along with wheelchair rugby player Chuck Aoki. She crossed the Tokyo finish line with her arms up in jubilation, soaking in the moment just six weeks after her training was put on hold due to a bike crash that resulted in a broken back.

"It's a journey to get here, and sometimes the journey is the destination," Stockwell said, fighting back tears. "I'm so happy and honored to be here and proud of my teammates. I know my family back home is cheering like crazy, and I can feel it."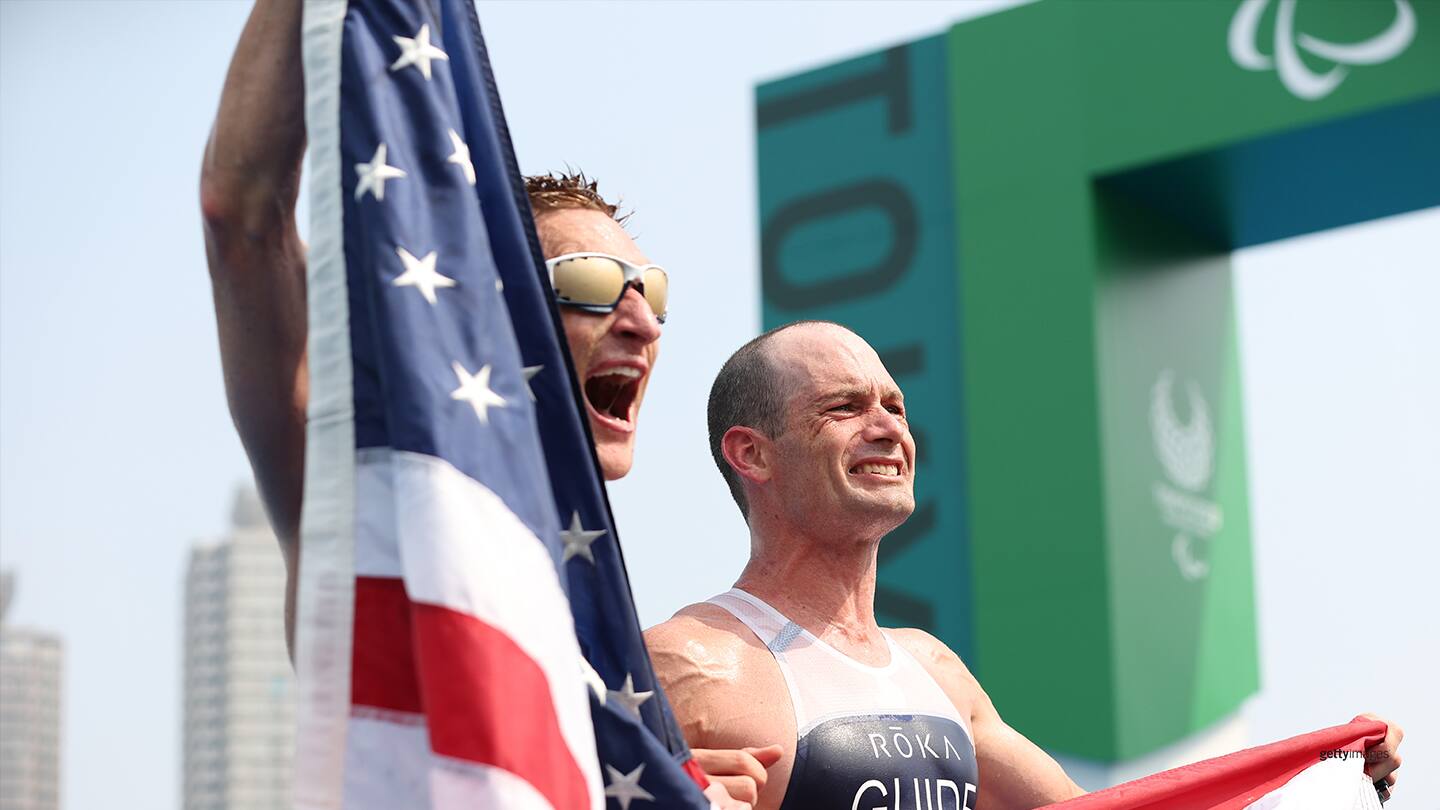 Brad Snyder (L) and guide Greg Billington (R) exit the swim stage during the men's PTVI triathlon at the Paralympic Games Tokyo 2020 on Aug. 28, 2021 in Tokyo.
Snyder, of Baltimore, led the men's PTVI race for its entirety. He exited the 750-meter swim more than a minute ahead of the next competitor before extending his lead in the 20K bike and then again in the 5K run to finish the course in 1:01:16.

"I said in pre-race interviews that I wanted to finish with a smile on my face. That would have been a challenge if I was going to finish in sixth, so it came across a lot more organically when I came in first," Snyder joked after his win.

Guided by Greg Billington, the 37-year-old Snyder came into the race ranked No. 8 in the world only three years after picking up the sport, and he has now won a gold medal at each of the last three Paralympic Games, and six in total.

But for Snyder, who was blinded in 2011 after stepping on an improvised explosive device while serving in the U.S. Navy in Afghanistan, said the last decade has been more about the experience than the gold medals.

"We watched 'Cool Runnings' yesterday, and John Candy said if you make your life about winning that's all you can do. My life's not about winning. It's about taking on new challenges like I did with triathlon," he remarked.

Kyle Coon, guided by 2004 Olympian Andy Potts, finished in fifth place in his first Paralympics in 1:03:00, only 40 seconds off the podium.

Elizabeth Baker, guided by Jillian Elliott, was the top American in the women's PTVI competition, taking eighth place in 1:14:45 after finishing fourth in 2016. Amy Dixon, a 2019 national champion guided by Kirsten Sass, was 12th in 1:22:06.

In the men's PTS4 race, Eric McElvenny, who was deployed three times as a U.S. Marine, was the top Team USA finisher in sixth place in his Paralympic debut in 1:06:28, followed by three-time world championship bronze medalist Jamie Brown in ninth place in 1:09:12.

A second day of triathlon is set for Sunday with races in the men's and women's PTWC and PTS5 classes.

Want to follow Team USA athletes during the Paralympic Games Tokyo 2020? Visit TeamUSA.org/Tokyo-2020-Paralympic-Games to view the medal table and results.
Stuart Lieberman has covered Paralympic sports for 10 years, including for the International Paralympic Committee at the London 2012, Sochi 2014 and PyeongChang 2018 Games. He is a freelance contributor to TeamUSA.org on behalf of
Red Line Editorial, Inc.