Meet The Six Team USA Athlete And Guide Pairs At The Paralympic Games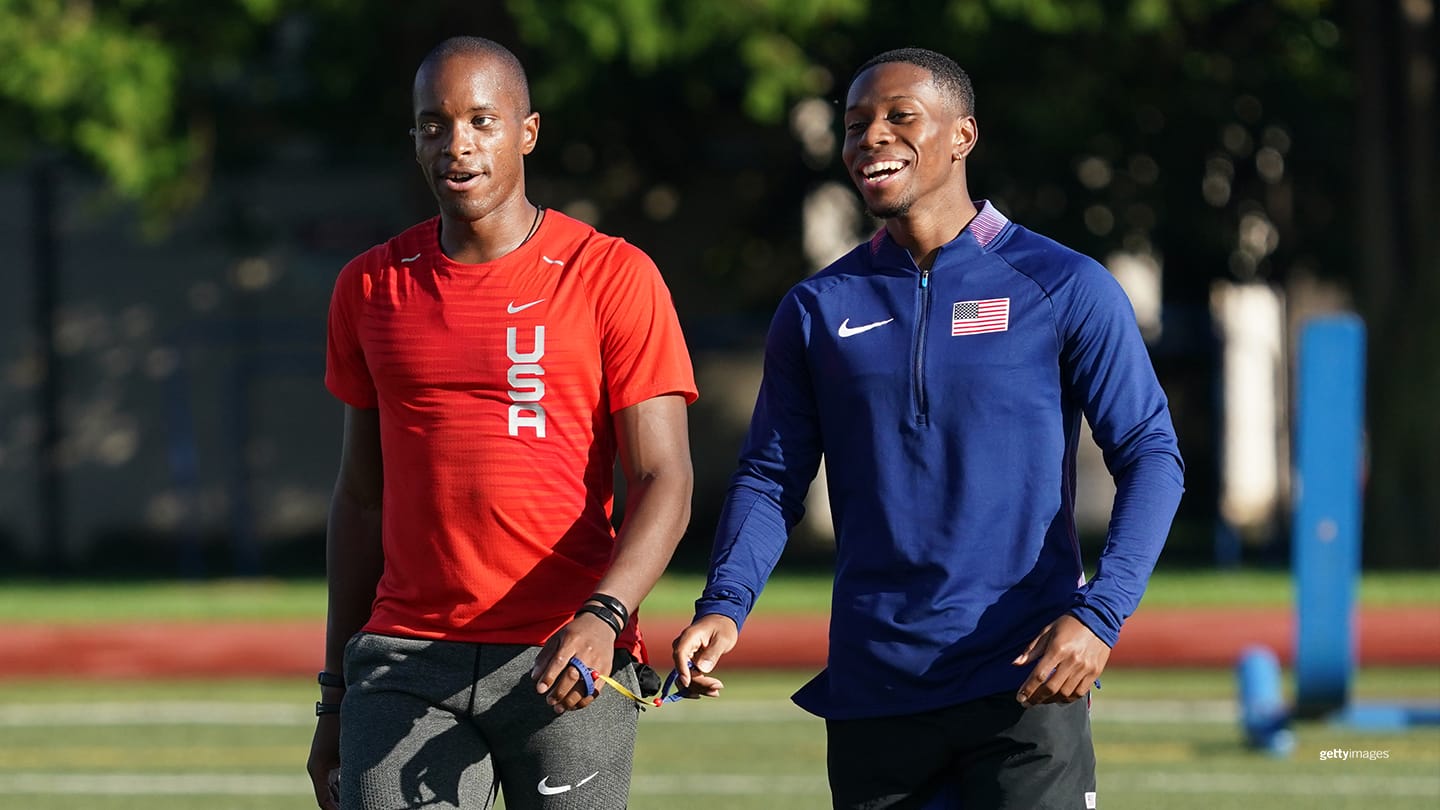 David Brown (L) and guide Moray Stewart during a practice session on Aug. 18, 2021 in Tokyo.
They don't call David Brown the world's fastest blind athlete for nothing.

The first totally blind athlete to crack the 11-second barrier in the 100-meter dash when he did so in 2014, Brown is now the reigning Paralympic gold medalist in the 100-meter and has no plans on slowing down in Tokyo. But Brown can't do it alone. Right there with him will be his sighted guide Moray Steward.

A runner and his or her guide share a special bond. Trust is paramount as Brown is flying full speed down the track unable to see where he is going. They also share a literal bond. Brown and Steward hold onto a small tether as they head down the track, but will be step for step regardless. The athlete is the one who must cross the finish line first, with the guide just behind.

Brown and Steward have had to build that trust bond rather quickly. Brown's guide from the Paralympic Games Rio 2016, Jerome Avery, will miss the Games due to injury. Enter Steward, a first-time guide at the Paralympic Games who competes for Mesa College in San Diego. So far, so good, as Brown and Steward won the T11 100-meter at the U.S. Paralympic Team Trials and are expected to be contenders for the top of the Paralympic podium as well.

Brown and Steward are one of six athlete and guide pairs who will be competing at the Paralympic Games Tokyo 2020, joining one other pair on the track and field team and four pairs competing in paratriathlon. Here's a closer look at these tandems and how they work together to bring home gold medals.
Lex Gillette with guide Wesley Williams running in the men's 100-meter T11 preliminaries at the Paralympic Games London 2012 on Sept. 7, 2012 in London.
Lex Gillette and guide Wes Williams, track and
field
Gillette is returning to the Paralympic Games for the fifth time, his fourth with Williams as his guide. The pair have had a lot of success, winning three long jump silver medals in a row heading into Tokyo. This could be the last chance for the duo to earn that elusive gold medal, as the 39-year-old Williams has said this may be his final Paralympic Games.
"Lex definitely has his sights on 2024," Williams said to TeamUSA.org in March. "I don't know if I can go for another four years. I would love to see him pursue that, but I think this may be my last go-around."
Unlike in sprinting — which Gillette formerly competed in at the Games — Williams doesn't run alongside Gillette. He stands near the sand pit, clapping and calling out to Gillette. He'll then ensure Gillette stays on a straight line before leaping into the sand.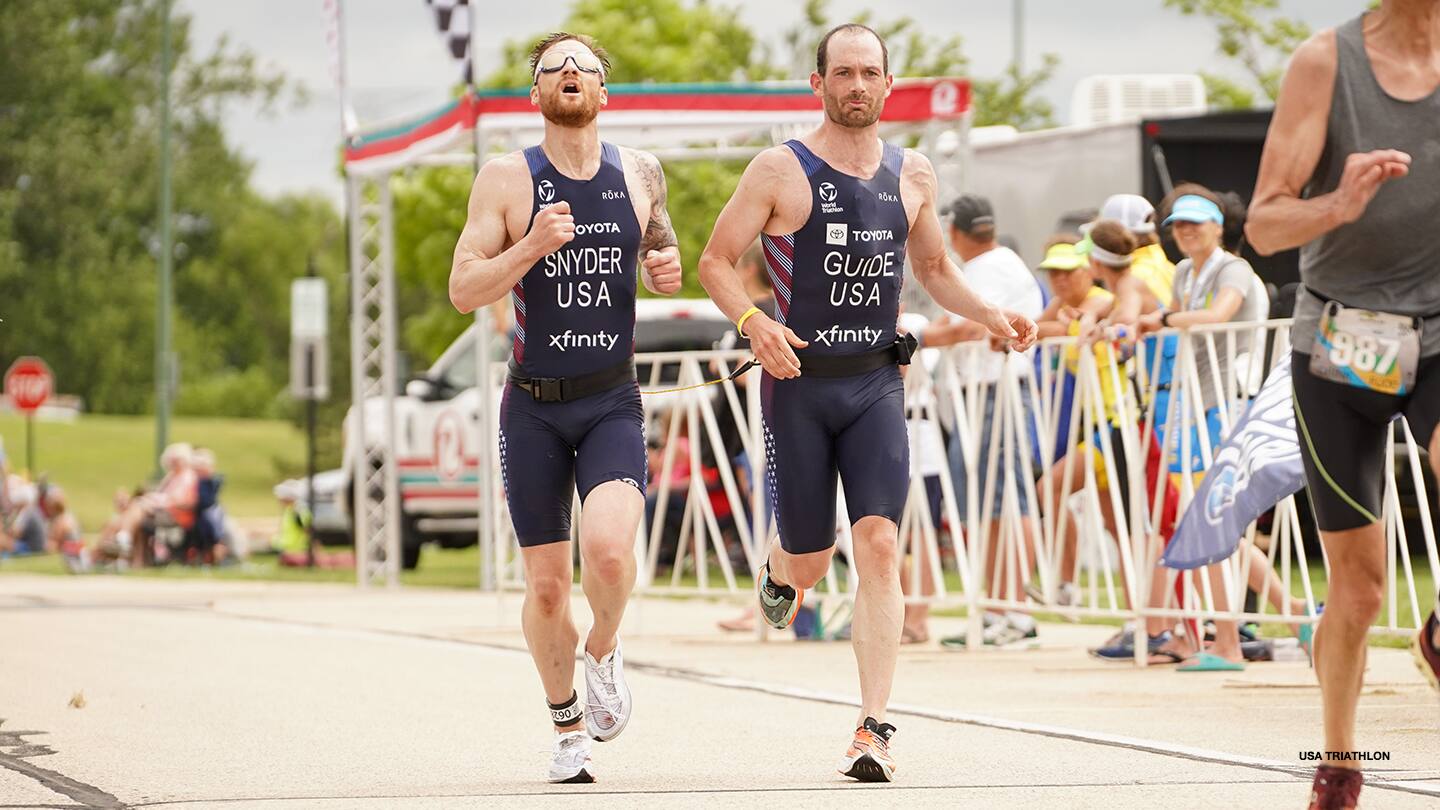 Brad Snyder (L) and guide Greg Billington (R) competing in a paratriathlon event.
Brad Snyder and guide Greg Billington,
paratriathlon
Brad Snyder is used to using guides at the Paralympic Games, but this will be his first time as a Paralympic triathlete. Snyder owns five gold swimming medals across two previous Paralympic Games. He made the switch to paratriathlon in 2018 and scored his first elite victory earlier this year. For his first Paralympic triathlon, Snyder will have the help of an Olympic triathlete in Billington, who competed in the 2016 Rio Olympic Games.
Just like in track and field, paratriathletes must have a guide who is also an elite athlete that can keep up. But paratriathlete guides have even more responsibilities, guiding and keeping their athlete on track in the swim and run while joining them on a tandem bike for the cycling portion.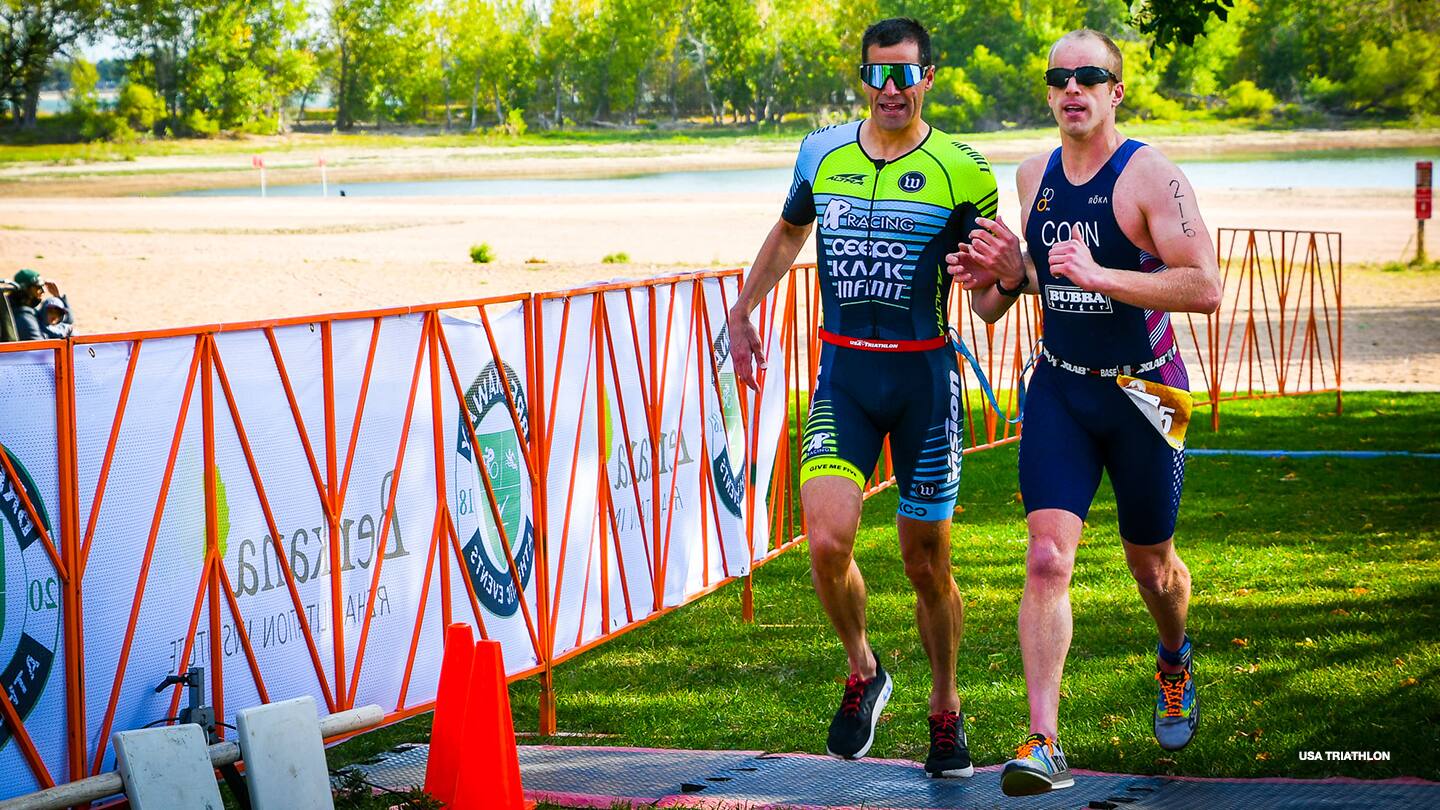 Guide Andy Potts (L) running with Kyle Coon (R) during competition.
Kyle Coon and guide Andy Potts,
paratriathlon
Snyder isn't the only one with an Olympian for a guide as Coon is teamed up with Potts, a 2004 Olympian and 2007 Pan American Games gold medalist. The duo has been working together since August 2020, and the 30-year-old Coon is still relatively new to the sport himself, having started in 2014. He earned his first international victory in May and has two World Triathlon Para Series medals on his resume.
"He's one of the best American triathletes of all-time. He's ridiculously strong, and it's like having a coach with me every single step of the way," Coon said of his partner.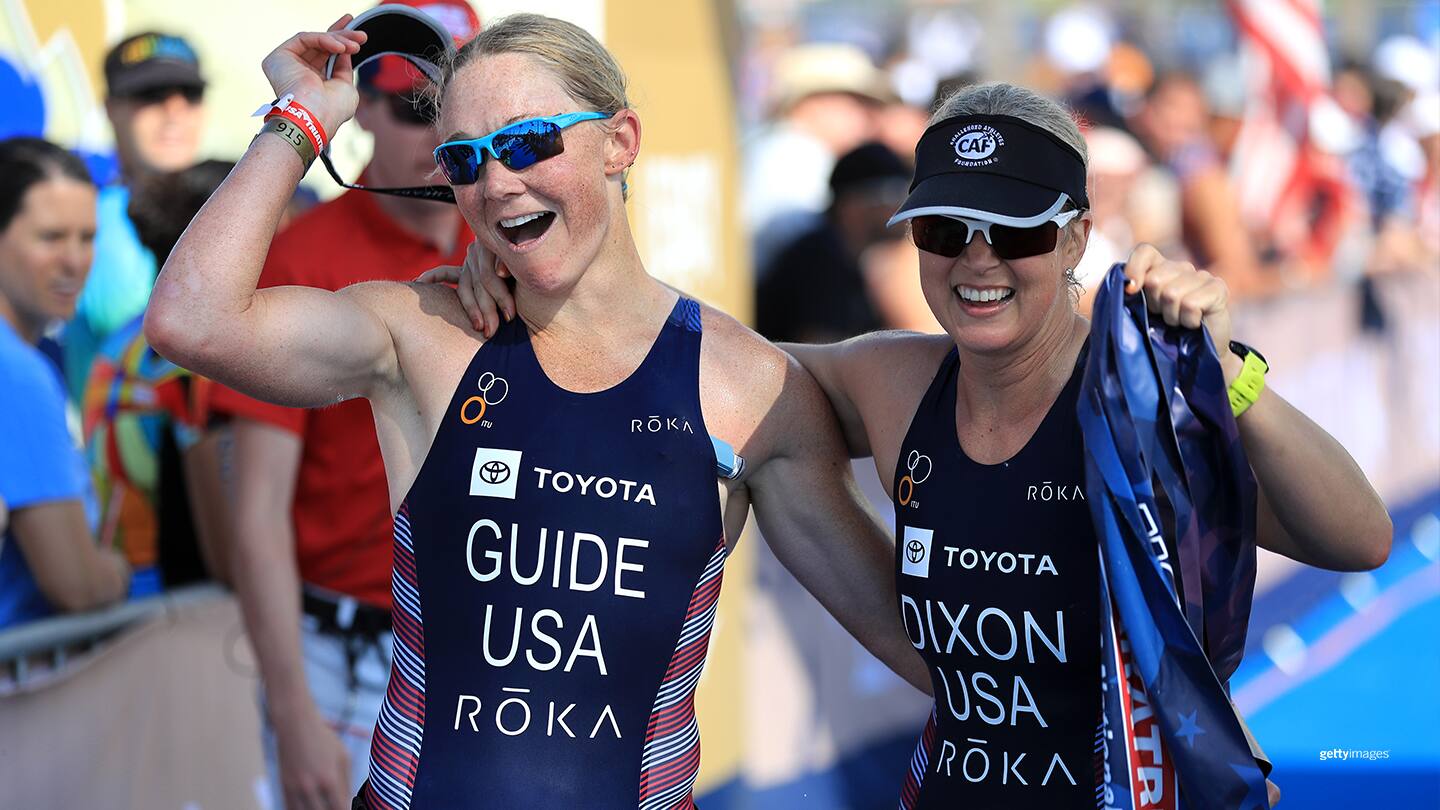 Amy Dixon and guide Kirsten Sass react after finishing first place in the women's PTVI division during the Toyota USA Paratriathlon National Championships on July 20, 2019 in Long Beach, California.
Amy Dixon and guide Kirsten Sass,
paratriathlon
Dixon is a nine-time World Paratriathlon Event medalist and 2019 national champion making her Paralympic debut at the age of 45. Dixon has competed internationally since 2014 and was previously a swimmer before losing her sight at the age of 22. Sass has been an elite triathlete as an amateur, winning age group titles in triathlon, duathlon and aquathon.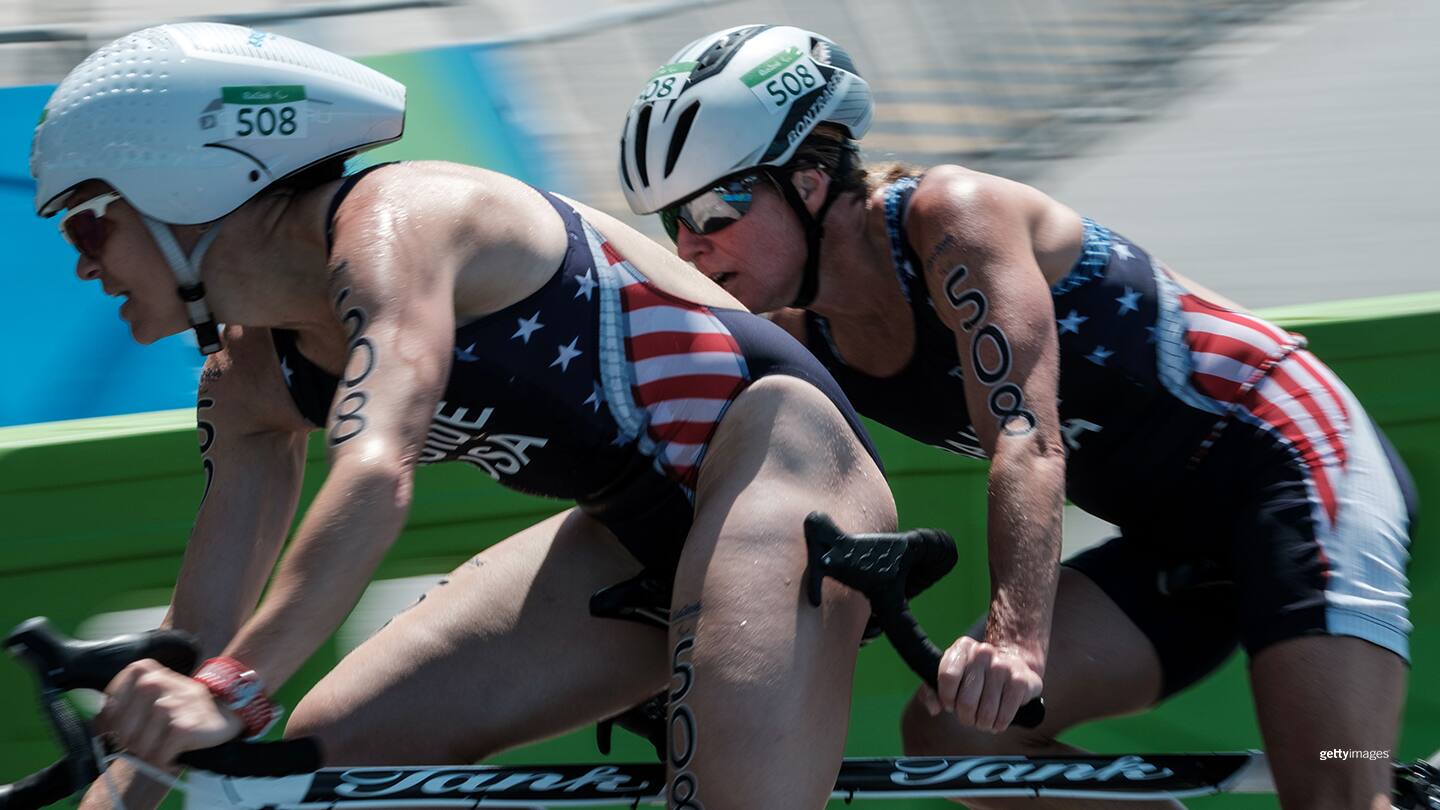 Elizabeth Baker (R) with her guide Jillian Elliot during the women's paratriathlon PT5 at the Paralympic Games Rio 2016 on Sept. 11, 2016 in Rio de Janeiro.
Elizabeth Baker and guide Jillian Elliott,
paratriathlon
Baker returns to the Paralympic Games for the second time, having finished just off the podium in fourth in Rio. She also finished fourth at the 2019 world championships and is a seven-time World Paratriathlon Event medalist. Elliott was formerly on the U.S. national team and has competed on the World Triathlon Series circuit.
Todd Kortemeier is a sportswriter, editor and children's book author from Minneapolis. He is a contributor to TeamUSA.org on behalf of
Red Line Editorial, Inc.