Shot Put Champ Chase Ealey Keeps Looking Forward, Throwing Far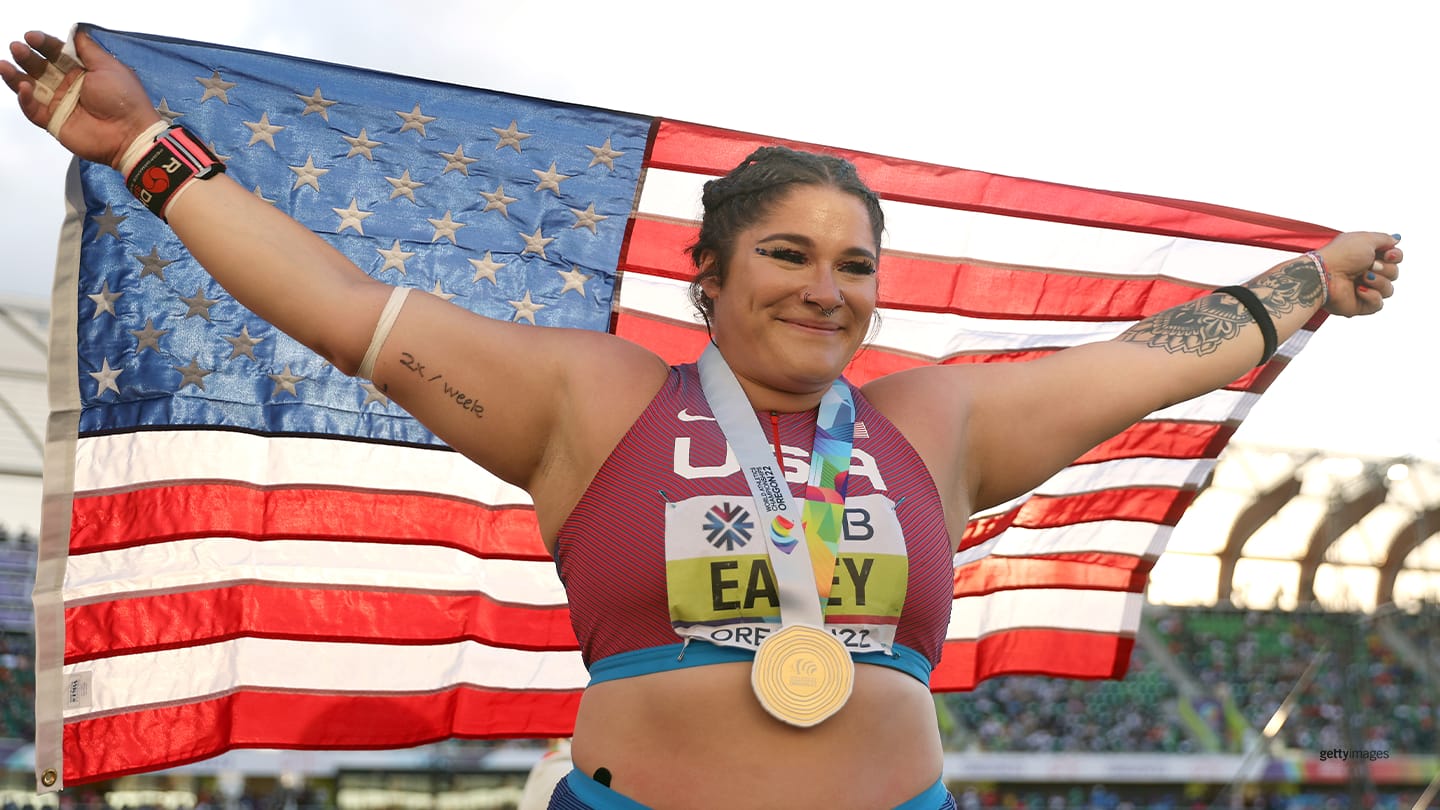 Chase Ealey celebrates after winning gold in the women's shot put final during the World Athletics Championships on July 16, 2022 in Eugene, Oregon.
As satisfying as it can be to throw far and win medals, there is an unspoken reality for women's shot putters: The world record – 22.63 meters, or 74 feet, 3 inches – set in 1987 by the Soviet Union's Natalya Lisovskaya, is effectively unreachable.
That's because athletes during that era were not subject to modern drug testing, and as a result 14 of the top 15 throwers of all time set their best marks between 1976 and 1990.
However, Chase Ealey has not allowed that to stop the chase.
Coming off a breakout 2022 season in which she won both the Diamond League title and the world championship, the 28-year-old Ealey already ranks No. 11 since 2000.
Now, she's aiming at the American record and the so-called 21st-century "clean world record."
"I've got a lot of upside to make, and I'm pretty excited about it," Ealey said. "So, I reckon there's some far throws in my future."
Larisa Peleshenko of Russia holds the event's modern record of 21.46 meters, which she set in 2000. Ealey's best throw of 20.51 meters, set at last year's U.S. Championships in Eugene, Oregon, is just under a meter shy of that.
Much closer, however, is Michelle Carter's American record of 20.63 meters, which she set at the Olympic Games Rio 2016. That throw also made Carter the first U.S. woman to win an Olympic gold medal in the event.
Ealey has already added her name alongside Carter's in that pantheon of historic U.S. shot putters.
Last summer, a few weeks after the national championships in Eugene, she was back at Hayward Field to throw 20.49 meters and become the first U.S. woman to win a world title in the event.
And she's already off to a fast start this season. The native of Los Alamos, New Mexico, returned to her home state in February and won a third U.S. indoor title at Albuquerque. Then, on May 20 she recorded the best throw in the world so far this outdoor season when she hit 20.06 meters at an outdoor event in Germany.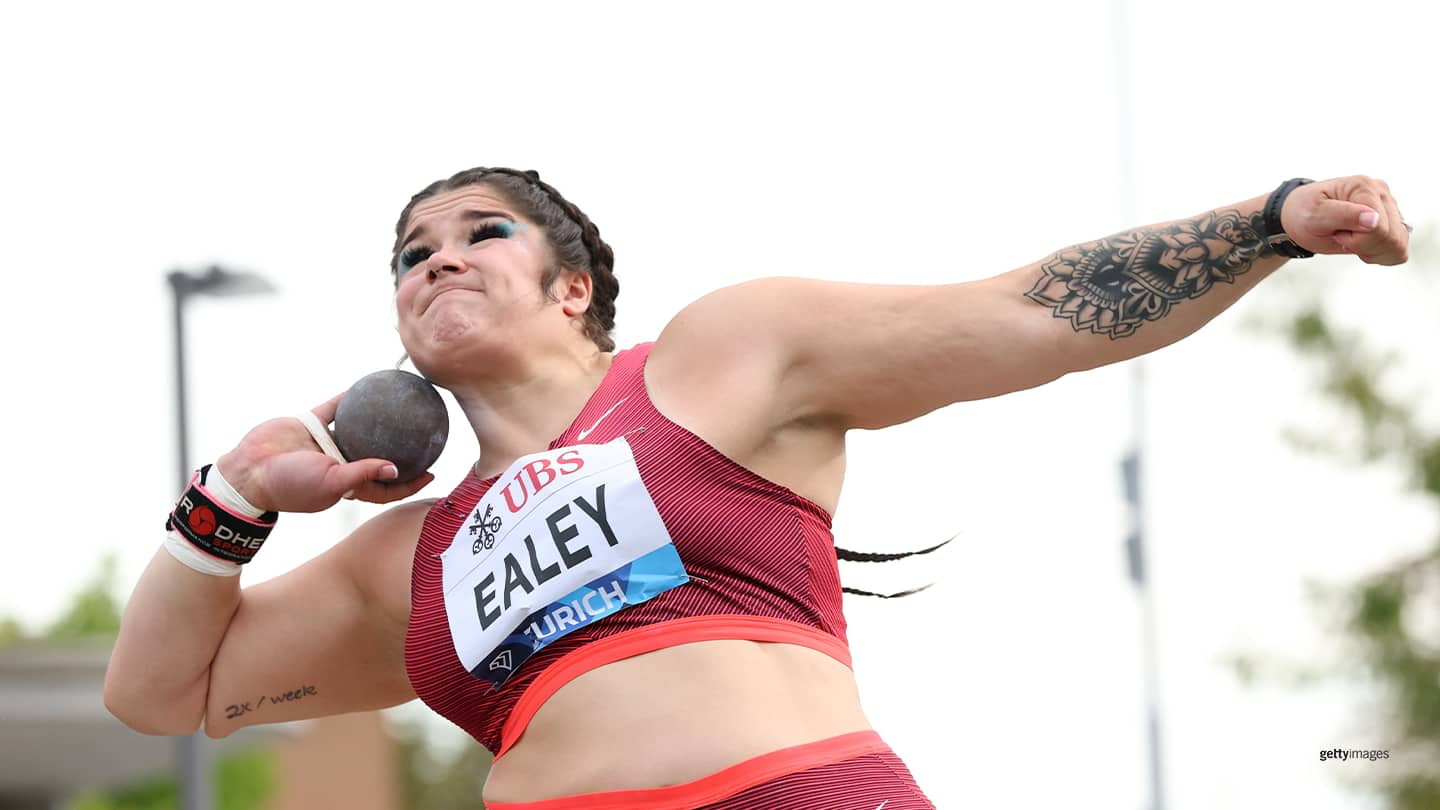 Chase Ealey competes in women's shot put during the 2022 Diamond League series event on Sept. 07, 2022 in Zurich.
After Carter, Ealey now owns the next four longest throws in U.S. history and eight of the top 13. She's eying more.
"I have said that before: that is one of the stepping stones I would like to achieve is get the 'clean world record' first," Ealey said. "So, like this season, I think it's not out of my range. I've seen some things in training and stuff that show me I have some far throws in there.
"But, yeah, that's definitely one of the stepping stones that I want. And Val knows that I'm coming for her as well."
Val is New Zealand thrower Valerie Adams, a two-time Olympic champion in 2008 and 2012 who has a best of 21.24 meters from 2011.
Growing up in Los Alamos, a small town just north of Santa Fe, Ealey was a multi-sport star, competing in basketball, volleyball, soccer and softball, in addition to track. And on the track, she was known as much for her sprinting as for her throwing.
As a high school junior at the 2011 New Mexico state meet, she won individual titles in the javelin, shot put and 100-meter dash, while also winning two relays, including anchoring the 4x100-meter team that won in state record time. She won all those events again in 2012.
After high school, Ealey had opportunities to pursue the heptathlon in college. Instead, she decided to focus on shot put, rising to become an All-American at Oklahoma State. By 2016 she rose to finish second at the NCAA Championships, then placed seventh at that year's U.S. Olympic Team Trials.
Eyeing an Olympic debut in Tokyo, Ealey's path hit a road bump when a case of COVID-19 left her in a weakened state at the 2021 U.S. Olympic Team trials. After finishing fifth and missing out on the Games, she relocated to York, England, to train under Paul Wilson. The coach is "very chill," Ealey said, and it has in turn allowed her to relax and throw farther.
The result was her breakout 2022 season that saw her end as the world champ.
With another world championships scheduled for this August in Budapest, and the Paris Games quickly approaching next summer, Ealey has kept her training base in York, making it easier to travel to European cities in the Diamond League.
"I don't have as much anxiety with certain things," Ealey said. "I think it's made me a better athlete because I can train better."
David Woods, a native of Urbana, Illinois, has been covering Olympic sports since 1972 and is the only four-time winner of the Jesse Abramson Award, presented by Track and Field Writers of America for journalism. He is a freelance contributor to TeamUSA.org on behalf of
Red Line Editorial, Inc.