After A Banner 2022 For Dual-Sport Star Lera Doederlein, A New Winter Season Beckons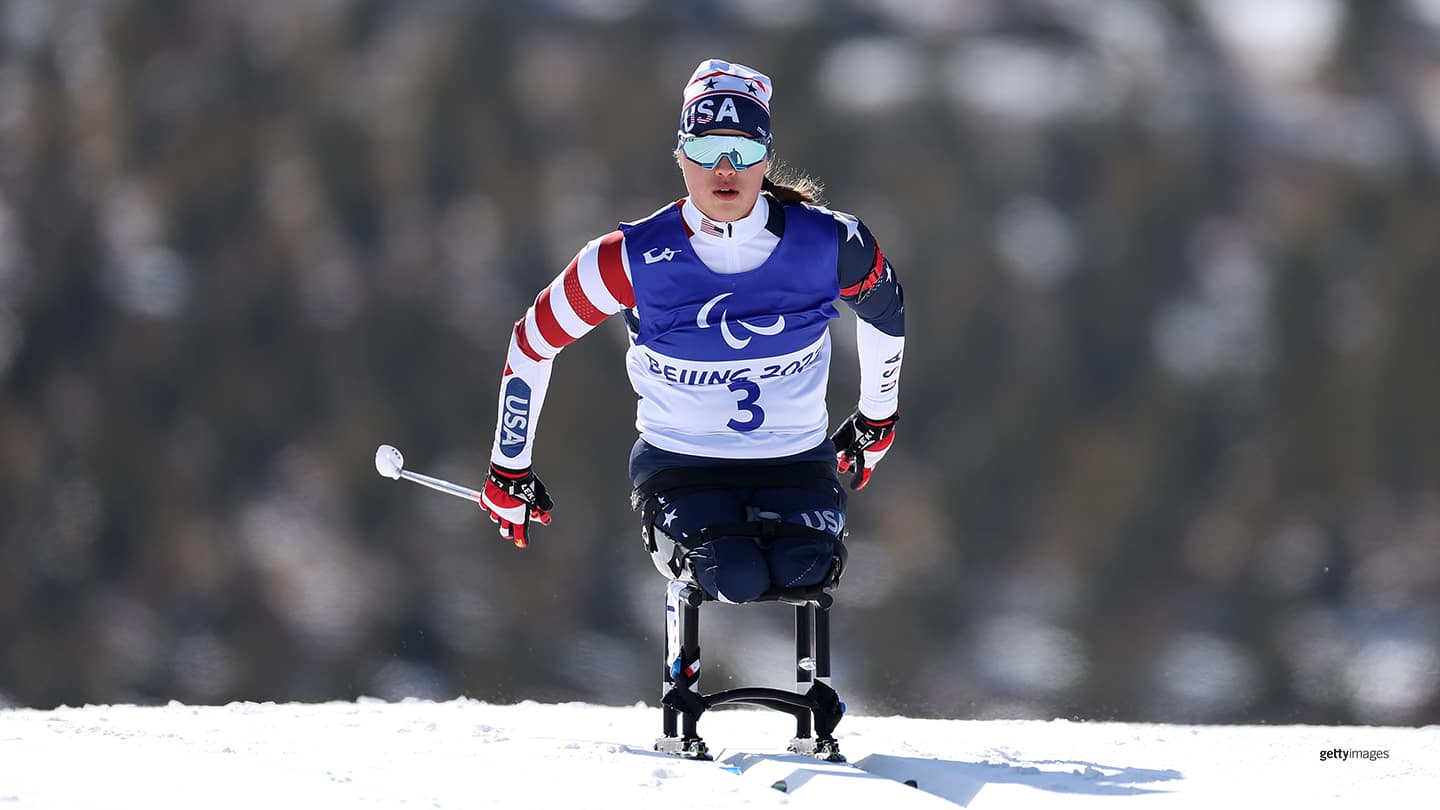 Lera Doederlein competes during the women's middle-distance sitting at the Paralympic Winter Games Beijing 2022 on March 8, 2022 in Zhangjiakou, China.
Lera Doederlein is anything but your typical teenager.
At age 19, Doederlein has already participated in the Paralympic Games and is competing at the highest levels of Nordic skiing and sled hockey. And she's just getting started.
"It's definitely been an exceptional learning curve for me to try to juggle … these sports," Doederlein, of Escondido, California, said. "When I first started playing hockey, I never expected that it would turn into anything more than that. To now be … a dual-sport athlete, it's come with a lot of lessons.
"It definitely takes a lot of time management and really just kind of planning ahead of it. With the coaching staff that I have, and the teammates that I have, it's not as hard as one might think."
Doederlein was born in Saratov, Russia, in 2003 with Arthrogryposis of the lower extremities. She came to the U.S. when she was adopted by David and Hiromi "Fami" Doederlein. At age 14, she had both legs amputated to provide better mobility. That's when she was introduced to sled hockey.
In August of this year, she skated with the U.S. national team in the inaugural Women's World Challenge, which took place in Green Bay, Wisconsin. The Americans defeated Canada 5-1 in the final to win the gold medal.
In addition to the U.S. and Canada, the Challenge also included Great Britain and Team World, a club comprised of players from around the globe.
"It was a pretty momentous experience, to say the least, for myself and my teammates and even brand-new players from across the world," Doederlein said. "It was so incredible to see players of all ages and levels just get together and finally have an international tournament where we're showing the world that women's sled hockey is meant to be here.
"For the U.S. team to come up on top and win gold was just the cherry on top of that experience, to see that all our hard work had paid off."
Doederlein also scored a goal in the tournament final.
"It was a pretty fun little wrap-around goal on the Canadian goalie," she recalled. "Couldn't have asked for more."
It was the continuation of a banner athletic year for Doederlein, who also qualified for and competed in Paralympic Winter Games Beijing 2022 in cross-country and biathlon.
"Going to my first Paralympics … at age 19 was definitely not exactly what I really expected for myself, especially being so fresh to skiing," said Doederlein, who recorded two top-10 finishes in Beijing, "and just kind of acclimate to that new environment of being around so many amazing athletes. It was truly an experience that I won't forget."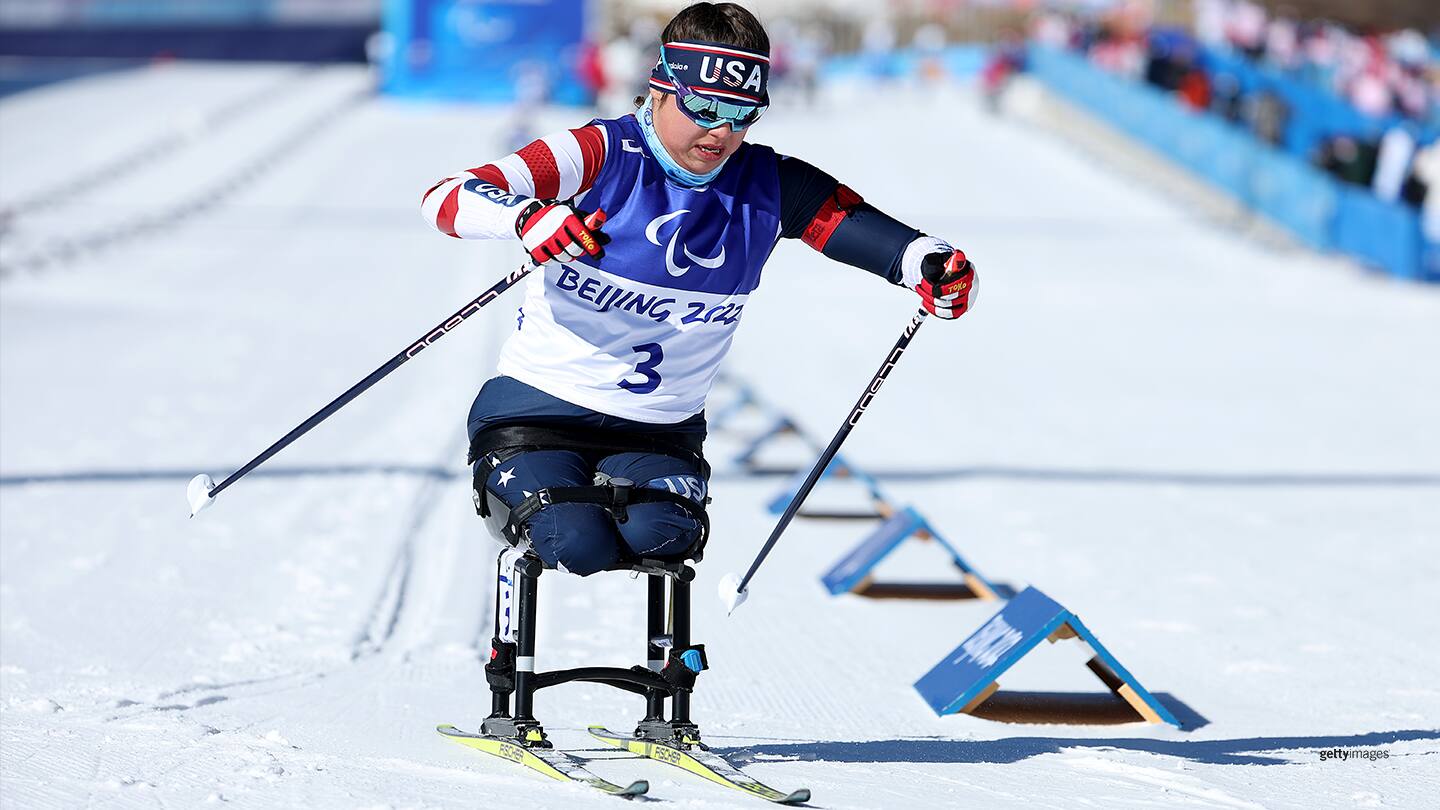 Lera Doederlein approaches the finish line during the women's sprint sitting at the Paralympic Winter Games Beijing 2022 on March 5, 2022 in Zhangjiakou, China.
The Paralympic experience wouldn't have been possible without her mentor, Oksana Masters, a 17-time Paralympic medalist and fellow sit skier who introduced Doederlein to the sport three years ago. In Beijing Masters became the most decorated U.S. Winter Paralympian of all time.
"Big picture, she's been much more than a mentor to me," Doederlein said. "She's been a sister and a great friend of mine. She's been a big inspiration of mine."
Another considerable influence on her has been big brother Isaac Doederlein, a star competitor in the Brazilian jiu-jitsu world.
"I look up to him in a lot of different ways and especially as an athlete," she said. "He definitely gives me a run for my money."
Amid this year's athletic accomplishments, Doederlein also managed to graduate from Classical Academy in her hometown of Escondido. She's now taking online courses at Pomona College.
"Adding school on top of that hasn't always been easy," she admitted. "I'm kind of able to manage my time well."
Currently, Doederlein is preparing for the Para Nordic ski season, which includes the U.S. sit ski nationals on Jan. 1-5 at Soldier Hollow in Utah, and a world cup on March 1-8 at the same location.
"I still have a lot to learn," she said. "Take it day by day, of course, and put in the work."
Some aspects of her transition from sled hockey to Nordic skiing were easier than others.
"Technique-wise, there's a very similar motion that goes along with skiing and hockey," Doederlein said. "Of course, the center of stability and gravity that you hold in a sled is a lot lower. It can be easier and yet harder because you're on these two very thinly placed blades. In skiing, you have a lot more stability."
As Doederlein pointed out, however, sled hockey is a sprint sport, while Nordic skiing requires endurance.
"That was probably the biggest challenge for me," she said. "It's definitely been a learning curve for me going from being a very new athlete in sled hockey already and having pretty much zero endurance experience. It was hard to learn, and it still is, I think. Especially because I'm a younger athlete, building that endurance up is just going to take time. I don't doubt I'll get there at some point."
While she works on her stamina in that sport, she has a lofty goal in women's sled hockey. While the sport is officially open to both genders in the Paralympics, it's effectively been a men's tournament since debuting in 1994. Doederlein would like to get a separate women's Paralympic tournament.
"It's just us trying to push the envelope on (awareness) … so that other teams can be (established) around the world," she said. "Hopefully, by 2030 … we have it in the Paralympics, and we get to go alongside our male teammates on the men's national team and go compete for gold.
"No matter what, that's my goal is to get it into the Games. So, whether it's me or the next generation, somebody is going to take home the medal around their neck. I'm honored to be a part of it and continue to help it grow, hopefully."
Bob Reinert spent 17 years writing sports for The Boston Globe. He also served as a sports information director at Saint Anselm College and Phillips Exeter Academy. He is a contributor to TeamUSA.org on behalf of
Red Line Editorial, Inc.