Kaysha Love Shares Details About Her New Role In The Bobsled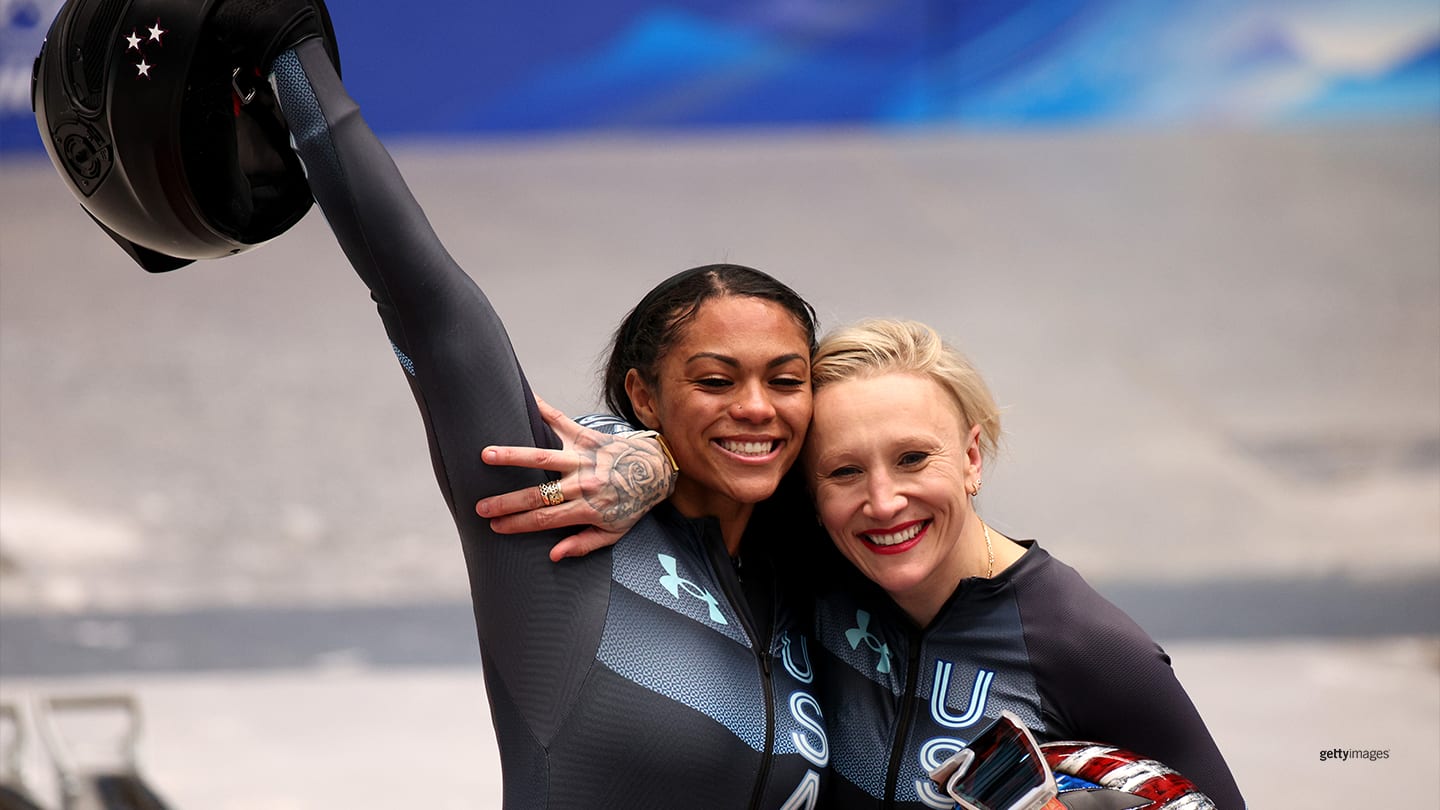 Kaysha Love (left) celebrates with Kaillie Humphries (right) during the two-woman bobsled event of the Olympic Winter Games Beijing 2022 on Feb. 19, 2022 in Yanqing, China.
Kaysha Love might have only started bobsled at the end of 2020, but after an impressive first season with Team USA, the brakewoman has proven she is here to stay.
The 25-year-old began the sport after transitioning from track and field, where she was a collegiate sprinter at the University of Nevada-Las Vegas.
Starting in the back of the sled as a way to learn the ins and outs, she earned a spot on the national team after having competed in only six total races. The Olympic Winter Games Beijing 2022 saw her and her teammate, Kaillie Humphries, taking seventh overall in the 2-woman event. During those Games, Love decided she wanted to try moving from the back of the sled to the front.
"My coach mentioned that there was a driver school happening a couple of days after we get back from the Games," Love remembered. Upon returning from Beijing, the Herriman, Utah native headed to Lake Placid, New York, to experience the bobsled from the driver's seat.
"It was the greatest experience," she said.
As a self-described control freak and perfectionist, she loved having total control over her destiny. "In the backseat, it's more of a trust factor."
Going down that track in the Adirondacks — a track she had done many times before — was a different experience from the front.
"In the back of the sled, you don't see anything, so to actually see everything coming at you was an entirely different perspective," said Love. "And it was one that I really enjoyed."
At the beginning of her second season, Love was dedicated to being a pilot, trying to earn her qualification from the International Bobsled and Skeleton Federation (IBSF). The requirement is called 5, 3, 2, she explained. "You need five races on three different tracks within two years to qualify and race on a world cup circuit," Love said. That is her goal for the coming months, but one she will balance with her brakeman duties.
"I'm already three races in," she said about her progress as a driver, "and I'm hoping in March, I will be able to compete as a pilot to be able to fulfill that 5, 3, 2."
Until then, she continues to dominate from the back of the sled, getting named to the U.S. national team as a brakewoman for the second season in a row. "I've been doing both brakeman and pilot duties, bouncing back and forth between the front seat and the back," she admitted.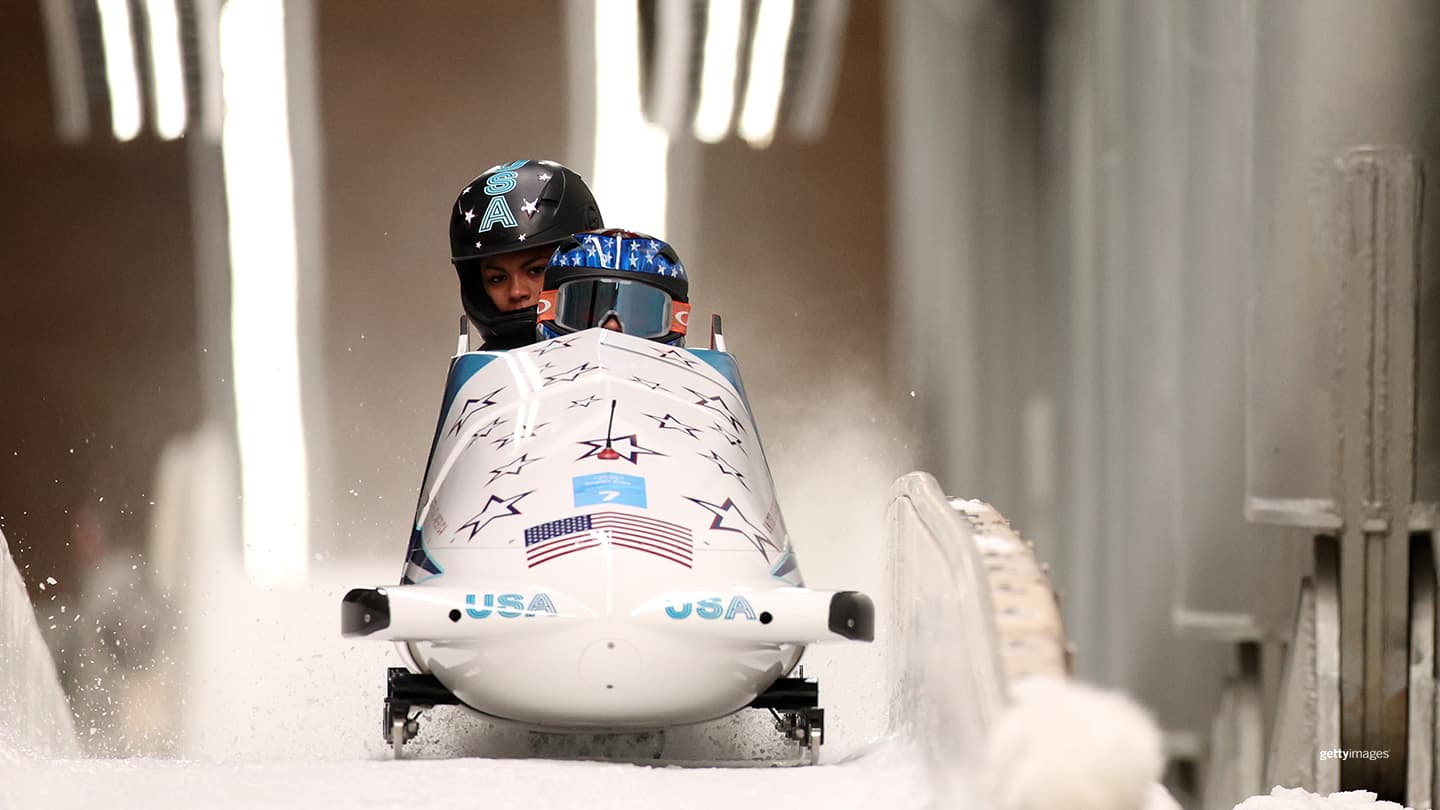 Kaillie Humphries (front) and Kaysha Love (back) slide in the two-woman bobsled heat 3 during the Olympic Winter Games Beijing 2022 on Feb. 19, 2022 in Yanqing, China.
The positions are a lot different than one might think.
"With the backseat, it's more, how fit can I get? How fast and strong can I be?" Love said. "Whereas the front seat is more mental fatigue and mental blocks and courage."
She thinks it would surprise people to know that drivers don't get to take a lot of practice runs. And with tracks not typically open seven days a week, their practice runs during a given week are limited.
"I think the sports world believes that the way to perfection is numbers, and practice makes perfect," said Love. But, "it's very much a throw yourself off the top and hope you know what to do."
So far, that strategy seems to be working for her.
"I've been pleasantly surprised and happy with the results I've been putting up in the front seat," Love said.
At the beginning of the year, she competed as a pilot in the junior world championships and took fifth behind a German team on a German track. "For my first international bobsled competition [as a pilot], it was a huge accomplishment and one that I'm proud of," she said. "That result showed potential to be a pilot at the next Games."
Should she fall short, her ultimate goal is to stay on the national team this season and return to another Games in whatever role. Her top finish at the Lake Placid World Cup in January in the two-woman bobsled — her and Humphries' first gold of the season — "showed me that I still have the potential to perform at the back of a sled, which can hopefully keep me in the lineup for the next Olympics in 2026."
For now, she continues to be a student of the sport, doing as much prep work as her schedule allows.
When not in the sled, she spends her time "studying track videos and doing track walks where you can walk inside the track to see how some curves are set up and how long the track is," Love shared. "I also rely heavily on visualization — visualizing the runs and what I expect out of myself and the sled."
Also taking up a large chunk of her time is the behind-the-scenes stuff she didn't anticipate.
"People don't realize that we spend around five hours sanding and prepping and polishing our sleds," she revealed. "Most winter athletes have mechanics who work on their equipment, but we don't. We are our own mechanics and athletes all in one. Whenever we're not sliding, we're doing something on the back end to help prepare for sliding."
While that goes for all bobsled athletes, one thing that will change when she moves to driver is she will no longer be competing with her teammate, Humphries — but rather against her.
"Kaillie has been an awesome mentor," Love exclaimed, "even in this transition of me becoming a pilot. Once I become a pilot, I become her competition at that point. It's no longer her and I on the same team working together. But she's been awesome trying to help me in this transition."
Humphries recently shared a journey she was on — opening up to TeamUSA.org about her desire to become a mom and her struggles with IVF.
For now, Love and Humphries continue to make a great team, placing third at the IBSF World Championships in St. Moritz, Switzerland this past weekend.
Lisa Costantini has covered Olympic and Paralympic sports for more than a decade, including for the International Olympic Committee. She is a freelance writer who has contributed to TeamUSA.org since 2011.