Bobsledder Kaillie Humphries Wins Gold And Silver Medals At Lake Placid World Cup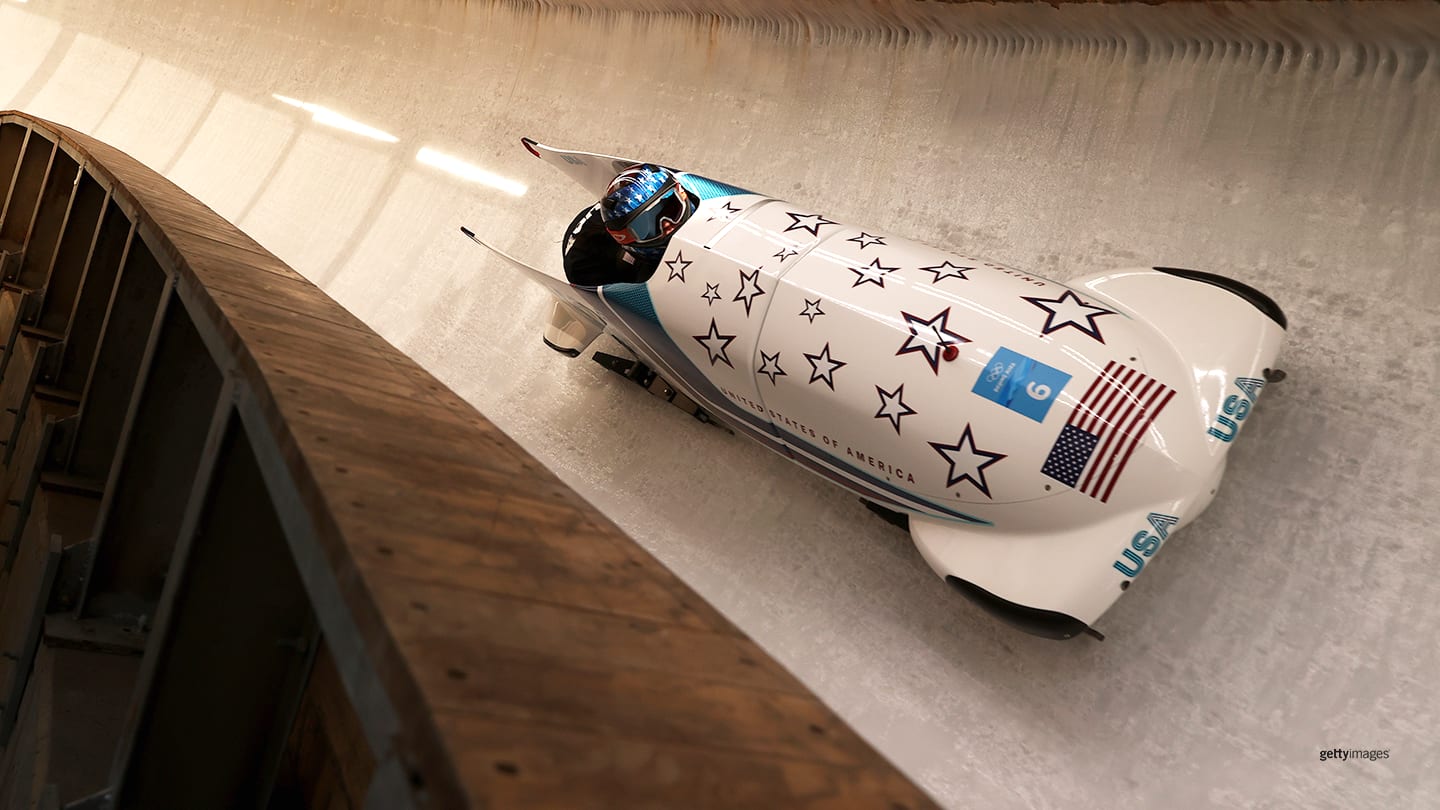 Kaillie Humphries slides in a two-woman bobsled training heat during the Olympic Winter Games Beijing 2022 on Feb. 16, 2022 in Yanqing, China.
Three-time Olympic gold medalist Kaillie Humphries has reached the podium in every bobsled world cup stop this season. However, until Sunday she had yet to earn a gold medal in two-woman bobsled.
Humphries checked that off her to-do list on home ice at Lake Placid, New York, capping a strong weekend for the USA Bobsled and Skeleton team. Humphries also won a silver medal Saturday in monobob, and Olympian Kelly Curtis reached her first career world cup podium in women's skeleton Friday.
Humphries, a four-time Olympian with Canada and now the U.S., and brakewoman Kaysha Love were the fastest in both runs of the two-woman sled Sunday, totaling 1 minute, 54.93. They finished .12 seconds faster than Laura Nolte and Lena Neunecker of Germany. Fellow German Kim Kalicki, who had won the first two two-woman world cups this year, and Anabel Galander ran third .59 seconds back.
Humphries had bronze medals in the season's first two two-woman events and is ranked second in the world cup standings.
Humphries also extended her medal streak in monobob, vying for the gold medal but ultimately winning silver. Humphries, the defending Olympic champ in the event, had the fastest time in her second run, but it wasn't enough to catch Nolte, who won in a time of 2:01.31. Humphries, the world cup points leader in monobob, was .11 seconds back, and Lisa Buckwitz of Germany was third, .61 seconds back.
Friday in skeleton, Curtis finished third for her first world cup medal and added to an impressive start by U.S. women. Curtis, a 33-year-old from Princeton, New Jersey, who made her Olympic debut last winter, went from eighth after her first run to medal position thanks to the second-fastest second run of 55.60 seconds. Her total time of 1:51.39 was .33 seconds off the pace of winner Tina Hermann of Germany and just .02 seconds back of silver medalist Susanne Kreher of Germany.
This is the first season since 2015-16 that U.S. women have earned multiple skeleton world cup medals in a single campaign. Annie O'Shea won both medals that season, which included the most recent gold medal for a U.S. woman. In this season's opening event in Whistler, British Columbia, Hallie Clarke became the first U.S. woman to win a skeleton world cup medal since the 2019-20 season.
The next bobsled and skeleton world cup is in Winterberg, Germany, Jan. 6-8, 2023.
Todd Kortemeier is a sportswriter, editor and children's book author from Minneapolis. He is a contributor to TeamUSA.org on behalf of
Red Line Editorial, Inc.