Aaron Pike On What Being a Student-Athlete Meant To Him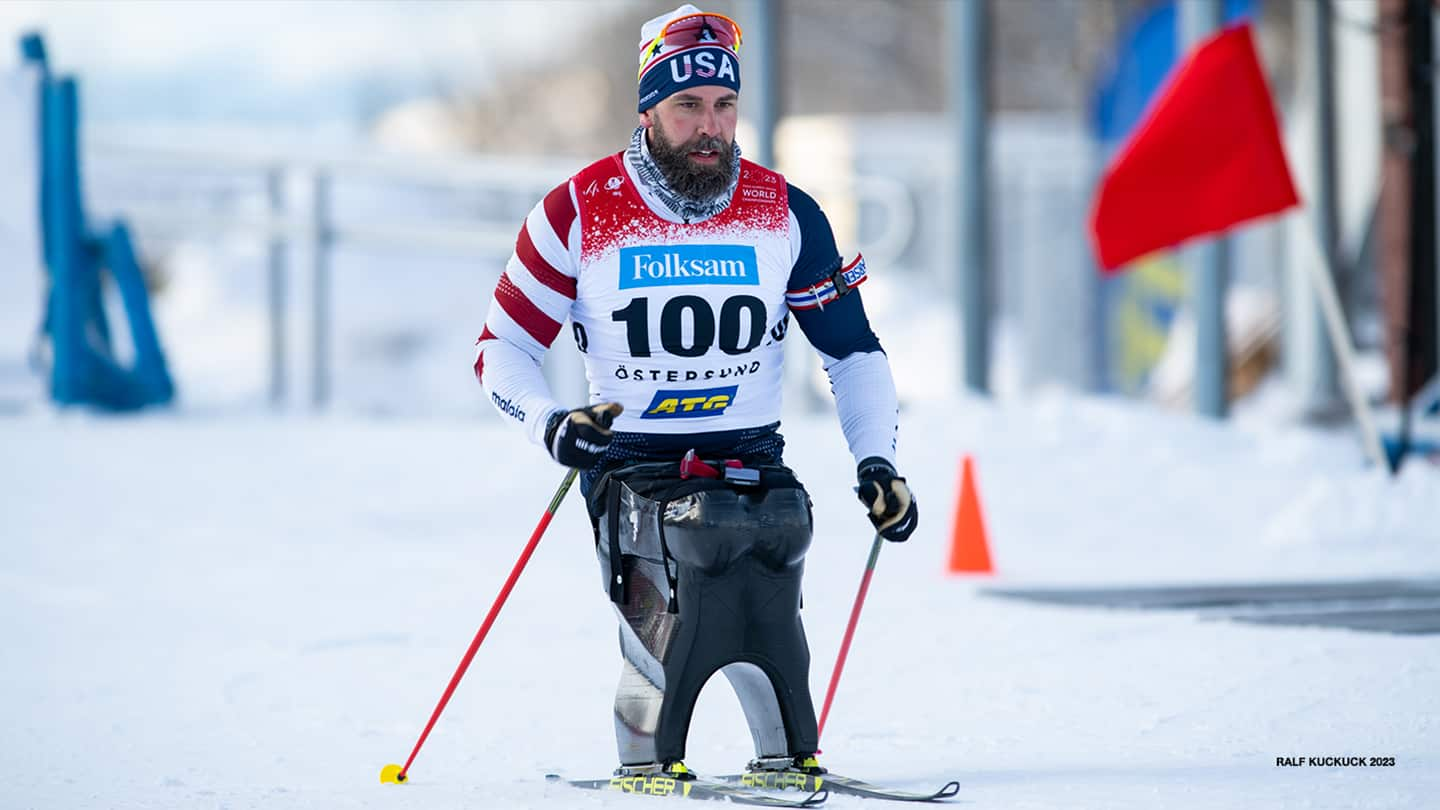 Aaron Pike skis in the 2023 World Para Nordic Skiing Championships on Jan. 21, 2023 in Östersund, Sweden.
In early March, the U.S. Para Nordic Ski Team competed in its final world cup event of the season at Soldier Hollow in Midway, Utah. Six-time Paralympian and two-sport athlete Aaron Pike captured four medals during the season, including golds in the long-distance biathlon and mixed relay events. The 2022-23 Para Nordic ski season was a meteoric triumph for Pike, who was fully introduced to adaptive sports at the University of Illinois. The Minnesota native began his adaptive sports career in wheelchair basketball before focusing on track & field and Para Nordic skiing. While at Soldier Hollow, Team USA caught up with Pike to talk about what being a student athlete meant to him.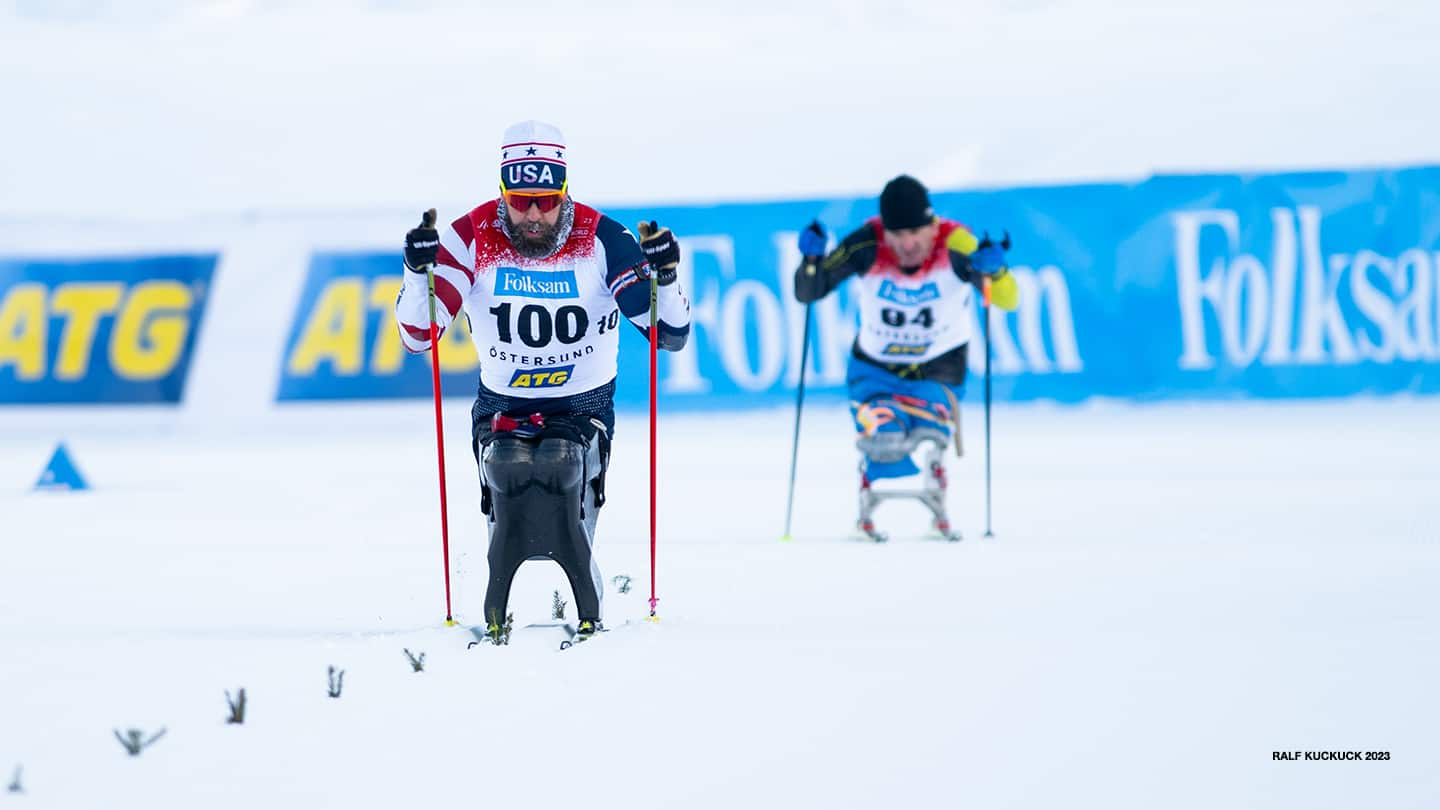 Aaron Pike skis in the 2023 World Para Nordic Skiing Championships on Jan. 21, 2023 in Östersund, Sweden.
Q: Did you always want to be a collegiate athlete?
A: Yeah, for sure. I've always wanted to reach the highest level I can in sports. For me, that was the Paralympics for track and basketball. I think going through the collegiate program is the best way to get there. I didn't know anything about it though, for a long time.
I was in my first two years of high school in Virginia, and I was just playing on some club team. I didn't know anything about college sports, or adaptive sports at colleges at all. Then I went to Germany – my dad was stationed there – and I didn't play any sports. At the time, I had no idea that Europe had all these wheelchair basketball leagues. I just wasn't connected that way, so I was just working out a lot. During my first summer there, I'd just go to the gym all the time because it was a new place. I didn't know anybody. So I just lived at the gym, but, I wasn't training for anything specific, I just spent a lot of time working out.
I came back and started playing with that club team again when I was in Virginia, and I ran into a coach. He just saw a kid that was really fast, really strong, athletic, but had no idea what he was doing on the basketball court – in a wheelchair basketball sense. He just saw a lot of raw talent. So he shot a couple of coaches some emails. I talked to a couple of them and went to some summer camps in Illinois and just ended up going there. That was the biggest change.
As soon as that happened, then it was full-on. I had a focus. I had a coach (Adam Bleakley) that had just a plethora of knowledge of wheelchair basketball. He was coaching a gold-medal team for Canada, had been a wheelchair racing coach, and was a Paralympian himself. He would later become the Paralympic coach of the year. He just knew everything there for that sport. So I was just soaking it up. If it wasn't for that move (to college) – none of this would have happened – that was the springboard for sure.
Q: So you attended the University of Illinois, which produces some incredible USA Paralympians. What was it like being around all those athletes during that time?
A: It was by far the best time of my life. I was so busy, and there was so much going on. For basketball practice, I was waking up at 5:00 in the morning. You basically had to be in your chair, ready to go at 6:30 in the morning. Then it was classes, and then there was usually a track practice or a lift sometime in the afternoon. So, it was the busiest time of my life, but it was just the best time of my life.
After my injury, that was easily the best time of my life. I was able to finally just go full-in, and sports were a part of my life every single day. All the resources around me, all these people that (I) trained with – the full basketball team, the full track team, everyone was pushing you. It was great. I wouldn't change anything.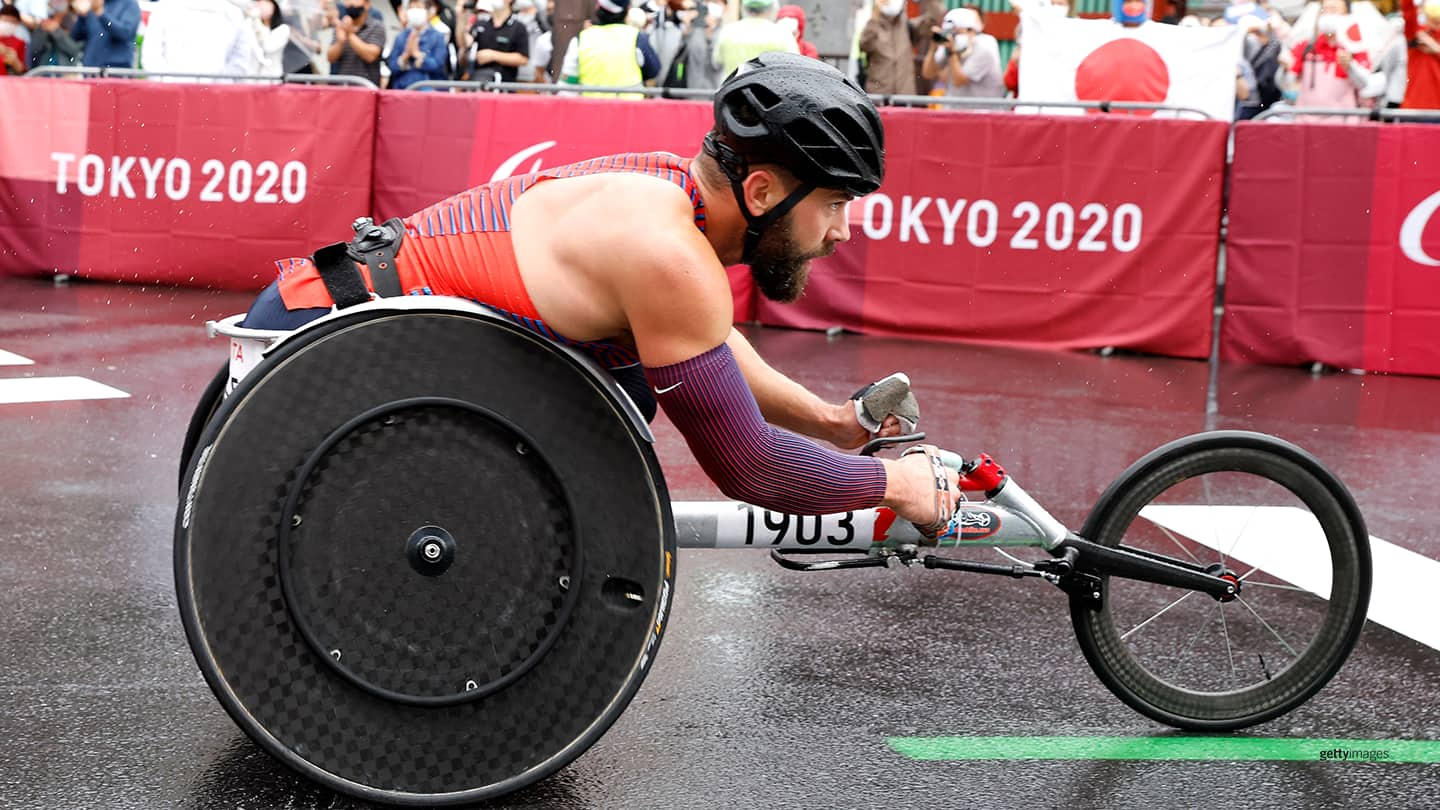 Aaron Pike competes in the men's marathon T54 during the Paralympic Games Tokyo 2020 on Sept. 5, 2021 in Tokyo.
Q: You were there while Team USA Paralympian and coach Adam Bleakley was there. What was that relationship like for you?
A: Yeah, he was great. It was unique. It was awesome because he came from the sport and he's also in a chair. He wheelchair-raced for a long part of his career. He raced under Marty Morris, who is also well-known in the wheelchair-track world. So, (Bleakley) came from an amazing coach.
He's like a friend. He's also just like a teammate, right? He was racing alongside us. You'd go to the Boston Marathon, and he's racing with you. You go to some of these track meets, he's racing with you. He went to the first Paralympic Games that I went to in London, and he was also competing in the marathon. So he's everything. Awesome guy. He brought me from knowing nothing about the sport to being elite. He's super easy to talk to and never pushes you in any direction. He lets you decide your path.
Q: While at college at the University of Illinois, you did basketball, you did track and field. Now, you're in Para Nordic. How did your collegiate experience set you up for success as a Paralympian?
A: So I made my first Paralympics before I even started doing Para Nordic. But, training at the University of Illinois – going through their strength program and the wheelchair basketball program, and track – all the fitness and stuff, it was a much easier transition for me than for other people who are just trying Nordic for the first time, I think.
For me, it was about just learning how to ski and getting a sit-ski that fit me. Once I had those tools, my trajectory went up pretty quickly. Those are definitely strengths of mine. I know for a lot of people, Nordic is their first sport and they haven't had a long background in training. I had been doing that (training) for probably five years with wheelchair basketball and track before I started Nordic, so I came in really fit.
Q: Do you have a favorite memory from your collegiate career?
A: The time with the wheelchair basketball team, winning a couple of national titles.
With that team, we went to the national championships every single year I was there. They were the hardest practices that I've ever had in my life with the likes of Brian Bell, who's on the national team right now. Steve Serio was also there. He's the captain of the national team. Then there are people we're playing against that are also national team members. And they still are. We had one of the best teams that ever went through that program. So I think that was probably my favorite part. Just winning. Winning as a team is something totally different than solo efforts. And that was definitely my favorite part. Winning as a whole, total, team.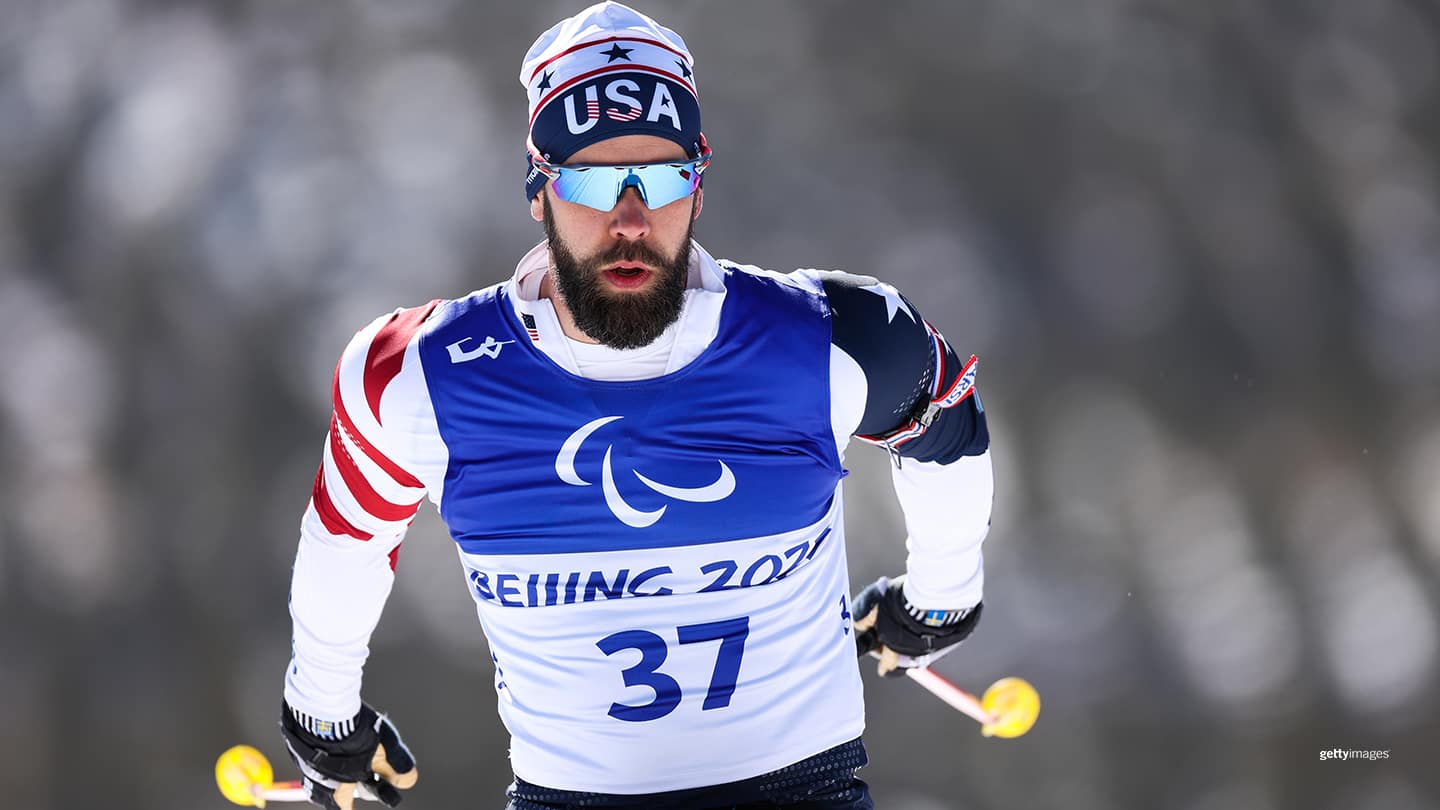 Aaron Pike competes in the Para biathlon men's middle-distance sitting during the Paralympic Winter Games Beijing 2022 on March 08, 2022 in Zhangjiakou, China.
Q: What is it like now, seeing the expansion of adaptive sports in the collegiate space for you?
A: Yeah, it's wild. I feel like I'm not even keeping up. It seems like there's a new school that has a new basketball team every time I turn around. I don't think I could even name every school right now that has a wheelchair basketball program. I'd probably leave one out because there are more of them now than when I was there. Like, I think the University of Alabama had just come up when I was in my last year or two of playing basketball, so they were super new. There have been more since then, so it's cool to see that.
I'd like to see the track continue to grow. I think the University of Illinois – that's the place to go if you want to make the team, and the University of Arizona is there as well. But there isn't much else. So, it would be cool to see a couple of other schools get some programs for wheelchair track. But the basketball programs have just continued to grow. And it's really cool to see.
Q: Lastly, let me ask you about a rumor. Adam Bleakley allegedly said that you can throw a football over 50 yards from sitting. Can you?
A: (Laughs) I can definitely throw. I don't know if I can throw 50 yards, but I can hock a football pretty far. For basketball, if we had two seconds left and we were on the other side of the court, I was the one throwing the inbounds pass because I could easily throw the basketball from out of bounds on one side, all the way to under the basket on the other side of the court. So, I've always had an arm. Yeah, I've always wanted to try javelin or discus because I think I could easily fit into that role pretty quickly (laughs).
Brendan Rourke is a Digital Media Assistant for the USOPC. Previously, he spent three years writing for the NBA's Indiana Pacers, and has a bachelor's degree from UCF and a master's degree from IUPUI's Sports Capital Journalism Program.