News
Trevon Jenifer
Steve Serio
U.S. Men Outlast Turkey To Move On To Semifinals In Wheelchair Hoops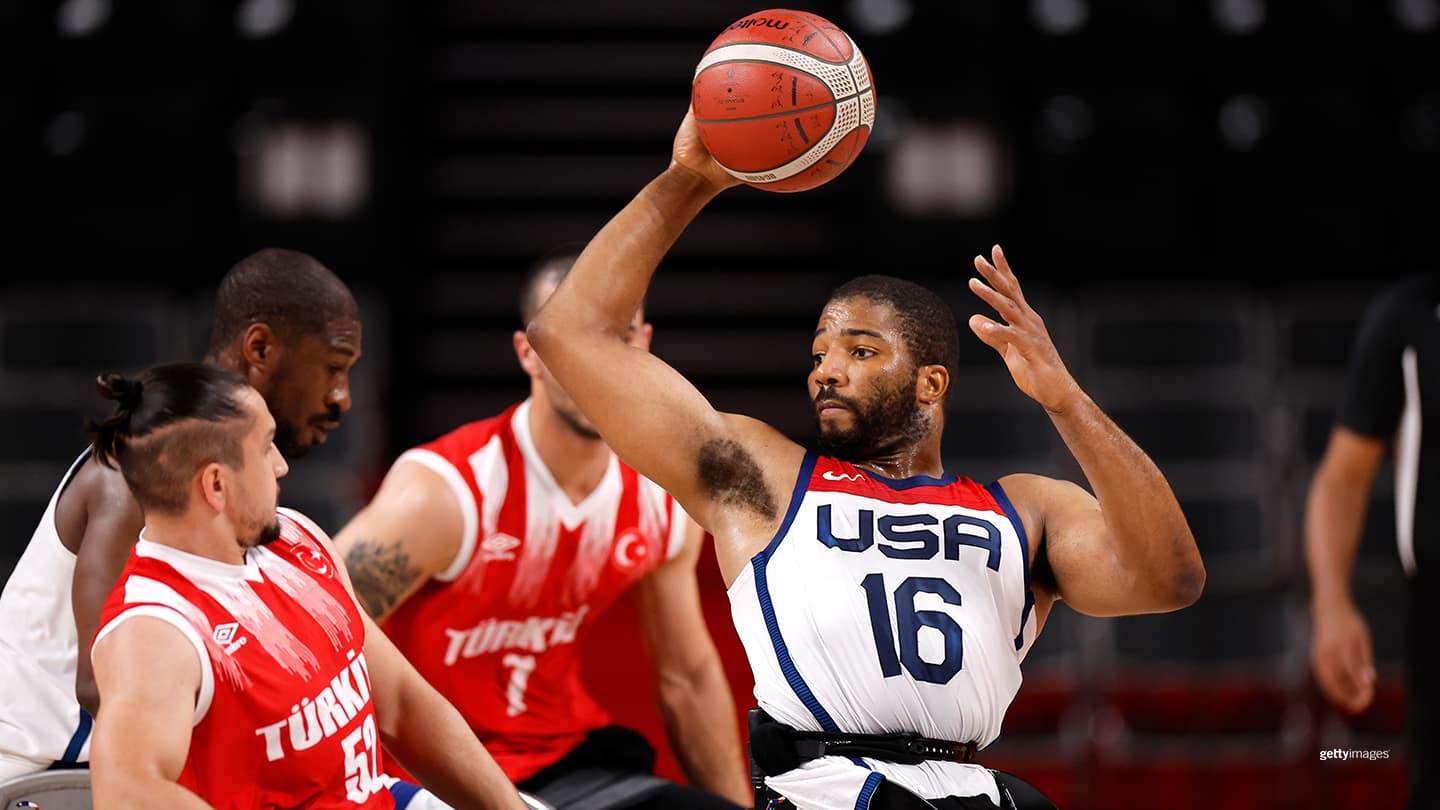 Trevon Jenifer looks to pass the ball at the Paralympic Games Tokyo 2020 on Sept. 1, 2021 in Tokyo.
Trailing by as many as nine points early in the second quarter, the defending Paralympic champion U.S. men's wheelchair basketball team roared back to defeat Turkey 52-45 Wednesday in quarterfinal round play at the Paralympic Games Tokyo 2020.

The U.S. moves on to face Spain on Friday in the semifinals back at Ariake Arena. Spain beat Germany 71-68 in the quarterfinals.

The Americans fell behind 20-11 when Ugur Toprak scored with 9:45 left in the first half, but the U.S. hung around and grabbed a 25-24 lead with 1:34 remaining before intermission as a Matt Scott basketball finished an 8-0 surge.

"We know that Turkey's a really good team and they were going to bring it for 40 minutes," said Steve Serio, the U.S. captain. "Our mentality from the very beginning is you want to come out with a little urgency. We definitely had some things that we can improve on, especially in the start."

Down 26-25 at halftime, the U.S. came back again in the third quarter. Serio scored with 2:10 left in the quarter to put the U.S. up 35-30. It was a lead the Americans would never relinquish.

As they are so often, turnovers were a deciding factor in the game. The U.S. enjoyed a 17-4 advantage in that category and capitalized with a 14-2 scoring margin there.

The U.S. had a cold night from the floor, shooting just 38 percent. But the American bench outscored the Turkish substitutes 23-6.

"We know that our strength is in our numbers, in our 12 guys," Serio said. "The goal was to play this team a tough 40 minutes, and we definitely did that today."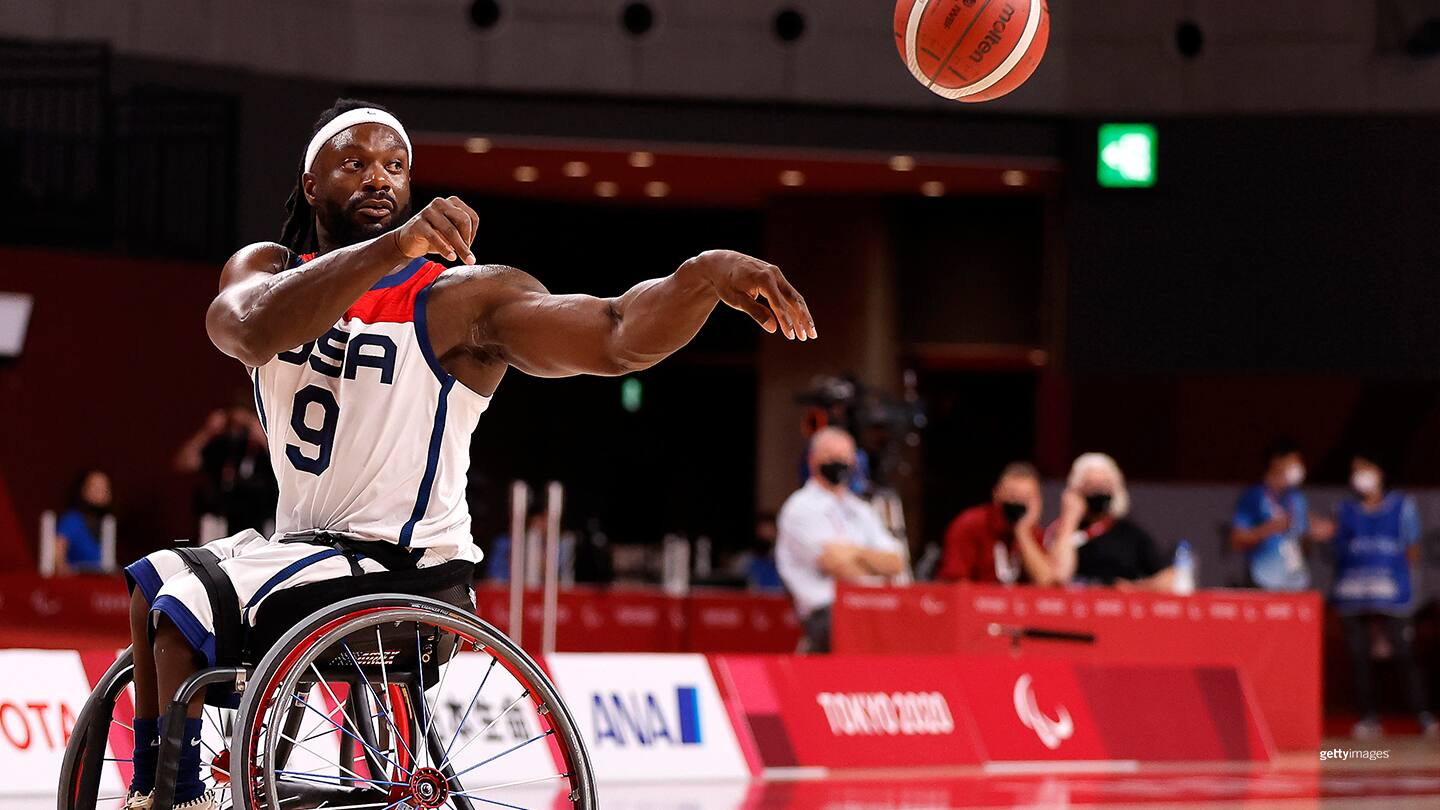 Matt Scott passes the ball at the Paralympic Games Tokyo 2020 on Sept. 1, 2021 in Tokyo.
Brian Bell led the Americans with 18 points. Serio had a fine all-around game for the U.S., narrowly missing a triple-double with 11 points, 10 assists and nine rebounds.

Ozgur Gurbulak had 21 points and 12 rebounds for Turkey, which finished fourth at Rio in 2016.

The U.S. had entered the quarterfinals coming off a 4-1 record in preliminary round play. The team's only loss was a 64-63 defeat by defending world champion Great Britain.

"We definitely just have to continue to focus on ourselves," Serio said. "This tournament has been about improving each and every day from day one, and we took a step in the right direction today. But we know that once we watch the tape, there are definitely some things that we need to correct."

It's a process that this veteran team knows quite well.

"This team has had experiences and built connections over the last decade that's irreplaceable, and we know that," Serio said. "That's going to be a strength heading into the medal rounds. We're going to lean on each other. And from the very beginning, we knew that this team was 12 strong with a great staff behind us, so we definitely like our chances. And we'll just try to keep improving.

"On to the medal rounds. That's an exciting place for any athlete and any team to be, and we definitely earned our spot."

Want to follow Team USA athletes during the Paralympic Games Tokyo 2020? Visit TeamUSA.org/Tokyo-2020-Paralympic-Games to view the medal table and results.
Bob Reinert spent 17 years writing sports for The Boston Globe. He also served as a sports information director at Saint Anselm College and Phillips Exeter Academy. He is a contributor to USParaSwimming.org on behalf of
Red Line Editorial, Inc.