U.S. Men Move On To Knockout Round In Quest To Defend Wheelchair Hoops Gold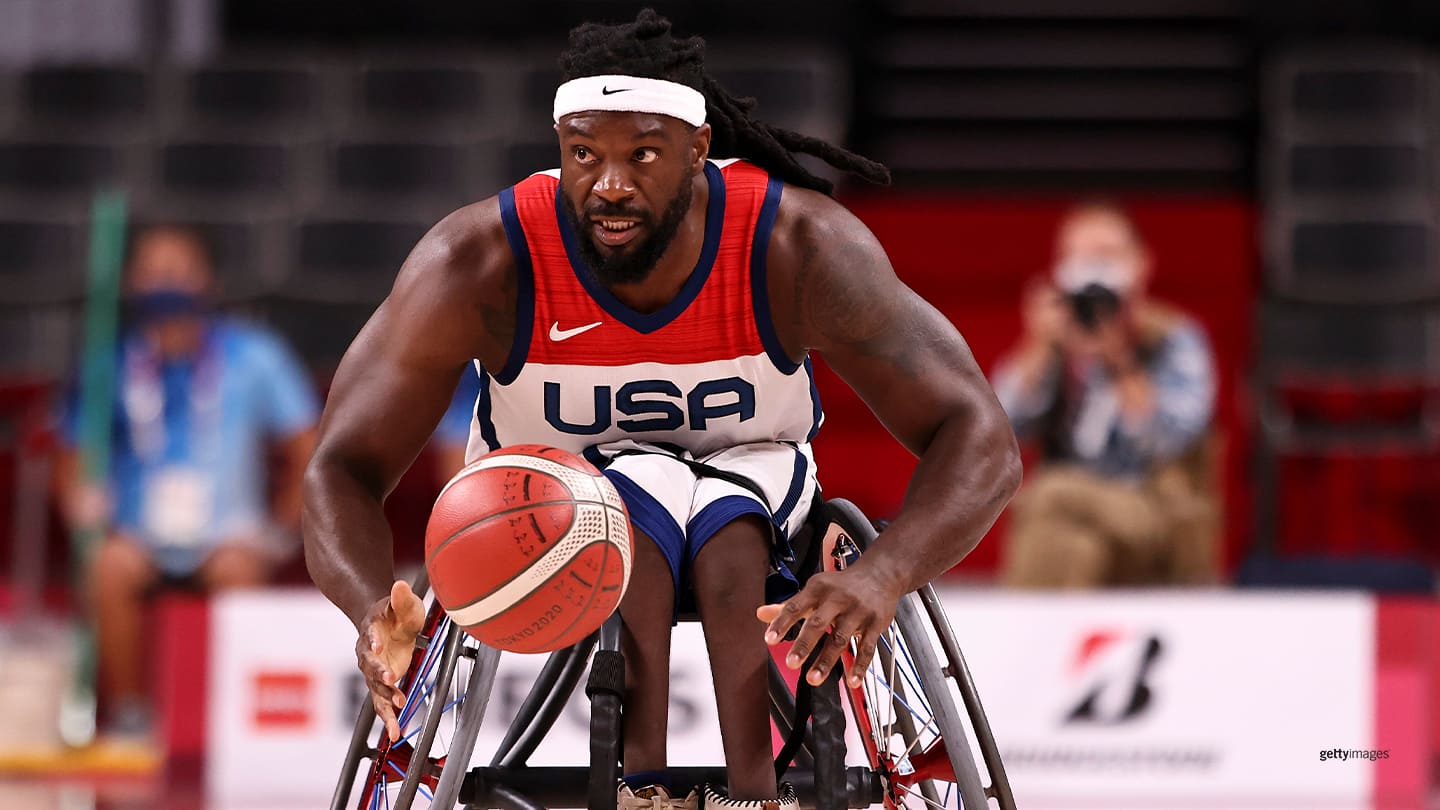 Matt Scott controls the ball during the men's preliminary round group B match against Germany at the Paralympic Games Tokyo 2020 on Aug. 26, 2021 in Tokyo.
The U.S. men's wheelchair basketball team has officially taken the next step in its defense of the Paralympic gold medal.

The 2016 champions closed out pool play on Monday with a 4-1 record and are set to face Turkey in a quarterfinal matchup on Wednesday.

"Turkey is a good team and I know they've got a guy like (Ozgur) Gurbulak, who is a great scorer," said Joshua Turek, one of eight U.S. players back from that 2016 gold-medal winning team. "You can't take anyone for granted, especially at this part of the tournament, but I can promise you we'll be locked in and ready to go."

The U.S. ranked second behind defending world champions Great Britain in Group B with matching 4-1 records. Turkey comes in with a 3-2 record in Group A behind Spain and Japan.

It wasn't an easy start to the tournament, particularly coming off two years with so little opportunity to play in the lead up to the Paralympics.

The U.S. defeated Germany 58-55 in the opening game last Thursday, but the Germans didn't make it easy.

Germany led 16-10 after the first quarter and the game was tied going into the fourth. With 22 seconds remaining Brian Bell scored to give the U.S. a 56-53 lead, but Germany closed to within one point with 18 to go. Turek's free throws with 17 seconds remaining proved clutch as the U.S. held on for the victory. Bell finished with 20 points, half of them in the fourth quarter.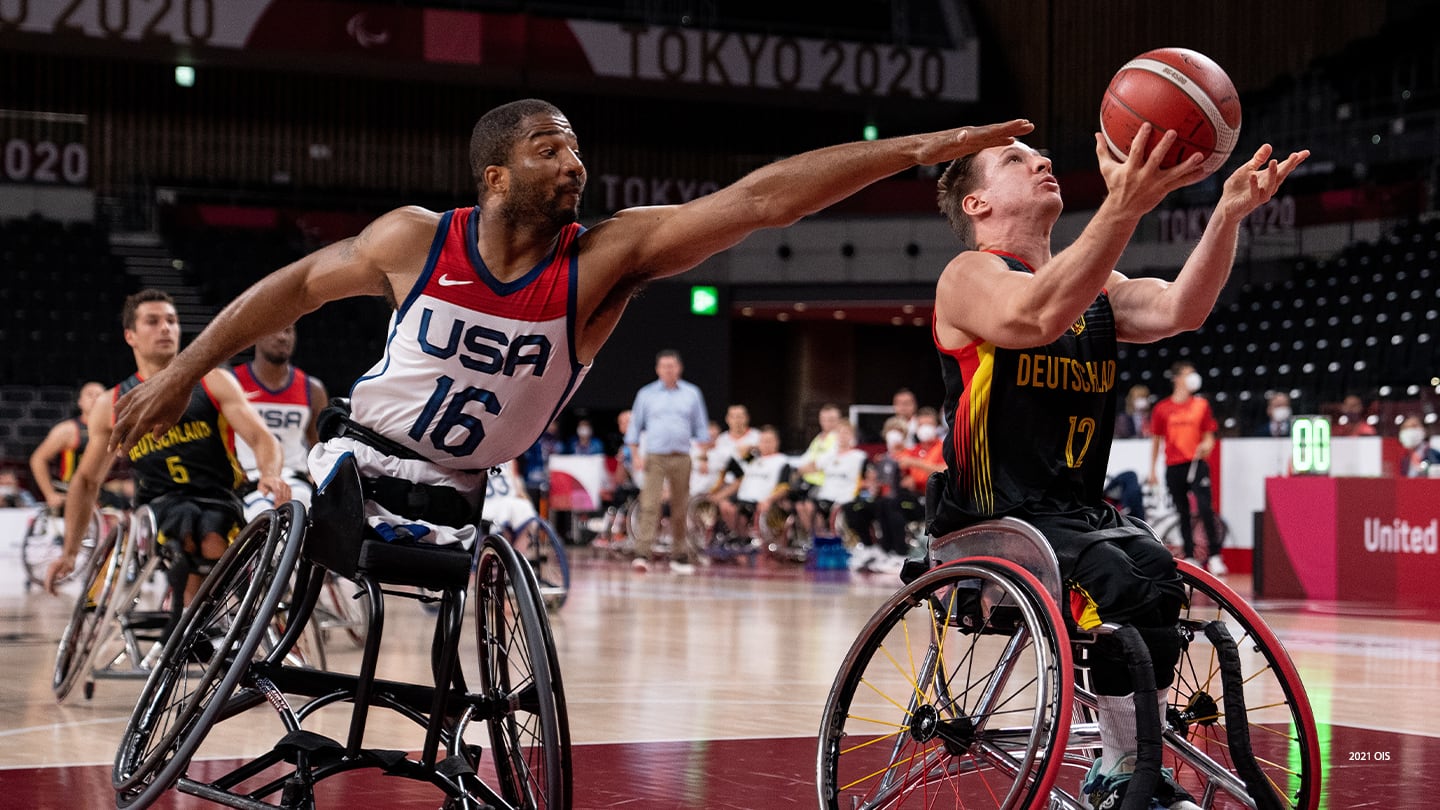 Trevon Jenifer attempts to block a shot during the men's preliminary round group B match against Germany at the Paralympic Games Tokyo 2020 on Aug. 26, 2021 in Tokyo.
"This is the first (competitive) game in almost two years," Bell said afterward. "We knew there were going to be a lot of mistakes early on. The way we grinded out and adjusted as we went along shows the leadership and veteran squad that we have."

It was a different story against Iran on Friday, as the men cruised to a 65-41 victory in game two. Co-captain Steve Serio scored 12 points and recorded 10 assists and eight rebounds, while the U.S. forced Iran into 10 turnovers in the first half alone en route to the victory that put them at 2-0 in pool play.

Things weren't nearly so easy Saturday against Great Britain, which beat the U.S. in the 2018 world championship final.

Jake Williams scored 12 of Team USA's 19 points in the fourth quarter, but the game came down to the final seconds and the U.S. fell just short. A slow first half offensively put the Americans in a hole, and with a minute and a half to play the score was tied 63-63, following Williams' score on a fast break. Great Britain went ahead on a free throw, and Serio's attempt at a buzzer beater fell short as the U.S. suffered its first loss in Tokyo, 64-63.

The offense certainly didn't struggle the next day against Australia, however, as the U.S. ran away with a 66-38 victory to bounce back from defeat. Williams scored 24 points with eight rebounds and seven assists, and Serio added 15 points while the U.S. used its defense to limit Australia to just 30 percent shooting.

Last up was Monday's showdown with Algeria, which proved to be another quick and easy contest. The U.S. led 24-9 after the first quarter and went on to an 86-25 victory. Turek led the team with 21 points followed by Matt Scott with 16 points and Williams with 13.

"We needed a few games to find our rhythm and find our groups and now we've really shown in the last few games that we've caught our stride," Turek said. "I feel really, really good and confident going into the business part of the tournament."

Want to follow Team USA athletes during the Paralympic Games Tokyo 2020? Visit TeamUSA.org/Tokyo-2020-Paralympic-Games to view the medal table and results.
Karen Price is a reporter from Pittsburgh who has covered Olympic and Paralympic sports for various publications. She is a freelance contributor to TeamUSA.org on behalf of
Red Line Editorial, Inc.