What To Know About The U.S. Wheelchair Basketball Teams Heading Into Tokyo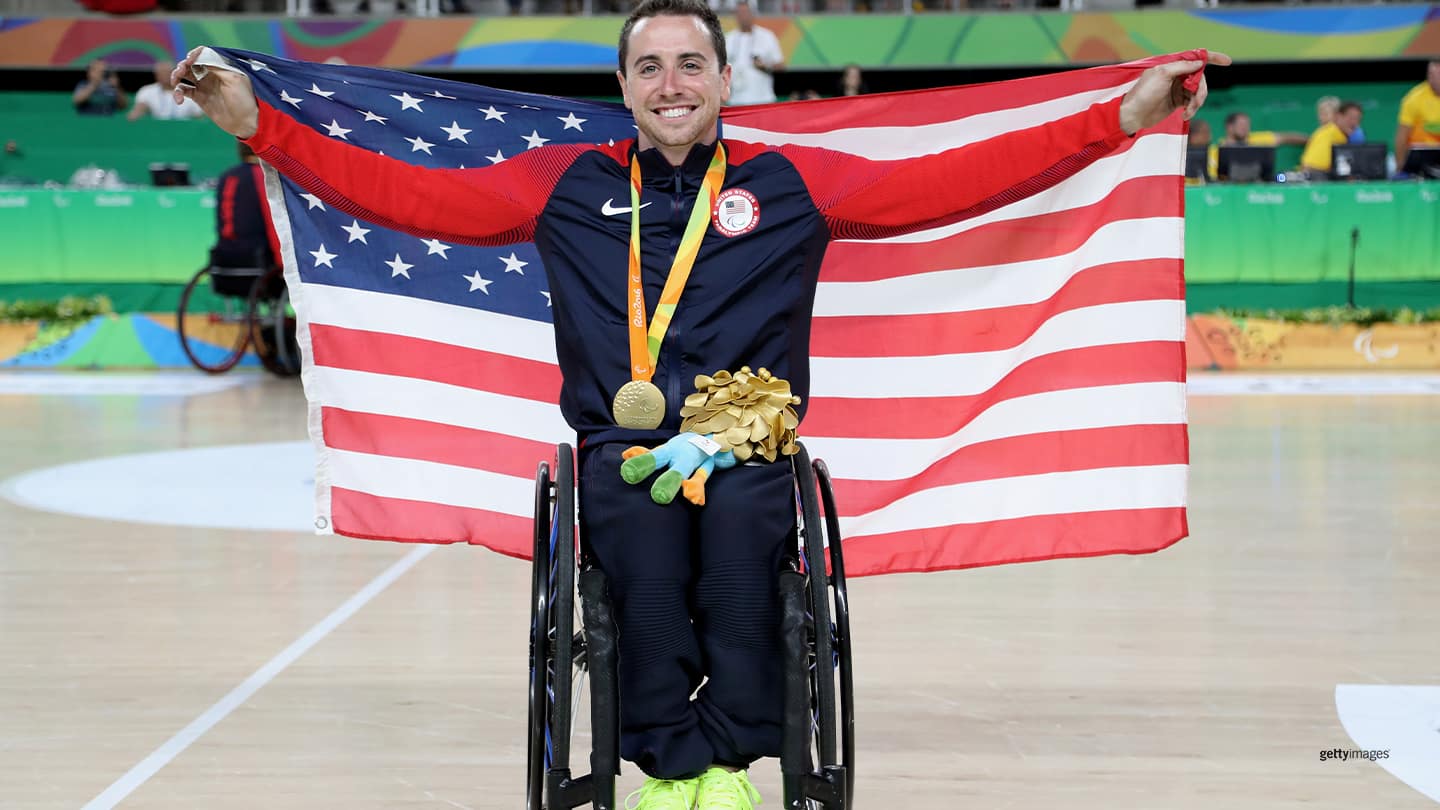 Steve Serio celebrates winning the gold medal after the Men's Wheelchair Basketball Gold Medal match at the Paralympic Games Rio 2016 on September 17, 2016 in Rio de Janeiro, Brazil.
The U.S. wheelchair basketball teams are coming off a historic performance at the Paralympic Games Rio 2016, when both won a gold medal. The last time they did that was in 1988 in Seoul.

In addition, Rio 2016 marked the first time that Team USA swept all four Olympic and Paralympic basketball gold medals.

With the Paralympic Games Tokyo 2020 beginning next Tuesday and the wheelchair basketball competition starting up on Wednesday, competition will be tough for the teams to repeat, but both American squads have the potential to be back on the podium again.

Here's a look at the U.S. programs and what they might expect in Tokyo.


While the Americans have unequivocally dominated basketball on the Olympic side, wheelchair basketball has been more evenly balanced since it began as a rehabilitation sport for soldiers after World War II. Six different men's teams and five women's teams have won Paralympic gold medals — compared to four men's and two women's teams in the Olympics.

However you count it, though, the U.S. is atop the list in wheelchair basketball is well.

Of the 17 Paralympic men's tournaments since 1960, Team USA has won eight* — followed by Canada with three, and Australia and Israel with two each. Through 13 women's tournaments, beginning in 1968, the Americans have four gold medals, followed by Canada and Germany with three apiece, and Israel with two.

Both American teams are also the all-time leaders in total Paralympic medals. The men have 13 (8 gold, 1 silver, 4 bronze), and the women have eight (4 gold, 1 silver, 3 bronze). Not far behind are Great Britain and Israel on the men's side, with eight and seven medals apiece, while Germany's women have won seven.

In more recent years, the U.S. women have had more Paralympic success. The 2016 gold medal was the first for the U.S. men since the Seoul sweep of 1988. The American women also won gold in 2004 and 2008 being doing so agin in Rio.

* There were two divisions for men's basketball in 1960 and 1964, with Team USA winning four gold medals in those two Games.


With eight players returning from the Rio squad, the U.S. men have to be considered a favorite to top the podium again.

It won't be easy though. In a stacked first-round group, the schedule calls for five games in five days. The big one is on day three, when the U.S. faces Great Britain in a rematch of the 2018 world championship final won by the Brits. But Team USA cannot overlook opening opponents Germany or Iran, which finished fourth at the world championships. It doesn't get easier after GB, either, as the Americans wrap up against two-time Paralympic gold medalists Australia and then Algeria.

It will be a harder task for the women to repeat as they will be without reliable sharpshooter Becca Murray for the first time since 2008, as well as fellow stalwarts Desi Miller and Christina Schwab. (Fun fact: Schwab will be in Tokyo but as an assistant coach with the U.S. men.)

The U.S. women are in a group along with defending world champions the Netherlands, as well as Spain, China and Algeria.

Should they make it, the women's medal round is set for Sept. 4 and the men's for Sept. 5.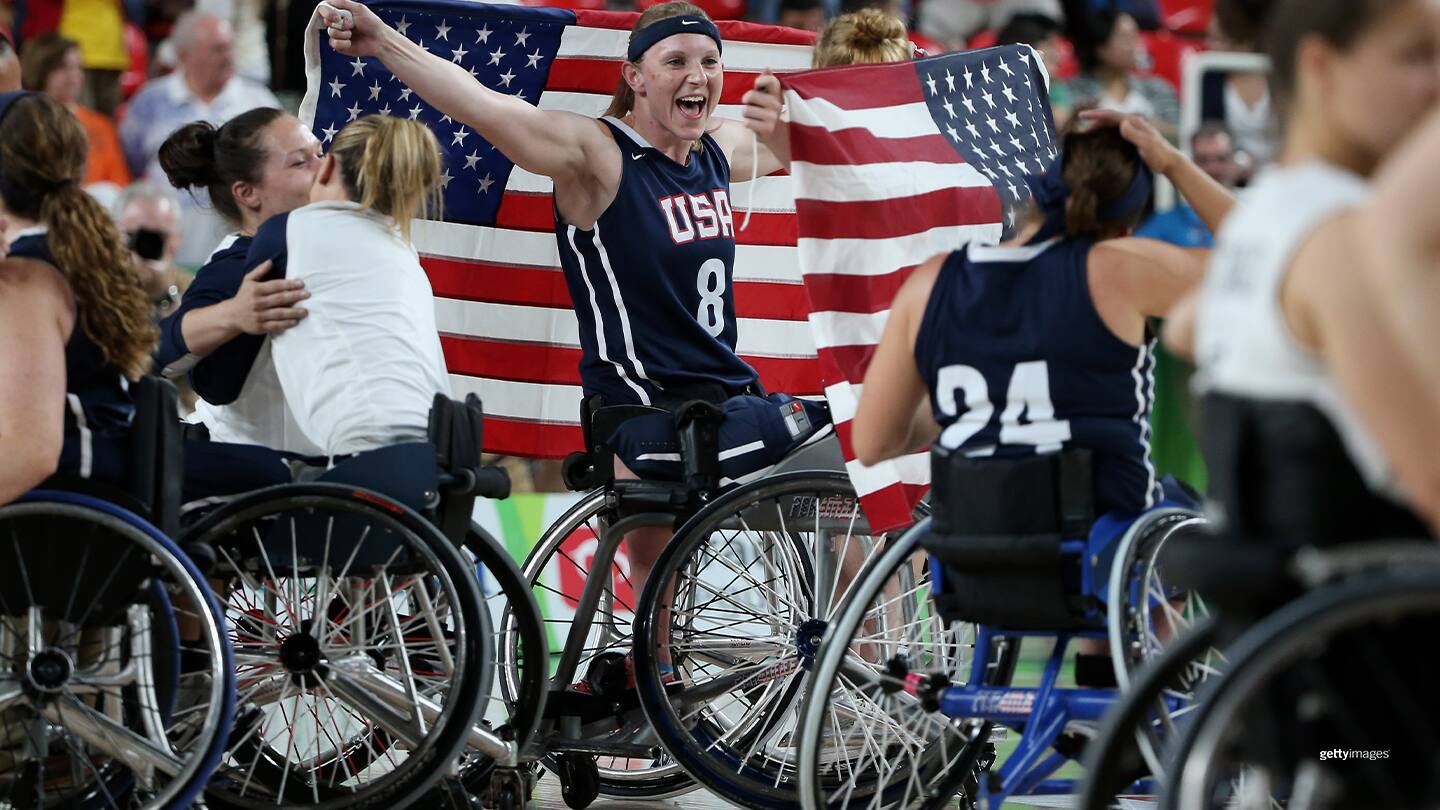 Natalie Schneider celebrates after winning the Women's Wheelchair Basketball Final at the Paralympic Games Rio 2016 on September 16, 2016 in Rio de Janeiro, Brazil.
Rose Hollermann was just 16 years old when she made her Paralympic debut, thrust into a key role in the 2012 semifinal due to others in foul trouble. By 2016, she was a go-to scorer. Now 25, she's expected to be a key player for Team USA again in Tokyo.
Only Hollermann, Natalie Schneider (2008, 2012, 2016) and Darlene Hunter (2012, 2016) return with Paralympic experience on the U.S. women's team, so this group will need to see rookies step up. Courtney Ryan should bring aggression and flair to the team, while teenagers Bailey Moody and Ixhelt Gonzalez will add size and energy.

For the U.S. men, it's more like who can't you watch. This team likes to run opponents to death with pressure on both sides of the ball. Steve Serio is the floor leader and a serious shooter, as is Jake Williams. Brian Bell, Trevon Jenifer and Matt Scott are flyers, while Josh Turek, Mike Paye and Nate Hinze can all score and deny in the paint. The men also bring a boatload of experience, with all eight guys listed above having previous Paralympics experience.
Favorites on the women's side have to be the reigning world champion, the Netherlands, along with the fast rising Great Britain, who were second at the world championships, as well as always competitive Germany and Australia.

Giving the American men a run will be a trio of Commonwealth countries: the aforementioned Great Britain, Canada and Australia. Canada features Patrick Anderson, who many consider a contender for GOAT status. Spain also made a great run to the final in Rio but finished fifth in the most recent world championships.

Overseen by the International Wheelchair Basketball Federation, the game is played with a player point system designed to allow individuals with a variety of disability levels to participate equitably. Athletes with less impairment have a higher point assignment, 4.5 being the top. Those with greater impairment are a 1 or 1.5. The total number of points for the five players on the court at a time is 14.

All of the U.S. preliminary round games will air on NBCSN. In addition, each U.S. game will be presented live on NBCOlympics.com and the NBC Sports app. Peacock will feature medal-round action in multiple sports, including wheelchair basketball. All Peacock coverage will also air on television.

Here is the tentative TV schedule (All times EDT and subject to change):

Wednesday Aug. 25 (2:00am-4:00am)
Women's Preliminaries – USA vs Netherlands (Tape Delay) - NBCSN

Wednesday Aug. 25 (8:00pm-9:45pm)
Men's Preliminaries – USA vs Germany (LIVE) - NBCSN

Thursday Aug. 26 (4:00am-5:45am)
Women's Preliminaries – USA vs Spain (LIVE) - NBCSN

Friday Aug. 27 (7:00am-8:45am
Men's Preliminaries – USA vs Iran (Tape Delay) - NBCSN

Saturday Aug. 28 (12:00am-1:30am)
Women's Preliminaries – USA vs China (Tape Delay) – NBCSN

Saturday Aug. 28 (4:15am-5:30am)
Men's Preliminaries – USA vs Great Britain (LIVE) – NBCSN

Sunday Aug. 29 (10:30pm-12:00am)
Men's Preliminaries – USA vs Australia (Tape delay) - NBCSN

Monday Aug. 30 (1:00am-2:30am)
Women's Preliminaries – USA vs Algeria (Tape delay) - NBCSN

Monday Aug. 30 (7:30am-9:00am)
Men's Preliminaries – USA vs Algeria (LIVE) – NBCSN
The chief press officer for the 1996 Atlanta Paralympic Games, Steve Goldberg covered every summer Paralympic Games from Sydney 2000 through Rio 2016 for various newspapers, magazines and online media. He is a freelance contributor to TeamUSA.org on behalf of Red Line Editorial, Inc.