U.S. Sled Hockey Team Remains Perfect At The 2022 IPH Cup After Dubbing Of Canada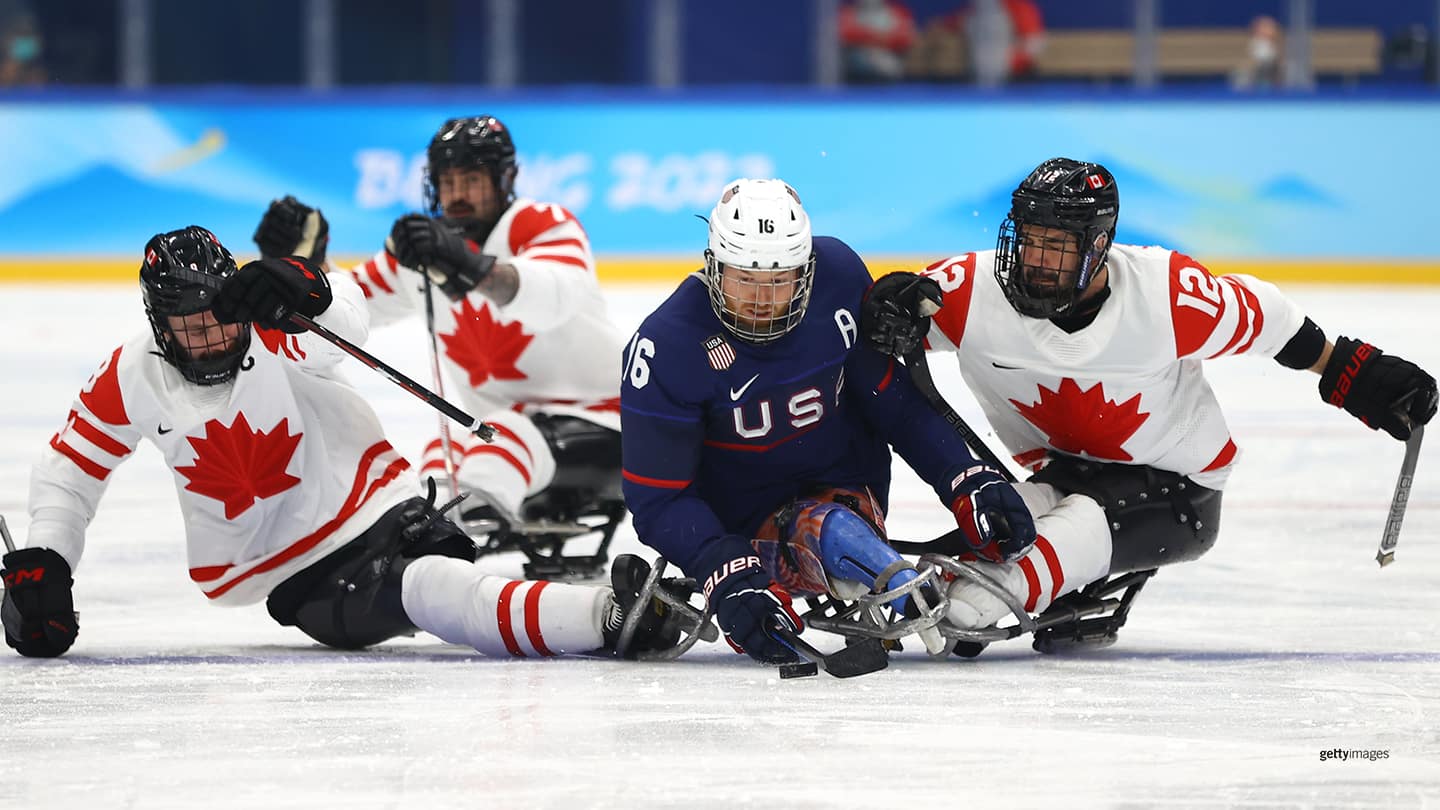 Declan Farmer competes for the puck against Team Canada during the sled hockey gold-medal game at the Paralympic Winter Games Beijing 2022 on March 13, 2022 in Beijing.

The U.S. sled hockey team played Canada twice during the Paralympic Winter Games Beijing 2022.

The rivals met in the preliminary round and again in the gold-medal game, with the Americans coming away with 5-0 victories in both meetings.

The two nations faced off again on Tuesday, this time at the International Para Hockey Cup in Ostrava, Czech Republic. The U.S. improved on its margin of victory from the Paralympics, this time defeating its biggest rival 8-2.

Declan Farmer led the way as he scored four goals to give him a tournament-high nine through three games. It was his second straight game with a hat trick as well, as he scored three goals in a 10-0 win over the Czech Republic on Sunday.

This continues a dominant calendar year for Farmer, as he led all players at the Paralympics with 18 points on his way to a third career gold medal.

The win over Canada capped off a dominant 3-0 run in the group stage for the Americans, as they outscored their opponents 27-3 and outshot them 106-19.

The U.S. started the tournament with a 9-1 win over the International Para Hockey Team (Team IPH), which is a team made up of players from Germany, Norway and Slovakia. Farmer and Ben Musselman each scored two goals in that win.

The 10-0 win over the Czech Republic followed a day later, as Farmer added three assists on top of his hat trick.

Griffin LaMarre has played a majority of the tournament in net for the U.S. after making his Paralympic debut in Beijing. Chris McCoy played the entire third period in net against the Czech Republic, which was his first appearance on the national team.

The U.S. will play in the semifinals tomorrow with a chance to clinch a spot in Friday's final.
Luke Hanlon is a sportswriter and editor based in Minneapolis. He is a freelance contributor to TeamUSA.org courtesy of
Red Line Editorial, Inc.