Oksana Masters Stresses The Importance Of Para Athletes Being "Seen"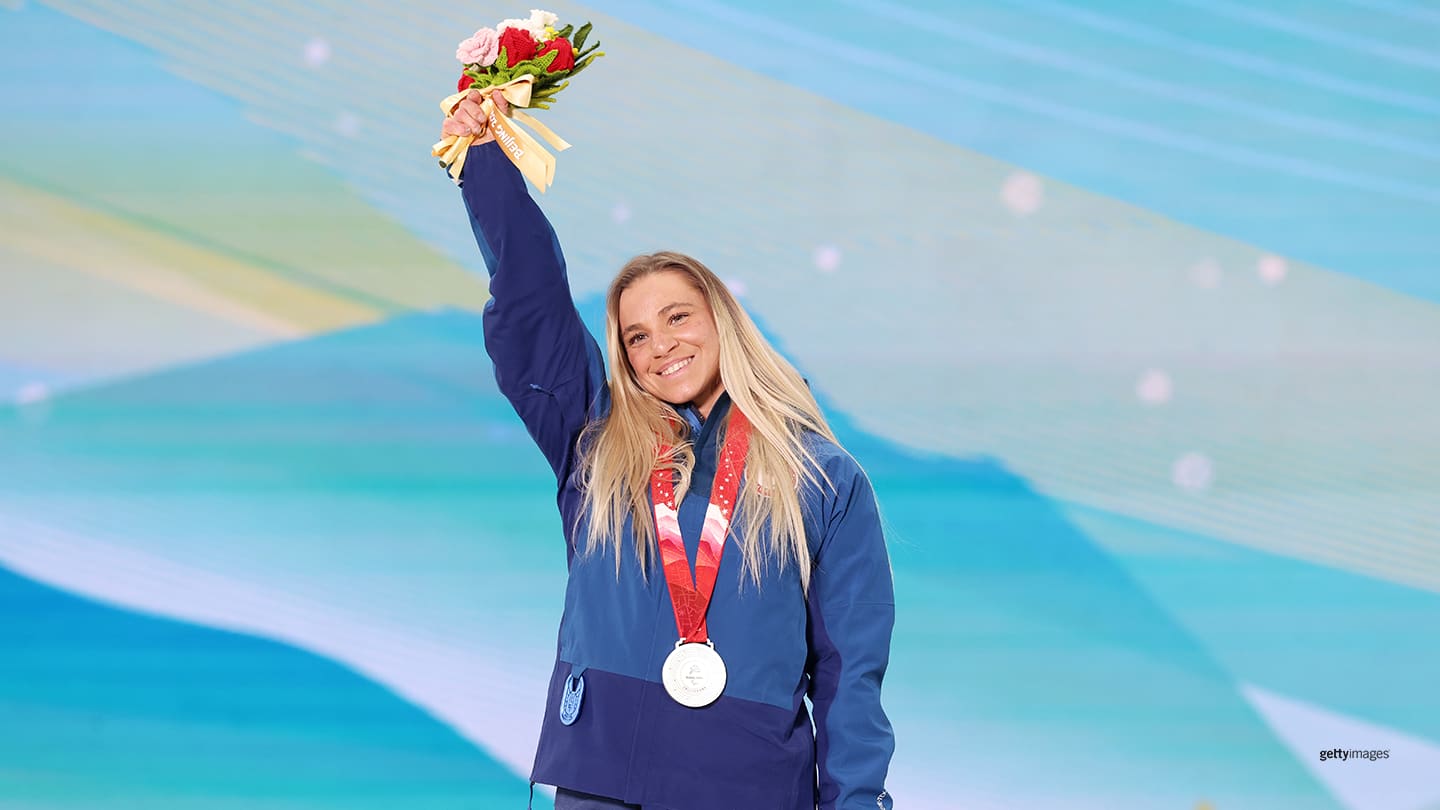 Oksana Masters celebrates on the podium during the medal ceremony for the women's middle-distance sitting at the Paralympic Winter Games Beijing 2022 on March 12, 2022 in Zhangjiakou, China.
Oksana Masters couldn't believe she had been invited to participate in such a star-studded event in Los Angeles earlier this summer.

Wearing a white dress and her prosthetic legs, Masters sat next to fencer Ibtihaj Muhammad, the first Muslim American woman to wear a hijab while competing in the Olympics. Chloe Kim, a two-time Olympic gold medalist in snowboarding, sat on the opposite side of Muhammad. Basketball legend Lisa Leslie took a seat in the row right behind Masters.

Despite being the most decorated U.S. Winter Paralympian of all time, Masters admitted she hasn't always felt like she belonged in the same company as other prominent female athletes.

She's now seeing herself in a new light, thanks in part to her busy summer.

In May, Masters was invited to Nike's Los Angeles headquarters to help celebrate the company's 50th anniversary with Muhammad, Kim and Leslie at its Future 50 for Her event. A few weeks later, Masters joined tennis great Billie Jean King and Academy Award-winning actor Julianne Moore as a guest speaker at the Tory Burch Foundation's Embrace Ambition Summit in New York.

"I'm actually starting to realize I'm an athlete. I belong here," Masters said.

In the past, she said she's often second-guessed herself in such situations.

"Like I'm not on the same level, but we are the same level and it's just I have to realize that," she said. "And the fact that Nike is realizing that, too, helps me feel more confident in that as well."

Masters, a 17-time Paralympic medalist in cycling, Nordic skiing and rowing, was born with birth defects from radiation poisoning and raised in Ukrainian orphanages. She moved to the U.S. after being adopted when she was 7.

Masters has shared her story at several events this summer. Each speaking engagement has helped her feel more accepted beyond the Para world.

Masters has managed to find time to speak to large audiences despite juggling a busy schedule of training and competing earlier this month at the 2022 UCI Para-cycling Road World Championships in Baie-Comeau, Quebec.

She also got engaged to longtime boyfriend Aaron Pike, a two-sport athlete and a six-time Paralympian like her. They're also teammates on the U.S. Paralympics Nordic Skiing national team.

Masters said the main thing she gets out of speaking at these events is that they help her to be "seen" and to amplify her message of equality and inclusion. She's also scheduled to publish her memoir, "The Hard Parts," on Feb. 21, 2023.

"Nike is such a huge, iconic sports brand name," Masters said. "They're helping elevate someone like me, that looks like me being seen and heard and have that seat at the table in those places that you normally don't have a chance for your voice to be heard or your experiences to be shared at all."

Masters admitted she was shocked when the Tory Burch Foundation asked her to be a guest speaker at its Embrace Ambition Summit. The theme was "Confronting Stereotypes and Creating New Norms."

"I'm like, 'Oh my God, are you kidding me? Do they know I'm not an Olympian? I'm a Paralympian. Do they understand the difference?'" Masters said. "… It's just another opportunity to help break that glass ceiling or help these companies break the mold and be diverse and show and share so many different voices and experiences.

"The next boy or girl, they are going to be able to hear the story or see it or see themselves like, 'Oh my gosh, she has no legs and she is at the Tory Burch Foundation.' Or, 'She is in a wheelchair, and she is at Nike speaking.' Like I can do that. If this person is here, I can see myself being there, too."

Masters returned to Los Angeles in late July to attend the ESPYS after being nominated for three awards. She was the first Para athlete to ever earn a nomination in the Best Athlete, Women's Sports category.

Less than a month later, Masters won a pair of cycling world titles in Baie-Comeau, Quebec, to go along with the two gold medals she earned in cycling at last summer's Paralympic Games Tokyo 2020.

However, Masters didn't take much time to relax and unwind immediately after the world championships.

She took part in another speaking engagement on Aug. 17, only four days after she won her second world title in Quebec. She had a conversation about individuals embracing their unique differences with BetterUp, a company that uses technology and behavioral science experts to create change.

"To be invited to Nike or the Tory Burch Foundation and all these things, it's an honor first of all because they're seeing me as an athlete," Masters said. "They're seeing me for my accomplishments, the way I see myself when I look in the mirror, not the way that just (someone might) when someone reads of where you come from."
Alex Abrams has written about Olympic sports for more than 15 years, including as a reporter for major newspapers in Florida, Arkansas and Oklahoma. He is a freelance contributor to TeamUSA.org on behalf of
Red Line Editorial, Inc.