Historic ESPYS Nomination Puts Oksana Masters' Athletic Achievements Ahead Of Her "Feel-Good Story"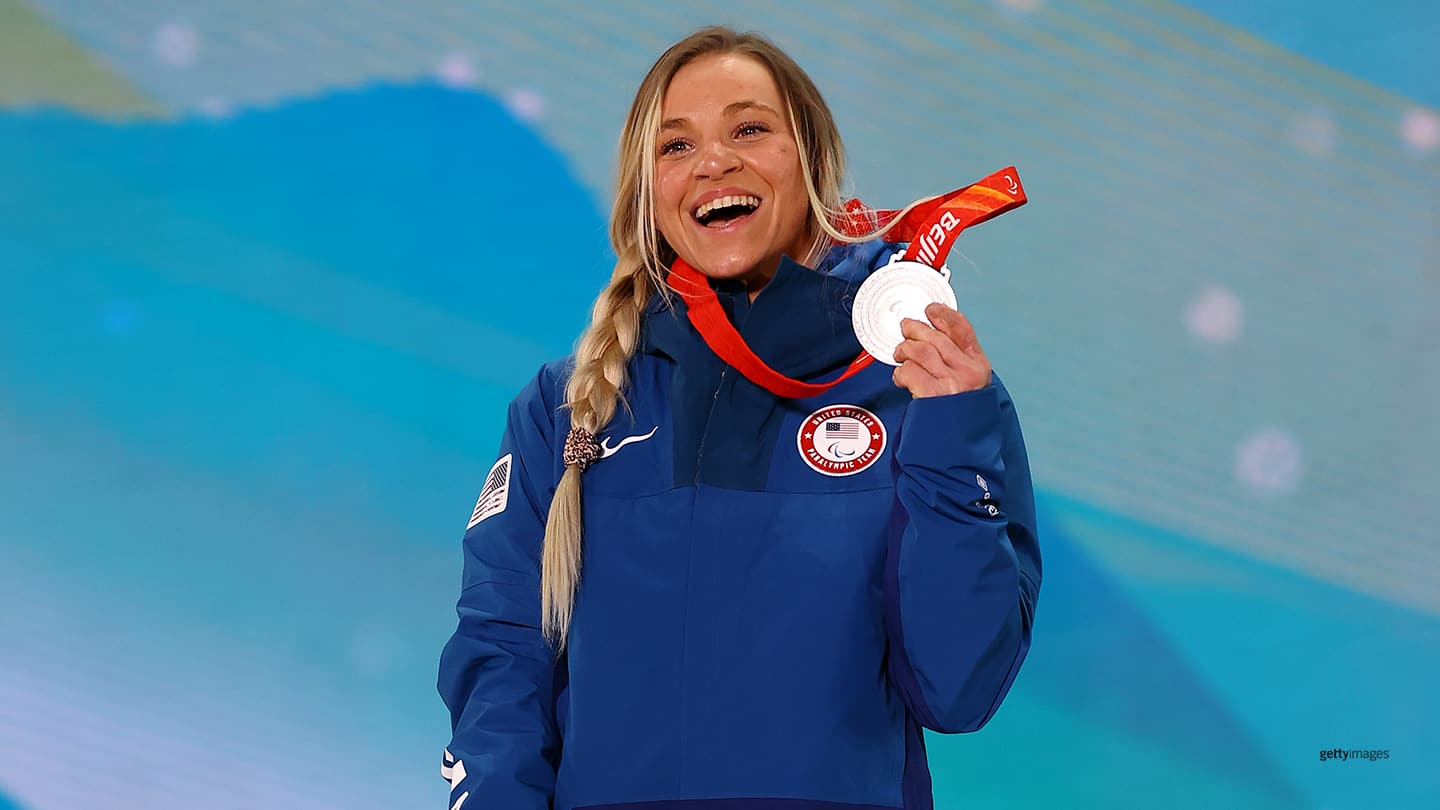 Oksana Masters poses during the women's Para biathlon sprint sitting medal ceremony at the Paralympic Winter Games Beijing 2022 on March 6, 2022 in Zhangjiakou, China.

It was a hot and humid day in late June, and Oksana Masters didn't feel like training.

Even after forcing herself out the door, she struggled to get through what amounted to a four-hour ride around Champaign, Illinois, on her hand-cycle.

At a certain point, Masters pulled out her cell phone to make sure she was following her Para-cycling training plan for the day. That's when the 17-time Paralympic medalist saw a text message from her publicist.

Masters' publicist told her she had been nominated for two ESPYS, and was the first Para athlete to ever earn a nomination in the Best Athlete, Women's Sports category. Once Masters returned home, her publicist informed her that she had actually been nominated for three ESPYS.

"It was actually a pretty bad training day. I was just not able to hit the numbers and just one of those off days that you have," Masters said. "And then … getting the notification that I've been nominated for three ESPY awards was just kind of like, I don't know, a higher power's way of saying, 'You're on the right path. You're doing good. Thank God that you're training.'

"This is insane. I just can't believe it. I don't know how to say it."

Despite her long list of accomplishments, including the distinction of being the most decorated U.S. Winter Paralympian of all time, Masters admitted she's still seeking to be accepted as an athlete first.

The Louisville, Kentucky, native said she's more than a "feel-good story."

Masters said that's why her ESPY nomination in the Best Athlete, Women's Sports category is so significant. For her, it was further proof that she's finally being recognized as two-sport star after dominating at both the Paralympic Games Tokyo 2020 last summer and the Beijing Winter Paralympics in March.

"It was huge. Look. This is something that I think every single Paralympian honestly hopes for and dreams for and wants to be recognized as an athlete and not how they became an athlete," Masters said. "… Since 2010, I've been kind of been doing sports competitively and tried to make it to that Paralympic level and Team USA level.

"And out of all those years since 2010, this is the first time I actually feel like an athlete first. I'm actually recognized as an athlete and not just they see the prosthetics."

Masters said she was so shocked after learning about her ESPY nominations that she wanted to document the moment.
Warning!!!! EXTREM excitement in this video‼️I thought seeing ponies on my training ride was gonna be the highlight of my day; it GOT BETTER!!!! This is my cool calm reaction when I found out I've been nominated for 2 @ESPYS . When I got home I learned it was 3 nominations🫠 pic.twitter.com/KnvpeXXtt1


— Oksana Masters (@OksanaMasters) June 28, 2022
Aaron Pike, a fellow six-time Paralympian and Masters' longtime boyfriend, met up with her during her long ride around Champaign in June. He was helping her with her training when she saw her publicist's text message informing her that she had been nominated in the Best Athlete, Women's Sports category.
"I was like, 'Oh my God, Aaron, this is insane. I just cannot believe this. Can you just record this reaction because this will never happen in my lifetime again?'" Masters said.
She planned to send the video of her reaction to the ESPY nominations to her mother, Gay Masters. She instead posted it on Twitter, where it has received nearly 6,000 views.
"It was pretty wild. (Aaron) was like, 'Well, of course, only you would be out training and this is how you find out (about the ESPY nominations). They're going to think you have no life, except for you just train 24/7,'" Masters said, laughing.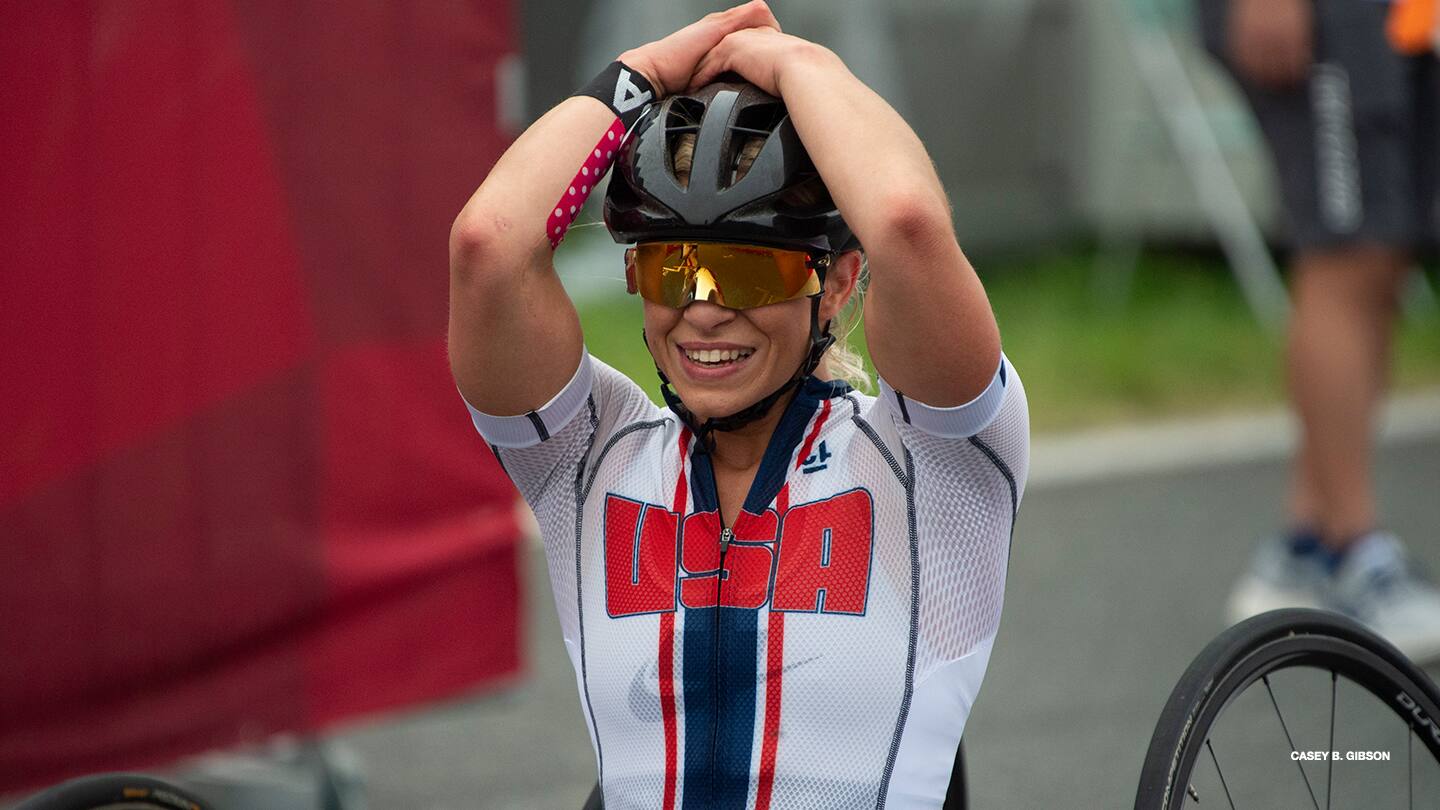 Oksana Masters celebrates after winning gold in the H4-5 time trial finals at the Paralympic Games Tokyo 2020 on Aug. 31, 2021 in Tokyo.
Masters is joined in the Best Athlete, Women's Sports category by Olympians Suni Lee (gymnastics), Katie Ledecky (swimming) and Candace Parker (basketball). In addition, she's nominated for Best Olympian, Women's Sports and Best Athlete with a Disability, Women's Sports.

Over the past year, Masters embarked on what she called "the most wildest Paralympic/Olympic cycle in general."

Because the Tokyo Paralympics were postponed one year due to the coronavirus pandemic, she had no time to rest after winning two gold medals as a cyclist at last summer's Games. Only six months later, she competed in Nordic skiing at the Beijing Winter Paralympics and added even more to her collection of medals.

Masters reached the podium in all seven of her events in Beijing, winning three golds and four silvers to break the record for the most medals by an American in a single Winter Paralympics. She has earned a record 14 medals at the past three Winter Paralympics.

Along the way, Masters has noticed a change in how fans and even some companies perceive her. They're embracing her more for what she has accomplished as an athlete and not focusing solely on her inspiring story about being raised in a Ukrainian orphanage before she was adopted.

"It's something that you dream of and hope to see the change, but never in a million years did I think I would be living in that day of the change and be seeing it myself, not reading it 30 years from now," Masters said.
The ESPYS will be presented at 8 p.m. ET on Wednesday.
Alex Abrams has written about Olympic sports for more than 15 years, including as a reporter for major newspapers in Florida, Arkansas and Oklahoma. He is a freelance contributor to TeamUSA.org on behalf of
Red Line Editorial, Inc.