Declan Farmer's Fourth Trip To The ESPY Awards Will Be Different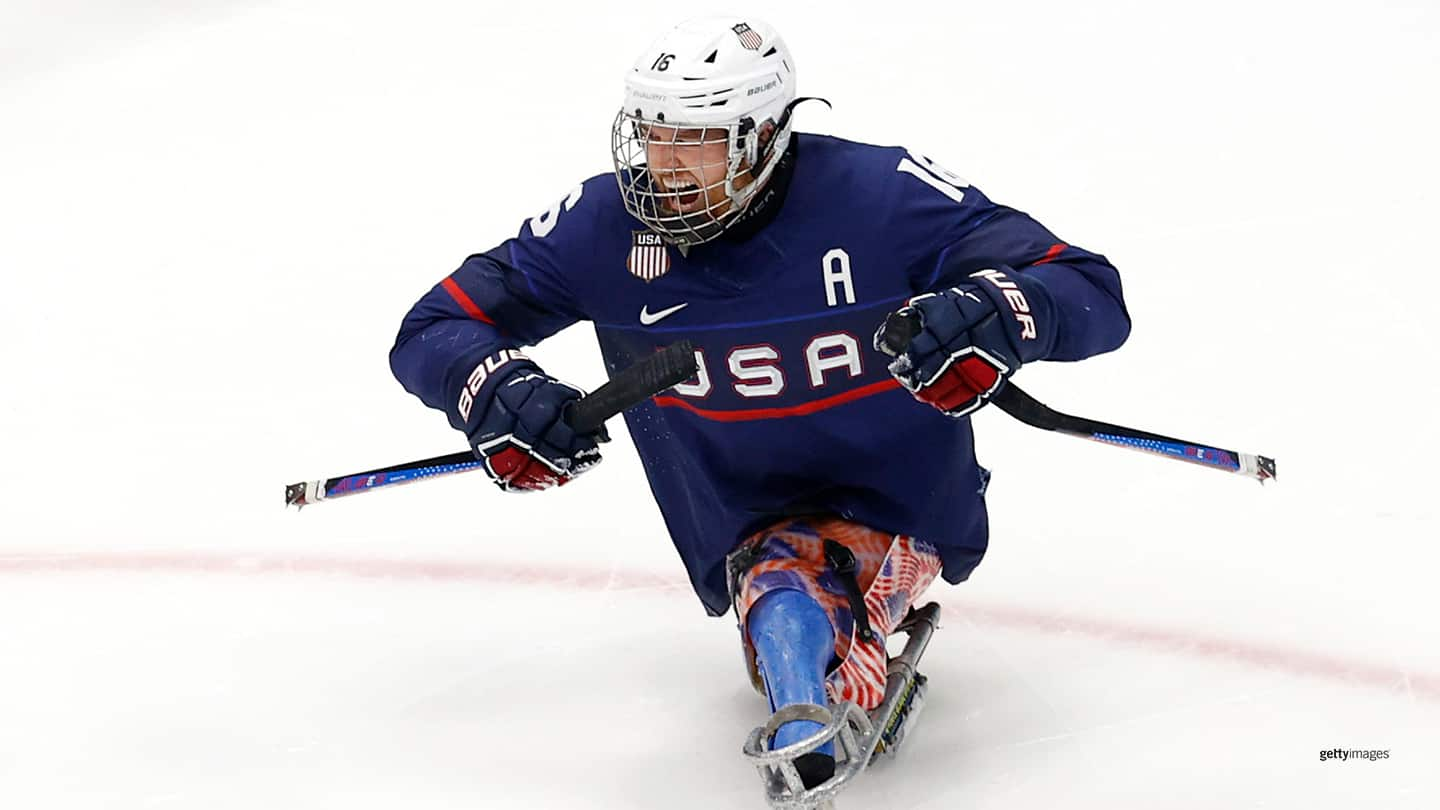 Declan Farmer reacts after scoring in the third period against Team Canada during the gold-medal match at the Paralympic Winter Games Beijing 2022 on March 13, 2022 in Beijing.
Declan Farmer, a three-time Paralympic and three-time world champion in sled hockey, is heading to the ESPY Awards in Los Angeles this month for the fourth time.

But this is the first time he — or any other Paralympian — has been nominated alongside his or her Olympic counterparts in the same award category.

Farmer, 24, won the ESPY for Best Male Athlete With a Disability in 2014 and was also a nominee in that category in 2018 and 2019. This year, he is a contender for two categories, with the second being Best Olympian, a category that includes Paralympians for the first time.

"I feel very honored to be among the three Paralympians selected in that category for the first time with Oksana Masters and Nick Mayhugh also representing the movement during this stage of progress," Farmer said.

"It really means a lot. That showcases the movement over the last couple of years; the general public is really finally seeing Paralympians at the same level as Olympians."

Masters, who won two cycling golds in Tokyo and medaled in all seven of her Nordic skiing events in Beijing, is nominated not only in the Best Olympian, Women's Sports and Best Athlete with a Disability, Women's Sports categories, but also for the Best Athlete in Women's Sports alongside U.S. Olympians Suni Lee, Katie Ledecky and Candace Parker.

Jessica Long, who won six medals at the Paralympic Games Tokyo 2020 in the pool, and Brenna Huckaby, a two-time medalist in snowboarding at the Paralympic Games Beijing 2022, were also nominated in the Best Athlete with a Disability category.

Mayhugh, who won three golds and a silver on the track at the Tokyo Paralympics, joins Farmer in the Best Olympian, Men's Sports category, as well as Best Athlete With a Disability, Men's Sports. Paratriathlon's Brad Snyder and para-table tennis' Ian Seidenfeld are also nominated in the latter category.

Farmer, who at past ESPYs has befriended the likes of NFL stars Richard Sherman, Nick Chubb and Boomer Esiason, is excited to walk down the red carpet once again in his suit shorts to show off his prosthetic legs and mingle with some of the sporting world's all-time greats.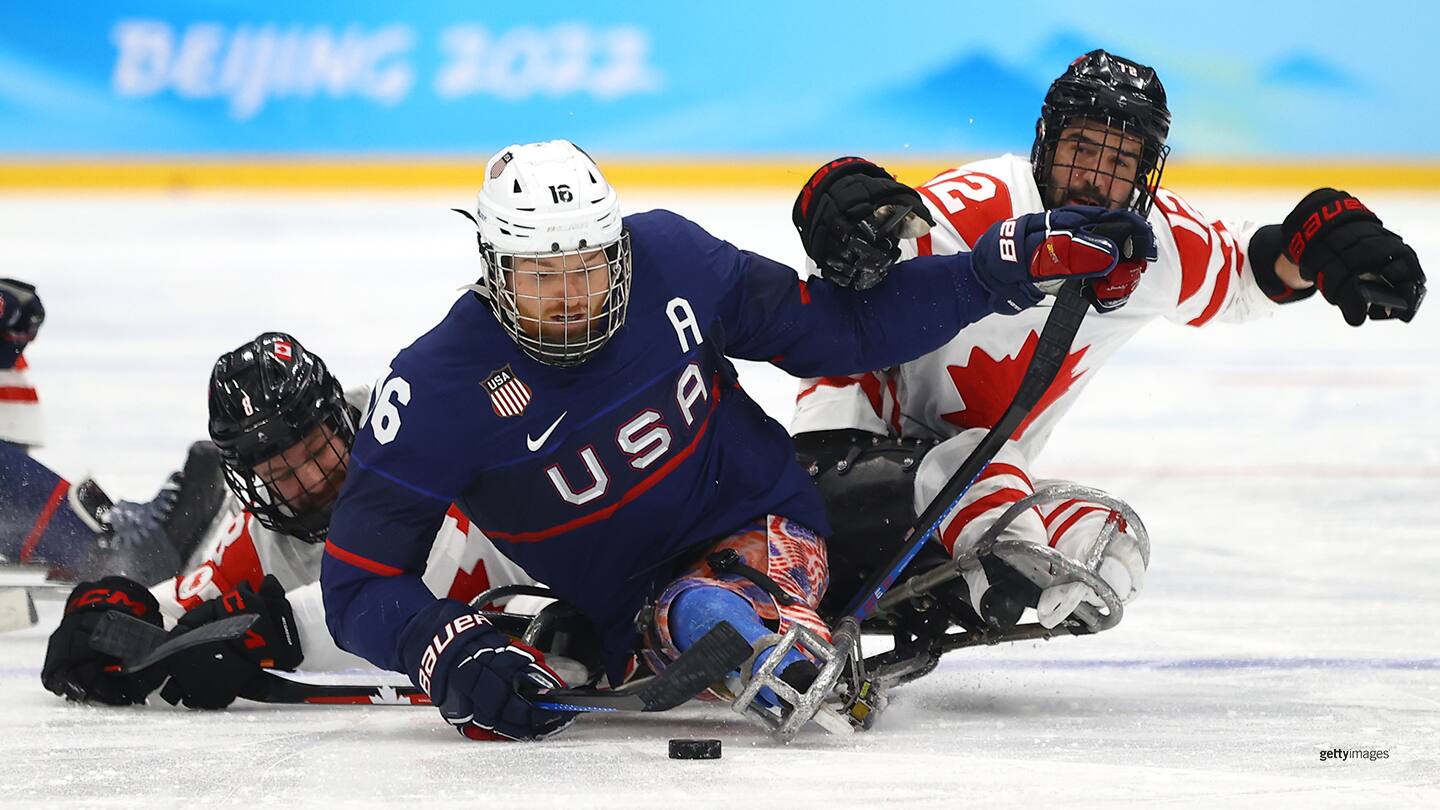 Declan Farmer competes against Team Canada during the gold-medal match at the Paralympic Winter Games Beijing 2022 on March 13, 2022 in Beijing.
"It's cool that they're on the same level and no longer a lesser version of the Olympics," Farmer said. "Everyone is more excited for it given the visibility for the Paralympics and the step up there. I really hope Oksana wins the Best Female Athlete and me or Nick win Best Olympian or Paralympian because that would be really good for the movement."

At the Beijing Paralympics in March, the U.S. sled hockey team cruised to a record-extending fourth consecutive and fifth overall Paralympic gold medal with a 5-0 victory over Canada in the final. Team USA went undefeated with a perfect 4-0 record at the National Indoor Stadium, as Farmer tallied a tournament-leading 18 points and during the event became the all-time U.S. leader for Paralympic points and assists.

But the Princeton graduate is not resting on his laurels.

"No one's living on past successes. We just want more and want to keep improving," Farmer said. "It's going to keep getting really competitive over the next four years, so that's the challenge. No one is satisfied. It's going to be a totally different group that goes to the Games with the U.S. squad in four years. There's a lot of people pushing for spots, and that's a credit to the success that our team's had, pushing the boundaries of sled hockey and growing awareness of the game domestically."

The weeks following the Paralympics were a whirlwind for Farmer; he returned stateside to celebrate with his family, visited friends around the country and competed at the Disabled Hockey Festival in Pittsburgh all in April before moving from Nashville to Boulder, Colorado, for a change of scenery.

He's now training in Colorado while interning at Deloitte, which provides career opportunities to Team USA athletes, and claimed he's already 100 percent committed to the next four years — and more — mentally.

"I've just got to stay healthy to play as long as I can," he said. "Continuing my sled hockey career will always be my priority. I've just got to find a professional career path that can fit around that goal. I cannot imagine playing on the national team. I want to be more involved in the club game, too, helping out with youth teams and things like that. I love the sport and it's been really good to me, and I want to give back in every way I can."

While the next Paralympic Winter Games Milano Cortina 2026 are still four years away, Farmer, now considered a veteran on the team as the alternate captain, is excited to help usher in new talent for that next Paralympic cycle.

"We've never had the same exact team from one year to the next, much less over a four-year cycle," he said. "It's going to be a different group, and the group that makes it will have earned it and will be hungry."
Stuart Lieberman covered Paralympic sports for three years at the International Paralympic Committee, including at the London 2012 and Sochi 2014 Games. He is a freelance contributor to TeamUSA.org on behalf of
Red Line Editorial, Inc.