News
Danielle Aravich
Dani Aravich
Dani Aravich Is Team USA's Newest Paralympic Dual-Sport Standout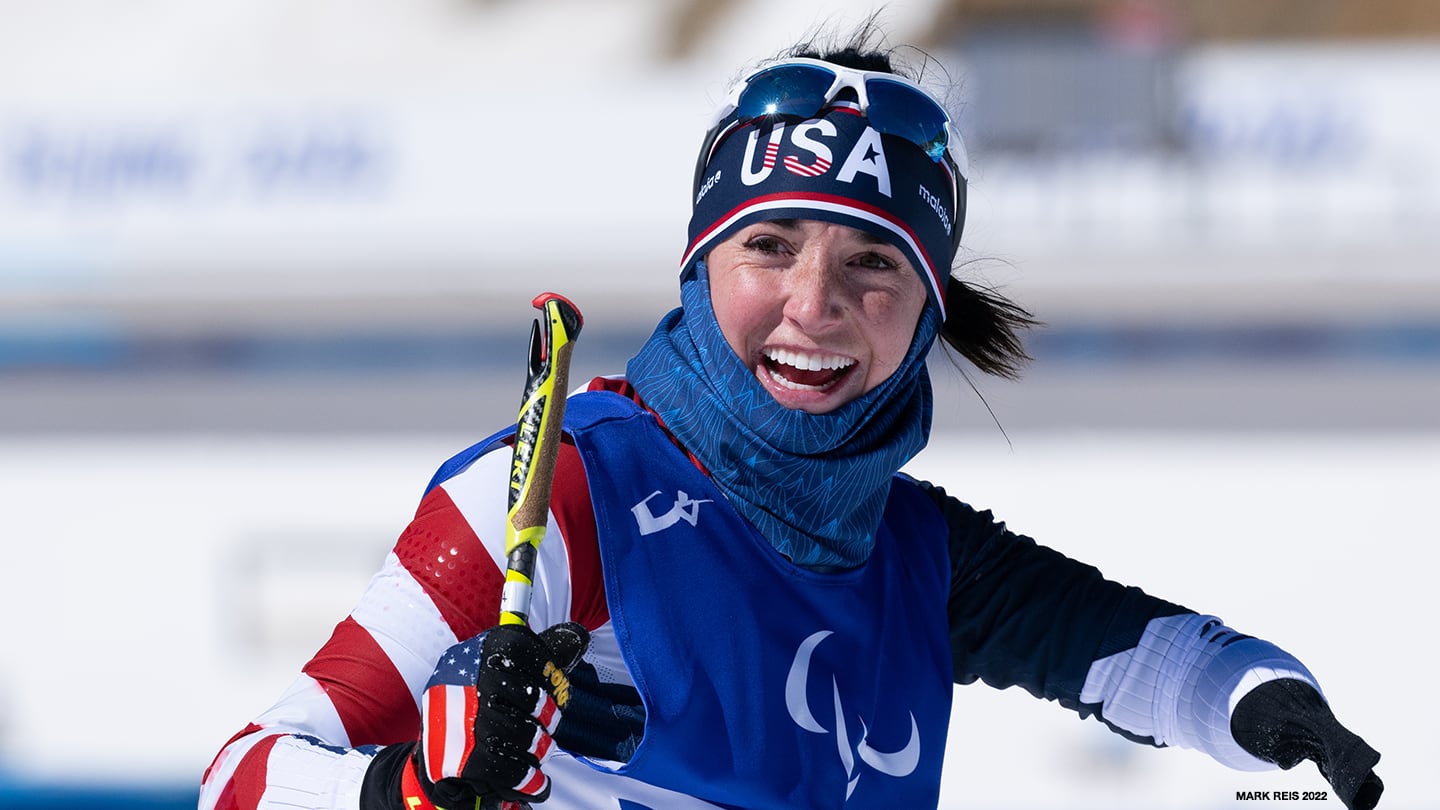 Dani Aravich poses for a photo during the women's sprint biathlon during the Paralympic Winter Games Beijing 2022 on March 5, 2022 in Zhangjiakou, China.
ZHANGJIAKOU, China – You could hear Dani Aravich's high-pitched shriek from the stands on Wednesday, her enthusiasm reverberating around the Zhangjiakou National Biathlon Centre finish area as she finished within the top three in her qualifying heat to advance to the semifinals in the women's cross-country sprint standing event.

The 25-year-old from Boise, Idaho, was all smiles, nearly shell shocked to advance and go on to record her highest finish in three races thus far at the Paralympic Winter Games Beijing 2022, taking eighth.

Born missing most of her left arm below the elbow, Aravich only started training as a Para track and field athlete in 2019 and shortly thereafter took up Nordic skiing. She became the first athlete to make dual debuts at the summer and winter Paralympics such a short of a time period – only six months apart.

Aravich failed to surpass the qualifying heats in the 400 meters on the track in Tokyo, so was elated when she did so in Zhangjiakou.

"I set the goal for myself to make the semifinals today," she said. "I didn't have the best start and lost the pack in my semifinal, but I was happy I was able to move up from sixth place at least into fourth (in the semifinal).

"This is my second season competitively skiing so it's kind of nice to have no expectations on me and to take these Games as a learning experience to grow. The turnaround from Tokyo has been quicker than expected, though. It's been pretty tough. Last summer I had to make sacrifices for both sports in order to not put myself too far behind for either one."

Aravich, who earlier in the week was 11th in the middle-distance biathlon and 13th in the sprint biathlon, is one of four U.S. Nordic skiing athletes racing at these Paralympics who competed in a different sport in Tokyo last summer, alongside 14-time Paralympic medalist Oksana Masters (cycling), five-time Paralympic medalist Kendall Gretsch (triathlon) and six-time Paralympian Aaron Pike (track and field).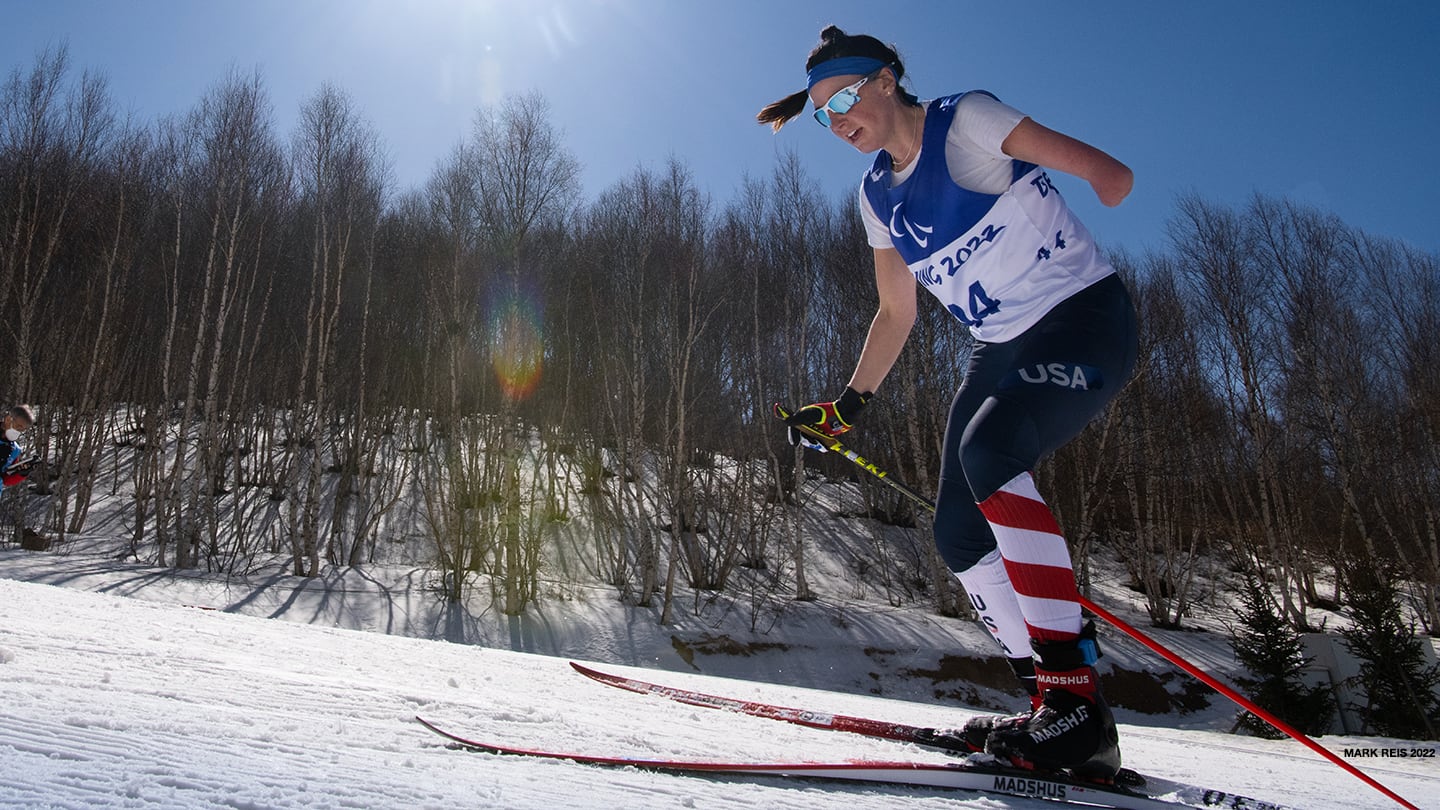 Dani Aravich competes during the women's middle distance biathlon competition during the Paralympic Winter Games Beijing 2022 on March 8, 2022 in Zhangjiakou, China.
The talent transfer to U.S. Nordic skiing has been a true showcase of endurance this week, with many of the athletes trying to tackle a jam-packed schedule in Zhangjiakou. Masters and Gretsch have both already raced in four events, with Masters capturing a gold and three silvers thus far and Gretsch having garnered a gold and a bronze.

"With many of the events we go to it's six races, so managing our energy across all six of them is really difficult, but it's something we practice at all the world cups we go to," said Gretsch, who was fifth in the cross-country sprint sitting final on Wednesday, with an expected two more races to go.

"It is a really tight turnaround from summer sports, but it's something we do every season so we've practiced it. I'm so lucky being on Team USA and having the resources to do so, with my strength coach being the same the entire year as well as my nutritionist, so they can help me make that transition well."

Aravich, a former cross country and track and field athlete at Butler University, compared the feeling of the cross-country skiing sprint distance to an 800-meter race on the track. Wide-eyed and giddy, she was ecstatic to see her family through the NBC camera feed after her race, crediting her support system for helping her navigate how to juggle two Para sports at once.

"My parents have been super great through all of this. When I first started training for track two and a half years ago, I left a full-time job in order to do it and a lot of financial implications came along with that," she said. "My parents were very supportive in helping me get to races and pay for coaching, so for them to see me now doing this back-to-back is very fulfilling for not just me, but for them as well."

All of this meant leaving her full-time dream job with the Utah Jazz's community relations department, but she was able to bring with her the lessons she learned from working back-of-house with a professional sports team.

"It was really great to be able to see the team's impact on our local community," she said. "I really did enjoy the time working in pro sports and it has given me a good perspective coming into the athlete side to see how the business works."

With the U.S. Paralympics Nordic Skiing team aiming to attract more standing skiers in the next Paralympic cycle, Aravich hopes her top-10 performance inspired a little girl somewhere.
Want to follow Team USA athletes during the Paralympic Winter Games Beijing 2022? Visit TeamUSA.org/Beijing-2022-Paralympic-Games to view the competition schedule, medal table and results.
Stuart Lieberman has covered Paralympic sports for more than 10 years, including for the International Paralympic Committee at the London 2012, Sochi 2014 and PyeongChang 2018 Games. He is a freelance contributor to TeamUSA.org on behalf of
Red Line Editorial, Inc.