Future Is Unlimited For Decorated Basketball Star Sue Bird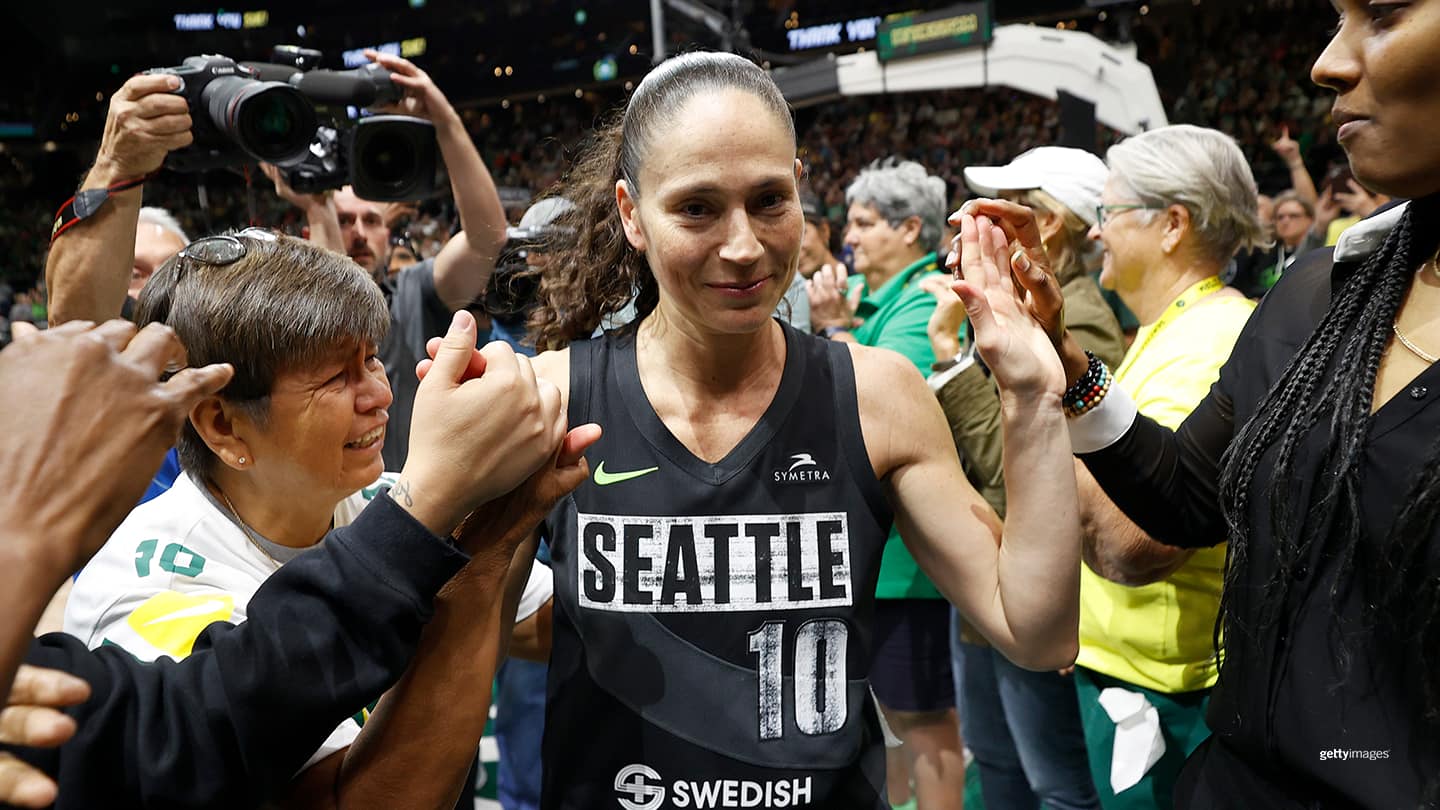 Sue Bird walks off the court in her final game after losing to the Las Vegas Aces in Game 4 of the semifinals of the 2022 WNBNA Playoffs on Sept. 6, 2022 in Seattle.
For a woman who has done so much winning, it nagged a little bit at Sue Bird that she wasn't able to get a win in her final regular-season home game with the Seattle Storm on Aug. 7 at Climate Pledge Arena. But just a little bit.

"While I would've loved to have gotten a win on my last night, I said it out there, I didn't win my first game either," Bird said after the 89-81 loss to the Las Vegas Aces. "So maybe it's a sign of good things to come. That turned out OK in 2002."

If Bird's non-playing life is even half as accomplished as her 21-year professional and international career, she'll be one of the most accomplished people on the planet. Because the legacy of five Olympic gold medals, four FIBA World Cups, four WNBA titles, 13 WNBA All-Star nods and numerous records is a hefty one. But the 41-year-old Bird knows there's plenty more she wants to do upon hanging up her Seattle uniform after this season.

"I'm always tentative to use the word closure because I don't feel like I'm closing something or I'm like walking away from something. I think life is just going to change," Bird said. "It's not over. I'm still going to be a part of this franchise, even if it's just as a fan. But I understand the playing days are almost over. This has really just put a nice little bow on what has been an incredible gift, and that gift has been playing here."

There's plenty Bird already has done that she'll continue to do, such as the multimedia company TOGETHXR that she co-founded with fellow Olympic gold medalists Chloe Kim, Simone Manuel and Alex Morgan. The company is dedicated to elevating the voices of female athletes and helping close the gap in media coverage between women's and men's sports. Bird's work on achieving greater equality for female athletes is something she absolutely expects to continue doing in retirement.

"Something that I feel really passionate about as I go into retirement is hoping that women's athletes don't have to fight for scraps," Bird said. "We always talk about how we want to get a little piece of the pie and trying to build that pie so it's not fighting for scraps. To know that, and I never thought of it this way, but to know that I was already doing that as an active player is something that I think I'll hold close. Because it's literally what I want to do when I retire."

Media in general is something Bird has been increasingly active in, co-hosting an alternative broadcast of this year's Women's Final Four with longtime Olympic teammate Diana Taurasi. She and fiancée Megan Rapinoe hosted their own podcast during the pandemic. She's also been a TV analyst for women's college basketball.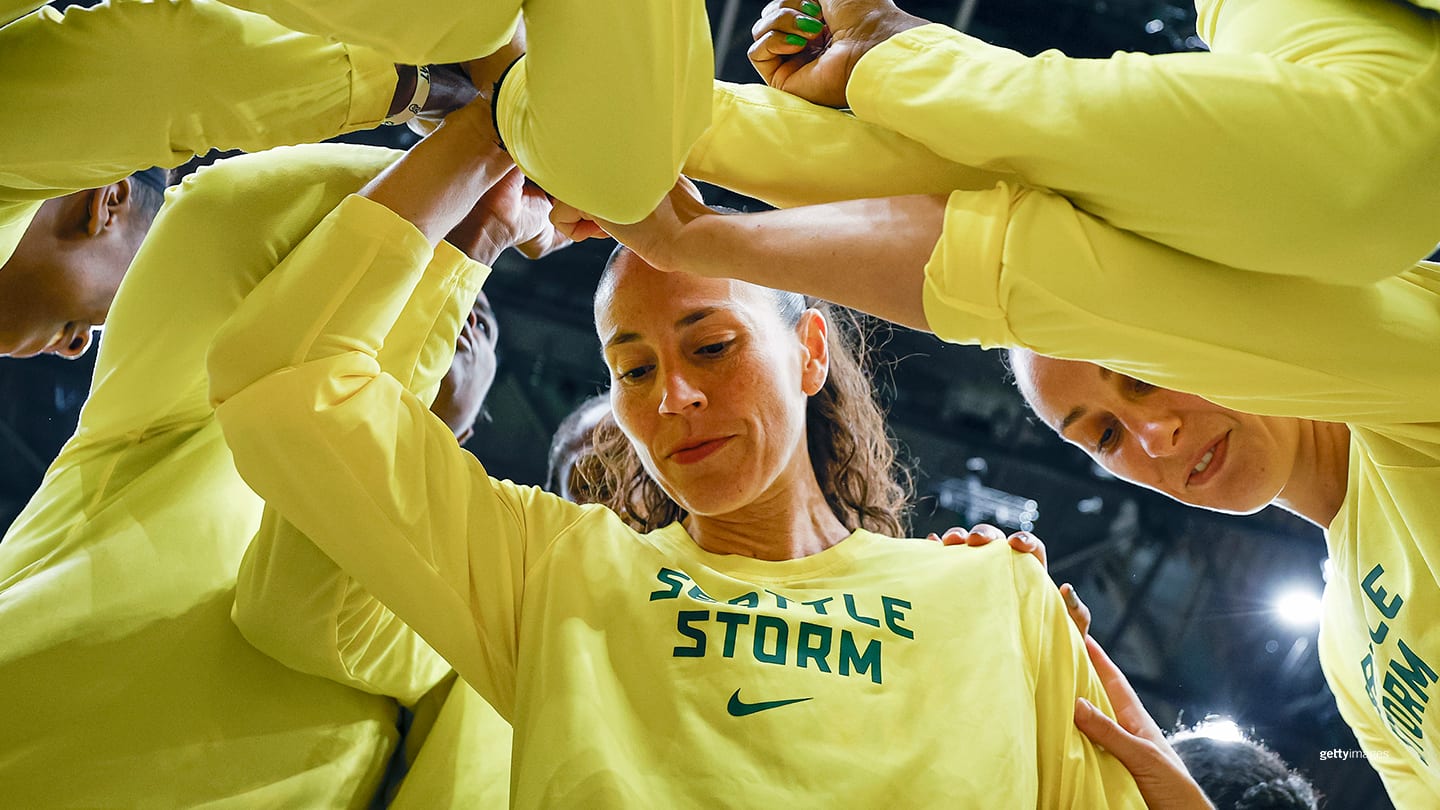 Sue Bird huddles with the Seattle Storm in her final game against the Las Vegas Aces in Game 4 of the semifinals of the 2022 WNBNA Playoffs on Sept. 6, 2022 in Seattle.
One area of the spotlight Bird has said she isn't likely to find herself, at least not anytime soon, is coaching. However, Bird has gotten front office experience, having worked in basketball operations for the Denver Nuggets. That could develop into further executive roles or even WNBA ownership. Bird was an active part of WNBA collective bargaining agreement negotiations and seen both sides of the table.

Bird is already a sports owner, having invested in NJ/NY Gotham FC of the National Women's Soccer League. Other owners include fellow Olympic basketball gold medalist Kevin Durant and soccer gold medalist Carli Lloyd. Bird, a native New Yorker, also holds a consulting and advisory role with the club.

But before Bird charts a new path forward as a retired basketball player, she's very much still an active one. Her Storm wrapped up the regular season on Sunday, Aug. 7 with a 22-14 record and the No. 4 seed in the playoffs. They lost to the No. 1 seeded Las Vegas Aces, 97-92, in Game 4 of the semifinals of playoffs.

Game 4 gave Storm fans one more chance to say goodbye at home. Bird had hoped to give them one more title to remember her by and join Rebekkah Brunson as the only players in WNBA history to win five rings. It wasn't meant to be.

The 2022 season has been filled with honors and remembrances, but for now Bird is only focused on the present.

"It's been wonderful to see the tributes and see the fans and see my jerseys in the arena," Bird said. "… Really all it does is it kind of holds off my actual emotion of how I feel about the end, because I know I still have more to play."
Todd Kortemeier is a sportswriter, editor and children's book author from Minneapolis. He is a contributor to TeamUSA.org on behalf of
Red Line Editorial, Inc.