Recharged After Break, Megan Rapinoe Set For USWNT Return This Week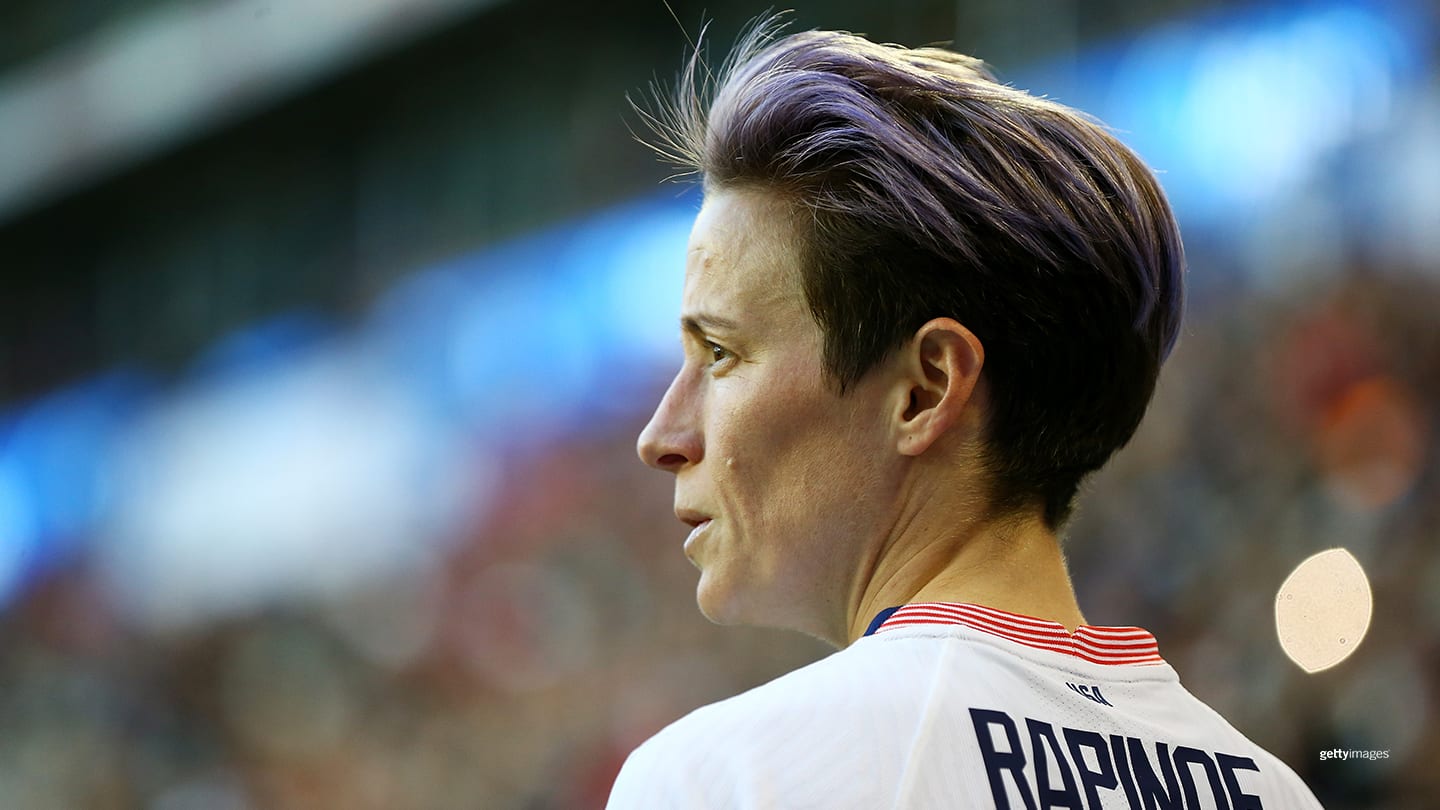 Megan Rapinoe looks on against Spain at Red Bull Arena on March 8, 2020 in Harrison, New Jersey.
As much of the world scaled back plans last spring amid COVID-19, so did Megan Rapinoe. At least as far as soccer goes. The 2019 world player of the year last suited up for the U.S. women's team on March 11, 2020, in the final match of the SheBelieves Cup.

Coming off a dominant performance at the 2019 FIFA Women's World Cup and a flood of recognition for her social justice advocacy, the 10-month break from competitive soccer gave Rapinoe a welcome opportunity to recharge her batteries.

Now the 35-year-old forward is feeling revitalized going into USWNT friendlies with Colombia tonight and Friday at Exploria Stadium in Orlando.

"To be honest, from a very selfish and personal standpoint, there was so much positive that came from this long layoff," she said on a media conference call last week. "I don't think I've been this rested my entire career, certainly not like (since) maybe high school. I'm in a much better position as of Jan. 12, 2021, as I was one year ago, coming off the World Cup."

Rapinoe isn't the only veteran forward returning to the team this week. Carli Lloyd, 38, who missed similar U.S. call-ups and NWSL duty due to a leg operation, also is back in camp. Lloyd, the star of the 2015 Women's World Cup, is the only player to score in two Olympic gold-medal finals (2008 and 2012).

"Our high-performance department has been monitoring everything they're doing. ... Everything they do, we follow, and we have a pretty good idea of where they stand," coach Vlatko Andonovski said. "In fact, both of them are a little ahead of where we expected them to be for the January camp. The only thing they're missing is team training."

After securing the Golden Boot and Golden Ball as the top goal-scorer and player of the 2019 World Cup, Rapinoe admitted it was difficult to get back into the swing of things. She participated in the 2020 Concacaf Women's Olympic Qualifying Championship and the SheBelieves Cup, but did not compete in the NWSL Challenge Cup, Fall Series or the two national team camps.

"Not playing much the back half of the year, very sporadic, and trying to balance all the media and appearances and opportunities that I had, it was difficult to be ready for those January games," she said.

Given that time off, Rapinoe is raring to go after quarantining with her fiancée, WNBA legend Sue Bird, for a good portion of 2020.

"I actually feel really good physically and refreshed in a lot of ways," Rapinoe said. "Mentally and emotionally, got to spend a lot of time quarantining at home with Sue and just being able to relax, but I'm obviously so excited to start playing again. It was really difficult to not be out on the field with my teammates and to not have a consistent training environment.

"Anyone who really knows me knows I hate to work out on my own as it is. So, to have to do that for 10 straight months and try to keep motivated was very difficult, but I'm really looking forward to being back out on the field with my teammates."

The FIFA schedule for women's soccer is lopsided, with the World Cup followed just one year later by the sport's other big tournament, the Olympic Games, and then a two-year break before the next World Cup.

Postponing the Tokyo Games one year to 2021 could end up working in Rapinoe's favor. She turns 36 on July 5, an age when few attack-minded players — men or women — have dominated international competition. Similarly, no team has won the Women's World Cup or the Olympics in back-to-back years.

"It's just difficult," Rapinoe said. "You spend a year and a half period preparing for the World Cup. Then you have to turn it around so quickly and do the Olympics, which is an even tougher tournament because of timelines. So, the team is in a really good place and excited to be back together. Personally, I feel thankful that I was able to have that time, so I feel a lot better this January than I did last January."

COVID Afflicts U.S. Stars
The COVID-19 pandemic also has affected two key members of the national team.

Striker Alex Morgan will miss the series because she and her family contracted the virus. Midfielder Lindsey Horan, who is in camp, has recovered after a "miserable" time with it. The virus forced her to miss a November camp and a friendly in the Netherlands.

"COVID time was not a fun time, I'll say that much," Horan said. "There was probably a week and a half there that was pretty miserable. I wouldn't want anyone to have to go through that. I'm very lucky that I'm healthy and I'm young and I came out of it OK.

"I'm doing well and in camp, and I feel 100 percent. ... It's scary just knowing what other people might have to go through that could be a lot worse than me."

Before she can return to the team, Morgan must pass several tests, including an EKG, according to U.S. Soccer return to play protocols.

"We take this very seriously, and we don't just throw the players back in camp right away," Andonovski said. "If it was just COVID I think that Alex would be good to be back in camp, but because of all these protocols and all these return to play protocols, that is what kept Alex out of this camp."
Michael Lewis, who covers soccer for Newsday, has written about the sport for four decades and has written six books about soccer. He is a freelance contributor to TeamUSA.org on behalf of
Red Line Editorial, Inc.